A science teachers's shop
83Uploads
38k+Views
6k+Downloads Some resources on the forces topic. Could be used for KS3 or GCSE. This includes a Forces true/false introduction worksheet, a balancing forces worksheet, a rockets forces worksheet and a worksheet on the Weight equation in Space. Students pick two characters, pair them up, and draw 4 punnett squares to find out what their children will look like. This is an opportunity to practise punnett squares.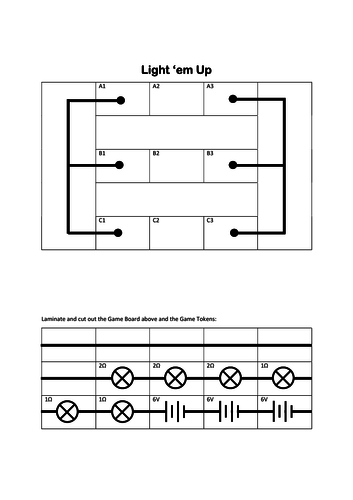 A game based on Battle ships. (Alternative name: Bulbs and Batt(ery) ships?) "Ammeter on A3" "Voltmeter from B1 to B3" I used this as an entire lesson's activity, pitting my students against each other in a knock out tournament. The game reinforces and assesses their knowledge of voltage and current in series and parallel. It can be adapted to differentiate by giving them suggested boards and including some numbers. I've included a cheat sheet page for this purpose. How to set up: Design your board. Work out the voltage and current at different points on your board. How to play: The aim of the game is to correctly draw your opponent's circuit. On your go, choose a square and ask for the current, or choose 2 squares and ask for the voltage across them. Your opponent has to be honest and correct! You can ask 1 question per go and take it in turns until someone can correctly draw the circuit. Teacher instructions: Pupils should be in pairs or 4s to play this game. Each group will need 2 game boards, 2 sets of tokens and 2 answer sheets. I suggest printing and laminating the game board page and cutting out the tokens, and then printing disposable answer sheets for them to draw and scribble on. You could even use Velcro on the back of the tokens so that they stick to the board.