Miss Cupcake's Shop
Primary education resources
16Uploads
2k+Views
33Downloads
Primary education resources

As part of our Towers, Tunnels and Turrets topic in year 2 will be exploring UK castles. Geography / History Worksheets included: Castle visit sheet - to be completed prior to visiting a castle Identify the UK's capital cities and their castles on a map Identify land features that each UK capital cities castles are built on or near and why (differentiated 3 ways) Identify land features of the UK capital cities castles

Year 2 Identifying properties of 3D shapes To be printed and laminated so that whiteboard pens can be used to scribe. Could be used as play dough mats or challenge children to use playdough and cocktail sticks / straws or even nets of shapes to make them. You could also use them alongside 3D shape manipulatives. 7 shape mats included ( cone, cube, cuboid, sphere, square based pyramid, triangular prism and cylinder). Vocab - vertices, edges and faces as well as shape names mentioned above.

LI - I can label a Medieval castle LI - I can design a castleincluding features of a Medieval castle I will be using these sheets during my Towers, Tunnels and Turrets topic in Year 2. Children will learn about the features of castles and their uses. They will then design and make their own castles including a moving part (drawbridge or portcullis).

A diary to keep record of the growth of sunflower seeds forup to 6 weeks. To be folded in a concertina style. Can be enlarged to A3 size.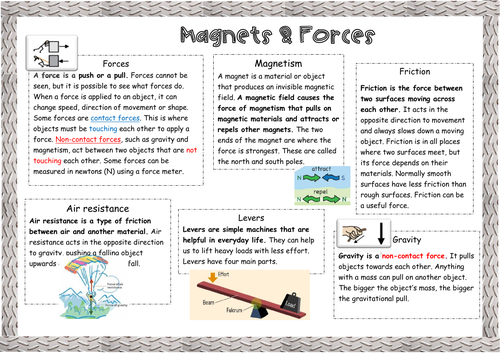 Definition of key terms to be explored. It would be good to send a copy home along with the homework grid so that parents are helped to support their child.

This resource can be used following a slime making session. Encourage children to use their senses to create poems. Challenge them to use alliteration and two words per line only. Or they could write using longer phrases sentences. E.G. Silky, smooth slime that's stretchy!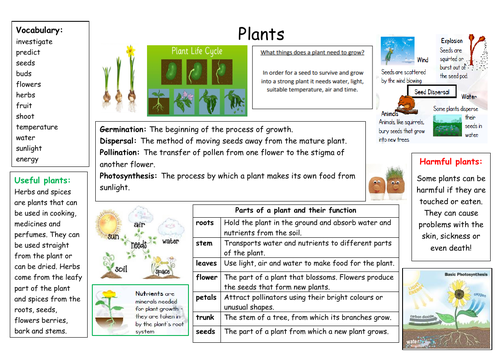 Key vocabulary and definitions related to the life cycle of plants. What plants need to grow, how seeds are dispersed etc. Print one per child to refer to during lessons. Great to send home to inform parents and help them to support their child with homework etc

A worksheet for children to record their findings while exploring 3D shapes according to a given criterion. They will need to build a slope and use 3D shape manipulatives to explore the properties.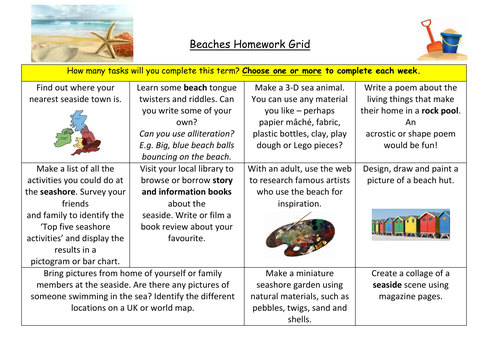 Beach themed homework activities. Children choose to do a minimum of one activity a week. Create a display or post marvellous homework on class web pages.

History, Geography and Design

Design and research activities

A variety of cro curricular activities linked to the science topic about muscles.

Homework grid and knowledge organiser related to a beach topic.

Year 1 / 2 transition activity. Children draw a self portrait as well as a picture of their family and write about their wishes for the coming year. Looks great when finished. Attach the house using string and hang on a washing line. Equally as good on a display board.