Business Resources's Shop
19Uploads
10k+Views
1k+Downloads

UNIT 6 PRINCIPLES OF MARKETING EXAM PRE RELEASE PART A JANUARY 2019 teacher resource *** 42 page unit 6 content revision booklet/ CASE STUDY GUIDE FOR TEACHERS ** Case study guide allows students to break down case study by themselves and carry out their own reasearch Revision topics and revision content for key areas that may be relevent to the case study- including human resources, forecasting labour demand, planning labour workforce, motivation etc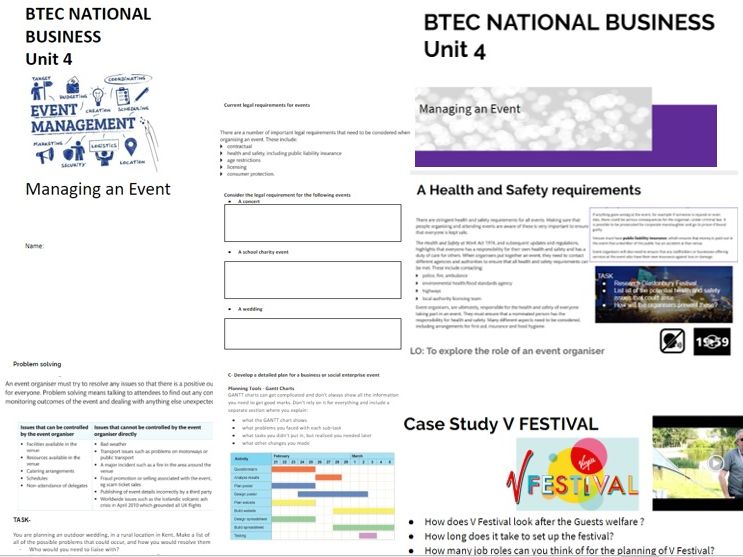 BTEC National Business Level 3 UNIT 4 Managing and Event Entire Unit - Workbook &Powerpoint Entire Unit 4 Content in Powerpoint and workbook Everything you need to teach this unit - new specification 2016 Includes: Class and individual activities Key words Coursework assignment briefs Workbook questions with extension tasks Powepoint and booklet can be used together Easily breaks down unit tasks Includes** FULL Distinction Exemplar** examples for all Unit 4 coursework assignments ( 1-3) ( as marked by BTEC)

Useful resource with key terms from the unit and 'steps to success.' REVISION MAT BTEC NATIONAL BUSINESS STUDIES UNIT 6 The Principles of Management. Please leave feedback, thank you!

BTEC Nationals (new spec) UNIT 6 Principles of Management - Entire Unit Power point 144 page power point covering topics A- F - Knowledge Checks -Case Studies -Specification content - Can be used alongside text book - Questioning and Revision for each topic - Easy to use/ clear formatting Please leave feedback - thank you

**BTEC Nationals UNIT 6 Principles of Management (NEW SPEC 2016) - Student Booklet ** Student Booklet for Unit 6 Principles of Management Including Student checklist -Space for Knowledge checking every lesson -Topics split in to sections with space for notes -PDF and Word download Can be used alongside powerpoint or for revision/ note taking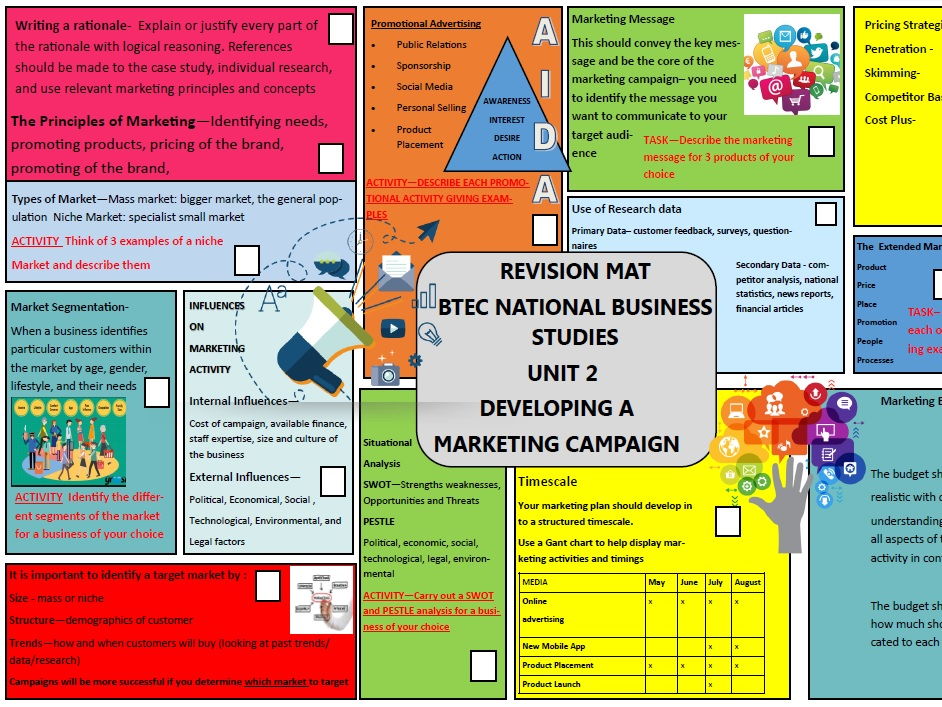 Useful resource with key terms from the unit, activities, developing a marketing campaign framework, and 'steps to success.' Please leave a review if you purchase thankyou

Please leave a review if you purchase - thank you!<br /> <br /> **Useful resource with key terms from the unit, covering the main features of the unit 3 personal and business finance exam includes all key information in one resource.** **Includes; ** exam technique command words used in the paper and what they mean ratios and formulas statement of comprehensive income statement of financial position key terms to learn break even analysis cash flow forecast adjustments types of expenditure Internal sources of finance external sources of finance types of income types of current account purpose of accounting types of savings and investment types of borrowing profit , loss, gross profit sales revenue available as pdf download and publisher file

UNIT 6 -The Principles of Management Revision Questions and Student answer booklet Over 100 questions from topics A-F Powerpoint and student answer booklet included Covers the key principles of management excellent revision tool can be used to recap /knowledge check every lesson ( 4 questions per slide ) Slides can be used in combination to interleave topics or Create end of topic test using combination of topic slides If you download and use this resource please leave feedback thankyou!

*Please leave a review and feedback once you have purchased ! Thankyou! ***BTEC National Business Level 3 Unit 5: International Business- Assignment 1 Powerpoint ** Includes; **Entire Unit 5 assignment 1 powerpoint **Coursework tasks Case Studies Questions Explanations Knowledge Checks Key words

Entire Unit 24 Content in Powerpoint and workbook Everything you need to teach this unit - new specification 2016 Includes: Unit 24 content in power point and student booklet Individual activities Coursework assignment briefs Workbook questions Case Studies Powerpoint and booklet can be used together Easily breaks down unit tasks I

ANVIL CASE STUDY BOOKLET AND GUIDE REVISION BOOKLET WITH QUESTIONS UNIT 6 REVISION MAT

BTEC Business Unit 2 Developing a Marketing Campaign Mock Assessment/ Exam Practice - Pret a Manger - Veggie Pret Mock Assessment with activities 1 +2 from the unit 2 exam paper Investigating Pret A Mangers - Veggie Pret stores, students are asked to prepare a rationale and marketing campaign for 'Veggie Pret'.

BTEC NATIONALS (NEW SPEC) UNIT 6 PRINCIPLES OF MANAGEMENT RESOURCE BUNDLE UNIT 6 Principles of Management - Entire Unit Powerpoint BTEC Nationals UNIT 6 Principles of Management (NEW SPEC 2016) - Student Booklet REVISION MAT BTEC NATIONAL BUSINESS STUDIES UNIT 6 The Principles of Management UNIT 6 -The Principles of Management Revision 100+ Questions and Student answer booklet

**BTEC National Business Level 3 Unit 24: Employment Law ** Everything you need to teach this unit - new specification 2016 Includes: **Unit 24 content in power point **Individual activities Class / Individual questions Case Studies Powerpoint Easily breaks down unit tasks **Please Leave Feedback! Thankyou **

Level 2 Tech Award in Enterprise Component 1 Assignment 1 Exploring Enterprise Workbook/Booklet Covering section A, B and C for Assignment 1 of** Component 1** - Exploring Enterprise Booklet contains all coursework tasks, content, theory and group tasks, discussions, case studies, and extension questions. Breaking the coursework tasks in to step by step tasks that are easy to complete Ideal for using alongside powerpoint/ or textbook or on its on INCLUDES 50 PAGE WORKBOOK AND POWERPOINT

**The Marketing Mix Lesson (Nike) Basic lesson - the marketing mix simplified looking at Nike Trainers as an example starter, main activity , questioning and plenary included**** **If you download please leave a review thank you! **

**Level 2 Tech Award in Enterprise Component 1 Assignment 1+ 2 Exploring Enterprise ** save 25% Workbook/Booklets Covering section A, B and C for Assignment 1+ 2 of** Component 1** - Exploring Enterprise Complete student Booklets AND Powerpoint s contains all coursework tasks, content, theory and group tasks, discussions, case studies, extension questions, closing the gap, knowledge checking and model answers Breaking the coursework tasks in to step by step tasks that are easy to complete INCLUDES 62 PAGE WORKBOOKs AND POWERPOINTs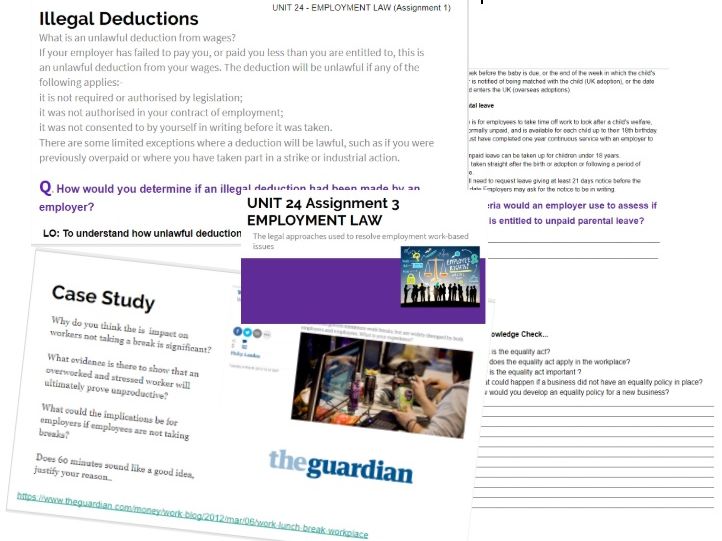 Everything you need to teach this unit - new specification 2016 Includes: Unit 24 student booklet (pdf +word editable version) Individual activities Coursework assignment briefs Workbook questions Case Studies *** PLEASE LEAVE FEEDBACK THANKYOU! ***

**Level 2 Tech Award in Enterprise Component 1 Assignment 2 Exploring Enterprise ** Workbook/Booklet Covering section A, B and C for Assignment 2 of** Component 1** - Exploring Enterprise Complete student Booklet AND Powerpoint contains all coursework tasks, content, theory and group tasks, discussions, case studies, extension questions, closing the gap, knowledge checking and model answers Breaking the coursework tasks in to step by step tasks that are easy to complete INCLUDES 62 PAGE WORKBOOK AND POWERPOINT