10Uploads
1k+Views
434Downloads
Get your thinking cap on! This PowerPoint (41 slides) contains 20 brain teasers which will definitely have you scratching your head! Includes a mix of brain teasers, riddles, rebus puzzles and maths puzzles. A great resource which can be used as early morning work, as a fun way to end the day, or even as a whole class/group activity as the end of year approaches!
Differentiated challenge cards for those odd extra minutes in Maths lessons. These challenge cards are extremely useful in keeping pupils engaged, and a great opportunity to regularly revisit and revise different topics. They can be laminated and kept in class, and given to pupils to complete on whiteboards/paper. The cards cover a range of mathematical areas, such as shape, number, word problems and fractions. The cards are differentiated and colour coded by difficulty, into bronze, silver and gold, so that the questions are accessible to pupils at all levels. There are 18 different question cards for each level (54 cards in total) These cards are editable so can be easily tailored to meet the needs of your class, if need be!
Update your classroom! Want to add a bit of personality to your classroom? Classroom organisation is tiresome, but can be so satisfying. We're constantly labelling things - trays, drawers, student's pegs, behaviour chart labels… the list is endless! Tired of seeing some generic labels, I have created 10 different label designs for the classroom. Designs include glitter, floral, and space. These can also be used as flashcards. In this download there are a total of 88 templates. All are ready with a text box, and sizes can be adjusted if necessary. Enjoy!
A fun-filled quiz which can be used at any time of the year with your class! With questions ranging from general knowledge, literacy, history and sport - this quiz will get everyone buzzing. There are 20 questions in this quiz, and the answers are included, as well as answer sheets for your students to use during the quiz. Children can complete the quiz individually or in groups.
2 useful differentiated worksheets enabling students to practise identifying a mixture of 2D and 3D shapes, and use the appropriate language to describe the properties of these. Answers included. A PowerPoint consisting of regular and irregular 2D shapes - can pupils name these by looking at the properties of the shapes? Also includes 2 Challenge questions about 3D shapes. Answers included.
A useful activity on adding money up to £1. This resource can be used in two ways: Using the first page only, pupils can cut and stick the rows of coins in their books, and write the corresponding number sentence to find the total value of money. Alternatively, this resource can be used as a cut and stick activity using all 3 pages, in which children have to match the picture of the coins, with the corresponding number sentence, and corresponding total provided. This resource can be used to teach children to always begin adding money with the largest denomination first.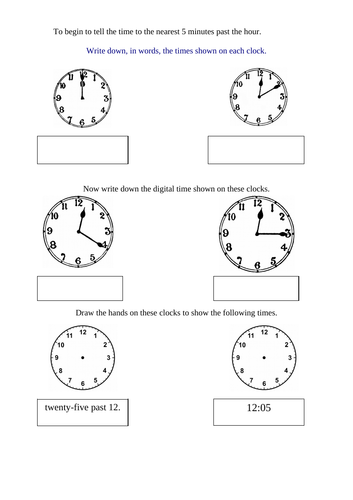 3 differentiated worksheets for children to practice telling the time to the nearest 5 minutes past the hour.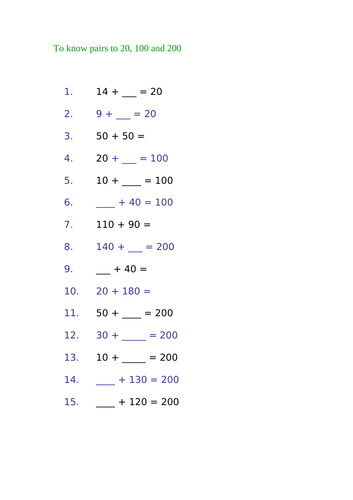 3 different worksheets requiring students to use their knowledge of number bonds to complete pairs to 20, 100 and 200. Includes missing number questions.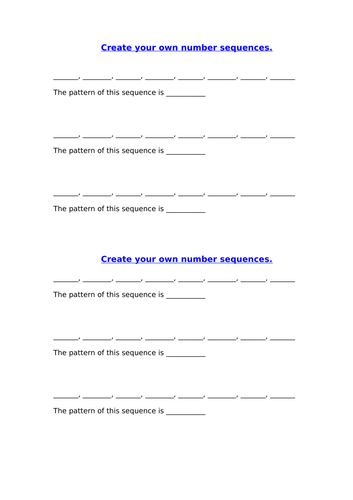 A simple worksheet I created for my Year 2 class as a finisher activity for a lesson on number sequences.