ChemEducation's Shop
A plethora of resources for A level chemistry and the chemistry aspects of BTEC Applied Science Level 3 (NQF)
63Uploads
52k+Views
15k+Downloads
A plethora of resources for A level chemistry and the chemistry aspects of BTEC Applied Science Level 3 (NQF) Powerpoint lesson covering writing balanced chemical equations for the reactions of metal oxides or metal hydroxides with acids, and hydroxides with common inorganic acids (hydrochloric acid, sulfuric acid, nitric acid). Also includes a research task covering the uses of some oxides and hydroxides. Bundle of all 5 mindmaps to support revision for the chemistry paper of Unit 5. This powerpoint covers Born Haber cycles, entropy and Gibbs free energy A collections of 4 revision mind maps to aid student's revision for the chemistry topics in the unit 1 examination. A checklist to help students ensure they are properly prepared for the chemistry paper of the unit 5. This powerpoint (approx. 50 slides) covers properties of carbonyl compounds, reactions of aldehyde and ketones, acids, esters, acylation, synthesis and reactions of amines, and aromatic chemistry (including the structure of benzene and reactions/mechanisms). Content includes mechanism of electrophilic addition, inducing dipoles in halogen molecules, unsymmetrical alkenes/carbocations, carbocation stability and ethanol synthesis via hydration and fermentation.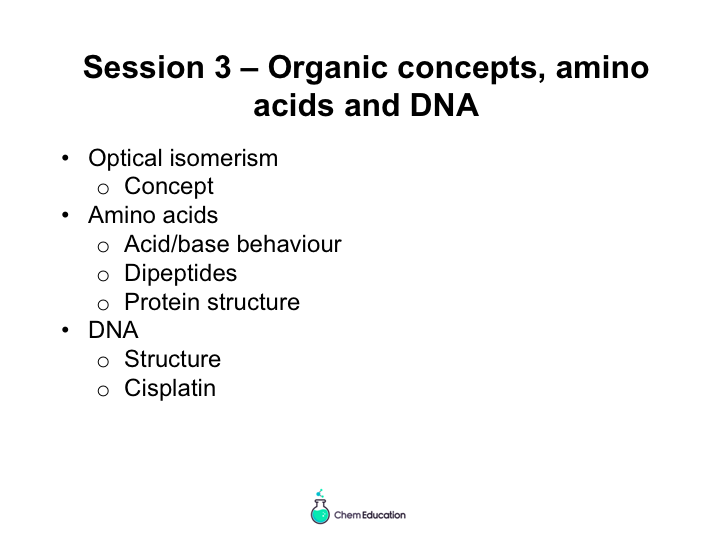 Presentation briefly revises optical isomerism prior to detailed coverage of amino acids (acid/base behaviour including zwitterions, dipeptides and protein structure) and DNA structure/replication and the action of cis platin. This powerpoint is designed for the new specification of AQA A level chemistry and is approx 30 slides 2 one page maps for the organic pathways in AQA A level chemistry - one aliphatic and one aromatic. These include mechanisms and conditions/reagents, and are coloured to group similar mechanisms to help students 'chunk' their learning. This revision guide covers all of the key practical techniques covered by AQA A level chemistry, including, but not limited to, reflux, distillation, recrystallisation, pH curves and titration. Methods are given where appropriate and annotated to highlight key points. Content includes classification, physical properties, oxidation reactions (including controlling oxidation and the practical details) and elimination reactions (including formation of isomeric alkenes). This powerpoint introduces period 3 and group 2, including trends in melting points, electronegativity and atomic radius, reactions of group 2 with water and uses of group 2 metal and their compounds.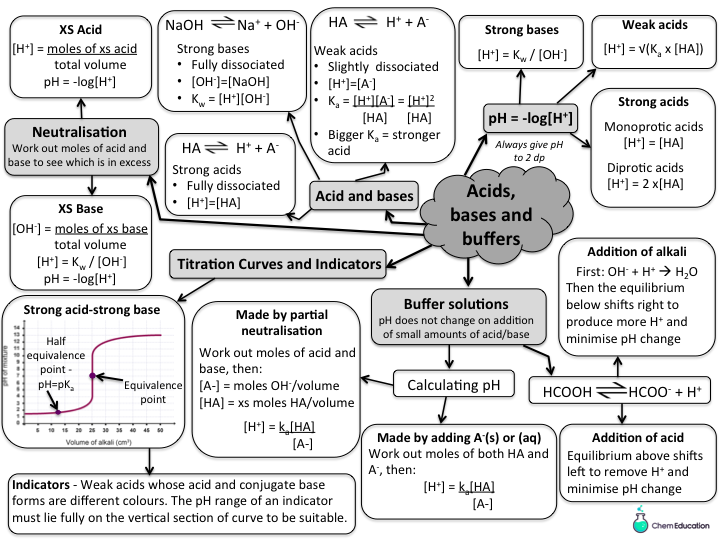 Bundle includes a powerpoint presentation covering acids, bases and buffers, a revision mindmap and a dice game that builds up a variety of calculations (total of 88 possible problems, with an answer board provided). For A level chemistry students. A revision tool covering all of acids bases and buffers in the style of a mind map. Includes structure and acid/base behaviour of amino acids, dipeptides, protein structure, DNA structure, DNA replication and cisplatin action. A dice game in which students roll dice and use an acid/base board and a question board to build pH calculation questions. Rolling two dice together accesses harder questions. An answer board is also included so students can check their own answers. A mind map style resource showing the major aromatic synthetic pathways with relevant mechanisms.