Chez Chachapluche
French resources for secondary
21Uploads
271Views
10Downloads
French resources for secondary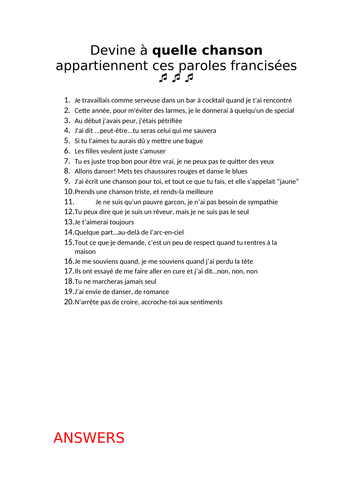 "N'arrête pas de croire, accroche-toi aux sentiments"…if you can do some basic French to English translation, then you will know which song those lyrics belong to! (but just to make sure, it was Journey with Don't stop believing) Another fun, musical activity for your older or gifted and talented pupils to get their teeth stuck in. There are 20 famous song lyrics to translate, decipher and recognise. It's always been a hit with my classes, and I hope your students will love it too. (Answers included on the second page) quiz, songs, music, translation, tenses, pop culture, pop, fun, gifted, end of term, intro to music, lyrics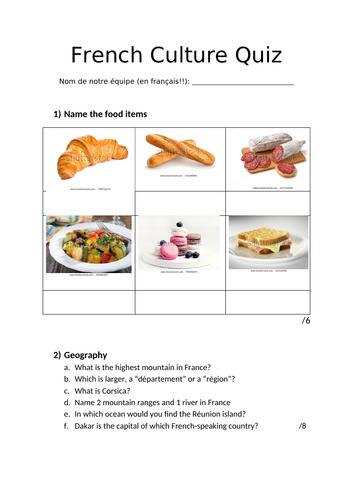 Ideal as an end of term treat for your secondary classes, this French culture quiz covers several topics from sport to geography among others. There are 30 questions altogether, all in English. Some of the quiz may be challenging for KS3 but will work perfectly for Years 10 to 13. Answers provided in the last page.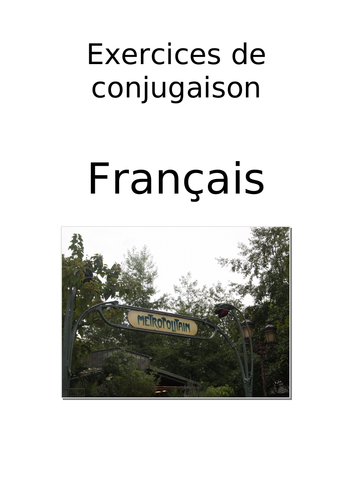 You need this! With over 20 pages of verb-based exercises, this comprehensive booklet covers the present, future, two past tenses (passé composé and imparfait) and the conditional mood. For each tense, you will find an explanation, tables with endings, irregular verbs and exceptions, followed by gap fill exercises and extension translation work for each tense. This booklet is ideal for KS4 but could easily be introduced in Y9 too. I also always ask my students to translate the 100+ sentences in the gap-fill tasks. Perfect companion to the GCSE course! grammar, paradigms, conjugate, past, present, future, imperfect, booklet, translation, practice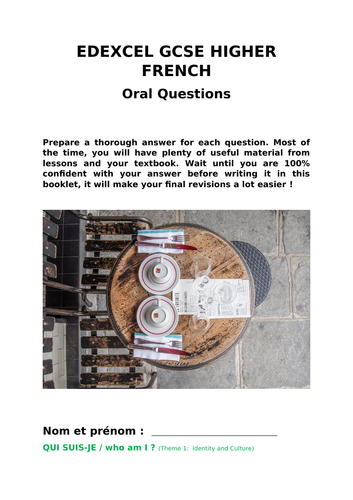 This booklet contains all of the 80 questions suggested by Edexcel in the back of their Studio Higher textbook. It is colour-coded to each unit and each question is translated into English. Pupils fill in their answers as they go throughout the course. It should save you a lot of time typing typical questions for each unit.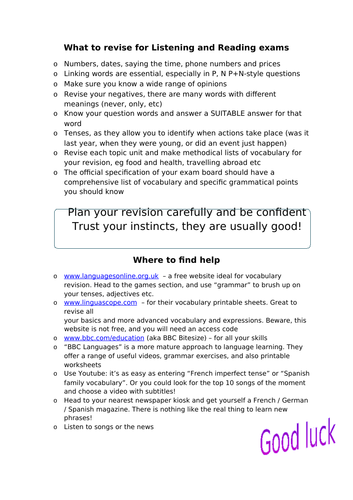 A quick checklist to hand out when your charges start panicking about their exams, this resource will empower your students and help them focus on the things they need to know for their MFL listening and reading tests. It also offers a short list of ideas for extra revision resources.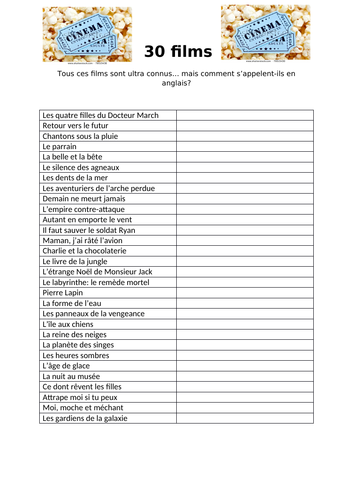 This is a fun activity to introduce the topic of cinema, or to set your older students as an end of term treat! I've compiled a list of 30 super famous (mostly American) movies…but not under their original name, rather how they are known in France. Your students will have to use their knowledge to work out the original title.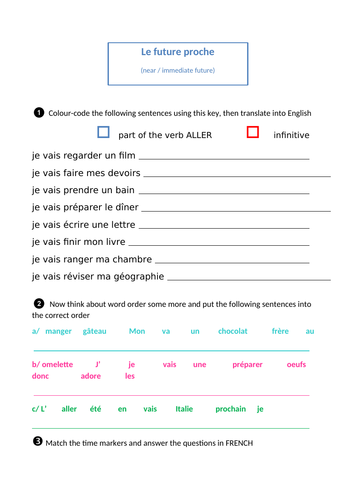 Perfect as a follow-up homework or class work once you've introduced the near future, this worksheet has three comprehensive activities which really engage students in their learning: exercises include translation, jumbled-up sentences, colour-coding, time markers, and writing. Ideal for beginners , this worksheet also allows your more gifted students to use complex sentences in their writing.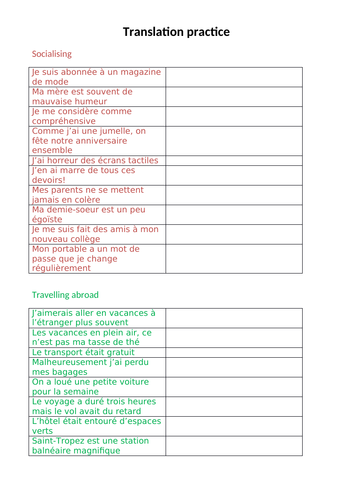 40 sentences to translate from French to English, with suggested answers provided at the end. This is an ideal introduction to KS4 for your Y9s who will be continuing with French next year, or used as a revision tool during KS4. Most sentences are in the present tense and focus on vocabulary. They are organised into four main topics or strands: socialising, town and community, making choices and travelling abroad. Covering most French cultural events and celebrations, this document is the ideal handout for beginners. Written in English with some French, it details the main festivals pupils need to know about, and represents an excellent foundation for those who will continue with French studies at GCSE level. The second part of the document has two short activities to reinforce learning, and a link to a French website dedicated to young learners.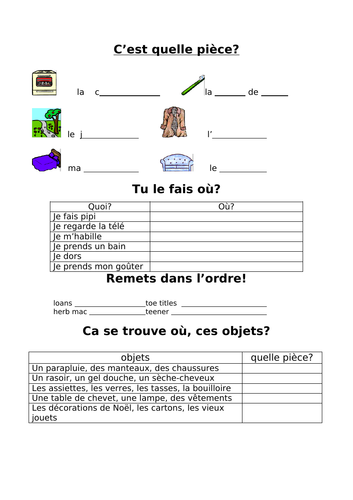 A quick, worksheet with four activities for beginner learners to reinforce learning the rooms in the house. First is a picture round, second is name the room where you would do the activity (simple sentences in French in the first person), then it's anagrams and finally a vocabulary activity - get pupils thinking where they can find "un parapluie", for example. Perfect to set as a homework, or simply to reinforce names of rooms during your lesson!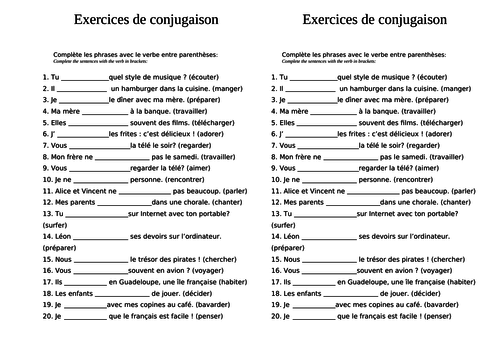 20 ER verbs to conjugate in the present tense, two tests on each page to save the trees! Easy sentences, perfect for your KS2 or KS3 beginners, high frequency verbs and easy vocabulary with plenty of cognates.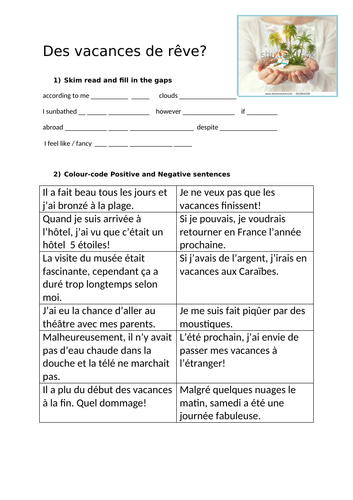 Holiday Reading and Writing worksheet to discuss past and ideal holiday, based around a bank of positive and negative sentences.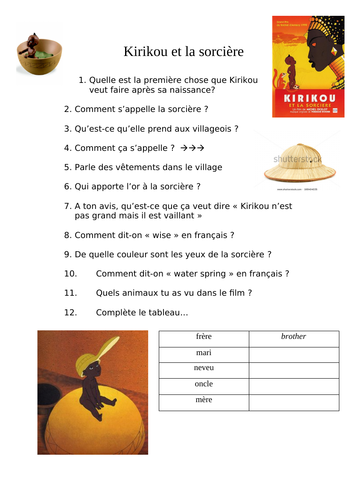 Worksheet with 12 questions in French to support watching Kirikou. This is ideal for Key Stage 3 but can be used for all ages.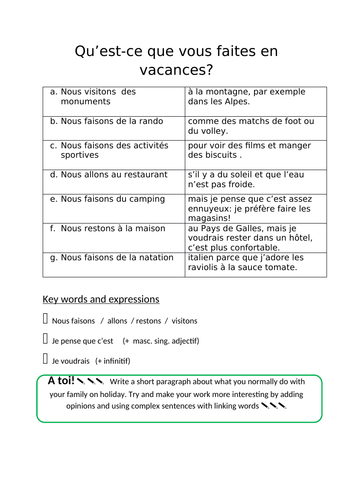 I created this resource to support Y8 on their unit 5 in the Studio book. Starting with the very basic nous + present tense expressions, I made a table with more complex structures to show students how they can extend their sentences. This worksheet has a big match-up exercise and a writing task. Ideal for beginners. Covers the topic of typical holiday activities.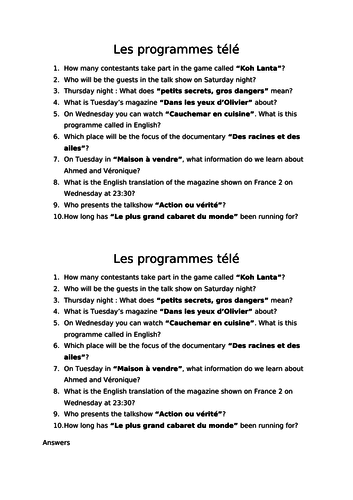 Get your pupils reading a real French TV program and looking for details. Scanned TV program included, as well as answers.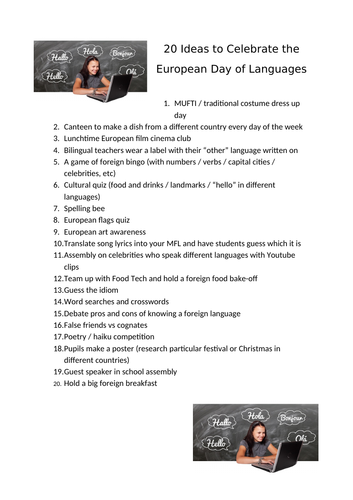 Not sure what to do to celebrate European Day of Languages? Having done it a few times, I have compiled my top 20 ideas for you, and even thrown in a Powerpoint presentation on the foreign origins of some words used in the English language, a short presentation I did in assembly. Enjoy!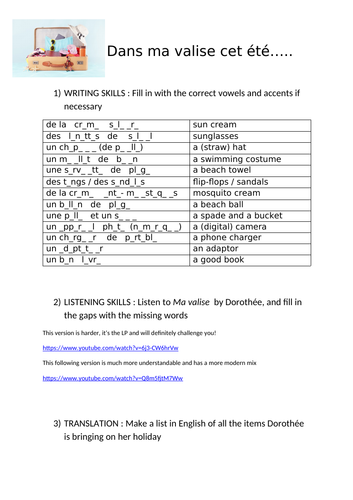 Perfect if you are teaching about summer holidays, this activity sheet has 3 exercises, each focusing on a different skill: writing (spelling practice with a list of holiday vocabulary), listening (gap fill with a song) and translation. It's ideal for KS4 but would work with younger or older depending on ability.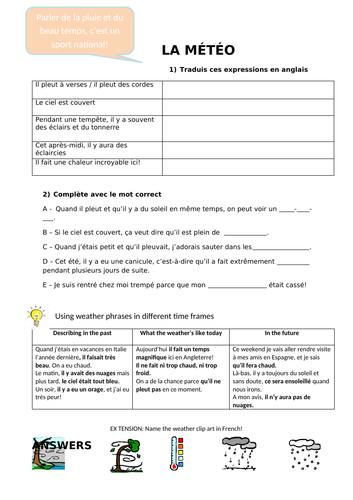 Great for your more able groups in KS4, this worksheet covers more advanced weather forecast expressions and will stretch your learners. They may need to use a dictionary to look for some of the expressions. There is a translation exercise, a gap-fill activity, and suggested examples of how to use weather phrases in three time frames. For those who complete their worksheet first, I've added an extension too. All answers provided on the second page.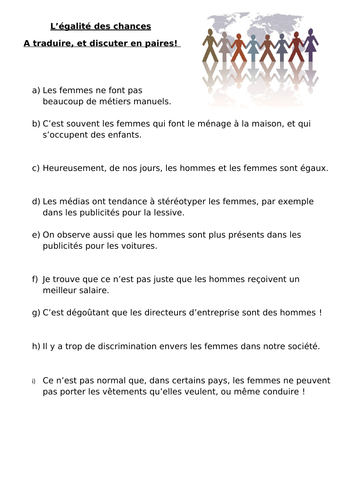 Conversation starters in the form of statements in French. Ask your students o translate them into English first, then discuss in pairs. This activity fits in perfectly within the curriculum, especially when discussing job opportunities, feminism etc. equal opportunities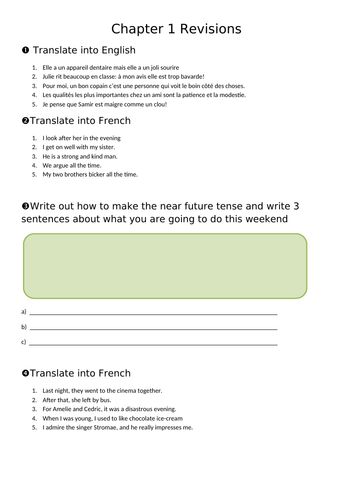 For Studio Edexcel Higher GCSE (9-1) French This is a good way to round off chapter 1, with a variety of translations to and from French. Perfect for a homework before an end of chapter test.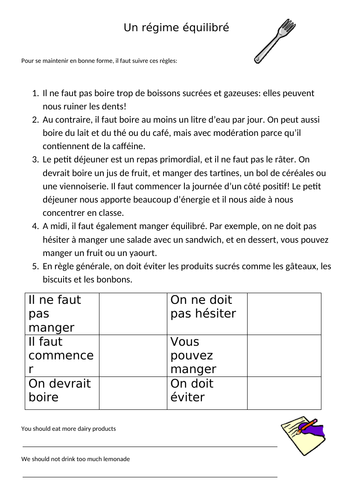 Reading and translation activities on the topic of healthy / balanced diet for your KS4 classes. The reading focuses on il faut / on doit / on devrait expressions . Translations are focused on authentic, cultural French foods - some students may need to do a bit of research!