Chez Chachapluche
French resources for secondary
40Uploads
3k+Views
117Downloads
French resources for secondary

Suitable for both KS3 and KS4 students, this is a great Christmas pack to get your pupils working on Christmas in France. Activities include: Vocabulary searches, translation, looking words up and drawing them, reading about French Christmas, and puzzles. This activity pack will easily last a whole lesson and students will tick the cultural box needed for GCSEs. ALL ANSWERS provided on last page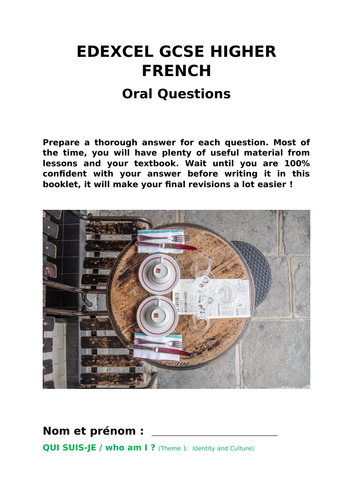 Two amazing resources included!! The ultimate TIME SAVER A student-friendly booklet contains all of the 80 questions ** suggested by Edexcel in the back of their Studio Higher textbook. It is colour-coded **to each unit and each question is translated into English. Pupils fill in their answers as they go through the course. It will save you a lot of time typing typical questions for each unit. Students keep their copy for 2 years, helps build up their confidence in the course. A comprehensive example of 80 answers to all the 80 questions, again aimed at higher level. Written in detail by a native (that's me!) and including higher level vocabulary, tenses and expressions. All colour-coded to each unit. That's 80 questions with blanks, and 80 detailed answers. Two documents that will save you a lot of time. You can use the answers as translations activities, mix-and match, verb searches etc. Endless possibilities.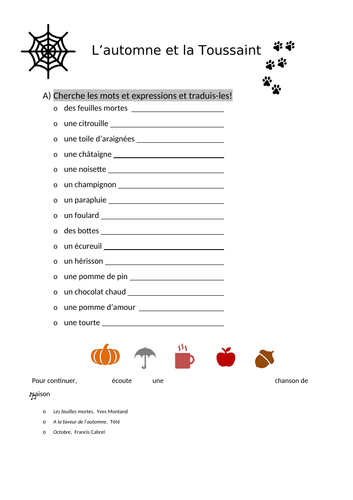 Culture based worksheet to teach / reinforce holiday topic. This is a whole lesson's worth of resources which will easily keep your students going for an hour - maybe even with homework if they need more time to finish the writing task. La Toussaint is a series of exercises to teach all the necessary vocabulary for this time of year, from chataigne right through to feux d'artifice. Included: translation, pair task, research skills, reading and writing. This is an all-rounder, hope you like it! Key words; holidays, half term, lifestyle, culture, october, autumn, automne, preferences, translation, writing skills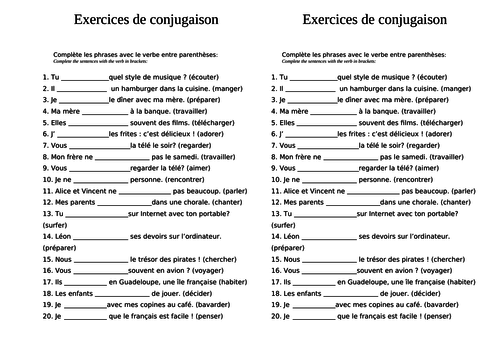 20 ER verbs to conjugate in the present tense, two tests on each page to save the trees! Easy sentences, perfect for your KS2 or KS3 beginners, high frequency verbs and easy vocabulary with plenty of cognates.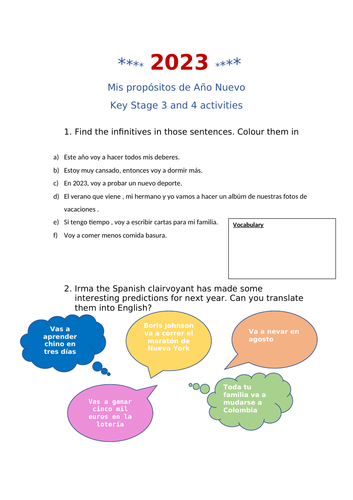 Need an easy lesson for January? This beginner worksheet is perfect for your classes up to Year 9, or for a lower ability KS4 group. All they need is basic knowledge of the immediate future. You get a variety of exercises mixing reading, translation, writing, not to forget the all-important cultural notes. This will keep any group busy for a whole lesson, or provide a couple of easy homework tasks ALL ANSWERS PROVIDED

Give your students the best chance to succeed in their AQA speaking exam. In this document I go over the three parts of the exam and give specific, easy tips to get top marks along with some examples of answers, and a useful bank of expressions to use in the general conversation, that the examiners will love. Your students will thank you for having this document, and provided they know their basics and vocabulary, they WILL improve their marks if they follow my recommendations.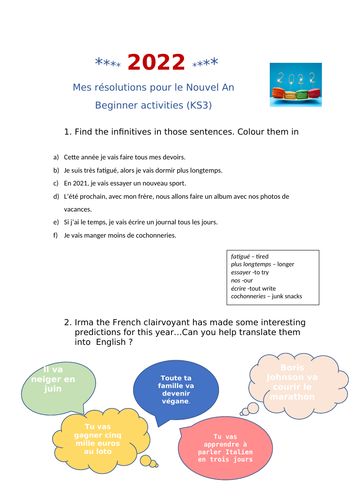 looking for an easy lesson for January? This activity pack is perfect for your KS3 (beginner) classes. Your students only need to know how to use the immediate future to complete the tasks. Activities include translation, reordering sentences and prompts for fun writing exercises, complete with extension ideas to stretch your more able pupils and cultural references. ALL ANSWERS PROVIDED OR you can buy both my KS3 and KS4 Resolutions activity packs for a discounted price of £4. Check it out!!

Perfect for January!!! Two separate resource packs to cater for your beginners and intermediates at the same time. Gets students reading, translating, writing and playing games with New Year Resolutions as a theme. NO actual lesson included, just lots of practice and easy to challenging activities to engage your students after the long Christmas break. ALL ANSWERS PROVIDED.

Detailed reading aid for the first six chapters of Voltaire's Candide ou l'optimisme. What you get: an introduction exercise, with gaps to fill about Voltaire and his life, and key ideas a worksheet for each new chapter with short summary, comprehension questions, grammar exercises, translations, quotes etc. answers to all questions Written by a native speaker for advanced / A-level students of all countries and languages (as a reference, the translations answers are provided in English, but all other answers are in French) Next chapters coming soon!!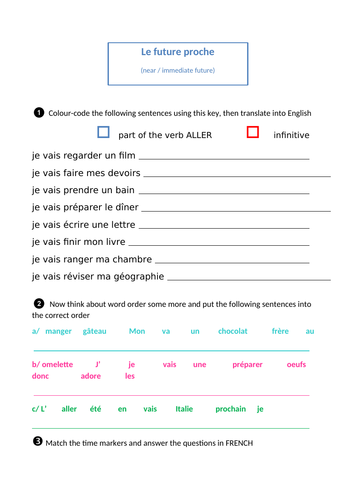 Perfect as a follow-up homework or class work once you've introduced the near future, this worksheet has three comprehensive activities which really engage students in their learning: exercises include translation, jumbled-up sentences, colour-coding, time markers, and writing. Ideal for beginners , this worksheet also allows your more gifted students to use complex sentences in their writing.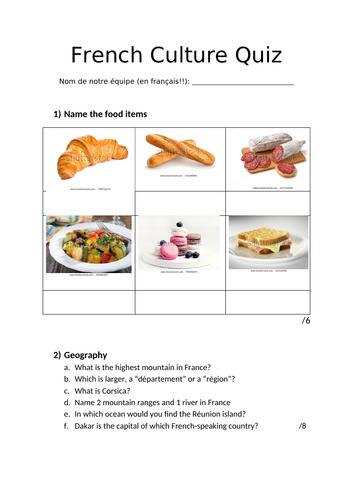 Ideal as an end of term treat for your secondary classes, this French culture quiz covers several topics from sport to geography among others. There are 30 questions altogether, all in English. Some of the quiz may be challenging for KS3 but will work perfectly for Years 10 to 13. Answers provided in the last page.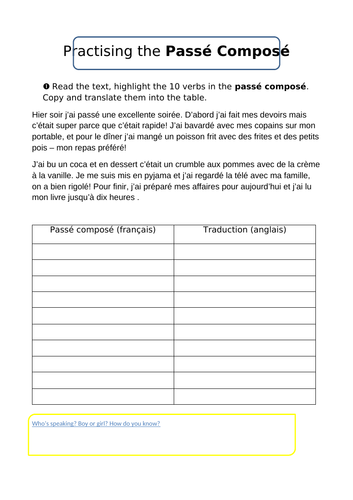 This is NOT an explanation of the passe compose, but a double worksheet for your studens to practise the perfect tense with avoir and etre auxiliaries. Also includes some irregular past participles, translation, and thinking skills. Ideal to practise in class or as a homework. Past tense, perfect tense, for higher ability Y9 or KS4, may be useful in Y12 as a reminder when revising past tenses.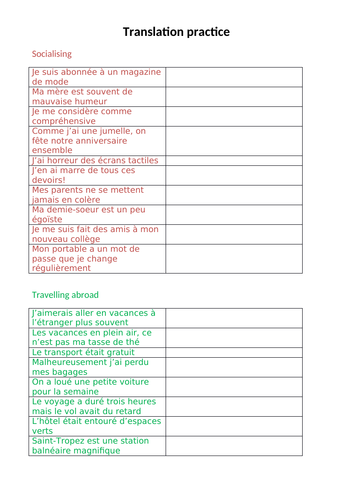 40 sentences to translate from French to English, with suggested answers provided at the end. This is an ideal introduction to KS4 for your Y9s who will be continuing with French next year, or used as a revision tool during KS4. Most sentences are in the present tense and focus on vocabulary. They are organised into four main topics or strands: socialising, town and community, making choices and travelling abroad.

A compilation of fun exercises and games to practice the future in several forms - immediate future, proper future, and using verbs with infinitives (eg. Je veux / J'ai l'intention de ) This is aimed at your intermediate level students, and should last a lesson / provide plenty of homework material All answers provided. OR you can buy both my KS3 and my KS4 Resolutions activity pack for a discounted price of £4. Check it out!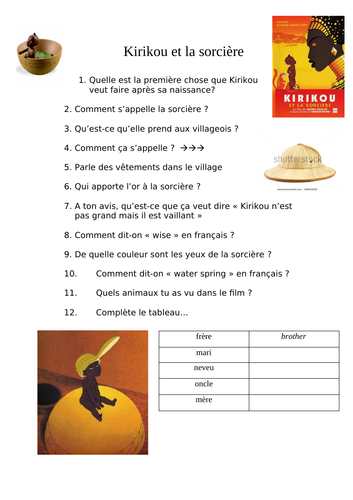 Worksheet with 12 questions in French to support watching Kirikou. This is ideal for Key Stage 3 but can be used for all ages.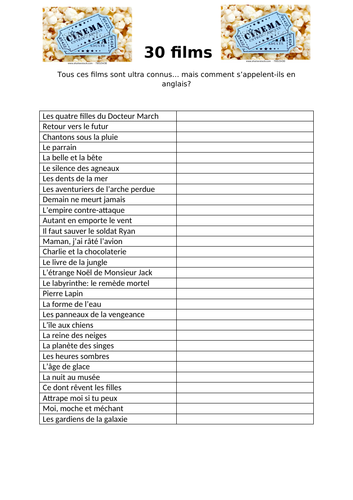 Ideal for setting extra work for your students to boost their thinking skills in French during study leave, this pack includes some top selling resources. You will get: a French culture quiz a lyrics game (excellent for 6th formers to work on their translation skills) a movie titles game The quiz can be used from beginner level (questions are in English) but the song and movie resources are more for intermediate to advanced levels. ALL ANSWERS PROVIDED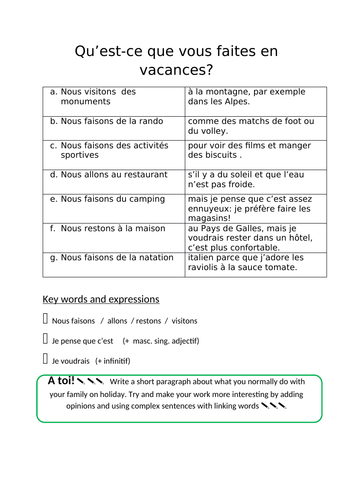 I created this resource to support Y8 on their unit 5 in the Studio book. Starting with the very basic nous + present tense expressions, I made a table with more complex structures to show students how they can extend their sentences. This worksheet has a big match-up exercise and a writing task. Ideal for beginners. Covers the topic of typical holiday activities.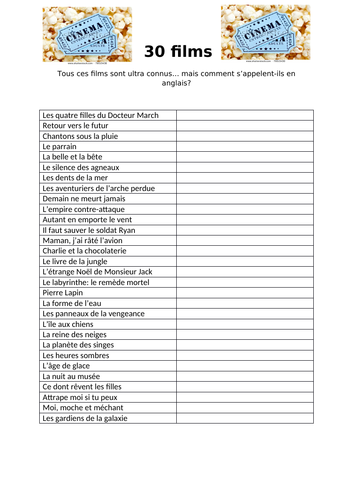 This is a fun activity to introduce the topic of cinema, or to set your older students as an end of term treat! I've compiled a list of 30 super famous (mostly American) movies…but not under their original name, rather how they are known in France. Your students will have to use their knowledge to work out the original title. Covering most French cultural events and celebrations, this document is the ideal handout for beginners. Written in English with some French, it details the main festivals pupils need to know about, and represents an excellent foundation for those who will continue with French studies at GCSE level. The second part of the document has two short activities to reinforce learning, and a link to a French website dedicated to young learners.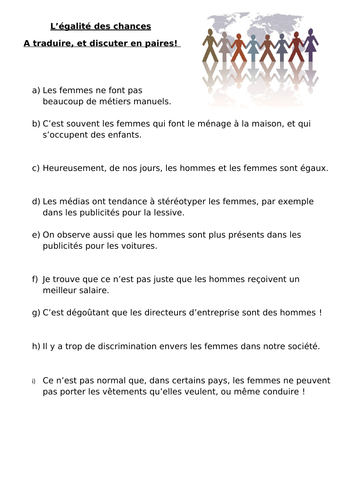 Conversation starters in the form of statements in French. Ask your students o translate them into English first, then discuss in pairs. This activity fits in perfectly within the curriculum, especially when discussing job opportunities, feminism etc. equal opportunities