Chez Chachapluche
French resources for secondary
51Uploads
6k+Views
422Downloads
French resources for secondary

First lesson of January sorted! Different levels of New Year resolutions for your beginner and intermediate classes. Includes a range of activities to revise and reinforce the future tenses (and some conditional) , sentence builders, and a comprehensive list of resolutions - to translate and tick off. Written by a native, all answers provided.

Suitable for both KS3 and KS4 students, this is a great Christmas pack to get your pupils working on Christmas in France. Activities include: Vocabulary searches, translation, looking words up and drawing them, reading about French Christmas, and puzzles. This activity pack will easily last a whole lesson and students will tick the cultural box needed for GCSEs. Bonus - includes a list of Christmas presents with extra ideas on to make full use of the document ALL ANSWERS provided on last page

Detailed reading aid for the first six chapters of Voltaire's Candide ou l'optimisme. What you get: an introduction exercise, with gaps to fill about Voltaire and his life, and key ideas a worksheet for each new chapter with short summary, comprehension questions, grammar exercises, translations, quotes etc. answers to all questions Written by a native speaker for advanced / A-level students of all countries and languages (as a reference, the translations answers are provided in English, but all other answers are in French) Next chapters coming soon!!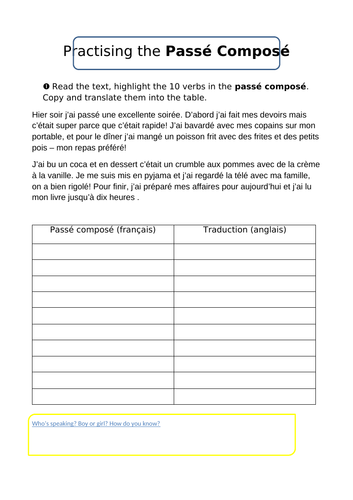 This is NOT an explanation of the passe compose, but a double worksheet for your studens to practise the perfect tense with avoir and etre auxiliaries. Also includes some irregular past participles, translation, and thinking skills. Ideal to practise in class or as a homework. Past tense, perfect tense, for higher ability Y9 or KS4, may be useful in Y12 as a reminder when revising past tenses.

Worksheet bundle! three levels of difficulty, each time mixing passe compose and imparfait 1. regular endings with avoir auxiliary 2. irregular past participles 3. etre auxiliary verbs Same format for each worksheet, so your students become more confident and secure in their learning (you could even use them with different year groups) final worksheet is a writing exercise that will challenge students to use both tenses together, with a bank of time markers and linking words to help. this is the perfect bundle to help students understand the (sometimes elusive) difference between perfect and imperfect.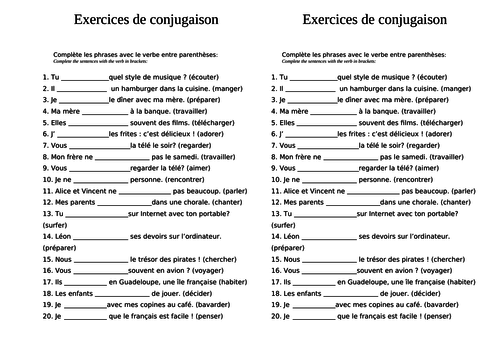 20 ER verbs to conjugate in the present tense, two tests on each page to save the trees! Easy sentences, perfect for your KS2 or KS3 beginners, high frequency verbs and easy vocabulary with plenty of cognates.

50+ easy starters to get students engaged and settled quickly at the strat of the lesson. Super easy to use - copy and paste the content of a box and get your class thinking while everyone gets ready. Alternatively project all on your screen and use as a quick revision before your end of year exams. Topics covered include: animals, food and drink, town, family, colours, numbers, possessive adjectives and many more. Suitable for Year7, Year 8 and Year 9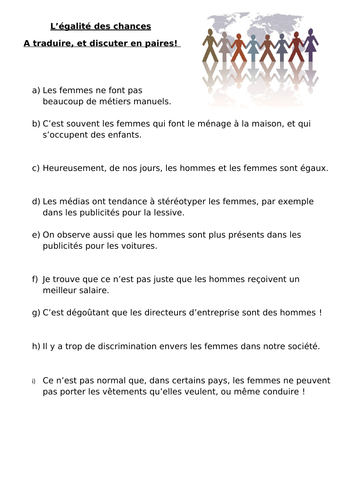 Conversation starters in the form of statements in French. Ask your students o translate them into English first, then discuss in pairs. This activity fits in perfectly within the curriculum, especially when discussing job opportunities, feminism etc. equal opportunities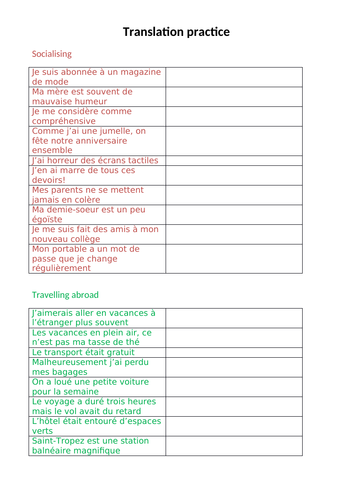 40 sentences to translate from French to English, with suggested answers provided at the end. This is an ideal introduction to KS4 for your Y9s who will be continuing with French next year, or used as a revision tool during KS4. Most sentences are in the present tense and focus on vocabulary. They are organised into four main topics or strands: socialising, town and community, making choices and travelling abroad.

5 different activities to introduce your beginners to well-being in French. The activities revolve around vocabulary and should last a whole lesson or provide ample work for a couple of homework tasks. This is a perfect worksheet to get your students thinking in French about their lifestyle and what makes them happy / how they relax. All answers provided on the last sheet.

Vocabulary, reading, translating and writing practice for GCSE family unit (ideal for Studio Edexcel module 1 and/or AQA theme 1, topic 1) Worksheets with a variety of fun, engaging exercises, including guess the family member, good expressions for talking about relationships, a cryptogram to decipher, translations,and a cheeky reading activity about the William and Harry divide. There is plenty here to keep students busy for a few homeworks, or at least a double lesson. This is a great resource pack to reinforce / wrap up / recycle the topic of family. ALL ANSWERS PROVIDED ON LAST PAGE. ALL WRITTEN BY A NATIVE FRENCH.

Give your students the best chance to succeed in their AQA speaking exam. In this document I go over the three parts of the exam and give specific, easy tips to get top marks along with some examples of answers, and a useful bank of expressions to use in the general conversation, that the examiners will love. Your students will thank you for having this document, and provided they know their basics and vocabulary, they WILL improve their marks if they follow my recommendations.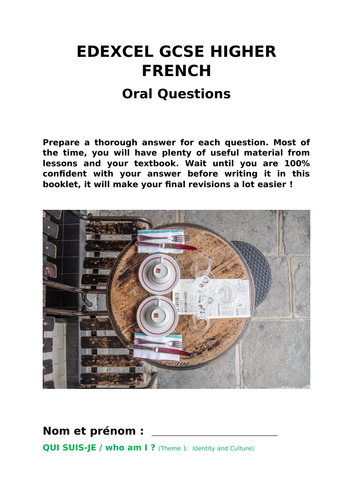 Two amazing resources included!! The ultimate TIME SAVER A student-friendly booklet contains all of the 80 questions ** suggested by Edexcel in the back of their Studio Higher textbook. It is colour-coded **to each unit and each question is translated into English. Pupils fill in their answers as they go through the course. It will save you a lot of time typing typical questions for each unit. Students keep their copy for 2 years, helps build up their confidence in the course. A comprehensive example of 80 answers to all the 80 questions, again aimed at higher level. Written in detail by a native (that's me!) and including higher level vocabulary, tenses and expressions. All colour-coded to each unit. That's 80 questions with blanks, and 80 detailed answers. Two documents that will save you a lot of time. You can use the answers as translations activities, mix-and match, verb searches etc. Endless possibilities.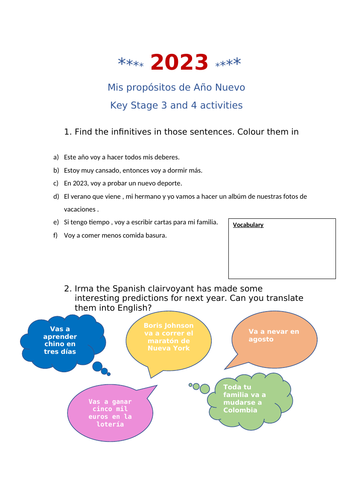 Need an easy lesson for January? This beginner worksheet is perfect for your classes up to Year 9, or for a lower ability KS4 group. All they need is basic knowledge of the immediate future. You get a variety of exercises mixing reading, translation, writing, not to forget the all-important cultural notes. This will keep any group busy for a whole lesson, or provide a couple of easy homework tasks ALL ANSWERS PROVIDED

A compilation of fun exercises and games to practice the future in several forms - immediate future, proper future, and using verbs with infinitives (eg. Je veux / J'ai l'intention de ) This is aimed at your intermediate level students, and should last a lesson / provide plenty of homework material All answers provided. Written by French native. Also available in my shop - a bundle of Christmas AND New Year activities, both for beginners and intermediate (KS3 and KS4)

Perfect for January!!! Two separate resource packs to cater for your beginners and intermediates at the same time. Also includes a comprehensive list of resolutions in French. Gets students reading, translating, writing and playing games with New Year Resolutions as a theme. NO actual lesson included, just lots of practice and easy to challenging activities to engage your students after the long Christmas break. ALL ANSWERS PROVIDED, written by a native French.

Covering most French cultural events and celebrations, this document is the ideal handout for both beginners and intermediate. The summary calendar is in English with some French words - it details the main festivals pupils need to know about, and represents an excellent foundation for those who will continue with French studies at GCSE level. There are two short activities to reinforce learning, and a link to a French website dedicated to young learners. A more in-depth document with reading exercises for more confident students. Includes a wordsearch, pictures and gap-fill / multiple choice exercises.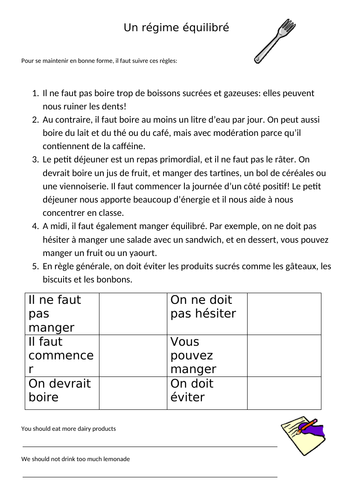 Reading and translation activities on the topic of healthy / balanced diet for your KS4 classes. The reading focuses on il faut / on doit / on devrait expressions . Translations are focused on authentic, cultural French foods - some students may need to do a bit of research!

Perfect to reinforce, revise, or review three time frames for your KS3 classes. Enclosed in this comprehensive worksheet pack: tables, exercises, exam tips, games and translations. Get your students thinking about their verb endings, irregular verbs, past and near future tenses. You could mix and match and only use the first two sheets for a Year 7 class, or offer all to a struggling KS4 pupil to help revise simple tenses.

Lots of examples of French words with the sounds ou, oi and on. Perfect for your beginners!