68Uploads
7k+Views
2k+Downloads KS3 lesson focusing on what people thought caused the Black Death. Use of sources and in line with the new Edexcel GCSE specification. Use of embedding KS4 skills at KS3. Easily adaptable to all abilities.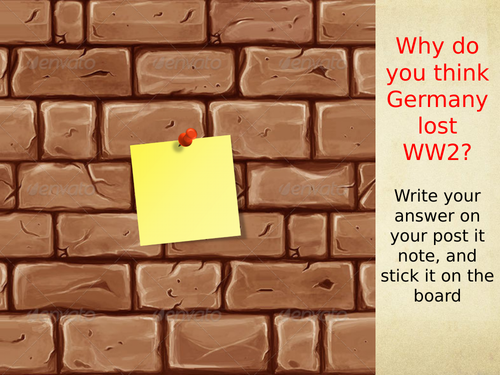 lesson based on the reasons the Nazis lost WW2 with a focus on D-Day, Stalingrad, Nazi resources and Hitler's leadership. well resourced with primary and secondary sources, videos, map and pictures. suitable for KS3 - easily adapted at KS4/KS5 and all abilities.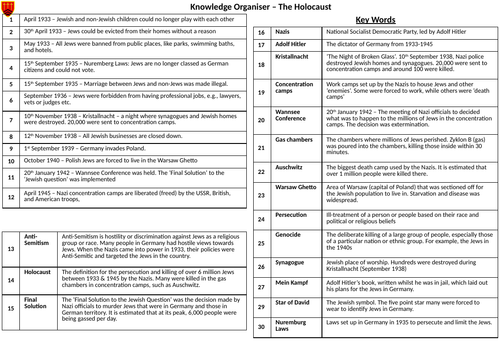 KS3 Holocaust Knowledge Organiser with additonal quizzes to test students' knowledge Year 8 lesson focusing on the causes of the Industrial Revolution - embedding GCSE skills at KS3 (focus on new Edexcel specification) They have to work as a pair to pick the top 9 causes, then rank them in a diamond nine. Answer 1 paragraph on a 'How far do you agree…?' question. easily adaptable for LA and MA New specification of Edexcel GCSE, British Medicine Through Time 1250-present. Focus of the lesson is how Edward Jenner discovered the smallpox vaccine etc. Easily adaptable across ability ranges New Edexcel GCSE British Medicine through time 1250-present. Suitable for LA students - concentrating on why the NHS is so significant, how it was established and the technology used to help it progress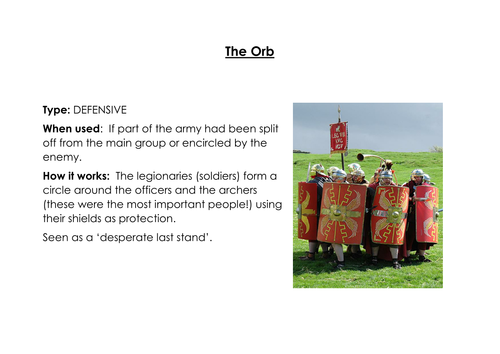 Not a whole lesson but resources. Four Roman battle tactics for you to use at any level and for any type of lesson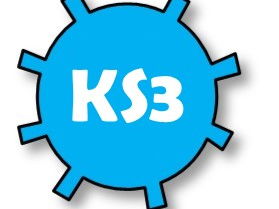 Focusing on the impact of the Black Death on England - focus on embedding GCSE skills at KS3. Has exam style questions and skills - following the new Edexcel GCSE History specification. Easily adaptable for all abilities and levels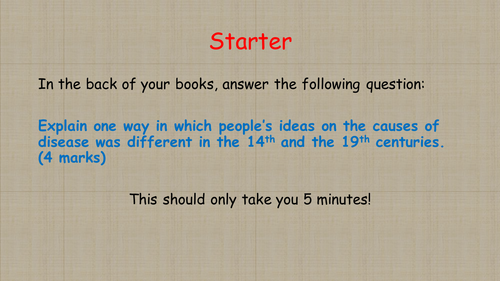 New specification of Edexcel British Medicine through time 1250- present. This focuses on Hospitals during the Industrial Period of 1700-1900 (18th Century - 19th Century) The lessons focuses on how they changed, and allows the students to tackle a PEEL paragraph which are required for a 12 mark question. Impact of the Black Death assessment. Resources available: assessment peer marking sheet marking codes available to reduce marking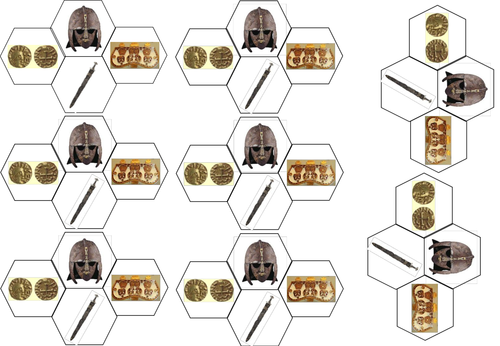 Suitable for KS3/KS4/KS5 curriculum - easily adaptable across the age/ability levels. All lessons provided with HA and LA PowerPoints and resources/worksheets. Knowledge Organiser (for use in homework) and Knowledge Organiser tests also provided. Assessments/assessment preparation lessons are also provided. Scheme of Work lessons: 1. How do objects found at Sutton Hoo help historians to learn more about the Anglo-Saxons? 2. How did Christianity change Anglo-Saxon England? 3. Why did Vikings raid England? 4. Do the Vikings deserve their bloodthirsty reputation? 5. Was Alfred the Great really so great? 6. Mini Assessment and Knowledge Test 7. Why is Anglo Saxon England known as the Dark Ages? 8. Why is 10th Century England seen as the Anglo-Saxon Golden Age? 9. Assessment Preparation 10. Assessment (+sentence starters) All individual lessons are available on my TES page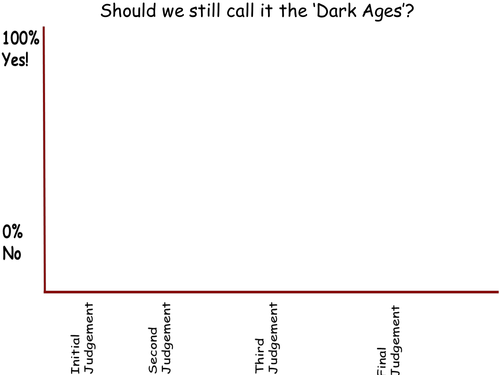 KS3 Lesson which can be easily adapted to KS4/KS5 and across all exam boards. Full lesson with resources focussing on should the Anglo-Saxon period be known as the Dark Ages Lesson focusses: What the Dark Ages mean Judgement lesson with sources and graphs to track how dark the Dark Ages actually work. Group or pair work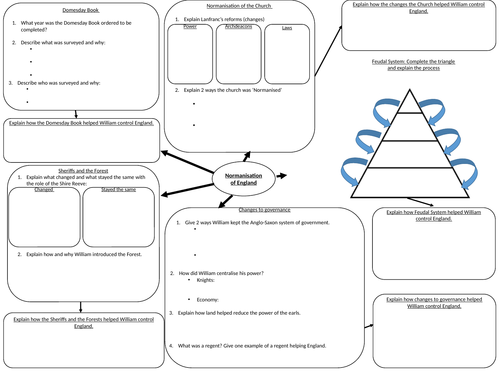 New Edexcel History GCSE topic: Anglo-Saxon and Norman England A3 sheet that allows students to revise the main topics of the Normanisation of England. Broken down into the subcategories needed. Easily used across the ability ranges, and easily adapted if you need.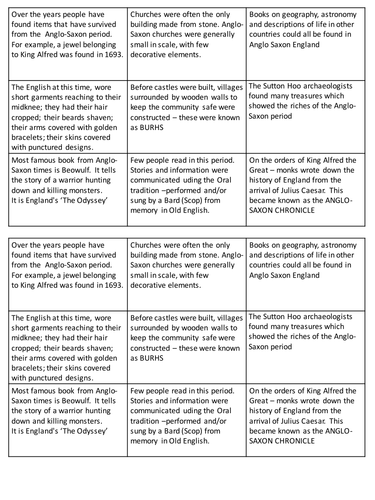 KS3 Lesson which can be easily adapted to KS4/KS5 and across all exam boards. Full lesson with resources focussing on how far the Angl-Saxon period was a 'Golden Age'. Lesson focusses: What a Golden Age is Are we in a Golden Age now? Diamond 9 activity - explaining which is the biggest reason we call it the Golden Age.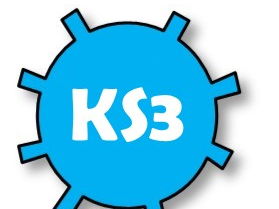 KS3 lesson on how the discoveries at Sutton Hoo tell us about how the Anglo-Saxons lived. Students are using their inference skills. Easily adaptable New specification of Edexcel GCSE, British Medicine Through Time 1250-present. This lesson focuses on who Florence Nightingale was, her impact in the Crimea, ,and her impact on nursing and hospitals when she returned from war. Activities include a Facebook page, and the writing of an obituary. New specification of Edexcel GCSE, British Medicine Through Time 1250-present. The lesson focuses on the surgical improvements during the Industrial Period, and include the work done by James Simpson and Joseph Lister.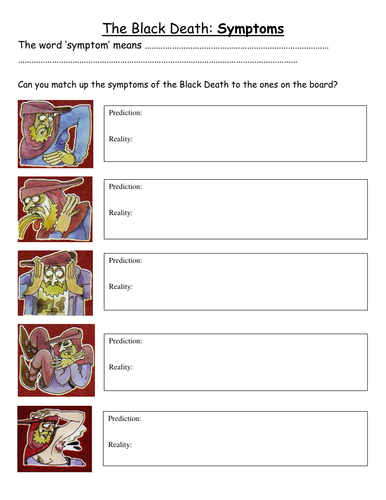 Suitable for KS3. Six lesson SOW including assessment and peer marking grids. Focus on embedding the new Edexcel GCSE exam skills at KS3. Uses GCSE command words to get all familiar with the words used at KS4. Easy to differentiate and fun, active plenary. All resources are simple and accessible. GCSE skills include; infering from a source, writing a narrative, explaining the main difference between 2 interpretations, explain essays. Suitable for a school who teaches KS3 once a week - lessons are easily adaptable to extend if required. Focusses on symptoms, arrival, causes, cure, impact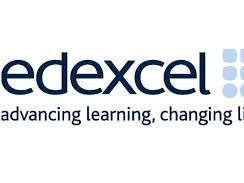 For the new Edexcel specification - British Medicine Through Time The focus of the lesson is how people thought cholera spread, what John Snow discovered and what the impact was of his work on the progress of medicine. Tasks include a visual hexagon, PEEL paragraph and plotting the co-ordinates of cholera victims on a map. Easily adaptable across all abilities.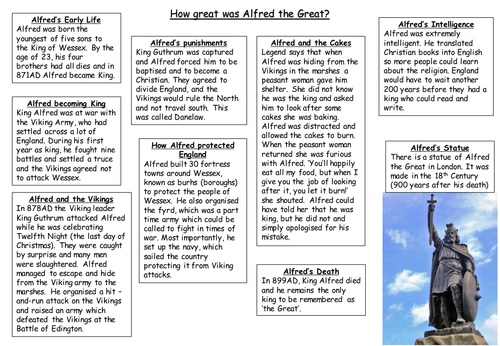 KS3 appropriate - great judgement lesson with exams skills