76Uploads
16k+Views
6k+Downloads Impact of the Black Death assessment. Resources available: assessment peer marking sheet marking codes available to reduce marking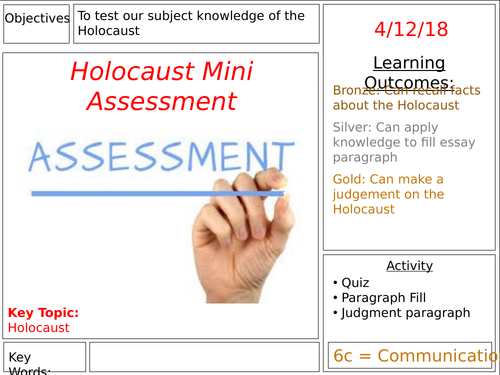 KS3 History - Topic: The Holocaust. Based on my Holocaust Knowledge Organiser which can be purchased in my shop. Knowledge Quiz based questions with a word fill of a paragraph - good for testing knowledge and modelling how to structure a paragraph using specific knowledge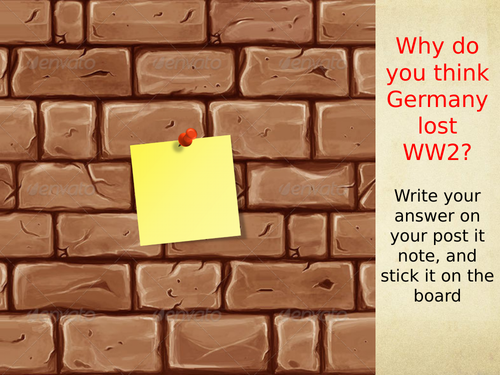 lesson based on the reasons the Nazis lost WW2 with a focus on D-Day, Stalingrad, Nazi resources and Hitler's leadership. well resourced with primary and secondary sources, videos, map and pictures. suitable for KS3 - easily adapted at KS4/KS5 and all abilities.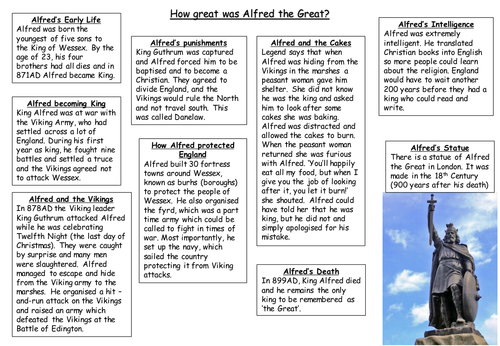 KS3 appropriate - great judgement lesson with exams skills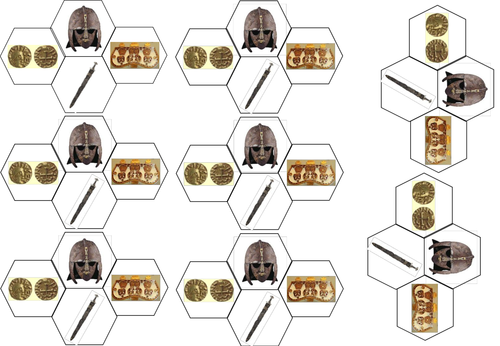 Suitable for KS3/KS4/KS5 curriculum - easily adaptable across the age/ability levels. All lessons provided with HA and LA PowerPoints and resources/worksheets. Knowledge Organiser (for use in homework) and Knowledge Organiser tests also provided. Assessments/assessment preparation lessons are also provided. Scheme of Work lessons: 1. How do objects found at Sutton Hoo help historians to learn more about the Anglo-Saxons? 2. How did Christianity change Anglo-Saxon England? 3. Why did Vikings raid England? 4. Do the Vikings deserve their bloodthirsty reputation? 5. Was Alfred the Great really so great? 6. Mini Assessment and Knowledge Test 7. Why is Anglo Saxon England known as the Dark Ages? 8. Why is 10th Century England seen as the Anglo-Saxon Golden Age? 9. Assessment Preparation 10. Assessment (+sentence starters) All individual lessons are available on my TES page KS3 lesson on how the conversion to Christianity changed England. Inference skills, judgement skills. Easily adaptable September 2016 Edexcel Paper 3 - Weimar and Nazi Germany. 8 Mark Question. How useful are sources A & B in your enquiry into… Question mat which highlights the ways to answer the question effectively with a mark scheme.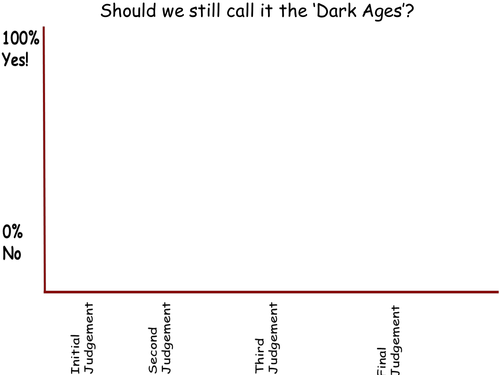 KS3 Lesson which can be easily adapted to KS4/KS5 and across all exam boards. Full lesson with resources focussing on should the Anglo-Saxon period be known as the Dark Ages Lesson focusses: What the Dark Ages mean Judgement lesson with sources and graphs to track how dark the Dark Ages actually work. Group or pair work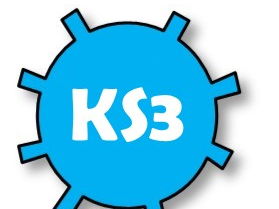 KS3 lesson on how the discoveries at Sutton Hoo tell us about how the Anglo-Saxons lived. Students are using their inference skills. Easily adaptable New specification of Edexcel GCSE, British Medicine Through Time 1250-present. This lesson focuses on who Florence Nightingale was, her impact in the Crimea, ,and her impact on nursing and hospitals when she returned from war. Activities include a Facebook page, and the writing of an obituary.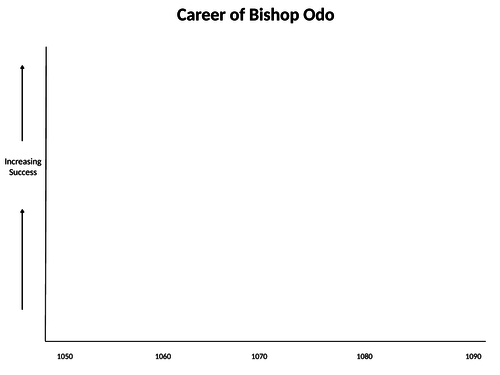 In line with the new 2016 Edexcel GCSE History Course - Anglo-Saxon and Norman England 1066-1087. The lesson focusses on the career of Bishop Odo from his appointment as Bishop of Bayeux to the his death. The focus of the lesson is his relationship with William I and how his actions led to him falling out of favour. The students make a living graph, based on an information sheet provided, and then answer a 4 mark features question, with peer marking and structure strips to help. The lesson is very well resourced and in clear line with the GCSE syllabus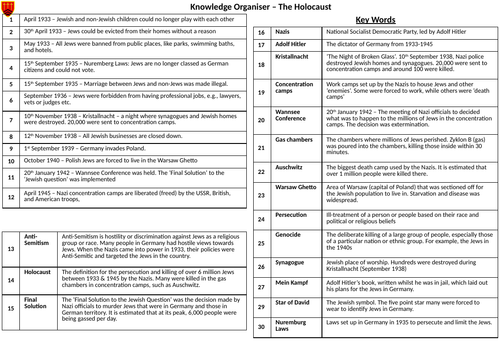 KS3 Holocaust Knowledge Organiser with additonal quizzes to test students' knowledge American Civil War and the Homestead Act of 1862 - in line with the Edexcel (exam 2018) specification History GCSE - The American West Lesson focuses on the causes and results of the Civil War and how it led to the Homestead Act Practice exam question on 'consequence' (4 marks)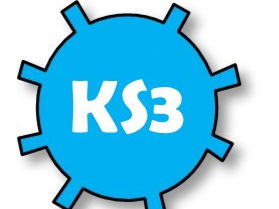 Suitable for KS3 and easily adaptable for HA, MA & LA Focuses on the reasons why the Black Death spread so quickly and easily across Britain. The students create a leaflet in groups and then create a rap to explain why it spread so quickly and easily.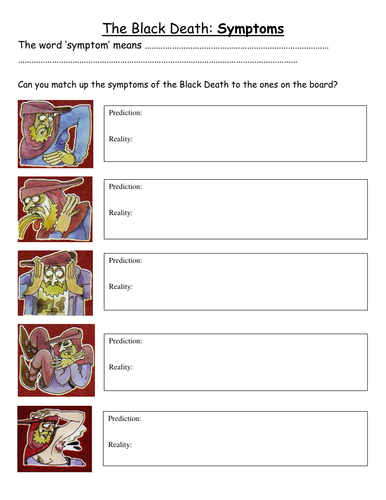 Suitable for KS3. Six lesson SOW including assessment and peer marking grids. Focus on embedding the new Edexcel GCSE exam skills at KS3. Uses GCSE command words to get all familiar with the words used at KS4. Easy to differentiate and fun, active plenary. All resources are simple and accessible. GCSE skills include; infering from a source, writing a narrative, explaining the main difference between 2 interpretations, explain essays. Suitable for a school who teaches KS3 once a week - lessons are easily adaptable to extend if required. Focusses on symptoms, arrival, causes, cure, impact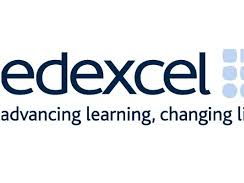 Role of women in Weimar Germany and how it changed after WW1. Practice of new Edexcel (2016 start) 4 mark question. Resources included.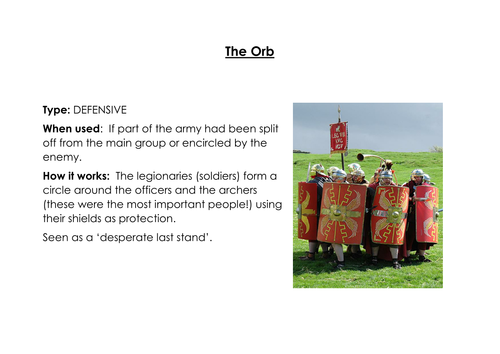 Not a whole lesson but resources. Four Roman battle tactics for you to use at any level and for any type of lesson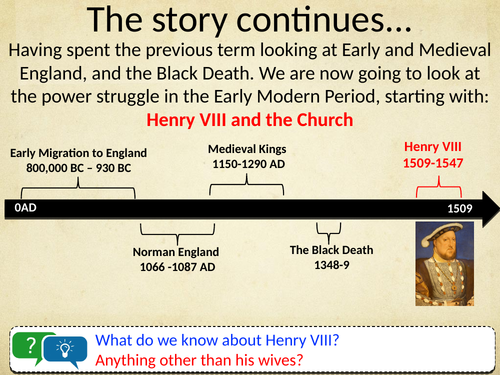 Scheme of work for KS3 on Henry VIII and the religious power struggle in his reign. Lessons include: L1 - What did religion look like in England in 1500? L2 - What's love got to do with it? Did he break from Rome because of love? L3 - Did money and power drive Henry to break from Rome? L4 - What was the real reason Henry broke from Rome? L5 - Assessment All lessons have higher order themes, questions and concepts throughout. Planned to a high standard. Multiple historical concepts used - focus on source/intepretation skills.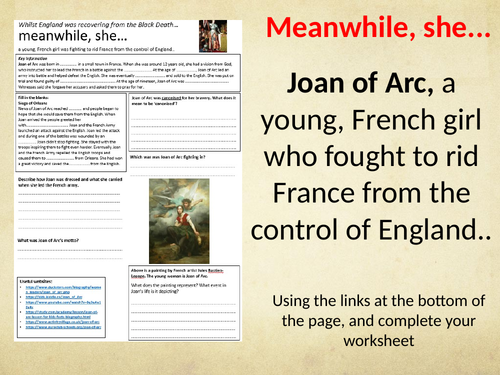 A great homework activity, cover work or home learning worksheet. The students have to research Joan of Arc using the links at the bottom of the page to complete the acivities. Meanwhile she are a great way to broaden students' understanding of the topic they are studying. Year 8 lesson focusing on the causes of the Industrial Revolution - embedding GCSE skills at KS3 (focus on new Edexcel specification) They have to work as a pair to pick the top 9 causes, then rank them in a diamond nine. Answer 1 paragraph on a 'How far do you agree…?' question. easily adaptable for LA and MA