Sport/Physical Education Resources
Providing resources for BTEC Sport and GCSE Physical Education
15Uploads
24k+Views
1k+Downloads
Providing resources for BTEC Sport and GCSE Physical Education

This is a document for students to use to help them use the Harvard referencing system. It simply explains how to use the website citethisforme with pictures to follow. It uses the very simple Harvard referening.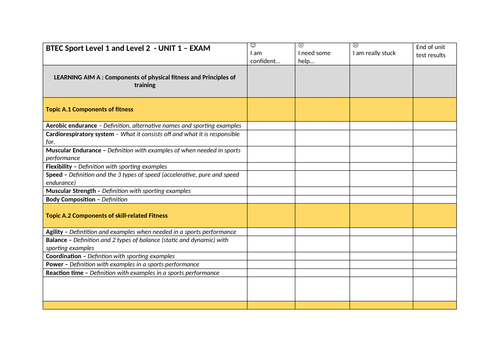 This is a checklist for the Pearsons BTEC Sport specification for the exam element - Unit 1. This has been taken from the specification for teaching in 2018 and onwards. It allows students to highlight each part of the exam where they feel their knowledge is secure or whether they require additional help. The checklist covers all areas that students must cover to be ready and prepared for the exam. It is broken down into A/B/C topics. This can either be given to students as a whole or topic at a time for students to check their understanding or topics A/B/C can be printed and give to students at different stages throughout the course.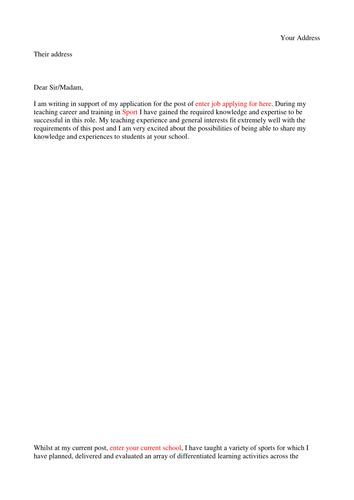 This is a template which gives you the core elements of a teaching personal statement. It is focused mainly around PE and Sport but has elements which would be useful for all subjects. It gives you the key elements you should be talking about in a cover letter/personal statement and it allows room for you to add your own experiences and abilities.

Unit 3 Professional Development in the Sports industry Can be used with the NEW BTEC Nationals in Sport - this powerpoint covers the first assignment and can be easily tailored to yours.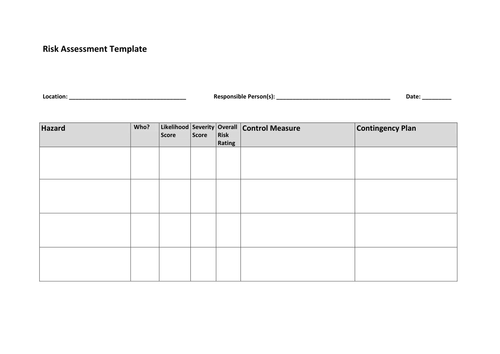 This was initially aimed at BTEC Level 3 students studying sport, however it is suitable for A-Level and GCSE/Level 2 BTEC. The powerpoint runs through risk assessments and looks at hazards and risks. There are additional starter sheets to use as well as a risk assessment template for students to fill out during the lesson. There is enough content to last over a double lesson. Learning objectives are easily adaptable for all levels.

A student checklist for paper 1 and paper 2 for the AQA new GCSE PE spec. Paper 1 being the human body and movement in physical activity and sport. Paper 2 being the sports psychology and socio-cultural influences This checklist follows the AQA subject content and is a checklist that students can use themselves to highlight to you as the teacher any areas they do not understand and require further teaching on. It can also be used as a revision checklist for students. Document can be easily adapted and changed if required.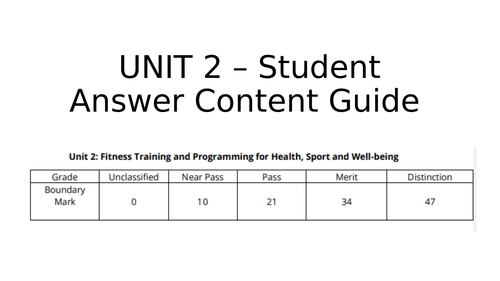 This is a student guide to help students with answering questions in the Unit 2 exam. It tells students what they need to cover when answering each question as well as giving them the marking table. This lets them see what they must include to reach the higher band marking. This is best used as a guide to give to students however, it could be used as a powerpoint during a lesson.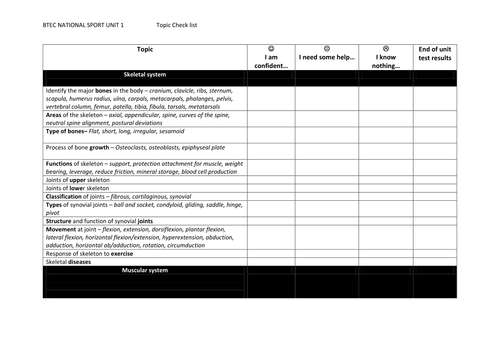 A students checklist covering all of Unit 1 Anatomy and Physiology. This is following Pearson's specification. It is ready to be used straight away but can easily be adapted and changed to suit students needs. Great resource that can be used along side teaching or as a revision checklist for students.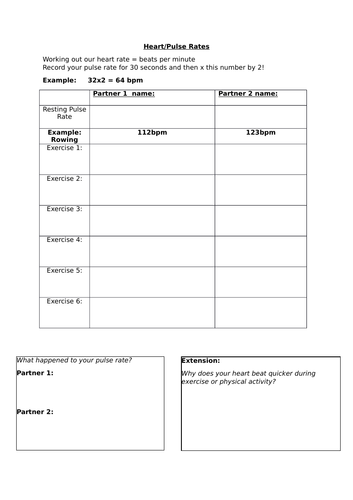 This sheet is an easy to use worksheet for students to use when recording their heart rates with a partner. This is a great resource to use within a fitness suite or during a circuit lesson. Students are able to add the exercise or piece of equipment they are using and their working pulse rate during this. The worksheet also has a couple of questions/extension questions for students to answer.

The training programme is an example of weeks 1,3 and 6 that could be used in the exam on the 8th May 2018. This training programme is based around the pre-realease material Christine. This can be easily adapted if needed. Students can use it as a template/example for the training questions in the exam.

Powerpoint for Unit 3 A1 and guide for harvard referencing for the New BTEC Sport Nationals

This is a powerpoint covering diet to be used for the BTEC Extended Certificat/National Sport Unit 2. It could also be used and easily adapted for GCSE PE. The powerpoint has relevant information and appropriate tasks to check students understanding throughout and should cover over 2/3 lessons depending on your class. It also finishes with a practice case study. The powerpoint covers: Nutritional terminology, macro-nutrients (carbohydrates, protein and fats) and micro-nutrients (vitamins and minerals). It also briefly covers hydration (if you would like this in more depth please see my other resources).

This powerpoint is an introduction into Health, Fitness and Well-Being for the New AQA GCSE 9-1. The content follows the New AQA GCSE PE syllabus The content will cover 1 lesson and comes with exam questions and a starter sheet. The powerpoint covers the reasons for participating in physical activity and explores, physical, social, mental health reasons as well as fitness. It also introduces students to 'sedentary lifestyles' and goes on to look at obesity. The powerpoint is ready to be used straight away but can be easily adapted to your own wants and needs.

This is for the up coming exam for UNIT 2 on May 8th 2018. It is a powerpoint on how to answer and structure the questions around the pre-release material (Christine). There is also attached an example training programme. The Powerpoint is a great basis for getting to grips on answering and structureing the questions about and around Christine.

A powerpoint following the new spec on Seasonal Training. The powerpoint can be used to cover an hour lesson but can be easily adapted. The powerpoint has information needed to answer questions on seasonal training. There is a 3 mark and 9 mark question to use to check understanding - the 9 mark question has a mark scheme attached.