Mrs M's English and Media Den
Selling a range of resources and assessment materials for English, Film Studies and Media Studies.
117Uploads
48k+Views
15k+Downloads
Selling a range of resources and assessment materials for English, Film Studies and Media Studies.

LOOKING FOR INDIVIDUAL GRADES FOR EACH SECTION OF THE EXAM/COURSEWORK SO YOU KNOW MORE SPECIFICALLY WHERE TO FOCUS YOUR INTERVENTIONS? I ALSO HAVE A TRACKER AVAILABLE WHICH PROVIDES YOU WITH THIS FOR ONLY £2 MORE. PLEASE SEARCH FOR 'FULL BREAKDOWN EDUQAS 9-1 TRACKING' Designed on Microsoft excel, this tracking document will help you keep track of the progress of your KS4 Media Studies students, with specific columns for section of each exam paper and for individual coursework marks. The sheet will auto calculate total marks on each unit - which will be converted into a 9-1 grade as well as totalling overall marks, which then feed into an overall grade prediction. The predictions have been calculated using last year's WJEC grade boundaries and the % of marks needed for each grade on each unit. This % mark has then been converted for the new weighting on the new spec. All you need to do is add the pupil information and the marks they have achieved for each question and the rest is done for you. Please be aware that these are not official grade boundaries and it is guess work at this stage. I have tried to make my predictions as reliable as possible by converting from old spec boundaries and converting % etc, but cannot guarantee that these will be the exact boundaries provided by the board. I have also created similar spreadsheets for AQA GCSE English 9-1, old spec AQA Media GCSE and Media A level too; check out my shop for these. A Level will too be added in due course - subscribe for notifications! Any problems with this or formula doing strange things, please contact me on steel123@hotmail.com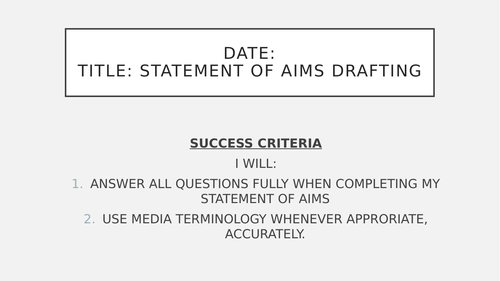 A lesson planned to support students in drafting their statement of aims to accompany the film marketing brief; easily adaptable for the other briefs with example band 5 response and criteria from specification.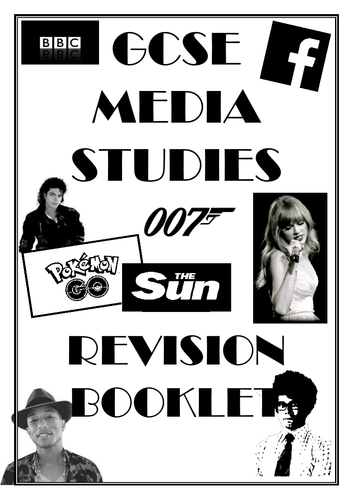 Here's a booklet I've made for students to revise everything taught for components 1 and 2 of the new GCSE Media Studies specification for Eduqas. The booklet does not cover information itself, but rather a full list of possible exam questions for each area taken from wording in the specification, as well as some unseen comparison texts for each set text for component 1 section A. This would be helpful for students revising alongside the factsheets provided by the exam board and notes from class for component 2. This would also be invaluable for anyone wanting to make up their own set of full mock papers as there are many different variations available from the questions in here. There is an editable version for download as well as pdf for anyone who covered different texts for component 2 (It Crowd, Friends, Michael Jackson, Pharrell and Taylor Swift were the ones I taught). Hope this proves to be useful.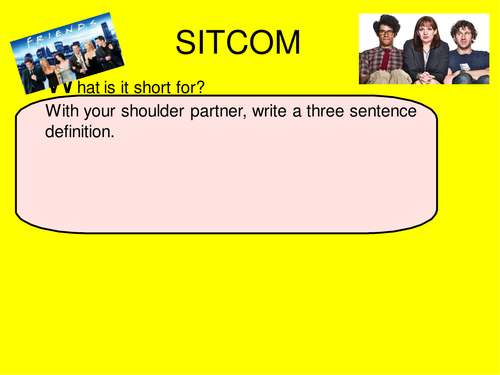 The first lesson in a scheme tailored to component 2a TV Sitcoms studying THE IT CROWD and FRIENDS. Following lessons to be uploaded too.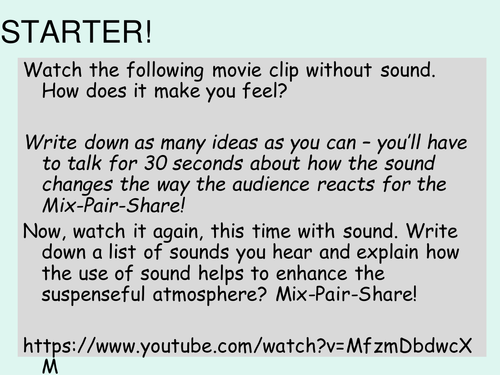 This particular lesson focuses on the use of sound in the selected episode. Please subscribe for further lessons as these will be added as soon as planned.

NEW TRACKER USING ACTUAL GRADE BOUNDARIES NOW AVAILABLE IN MY STORE This tracker, as with the others in my store, is designed to make the lives of your A level Media Studies teachers easier, whilst also providing an effective tool for promoting self evaluation in students. The formula is all in place, all you have to do is export the info from SIMS, copy and paste, then enter the marks for your mocks/assessed pieces as they're done and as you complete each question, a predicted grade will be offered. When completing a component you will be given an overall predicted grade based on the % of marks that students has achieved. I have come to the final grade by calculating the % of marks students required in order to achieve each grade on the old spec (different for exam and coursework components). I have then reweighted this based on the number of marks available in the new spec. This, from what I can tell, is the best way of estimating grades on the new specification. As with all new specifications, this is guesswork. Please approach the grades given with caution and always explain to students/parents/SLT etc that this is simply a best guess until the exam board provide something more conclusive. The spreadsheet calculates grades for each separate component as well as an overall grade for the qualification. Furthermore, I've added a 6 mark buffer to account for grade boundary increases Any queries or clarification, or any faults with the spreadsheet, please contact me directly at steel123@hotmail.com and I will happily try to repair or resolve any problems. Happy with your purchase? Please leave a positive review so that this is promoted to others that may benefit!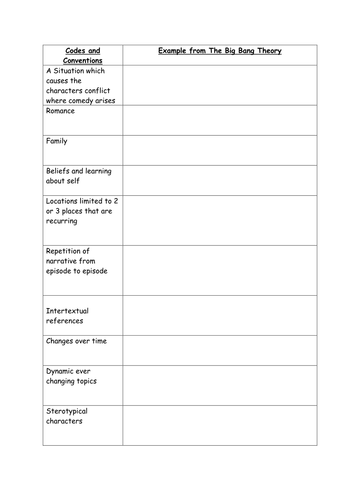 Lesson 2 in series planned for new component 2 TV Sitcoms. Other lessons to follow, subscribe for the entire SOW.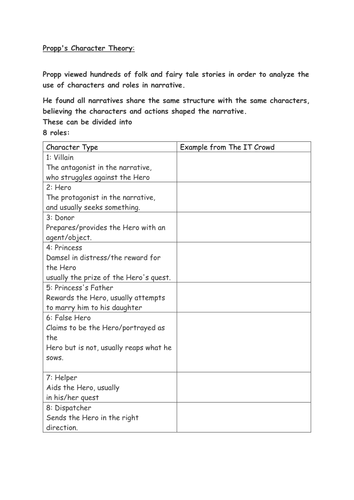 This double lesson explores the episode in relation to four key media theories. Subscribe for the rest of this scheme which is in the process of being planned.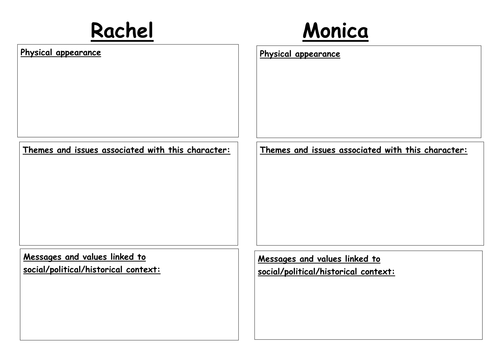 Lesson focuses on representation of main characters in Friends. More lessons to follow - subscribe for updates.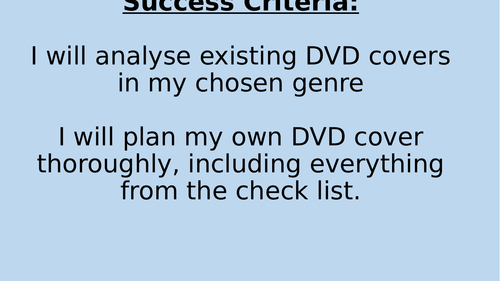 Something I planned to guide students through the planning stages of their coursework. Takes students up to mock ups for DVD cover and Film Poster (doesn't cover statement of aims).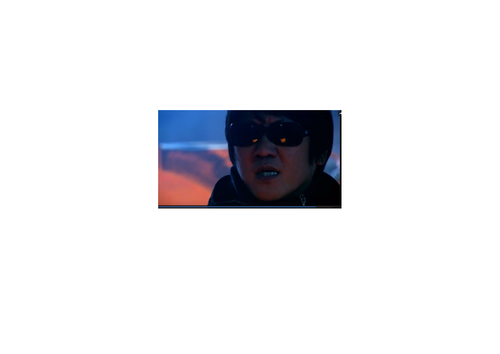 Double lesson focusing on representation of key characters and exam skills. Please subscribe for more lessons as they will each be uploaded as soon as completed. I have planned for 20 lessons in total.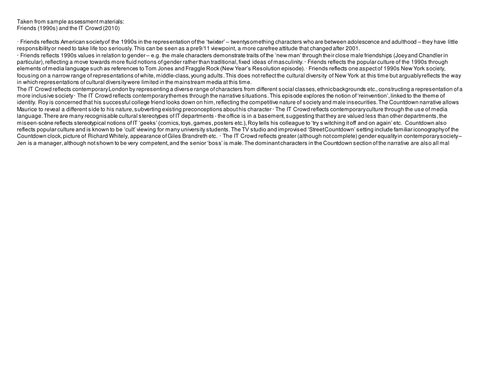 Context based double lesson. For more lessons please subscribe as I will be adding them on as they are planned. Powerpoints are all exported from SMART so may need realigning.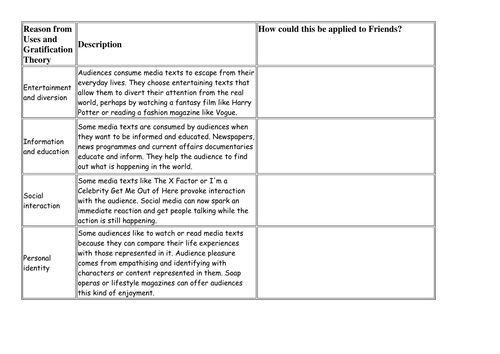 Explores the entire pilot of Friends in relation to four key media theories. Pupils marketplace and share knowledge and understanding. Pleas subscribe for updates - more lessons to be added as and when planned.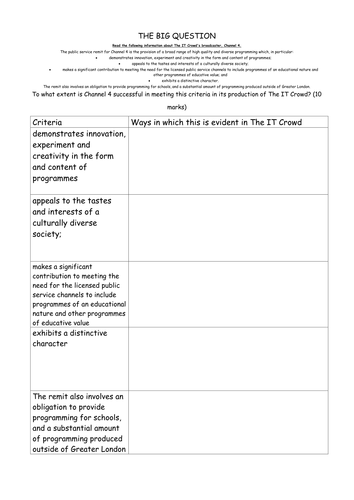 Double lesson focused on industries and context. Please subscribe for further lessons which will be added when planned.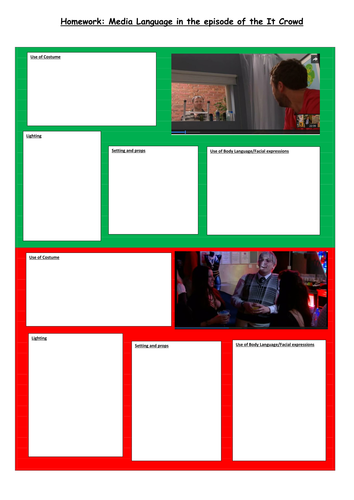 This lesson focuses on media language in key scenes. Subscribe for updates when later lessons uploaded.

This will enable you to track the progress of your students throughout the year with columns for each unit studied - two assessments per film, as well as coursework and mock exam points. This particular tracker follows teaching of component 2 in year 1 and component 2 in year two. It can easily be adjusted to meet other needs though, All calculations are based on actual grade boundaries from the June 2019 results. Feedback always appreciated. Similar trackers also available for Media Studies, English Language and English Literature.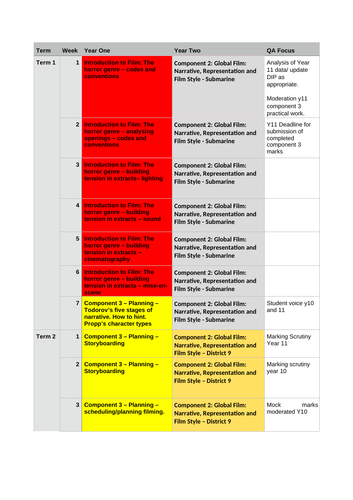 Includes a column for suggested QA focuses for the year. Editable if you have selected different films from those on the plan. Currently working on this for teaching from SEPTEMBER. Will be uploading MTPs and lesson packs and when they're complete - subscribe for updates.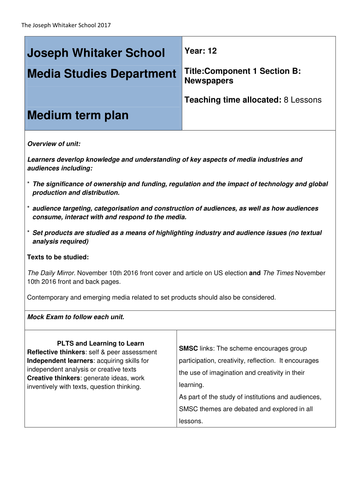 MTP inc assessment info, topic breakdown, key words, theorists, smsc links etc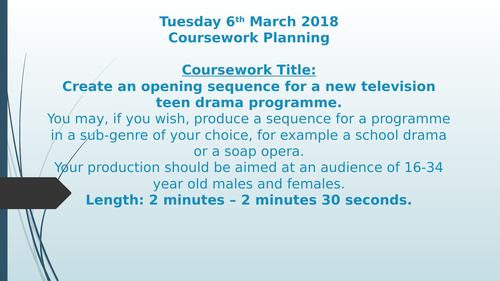 Lessons guiding students through analysis of existing teen dramas (need access to clips on youtube/Netflix) to then storyboarding their own. Looks at narrative structure, character types etc with examples given for both. Doesn't cover statement of aims. Probably span over 3 or 4 lessons. Storyboard tempate from OLD spec used - can be access through exam board website.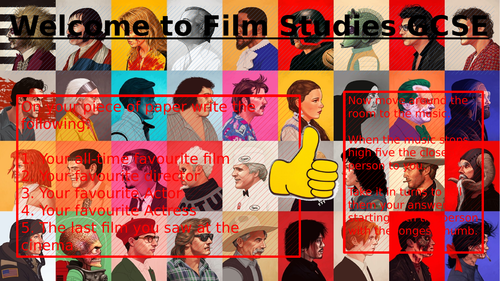 As part of my suggested Long Term Plan for the GCSE Film Studies (9-1) course, i will be beginning the course with an introductory unit in which we explore many of the key elements of the course linked to the horror genre. This will then feed into component 3 in which students can produce an extract from a horror film. By including an introductory unit, students will be given opportunity to explore all of the key areas before being shown any of the set texts and so enable a deeper level of analysis when the films themselves are explored. Plus, the component 3 piece will be strengthened with a thorough exploration of the genre, leaving a greater amount of time to focus on planning, filming and editing the coursework itself. This is lesson one from the scheme of work. Lessons are being planned daily throughout the summer break so please return for updates. Accompanying Long Term Plan and Medium Term plan available through my shop. Any questions, please don't hesitate to ask. PLEASE NOTE, BACKGROUNDS ON ALL TEXT BOXES SHOULD BE FINE - PREVIEW ON TES DOESN'T MATCH ACTUAL POWERPOINT.