PartnerLessons.com
Providing Art Lesson Plans from grades 5-12 that incorporate meaning and creative thinking!
17Uploads
3k+Views
482Downloads
Providing Art Lesson Plans from grades 5-12 that incorporate meaning and creative thinking!
Students discover and create a coat of arms using this hand out art sheet and reading about the history of the creation of coats of arms. This is a great lesson that builds self esteem for students and requires only color pencils!
This art lesson combines the principle of the beauty of being consistent, this dynamic is mostly played out in math. Within this assignment students apply a series of formulas connecting dots via lines within and without of a series of quadrants. The result is that each student develops their own unique design that they feel proud of. A series of multiple formulas can easily be created to lay down over each prior formula making the design more complex and beautiful. However, if the student is not consistent within their design then the whole image falls apart. This lesson can be expanded to where students create their own template or geometric shapes and then set up their own system of dots or numbers to manifest a unique work of art. Please view the video demonstration. Visit PartnerLessons.com to view more dynamic lessons like this one as well as view interviews from the world's great artist's, view video demonstrations like the one you see here and much more. You may also purchase a full semester of lessons to weave into your own lesson plans.
These 10 art sheets of the world's greatest soccer players allow students to work on their shading techniques, blending and color values! Just break out the color pencils!
This is a fun 3 page art sheet lesson on putting hair on a series of Leonardo da VInci's drawing's of women. I often use this lesson in between lesson plans on the Renaissance. This is simply a fun lesson that allows students to go a bit crazy with their imaginations. I took all of their work and cut each image out and taped them together to form a montage Andy Warhol style.
These are 15 art drawing sheets of famous African Americans. Students apply color pencils through shading, blending and adding color values to make them come alive.
Five pages of single art sheets of animals created out of geometric shapes. These are good lessons to showing how form is created for composition out of geometric shapes.
These 10 lesson art sheets reflect 10 masterpieces from 10 masters! Each sheet is an image of a masterpiece that has been recreated using contour lines. Student's apply shading techniques to make the masterpieces come alive. Each sheet has a reading bio of the artist represented in the lesson. All that is needed are color pencils for this assignment. I often have a dixie cup of baby oil on hand along with a que tip. Students apply a small dab of oil in areas that they want opaque. These lessons may be found at PartnerLessons.com with over 40 different masters as a part of The Meet The Masters Series. More can be viewed by watching the video attached to this lesson.
This series of art sheet lesson plans offer a great art history to students while they recreate a masterpiece through creating shading, blending and values. These are ten of the more than 40 different artists presented in the the Meet The Masters Series found at PartnerLessons.com
The metatron cube holds all geometric shapes in one cube. This lesson comes with a description of the history of the metatron cube and students use color pencils to discover the various geometric shapes as they overlap colors to create patterns. Discover PartnerLessons.com and find other free lessons and join the community of art teachers.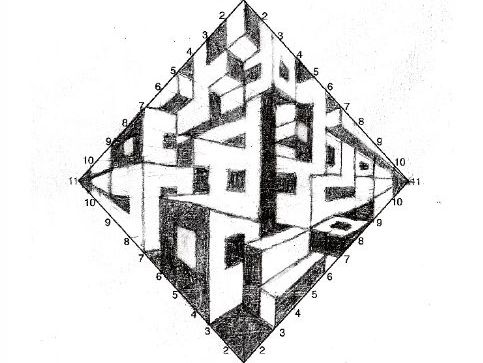 This single art lesson hand out sheet enables students to see and create 2 point perspective in an easy manner that is fun! Teaching 2 point perspective can be very frustrating, that is why this lesson was created. The quick 20 second video demonstration should be shown to your class to see how easy and fun the lesson is. Visit PartnerLessons.com to view one of the best sources of Art Lesson Plans.
A single art lesson sheet on the master Alfred Sisley. Student's need only color pencils to recreate this master's masterpiece through shading, adding values, and blending.
A single art sheet lesson on recreating a masterpiece by Johan Vermeer! Discover the complete series of over 40 artist's and their masterpieces at PartnerLessons.com. Students only need color pencils and baby oil applied with a que tip.
This art assignment allows students to learn a list of important vocabulary words that they then use to compare and contrast two works of art or sculptures. The sculptures are American monuments found in Washington D.C., the Dr. Martin Luther King Jr monument and the Abraham Lincoln Monument.
This lesson on Rembrandt offers 5 art page sheet assignment's related to drawing in a gesture style as Rembrandt did. It is a great introduction to this Master Dutch artist. This lesson and many others may be found at PartnerLessons.com.
Students recreate the head of David through drawing it and applying shading, and values. View the complete collection of Meet The Masters Series at PartnerLessons.com .
A nice lesson of 5 art sheets allowing young art students to bring life these drawings of lions. These lessons are perfect for grades 3-8. All that is needed are color pencils. Go to PartnerLessons.com to view more lessons along with the popular Meet The Masters Series.
This is an excellent introduction lesson to the great Dutch Master, Vincent van Gogh! There are two print out art sheets depicting his masterpieces of Starry Night and The Sunflowers. Students use their shading, blending and color skills with color pencils to make the masterpieces come alive.