3Uploads
2k+Views
700Downloads
This tool allows anyone - teacher, phase leader, SLT - to track the termly progress of pupils in different classes. There are 3 data drops: Autumn, Spring and Summer. On each tab, it asks the class teacher for: Summary of interventions: What worked and what didn't? Which children, despite specific intervention being in place, do not appear to be making significant progress? **Identify those children highlighted during the Appraisal process requiring accelerated progress (KS1 data) to be made and reflect upon the progress they have made since September. ** **How are your Pupil Premium children and children with SEN performing? ** Percentages estimated at the end of the year I have put in formulas so percentages are worked out automatically. Obviously, this form can be edited to suit your school.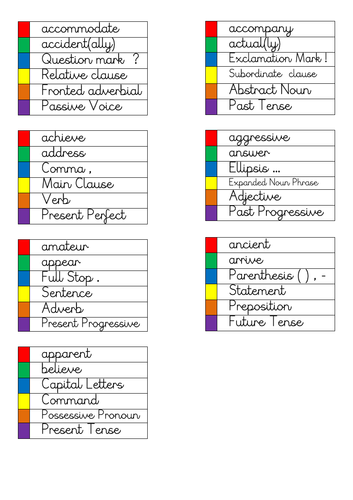 Based on a popular articulating game, I have created cards with different categories covering all areas of Grammar, Punctuation and the Year 3/4 5/6 spelling word lists. Children need to verbally describe to their partner what they have written in front of them. A great way to revise all areas of SPAG (GPS). 105 cards included. Red: Year 5/6 Spelling Words Green: Year 3/4 Spelling Words Blue: Punctuation Yellow: Clauses/Phrase/Sentence Orange: Word Class / Word Structure Purple: Tense/Voice
I have created an Underground Map linking similar fiction books together to help with reading for pleasure in Key Stage 2. For example, if a child likes reading David Walliams, they can follow the "Funny" line to find other similar books. The lines cross at certain points as well to encourage children to read other genres! I have also included the original Word document, so you can edit and change it!