23Uploads
847Views
325Downloads
Worksheets for independent study and revision based on the topics found in the Edexcel Religious Studies module Judaism Practices Public Acts of Worship Shabbat Prayer Shema and Amidah Features of a Synagogue Rituals and ceremonies is a PPT which goes through all the ceremonies from birth to Death with some printable slides for students to read/fill in/use as a study aid
Worksheets to cover Edexcel Catholic Christianity The Trinity Biblical Understandings of God as Trinity Creation The Incarnation The Nature of Salvation and Grace The Paschal Mystery Eschatology
Worksheets Based on Edexcel GCSE Religious Studies topics of Evil and Suffering for independent study
Eschatology Life after death Catholic Christianity - based on the EDEXCEL Religious Studies Course
Worksheet for year 9+ and can be used for Religious studies independent study at GCSE level.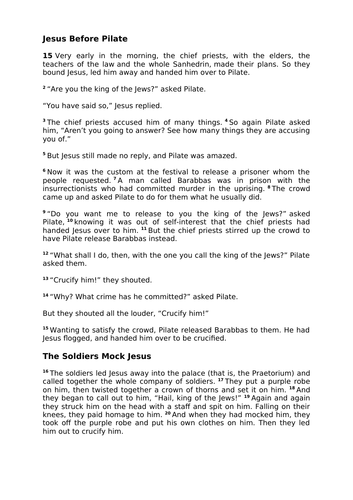 Gospel accounts of Jesus' Death Mark and John - comparison and including venn diagram to write similarities and differences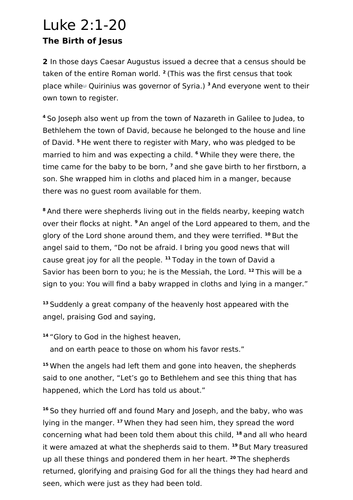 Read both Gospel accounts of the birth of Jesus and use the venn diagram to write differences and similarities
Jewish beliefs and Teaching based on the Edexcel religious studies curriculum.
Covenant at Sinai Individual worksheet for Edexcel Religious Studies Judaism
Reading Comprehension and Questions The preview shows the page as having really bad formatting however the writing fills up the centre of the page also. Not sure whey it shows this in the preview!
A resource also used at GCSE level - the importance of prayer in Catholic worship also knowing the difference between informal and set prayer and why it is importent to have a variety of prayers
Parts of a ukulele Strumming patterns Finger numbers First chords C, AM, F and G
Two worksheets for Independent Study based on the design argument and the cosmological argument
An independent reading/worksheet activity to recap on the importance of Pilgrimage in Catholic Christianity as part of the Edexcel Religious Studies course Pilgrimage Prayer Visions
A range of revision worksheets that cover the Edexcel Catholic Christianity and Philosophy and Ethics sections of the Religious studies course. I use these for year 10 and 11 mock and GCSE Exam revision and independent study. Included are: Prayer, Creation, Pilgrimages, Visions, Eschatology and Life after death Forms of Expression Religious Imagery and Symbols Architecture and Design Marriage and Divorce The Design Argument The Cosmologial Argument The Trinity Evil and Suffering
Worksheets that coinside with the EDEXCEL Religious studies exam. I give these to my year 10 and 11 GCSE students for independent study before mocks and GCSE exams. Included are: Covenant at Sinai Covenant with Abraham Shekinah Shema and Amidah Tenakh and Talmud The Messiah Jewish Festivals The moral principles of the Mitzvot Sanctity of Life Prayer Public Acts of Workship Shabbat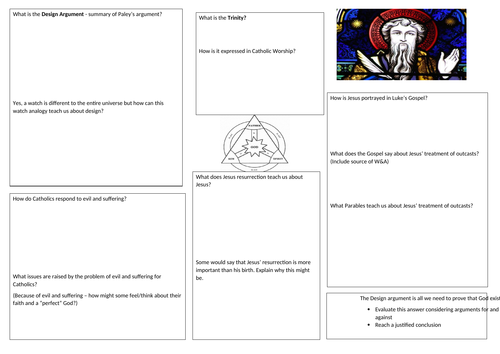 I use this with my year 9s in preparation for GCSE coursework which cover the same topics.