DepARTment1's Shop
Engaging resources to inspire students with a creative curriculum!
66Uploads
12k+Views
1k+Downloads
Engaging resources to inspire students with a creative curriculum!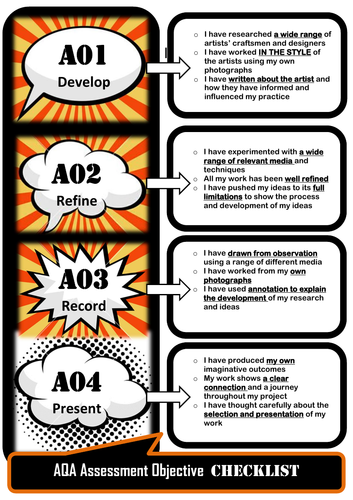 A simplified resource for students to understand what they need to do to meet the assessment criteria. Often used as a page within an assessment folder.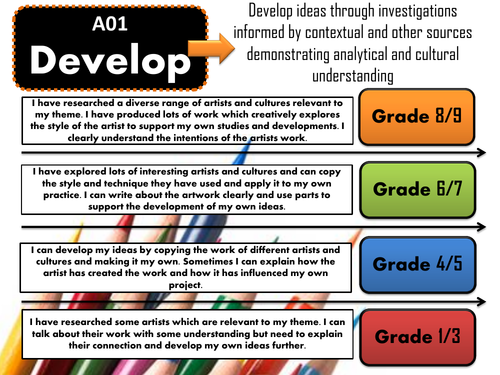 This resource provides a 9-1 grading breakdown on each of the assessment objectives. Student friendly.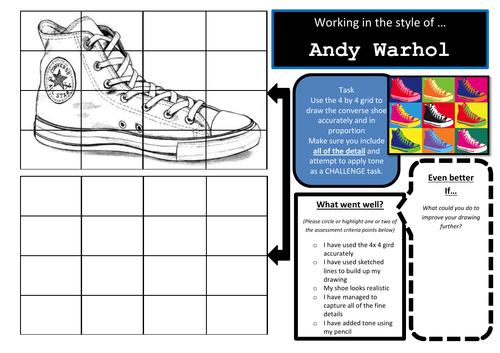 Using the grid method, students can work box by box to build up the shoe structure. A simple marking tab allows for quick and easy assessment by simply highlighting the success criteria.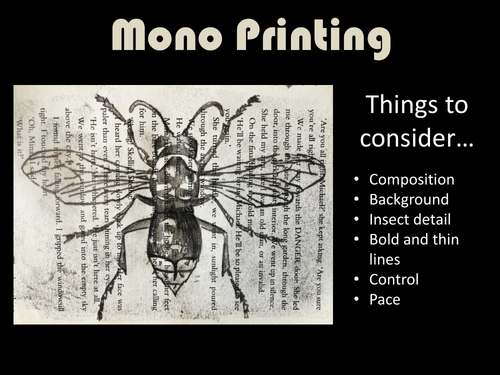 This powerpoint explains the basics of a simple mono-printing process. It demonstrates best practice and the correct method or printing - the resource also outlines differentiated images to use when working with a mixed ability group. Always use scrap paper to blot 4 times after ink rolling to ensure a pristine clean background.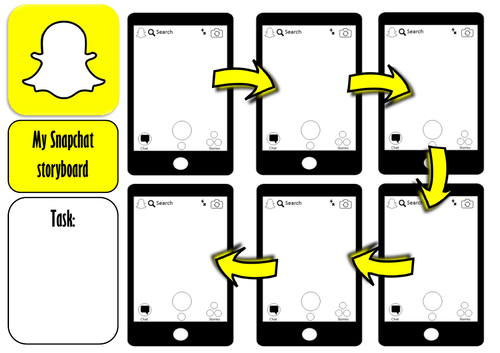 Get students engaged in this creative snap chat story board resource. A great way to get students to summarise key parts of a topic.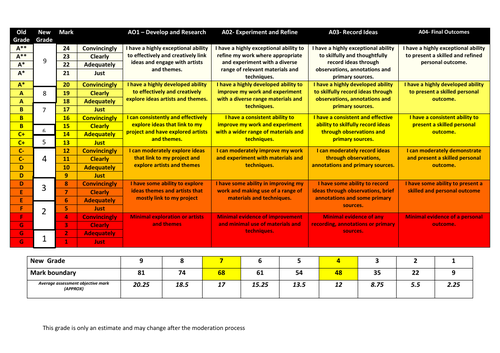 A handy resource to help break down the assessment objectives reflecting the 2019 August grade boundaries.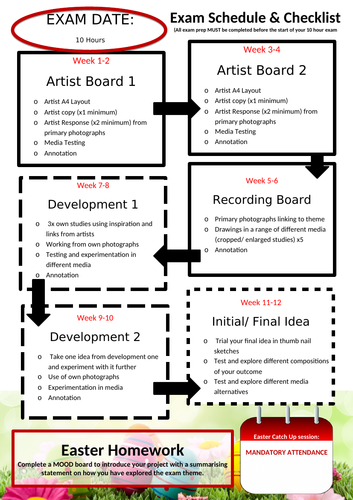 Resources to support the delivery of this years exam component including (ADAPTABLE TO SUIT) Assessment objective breakdown (1 - 9) Extensive visual ideas and artist inspiration Starting points for each theme Exam Plan resource for students Examples for each A0 and explanation Exam Checklist for students Powerpoint slides to support lesson by lesson progress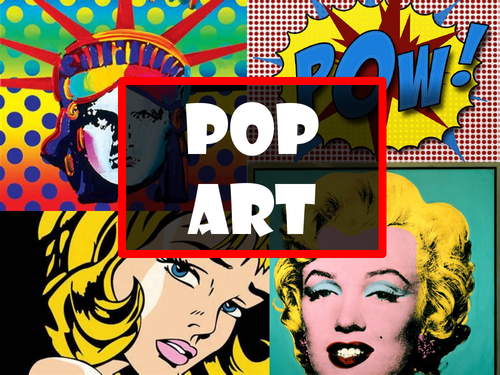 Using contemporary celebrity portraits, students use a range of tissue paper and coloured card to build a mixed media surface before working paint and pastels over the top. Celebrity templates provided - to create additional templates - copy a portrait image from google and move over to microsoft word and simply adjust the picture settings.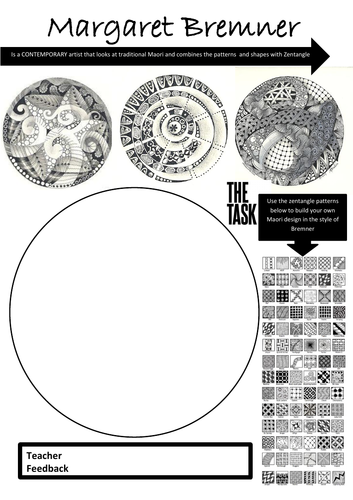 Inspiration from the traditional shapes of Ta Moko, the resource allows students to explore the shapes further through pattern and mark making.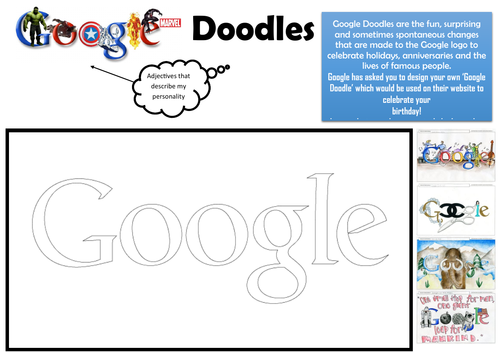 With the ever changing face of Google, students must use their imagination to manipulate the letters within the word to create a new logo.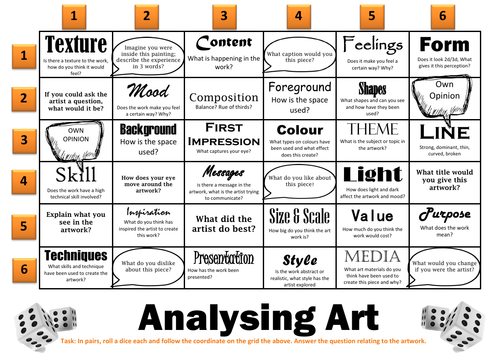 A fun and engaging way to get students to think about analysing Art. The grid is used to help promote discussion points, using dice to decide which question to talk about.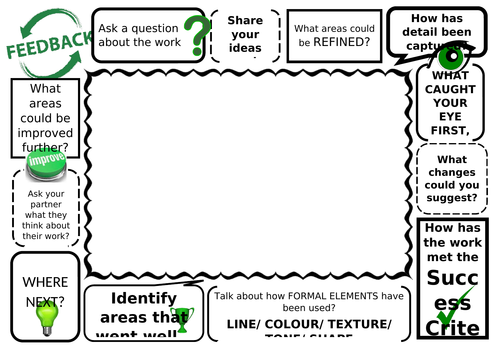 A great resource to use with students to prompt discussion! simply cut out the window in the middle and laminate!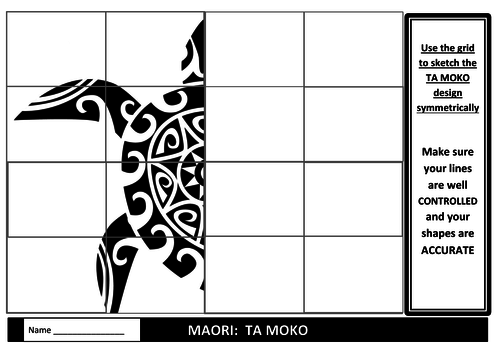 A cross curricular lesson looking at the intricate design of the Ta Moko turtle and using measurements and symmetry to complete the opposite half.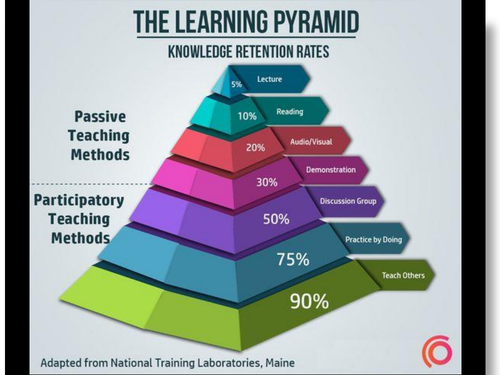 With the Ofsted focus on curriculum and the retention and recall of information - this resource provides some creative ideas on how to embed this into lessons. Templates are attached for ease and distribution to staff and ideas are supported with transferable instructions to share across subject areas.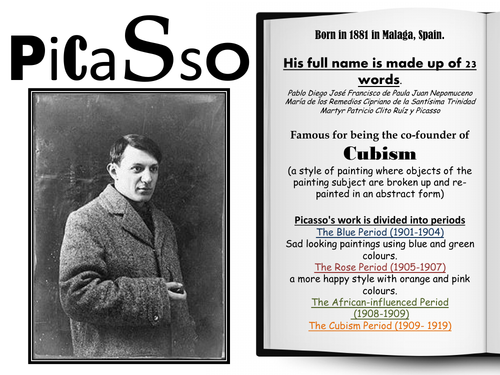 A perfect lesson to get students thinking about the style of Picasso and how to distort a portrait. Roll a dice guide also included.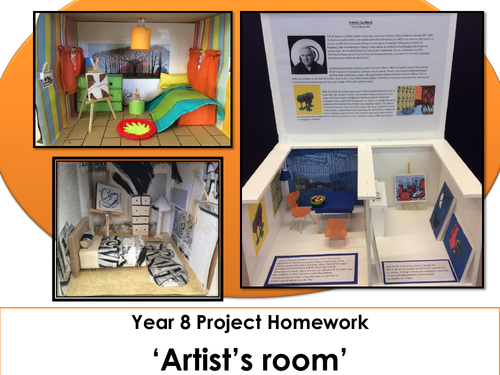 A creative and engaging homework project in which students research an artist of their choice (or one of the suggested) and design a miniature scale bedroom imagining how their room may look. Examples included. Often works best when students are given the opportunity to work in pairs.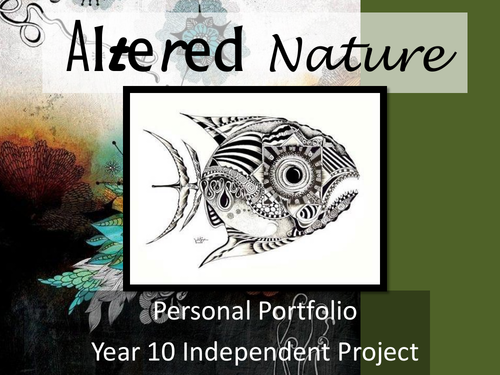 An introductory powerpoint outlining different pathway options for an independent project centered around Altered Nature.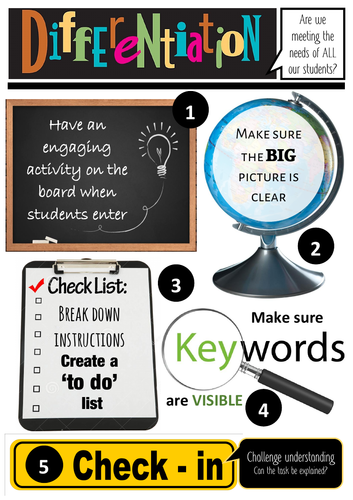 A visual resource which can be used for whole school to promote effective classroom strategies for SEND students.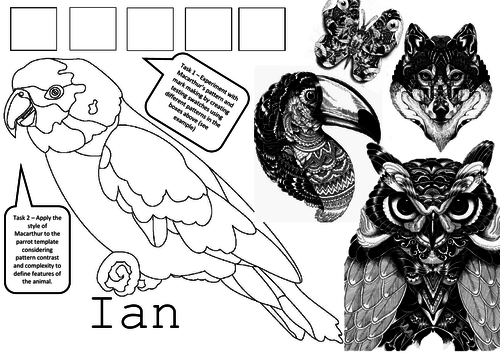 Intricate pattern and mark making build the features and details of these magnificent animals