DepARTment1's Shop
Engaging resources to inspire students with a creative curriculum!
70Uploads
31k+Views
5k+Downloads
Engaging resources to inspire students with a creative curriculum!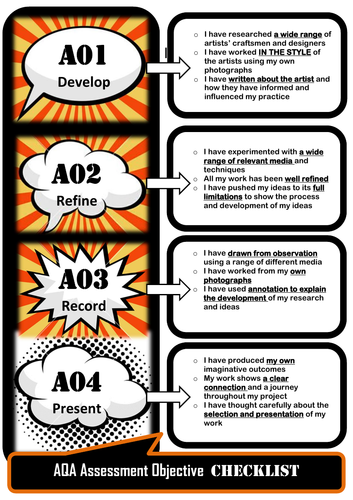 A simplified resource for students to understand what they need to do to meet the assessment criteria. Often used as a page within an assessment folder.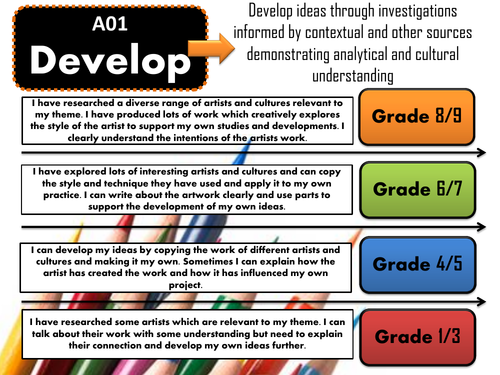 This resource provides a 9-1 grading breakdown on each of the assessment objectives. Student friendly.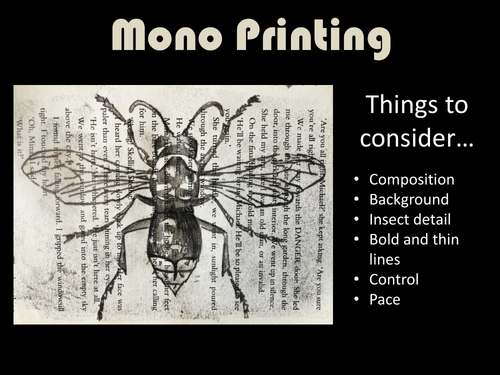 This powerpoint explains the basics of a simple mono-printing process. It demonstrates best practice and the correct method or printing - the resource also outlines differentiated images to use when working with a mixed ability group. Always use scrap paper to blot 4 times after ink rolling to ensure a pristine clean background.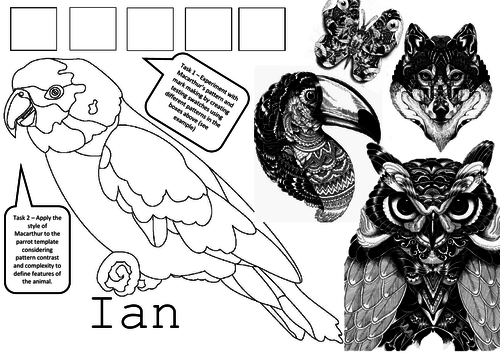 Intricate pattern and mark making build the features and details of these magnificent animals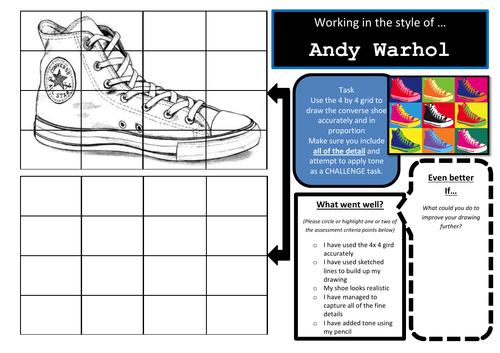 Using the grid method, students can work box by box to build up the shoe structure. A simple marking tab allows for quick and easy assessment by simply highlighting the success criteria.

A short unit of working introducing the elements of graphic design through one off tasks. Great for remote learning/ cover lessons or an intro to graphic design SOW Includes a powerpoint which follows alongside the booklet as well as fun starter tasks on different elements of graphic design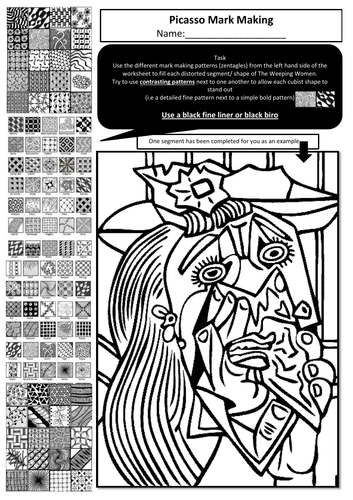 The traditional weeping woman has been manipulated and now every segment of her geometric form requires a pattern or mark making to complete the study!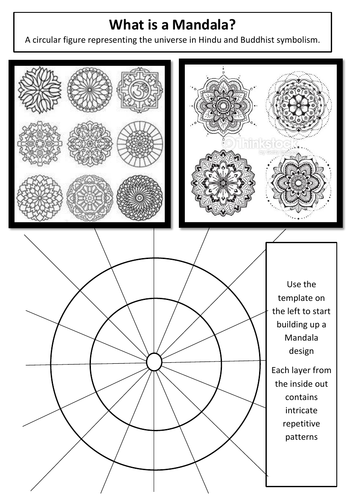 Using the template grid, students can build repetitive patterns to form an intricate Mandala design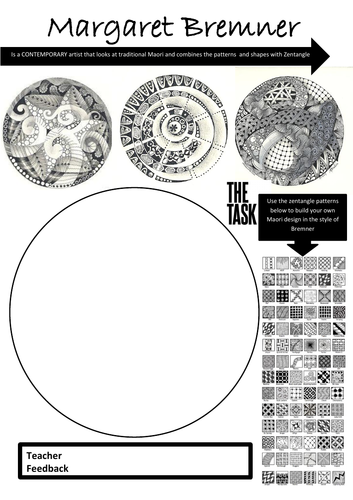 Inspiration from the traditional shapes of Ta Moko, the resource allows students to explore the shapes further through pattern and mark making.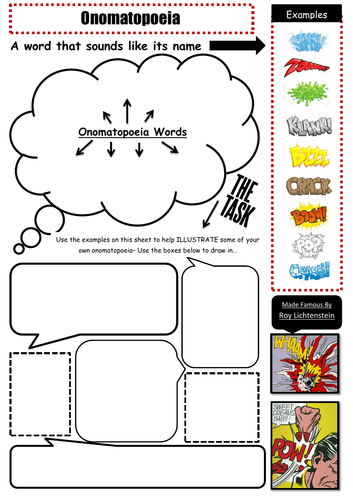 Students explore the meaning of onomatopoeia and must create a comic strip series using different words explored during the starting task. These words must be illustrated to reflect how the word may look as it sounds.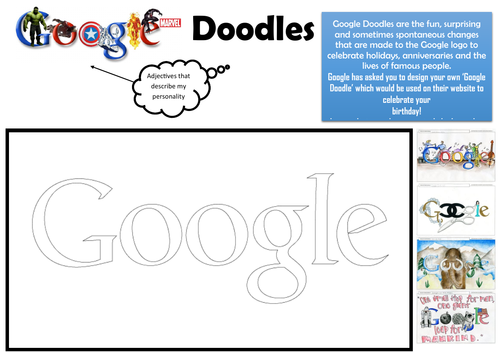 With the ever changing face of Google, students must use their imagination to manipulate the letters within the word to create a new logo.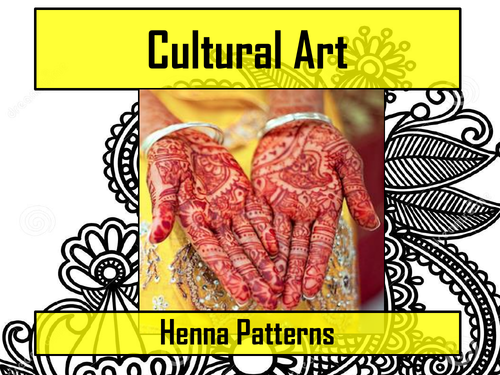 The origins of Henna are explored in this Powerpoint and the importance value of its tradition in culture. Students are given the task to explore simplified patterns using a step by step guide in preparation to build up a bigger more intricate design using their hand to draw around as a template.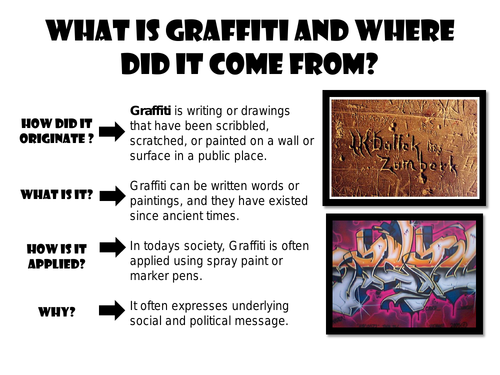 This resource looks into the origins of graffiti and demonstrates step by step how to build up a word using iconic graffiti typography. Watercolours are used in a gradient technique to complete the graffiti text. Easy and simple powerpont to follow and deliver to students.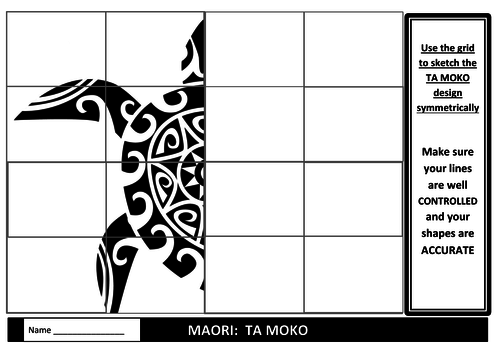 A cross curricular lesson looking at the intricate design of the Ta Moko turtle and using measurements and symmetry to complete the opposite half.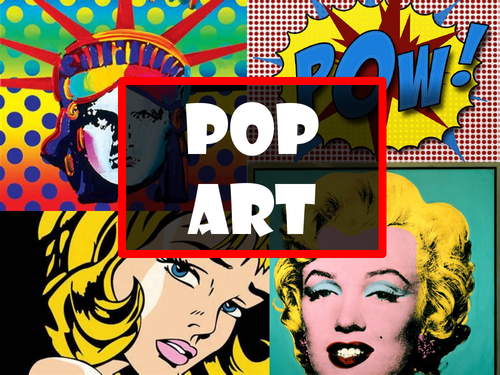 Using contemporary celebrity portraits, students use a range of tissue paper and coloured card to build a mixed media surface before working paint and pastels over the top. Celebrity templates provided - to create additional templates - copy a portrait image from google and move over to microsoft word and simply adjust the picture settings.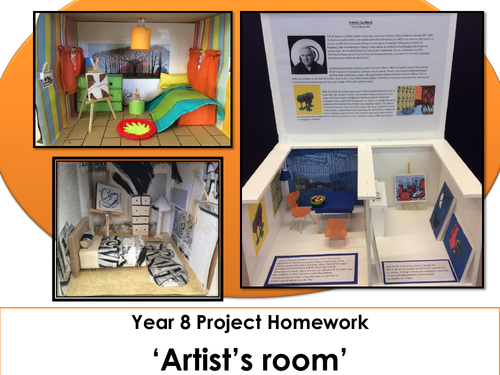 A creative and engaging homework project in which students research an artist of their choice (or one of the suggested) and design a miniature scale bedroom imagining how their room may look. Examples included. Often works best when students are given the opportunity to work in pairs.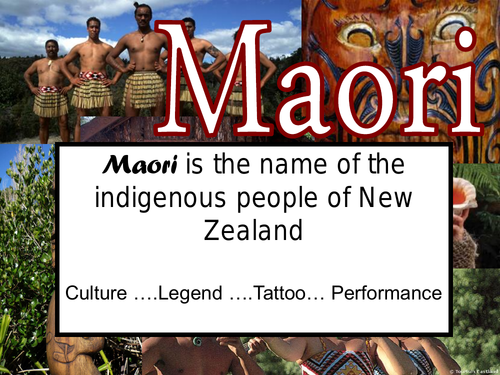 An introduction into the New Zealand Maori tribal culture and identifying key characteristics of a Ta Moko design.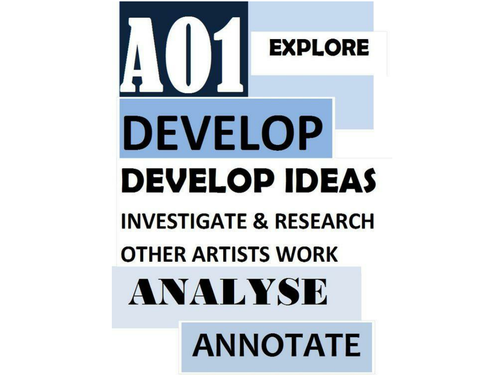 To help students gain clarity on what is expected for each assessment objective, these 4 powerpoints show student exemplars on how they have met A01, 2, 3 & 4.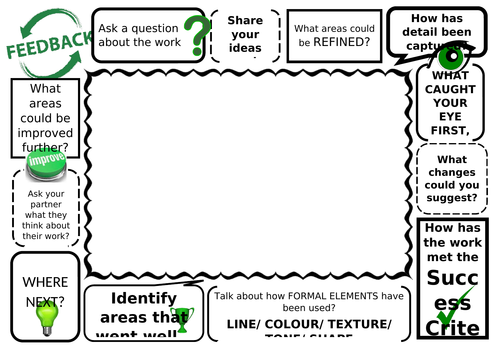 A great resource to use with students to prompt discussion! simply cut out the window in the middle and laminate!