Dickensfan's Shop
I create resources for all year groups at secondary level English.
56Uploads
11k+Views
6k+Downloads
I create resources for all year groups at secondary level English.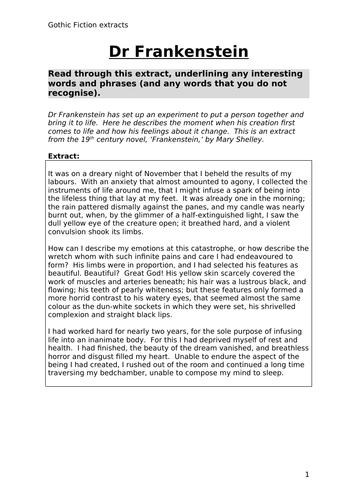 This handout gives three extracts from Gothic fiction: 'Frankenstein', 'Dracula' and 'Great Expectations'. I used this with a Year 9 group who did a mini-essay on how Dickens creates mood in the final extract, and I am also planning to ask them to use two of the extracts, alongside a non-fiction extract, to synthesise 'What is Gothic fiction'?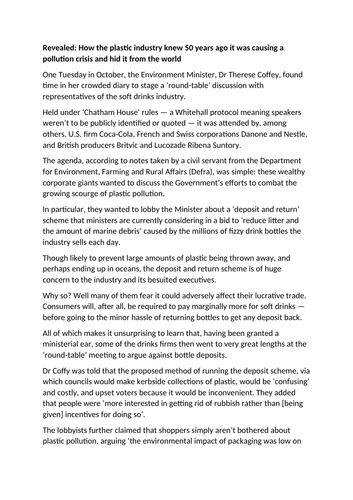 These are resources I created for my Year7 class to teach them how to summarise and then give them a scaffolded persuasive 'real life' writing task of writing a letter to a soft drink company to persuade them to support the Deposit Return Scheme of plastic bottles. There is an article about companies lobbying the Government to delay the DRS which students summarise in sections.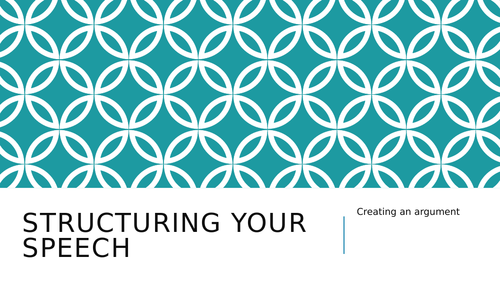 This Powerpoint looks at creating a question to structure a speech around, and uses Just a minute as fun table activity and potentially whole-class game.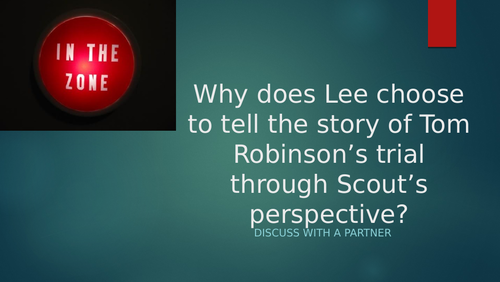 This PowerPoint contains extracts from websites with details of contextual significance to To Kill a Mockingbird, explaining why lynch mobs were common in relation to sexual crimes in the South. It also contains extracts from the text and Chapter 15, where the potential lynch mob arrive at Maycomb jail, for analysis of the Gothic parody and the increase in tension.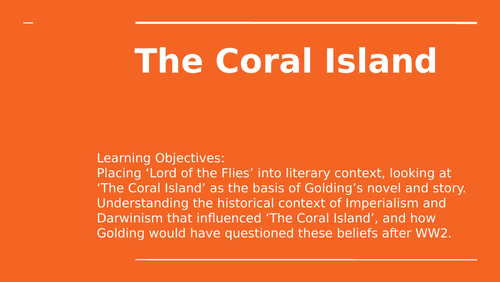 This PPT gives information on Ballantyne's novel 'The Coral Island' which 'Lord of the Flies' was based on. The PPT also uses information from Wikipedia on 'social Darwinism' to explore the historical context and influences of Darwin's ideology and imperialism on both texts, and how both texts respond to these ideas, particularly in Golding's context post WWII with Nazi eugenics.
Using extracts from Robinson Crusoe and Treasure Island, students created these proof reading tasks which I've compiled into one booklet with an answer booklet as well. Each task includes a range of SPAG errors and could be used for Key Stage 3 or 4. You could use the tasks singly as starters, or set the booklet as a homework challenge, or complete in class with a competitive element.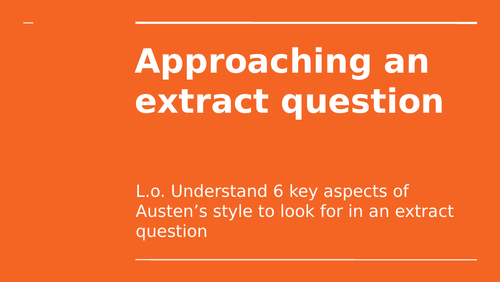 The Powerpoint identifies six key features of Austen's style for pupils to look for in an extract question. The whole of Chapter 1 is included on a handout. Then there is an extract booklet which can be used in class or set as homework with extracts from the first eight chapters of the novel, with practice extract questions.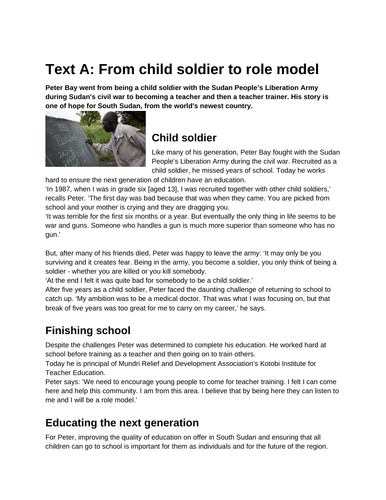 Based on WJEC style questions, this mock Language paper uses four texts on the theme of Child Soldiers and gives low-tariff and high-tariff questions such as text purpose, summary and synthesis.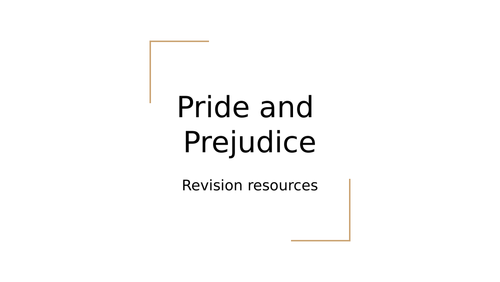 This was created by students as a class revision guide, with slides on characters from the novel, some key themes and contextual information. The slides are colourful and could also be printed for display.
This is a simple idea for a classroom/corridor display to inspire secondary school reading. I've collected images of book covers onto a Word document to be printed in colour then cut down to size, mounted and laminated for display, in a layered effect. I've included children's classics, adult classics, YA fiction, Middle-grade fiction, and tried to reflect a wide range of genres.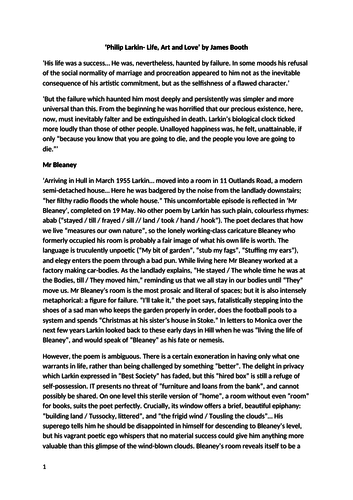 When I was teaching the WJEC Larkin/Duffy AS poetry unit, I bought a number of critical texts on Larkin and these are my typed up notes with extracts from a range of critics. Ideal if you don't want to purchase critical books which can be expensive and time consuming to work through.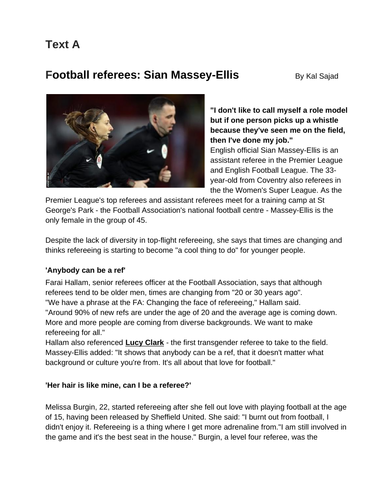 This is a bundle of resources created for a GCSE English Language class. The topic is sport and has a particular focus on women in sport. There are two articles to use for synthesis practice (Jasmin Paris and the Montane spine race and Female sports stars should earn the same) with an accompanying PPT. There is a writing stimulus with an article about JD sports sexism row, with a writing task of a 'lively article'. There are GCSE style questions and two contrasting texts which discuss the upcoming Olympics in Tokyo 2020, for comparison work. And there is a mock-style paper about women in sport with two texts, some practise questions, and an accompanying mark scheme.
This is a short unit of work aimed at Year 7 (Level 4-5). There is a bank of proofreading tasks which work as starters, and a Powerpoint which goes through reading and annotating the article before students write about how the text makes cadets attractive to young people using a P.E.E. grid, paragraph scaffold and then independently. There is also a short version of the article for those working at Level 3. I have also included in the Powerpoint some DIRT work, a differentiated spelling list, and a vocabulary extension task.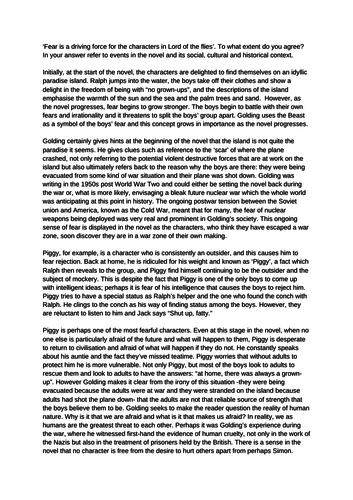 This was written as a model essay for WJEC 'Lord of the Flies' paper, where context is heavily weighted as 67% Ao4. I wanted to show the pupils how to look at historical and social context but in a way that is specific and relevant to the question.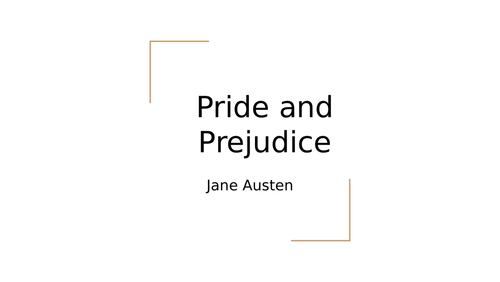 This bundle contains a Powerpoint with key terminology, a Powerpoint with slides on chapters 1-8 with focus on identifying character flaws, a notes handout to help students prepare to write an essay on Austen's social values in Chapters 1-8, and a handout with some critical extracts from Helena Kelly's very accessible 'Jane Austen the Secret Radical'.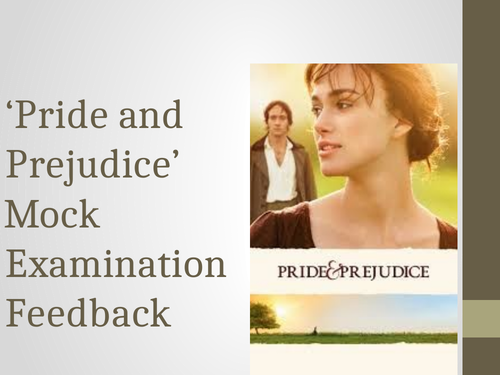 I created this mock examination based on WJEC GCSE Literature syllabus for a MAT Year 10 group. The unit includes the mock, and then two PPTs which give an ideal template for giving whole class feedback afterwards, and two student sample paragraphs to 'close the gap' on their use of AO2. I have also included an annotated version of the extract for going through with the class after the mock, and a student's 10/10 extract response.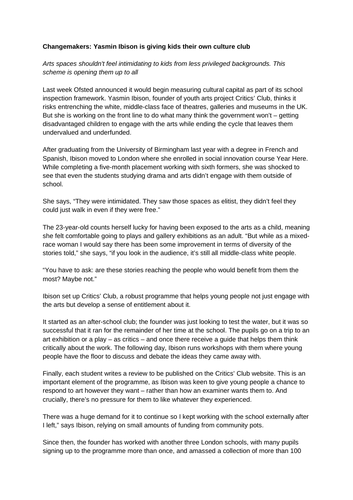 An article about the 'Critics' Club' with a summarise and explain question, then a choice of three writing tasks. Suits candidates aiming for A-A*. Accompanying PPT to help.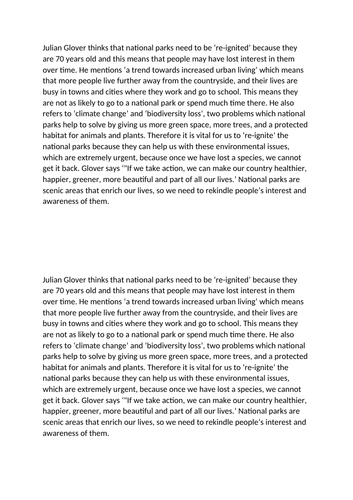 Two articles, one about getting people interested in National Parks, the other a teacher's blog post about an outdoor pursuits school trip. There are a range of GCSE style questions, including find and locate information, verbal reasoning, explain, how and comparison. Accompanying Powerpoint with one model answer 'explain' and a table to help students prepare for the comparison. Peer/self assessment with GCSE style marking criteria.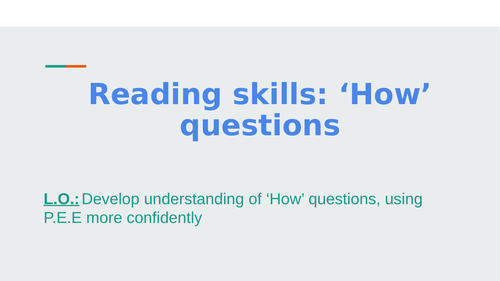 This resource is a 'how' question for GCSE students and I actually used it with a class who were only sitting Language, but reading one of the Literature texts alongside the course. The Powerpoint breaks down how to annotate and then use P.E.E to build an answer, and includes self assessment.
PPTs to work through the whole of Elizabeth Gaskell's North and South, looking at summarising the events in chapters, selected extracts for analysis, essay questions, critics and historical context.