28Uploads
5k+Views
2k+Downloads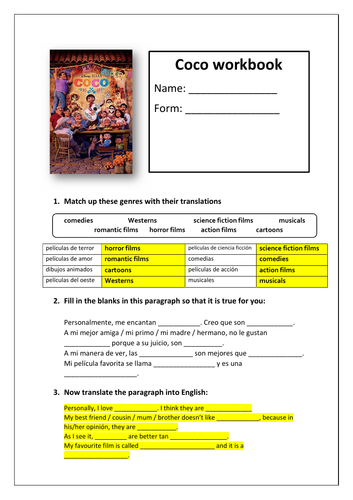 This worksheet comprises seven exercises with instructions in English. Exercises include: naming genres of films; describing personal preferences and those of friends/family; cloze reading exercises; translation exercises and a wordsearch. I made it for use with my year 7 students who have had one year of Spanish, but it is also suitable for year 8 or 9 students. Answers are included on a separate pdf.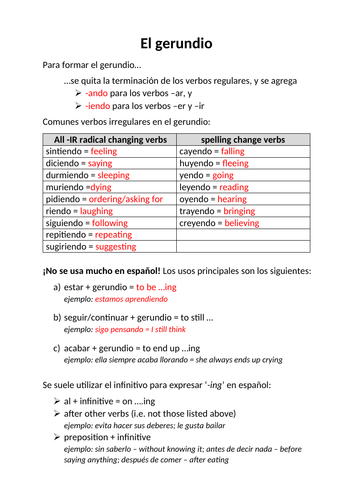 Worksheet on forming regular and irregular gerunds in Spanish, with rules and exercises (answers provided). Suitable for key stage 5 students (and possibly advanced KS4 ones).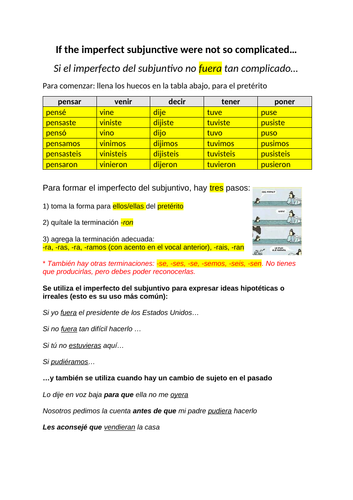 This worksheet takes students through the steps to form the imperfect subjunctive, requiring them to write out the preterite tense of some regular and irregular verbs, explaining the steps with examples. There are two exercises with extensions to practise forming and using this tense, with full answers provided.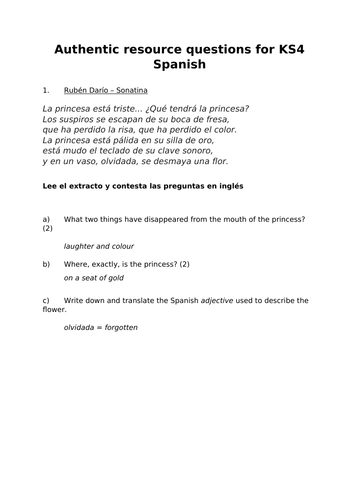 This is an editable Word document designed to help prepare students for the literature question in the new GCSE. It contains ten extracts from writers including Darío, Machado, Neruda, García Márquez, with accompanying questions. The exercises cover a range of question type (comprehension questions in English and Spanish, T/F/NM, tick the correct sentences). One version is questions only, the other includes the answers. The level of difficulty is high - I created this as I could not find much like it aside from the £60 packs from certain publishers. I hope you find this useful.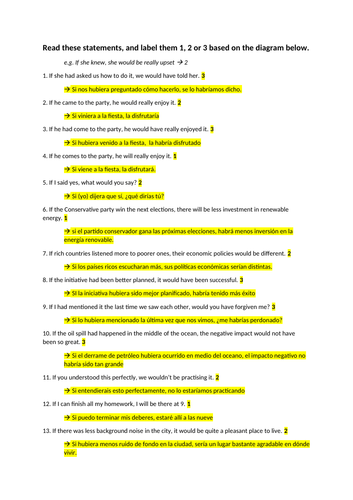 This editable worksheet includes a map showing how to form the three different IF clauses in Spanish, and challenges students to use the map to translate 15 sentences into Spanish. Best for advanced (i.e. year 13) students. Answers provided. Three essays written by me on CMA, along with an introductory booklet for students and a match up exercise built around 36 key quotes from the book.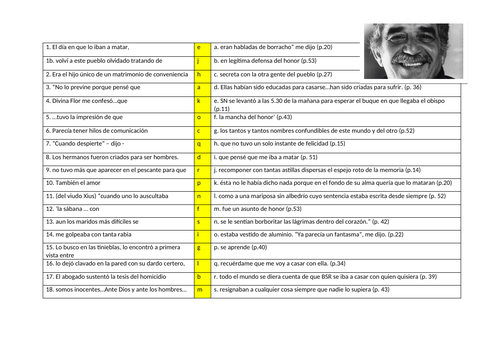 This editable match-up exercise is based on the novella Crónica de una Muerte Anunciada by García Márquez, and contains 36 key quotes split into two. Answers are provided, and the page references are for the book with ISBN-10: 9783125356146 (which has useful notes in Spanish at the bottom of each page - I have found this the best for use with students despite it being a German edition).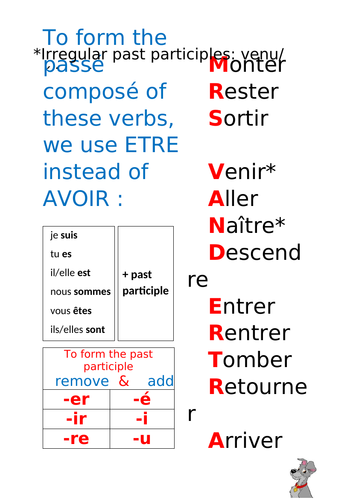 Editable resource designed to be used as a display - could also be a useful handout for students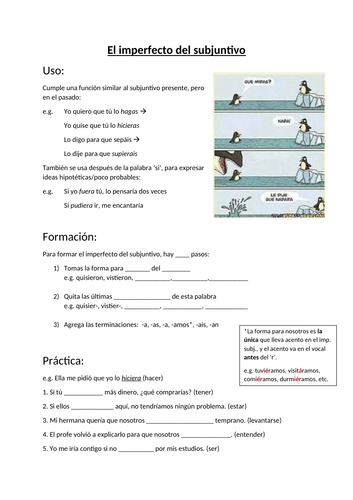 Imperfect Subjunctive worksheet - rules and practice exercise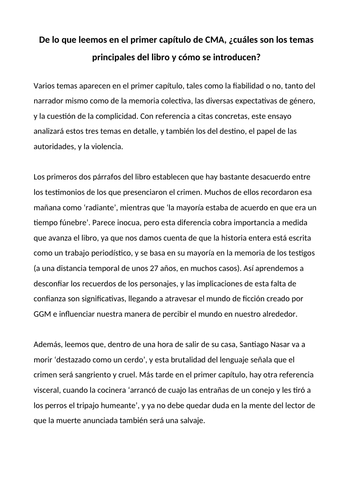 This is an essay I wrote for my KS5 students on the main themes of the novella Crónica de una Muerte Anunciada, according to what we read in the first chapter. I have left it in Word so it can be edited.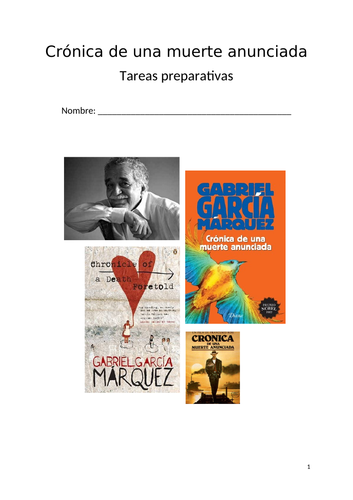 This is an editable Word booklet designed to introduce key stage 5 students to García Márquez (in preparation for studying Crónica) focusing on the opening lines of some of his most famous books, an extract of his Nobel acceptance speech, an obituary published in the Observer and a review of Crónica published in the London Review of Books by Salman Rushdie. There are some exercises for students to do to prove they have read these texts, but it is primarily an exercise in reading.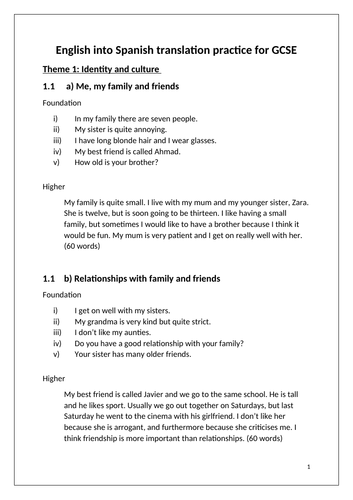 This is an editable ten-page document with translation exercises at both foundation and higher tier. The theme is Identity and Culture, and the ten sub-themes include marriage/partnerships, social media, sport, music, festivals in Spanish-speaking countries. Full answers are included. There is an example of these exercises here: https://www.tes.com/teaching-resource/example-translation-practice-eng-spanish-for-spanish-gcse-aqa-theme-1-identity-and-culture-12150686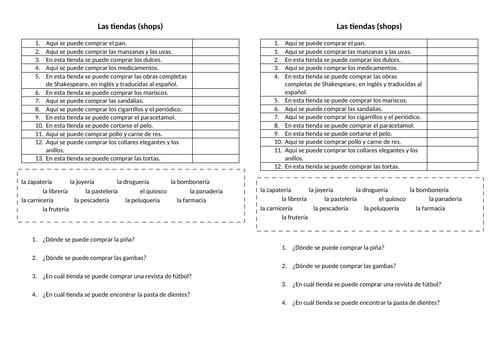 List of shops and a match up exercise (e.g. aquí se puede comprar un coliflor)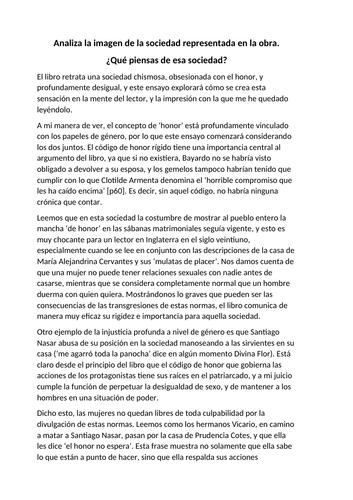 Essay written for my KS5 students analysing the representation of society in García Márquez's novella Crónica de una Muerte Anunciada.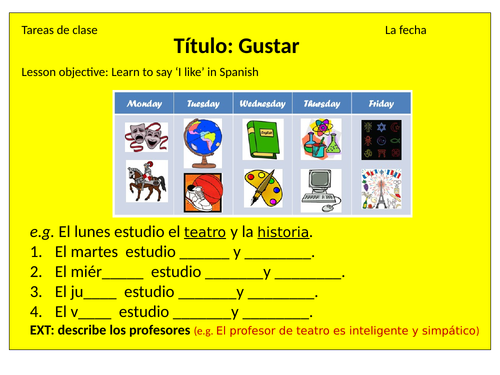 This PowerPoint introduces gustar to key stage 3 students in the context of lessons at school. There are exercises for students to do on miniwhiteboards as well as writing and speaking tasks. The emphasis is on the difference between gusta and gustan.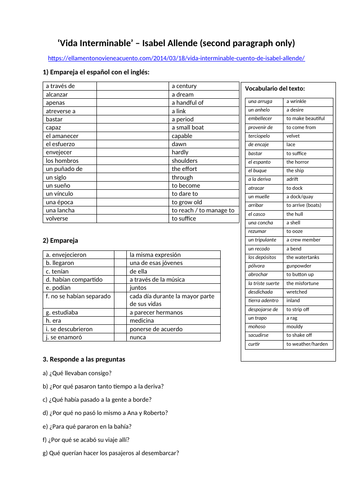 I made this for my year 13 students as practice engaging with literature in Spanish. Answers and vocabulary support provided. If you click on the link on the document, it should take you to a version of this text. This worksheet is all about the long second paragraph, which begins 'Ana y Roberto Blaum envejecieron juntos' and ends 'que les habían curtido el alma'.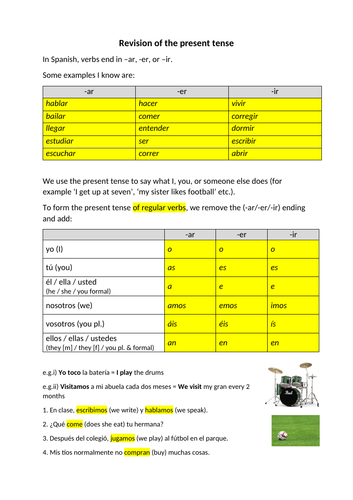 This is an editable document designed to be used at the end of a unit of work on the present tense, and reviews infinitives and present tense endings, as well as giving the present tense forms of ser, estar, hacer, ver and tener, and radical changers/boot verbs. Exercises throughout, and answers provided.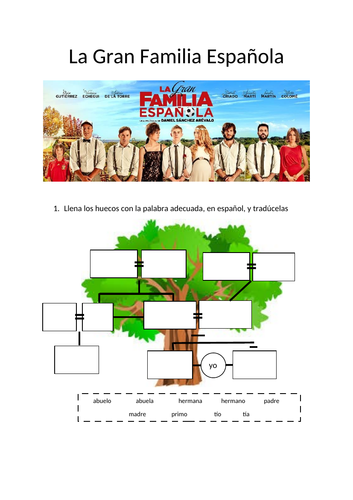 This editable, comprehensive workbook contains revision of basic descriptions, structured writing exercises, review of the preterite with an exercise to ensure students have understood and can conjugate it, vocabulary match-up, and descriptions of still images from the film. Answers are not included.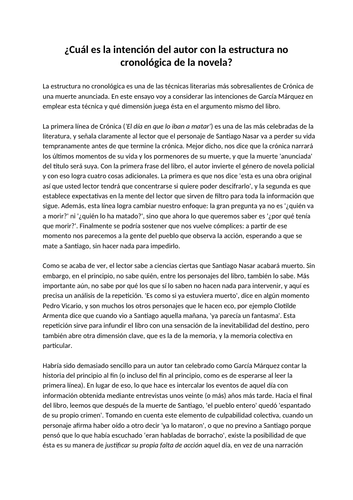 This is an essay written for my KS5 students analysing the structure of García Márquez's fantastic novella Crónica de una Muerte Anunciada.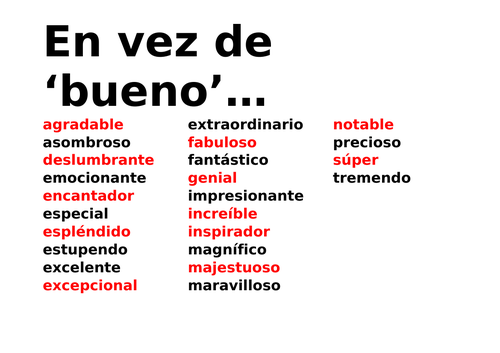 These are four editable documents designed to be printed large and stuck up on the walls of the Spanish classroom.