Burgess Palace of Pedagogical Pearls
Tested on live humans. Please rate and review.
18Uploads
5k+Views
621Downloads
Tested on live humans. Please rate and review.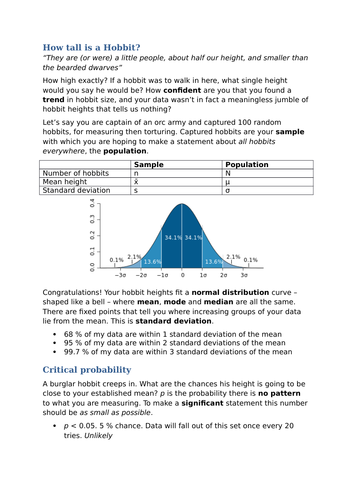 An introduction to statistics for A-level biologists. Takes the student through terms and symbols used, then puts them through several instructions on Microsoft Excel. After this students should be able to describe their data (range, median, standard deviation, etc) but this does not extend to choosing an appropriate statistical test. Takes nearly two hours with plenty of talk around the subject and examples. I recommend you try the exercise beforehand.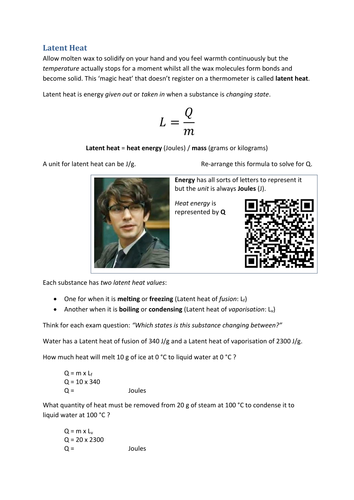 A description of Latent Heat with questions, a fun tone, and even a secret message. Specific Heat Capacity is referenced on the reverse and questions ask students to combine heating and vaporisation energies. Answers included.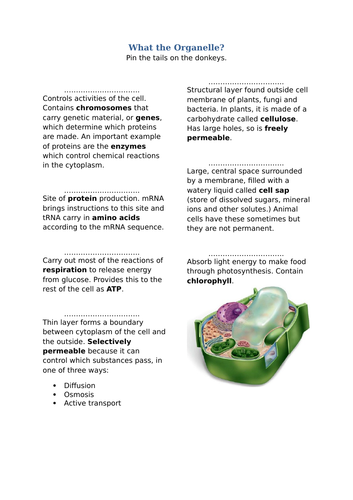 Simple cell ultrastructure quiz, with descriptions of organelles and spaces to write their names. Good for revision.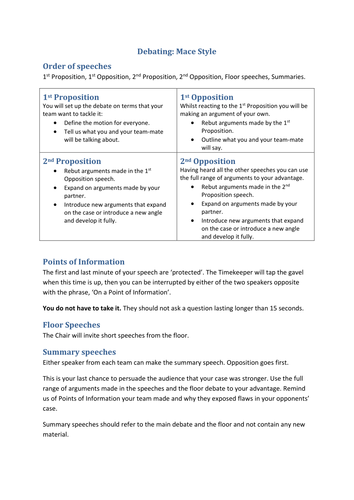 I put together rules crib sheets for students learning debating and entering competitions. I summarised rules for British Parliamentary and Mace. Hand the relevant type to your speakers and chair for a smooth-running debate.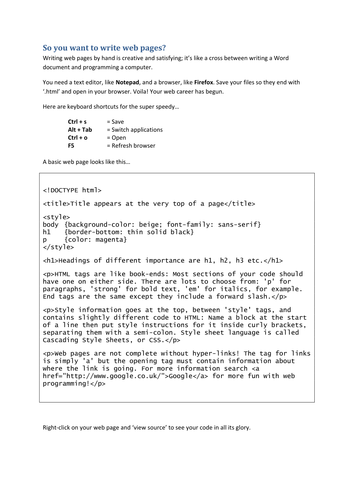 Crib sheet for students making their first web page, with basic tags and instruction; leading to a discussion of CSS and the separation of style and content.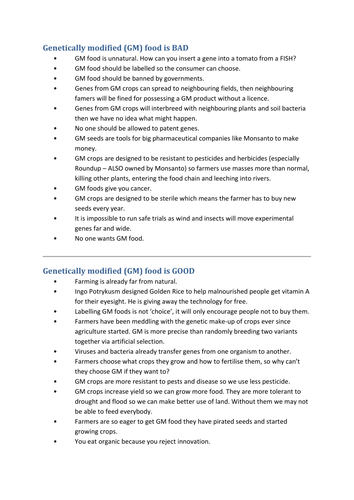 Structure your pupil's arguing muscles with this pre-researched debate on Genetically Modified Organisms. I collected common arguments for both sides so all you have to do is give one list to half your pupils and the other list to the other half. 30 minute class activity.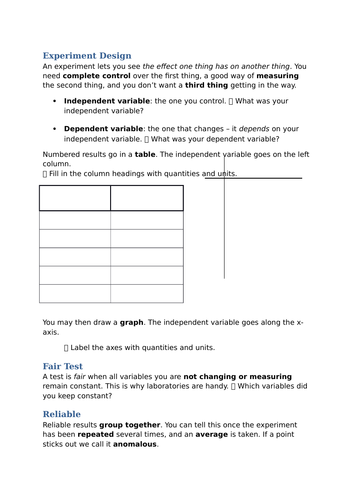 Guide-sheet detailing how data is presented, how science is conducted, what an experiment write-up looks like; and discusses reliability, validity and accuracy. I use it for all sciences, usually after our first experiment of the year, so the student can consider specific answers to the prompting questions.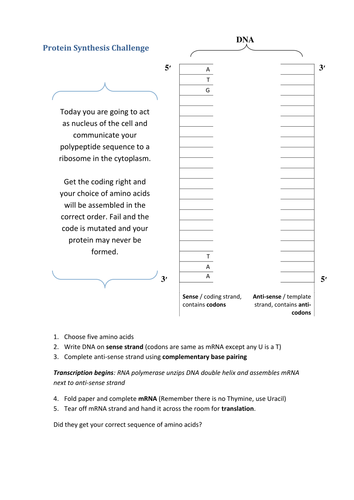 Turn your classroom into a protein factory with this activity for working out codons, transcribing DNA, and translating RNA into a polypeptide sequence. Kinaesthetic yet detailed - extra information is available for higher level candidates (5' cap, poly-A tail) but will not hinder those who don't need as much information.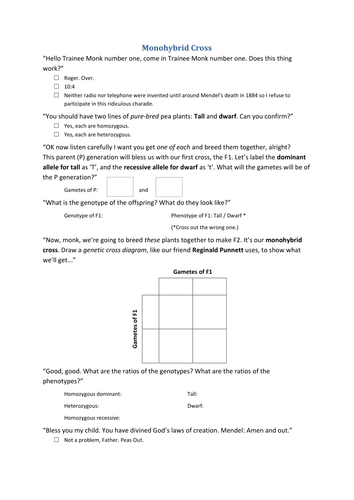 A guided worksheet for your students to practice genetic crosses and calculate genotypic and phenotypic ratios.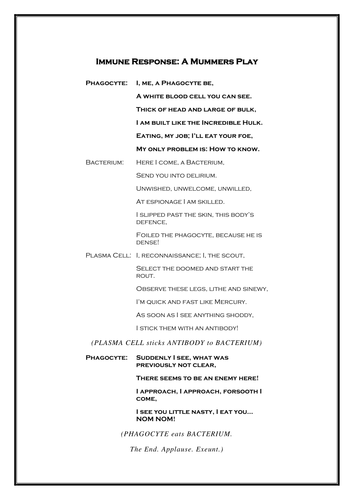 Silly play to end your lesson on immunity for GCSE. Get three of your students to act out this performance of an antibody marking a pathogen for destruction by a phagocyte.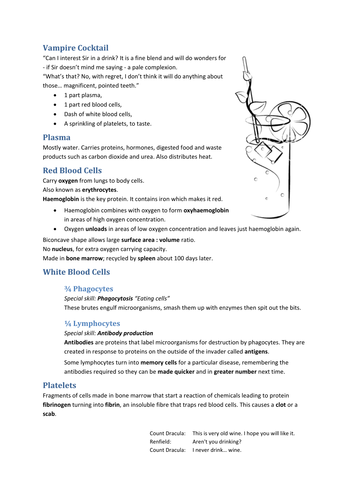 Compact crib-sheet for components of blood, followed by an exercise on the ABO blood group system to practise understanding of antigens and antibodies. Lesson structure ideas and answers added.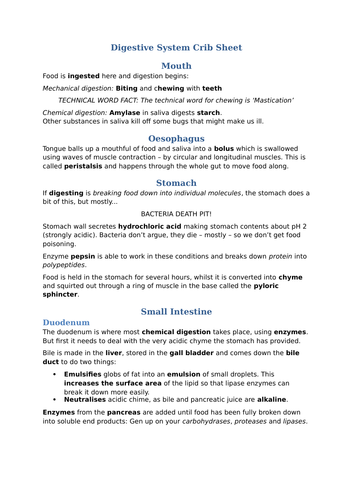 Summary of the human digestive system for struggling students. I give this out when their own notes have failed. A valuable resource for someone seeking an overview.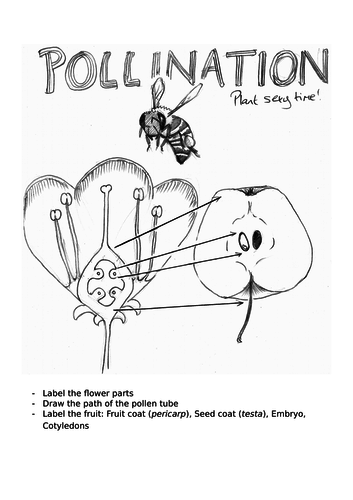 Hand-drawn diagram of an apple flower and fruit - showing how one turns into the other. Activities for your students to understand flower and fruit parts, action of pollination. Light lesson-structure ideas to introduce flowers, fruits, seed distribution and dormancy.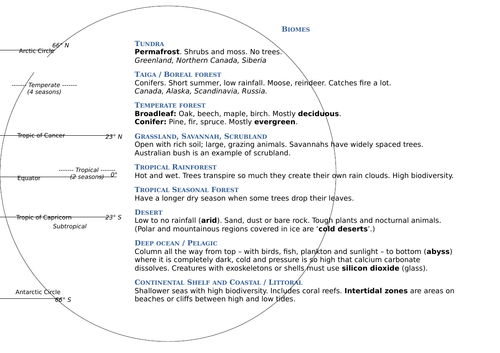 Single sheet handout summarising nine land and sea biomes for your A-level students in biology and geography. A good kickstart to student-led presentations.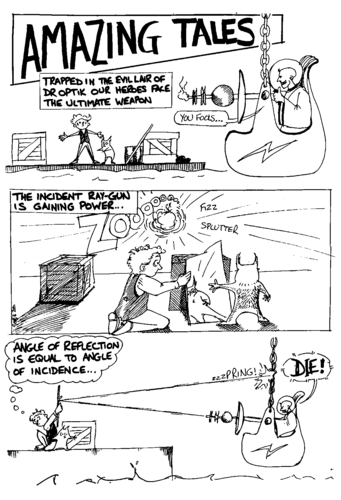 Dr Optik trains his Incident Ray Gun on our heroes but falls foul of some physics he hadn't anticipated. Law of Reflection. Total Internal Reflection. Optics. Waves. Physics. You are buying one class-copy licence to an original comic by me - not published anywhere else. Print double-sided to one page of A4. Ask your students which optical phenomena are being shown.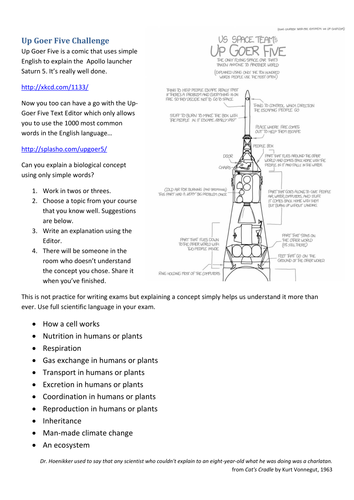 Whole-subject revision task for biology, can be adapted for any subject. Points to the excellent Up-Goer Five Text Editor by Theo Sanderson.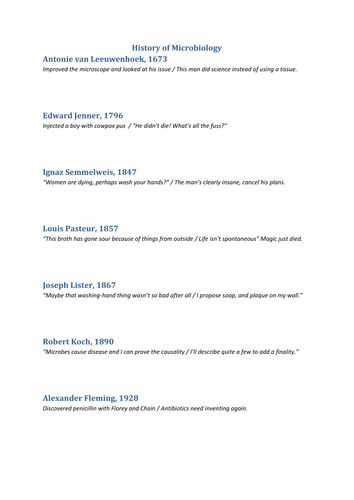 Structured note-sheet for your students to research major figures in the history of microbiology. I use this for extension in the Edexcel International GCSE Biology as it crosses over with Edexcel International GCSE History unit B2: Changes in Medicine. A further task for quick students is to construct a timeline on the back.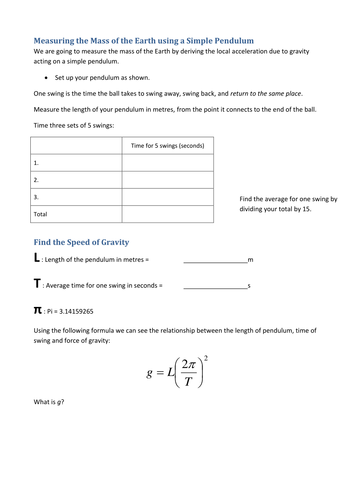 Activity sheet for student pair to calculate g then mass of Earth using length and period of a simple pendulum. Includes mini quiz and extension activity.