Miss Hawker's Design Centre
I provide a range of Design and Technology resources for long term projects and short term cover.
6Uploads
1k+Views
96Downloads
I provide a range of Design and Technology resources for long term projects and short term cover.
One Hour Lesson Worksheet for Textiles Cover Lesson - Part 1 Lesson Objectives: To be able to create their own streetwear brand and design a capsule collection for young adults and teenagers. * Young people today often combine fashion and function together in the form of Streetwear. Streetwear is a popular trend amongst young adults and teenagers and has been increasingly popping up across high streets and catwalks shows a like. Think of popular brands such as Nike, Fila, Adidas, GymShark and even Kanye West's Yeezys.*
Ikea Flat Pack Furniture Project Students are able to follow the flat pack furniture project at home using Google Slides and minimal physical resources able to be found every day at home. Students work through the design process traditionally. 12 Page folder that will take up to a lesson per page to complete. Permission to slides will be granted after received payment. Flat Pack Design Technology Project
This project runs for approximately 20 Weeks for 75 minutes lessons. You may alter and adapt the project to suit your own needs. I have also include the success criteria and knowledge requirements that I follow in the Swedish School I work in, but they are very useful guidelines we may also follow in variety of schools. Email for Google Doc Editable Version with copy of reciept Drawing Skills Research Design Process Making a Prototype Manufacturing Plans Diary of Making Evaluation
6 - 8 Week Design and Technology booklet for Primary Schools *The year is 2100; the government has predicted we will run out of fuel within one year. They have hired you as an engineer and designer to create a new vehicle that uses alternative energy and is attractive to look at. The Brief You have been asked to Design, Manufacture, Test and Race a vehicle that you have made. You will research into concept cars; how they look and what kind of energy they use. You will then assemble the base and circuit. You will then design a case for your car. Finally, you will race your cars as a class!*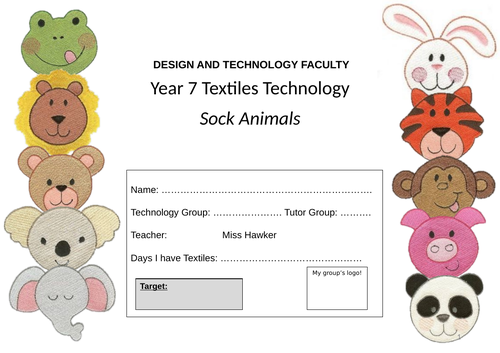 12 Week Projects for Textiles Technology looking at common practices in a textiles room, development of textiles skills and an outcome of a sustainable sock animal with option of electronic circuit.
This project runs for approximately 20 Weeks for 75 minutes lessons. You may alter and adapt the project to suit your own needs. I have also include the success criteria and knowledge requirements that I follow in the Swedish School I work in, but they are very useful guidelines we may also follow in variety of schools. ** Work in Google Chrome so was unable to save other than PDF. Welcome to email me for Google Doc (with reciept!)** Drawing Skills Research Design Process Making a Prototype Manufacturing Plans Diary of Making Evaluation