The Indian Lion TIL's Shop
15Uploads
703Views
10Downloads
Solar system flashcards with the 8 planets and the sun. Facts of all of them Memory cards included
This The Indian Lion pack was created with the objective of giving you resources to work on personal hygiene with your Kindergarten or Preschool class. You will find resources that emphasis the hand washing routine and the importance of using soap. In this pack you can find: 2 posters for your class and 4 step by step how to wash your hands flashcards. 4 songs in English and 1 in Spanish that last 20 seconds, enough to have clean healthy hands. 4 worksheets to complete. 3 coloring pages. 1 activity. 1 craft template. You will find 20 pages full of fun and educational activities. If you'd like the Spanish version of this pack, check my store!
Reward Chart for your online classes or to be used at home. Choose your favorite character and move him or her through the different numbers when you achieve a goal. When the Character get to number 10, the treasure, then you win a prize! Behavior chart with cute pirate cartoons and map. 1 page for the map which can be laminated, so it can last longer. 1 page with 10 different characters. Hope you enjoy! The Indian Lion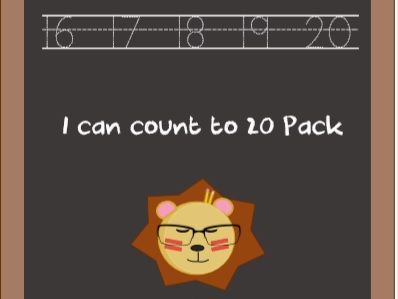 Numbers from 10-20 to practice tracing, writing, word recognition, and correspondence 1 to 1. Using stickers, stamps colors and pencils. Thought to combine with the ABC pack during summer, one worksheet of each pack per day.
Numbers to 1-10 to practice tracing, writing, word recognition, and correspondence 1 to 1. Using stickers, colors and pencils. Thought to combine with the ABC pack during summer, one worksheet of each pack per day. Included in Back to School pack
In this bundle you will be able to find worksheets to identify the numbers and practice tracing and writing them. Kids will also be able to practice counting by coloring, stamping or using stickers. You will be able to find: One pack to work numbers from 1 to 10. A second pack to work on numbers from 1 to 20. You can find the packs individually too if you are interested. Hope you enjoy The Indian Lion
Vocabulary tracing pack for kindergarten and preschoolers. It contains tracing and coloring sheets with the following vocabulary regarding the outer space: solar system stars -sun planets alien -astronaut -space shuttle UFO Enjoy!
Prewriting practice. Worksheets that don't need to be fill in by pencil! Use ABC stamps, stickers, cut outs… Practice tracing as well while kids are learning their farm animals. ESL
**Under the sea themed pack. ** Printables: memory cards, flashcards with 12 sea creatures, poster to practice matching animal names, scavenger hunt activity with big and small booklet Practice reading activities in a fun way: big and small booklet Poster with animal facts and reading comprehension activity.
Este pack de The Indian Lion nace con el fin de proporcionarte recursos para poder trabajar la higiene de manos en Educación Infantil. A parte de comprender los pasos del lavado de manos, se incide en la importancia del uso del jabón. Podrás encontrar en este pack: 2 pósters para tu clase y 4 Flashcards para trabajar paso a paso la higiene de manos. 4 canciones distintas en castellano y 1 en inglés con una duración aproximada de 20 segundos, perfectas para lavarse las manos el tiempo necesario. 4 fichas para trabajar la importancia del lavados de manos. 3 páginas para colorear. 1 actividad imprimible que se plastificará. 1 plantilla para manualidad y sus instrucciones. En total, el pack tiene 20 páginas de actividades que podrás llevar a cabo con los más pequeños en el aula. Puedes completar este pack con el post Actividades para aprender a lavarse las manos en el blog para tener varias sesiones didácticas al respecto.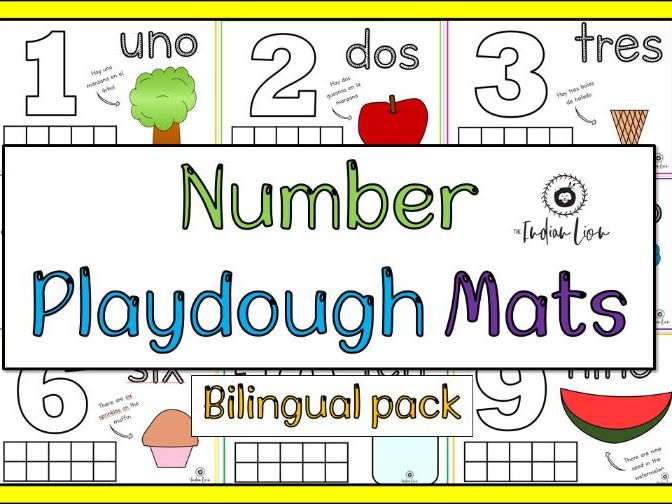 In my classroom, playing with playdough is one of the best parts of the day. We are creative and we develop our fine motor skills… But we also learn different content too! In this Number pack, kids will play with playdough while practising some math skills. They will have to make 4 bees, give a spider 8 legs or even fill a jar with 10 pieces of candy… The best part is… THERE IS A SPANISH VERSION TOO! What will I find in this pack? 10 sheets with numbers from 1 to 10 in English 10 sheets with numbers from 1 to 10 in Spanish. … and more time on your hands because you won't need to prep so much for next weeks classes! Hope you enjoy the pack Love, The Indian Lion
Build you own breakfast! In this pack you will be able to find: Pictures with their labels about food including: eggs, bacon, sausages, cheese, chocolate milk, milk, orange juice, lemonade, strawberry and banana smoothie, different types of toast, pancakes, chocolate chip cookies, muffins, fruit like apples, bananas, dragon fruit, orange, watermelon. A menu from which students can see and pick their food. "What would you like for breakfast" cards where students have to build their breakfast according to what is stated on the card. Grammar point: Can I have…, please? A page with a plate, fork and knife which you can laminate, where they can arrange the food for breakfast. I hope you enjoy this printable. All cliparts are created by The Indian Lion. If you would like me to include any other food or drinks let me know in the comments!
Christmas activities for preschool and Kindergarten Learn about Christmas and some vocabulary in a fun and motivating way! What does this pack include? Counting and matching worksheets Complete the missing number or picture worksheets. Spelling and matching letter worksheets. Tracing words. And cool printables: Playdough mats, decorate the Christmas tree counting game, I spy, memory and find the 6 differences. Hope you enjoy! Love, The Indian Lion
Choose your favorite monkey and try to reach the tree-top before your partner's monkey. An addition game that can be played with two dices or by choosing two numbers randomly and adding them up. Play by turns. The first person to reach the top of the palm tree wins. Cut out velcro and glue it on the little white circles and behind each monkey so you can move the monkey to the number resulting from the addition of the two numbers.
Print and Laminate and you will have a wonderful telephone mat for practicing numbers with kids