Gr_teach's Shop
I am a year six teacher just sharing some of my resources.
15Uploads
18k+Views
8k+Downloads
I am a year six teacher just sharing some of my resources.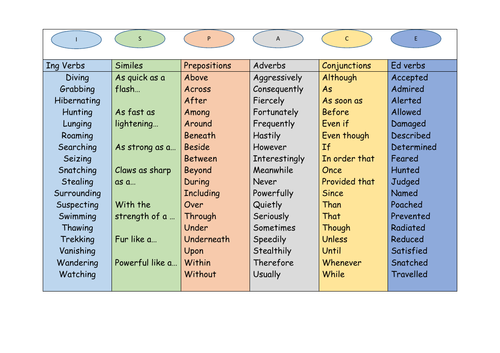 Useful for Key stage 2. I used the polar bear non-chronological report to discuss the features and then made the ISPACE word mat to show children examples of different ways to start sentences. Then, I asked the children to read the report again highlighting the examples of ISPACE which could be found within the WAGOLL. We talked about how there were more of some types of opener than others (not many 'ed' or any similes) and why this might be. I saw a similar ISPACE word mat resource on a course so I thought I would make my own. Finally when pupils were writing their own report I asked them to highlight where they had used each of the ISPACE openers in the same colours used on the word mat.

Year 6 Inference questions based on the first Chapter of Philosopher's Stone. I get the children to make points to explain the question then model together how to turn it into a question. Then they do the next few questions independently. There are 4 inference questions plus points from the text on this IWB slide. The inference is based on characters. Please let me know if there is any feedback for this resource, as I can then make improvements. Thanks for looking.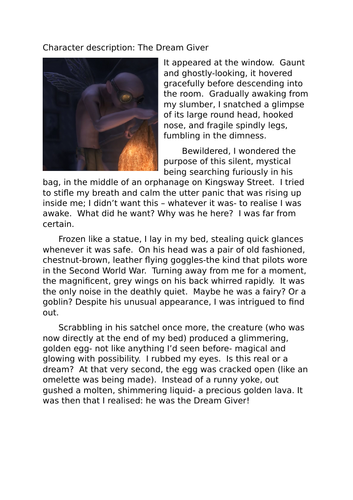 This is a character description which I created based on the clip Dream Giver which can be found at and also on the Literacy Shed. I will use this as a WAGOLL for pupils to pick out skills and language to use in their own character description.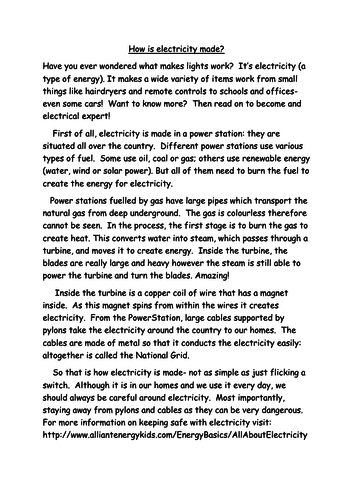 I used this explanation text of how electricity is made with my Year 6 class to introduce the topic and help to recap their previous knowledge on electricity from Year 4. We looked at the features in the writing in order to magpie for our own explanations of our experiments later in the topic. Please leave me feedback if you have any suggestions for improving this resource. Thank you for looking.

For Year 6 teachers. I made some retrieval and vocabulary questions to help LAP to improve their basic comprehension skills whilst still accessing an age appropriate text. I wrote these questions using the 2017 reading paper 'An Encounter at Sea' and tried to include questions with different formats so they got used to seeing questions presented in different ways. Obviously, the aim for all pupils is to be accessing the inference questions but this helped a small number of them engage with the text.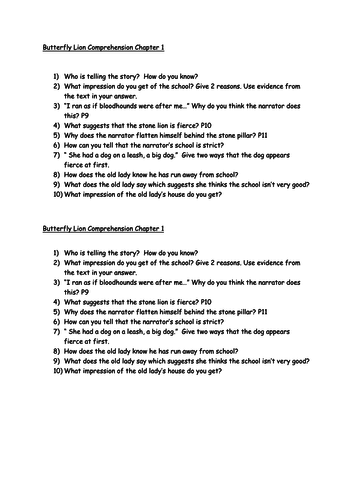 I used this more accessible text with Year 6 pupils who were struggling with inference. The main comprehension questions have some page numbers for the first 5 questions to support MAP pupils and the second 5 questions are more challenging for HAP. I have also included what my LAP do during this time as well as they are not ready for this type of comprehension. I am open to feedback so please let me know if there is anything which could be improved. Thanks for looking.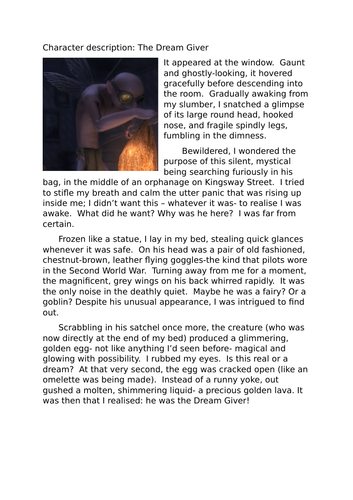 For UKS2. 3 sets of whiteboard slides based on the video the Dream Giver for my MAP in Year 6. First we looked at ambitious vocabulary, which has a word mat included for them to magpie from. Then we redrafted it as another lesson. Pupils used a WAGOLL which is also included to help them with this. There are also a few slides revising word classes and apostrophes which I used to revise various SPAG misconceptions. Please give me any feedback about this so I can improve it if necessary. I have also attached some stills from the clip which my SEN group ordered and wrote about each picture.

I did this (differentiated) whole class comprehension with my mixed ability Year 6 class. As a starter, there are vocabulary and definitions for pupils to match together. There are some one and two mark inference questions, plus answers. For the higher ability, there are 2 three mark questions . For pupils working below, I included some retrieval questions (no answers for this- sorry) which the children who need to improve their retrieval are completing. There is also a cut and stick word sort activity for pupils working well below expectations, still based on the chapter. The main questions are available in Microsoft Word as well as a PDF, so you can edit them. The whiteboard slides are brief as I tend to do a lot of live modelling in these lessons. There is an extra inference question on there which can be modelled with the children. Please leave me constructive feedback if there is something you think could be improved. Thanks for looking :)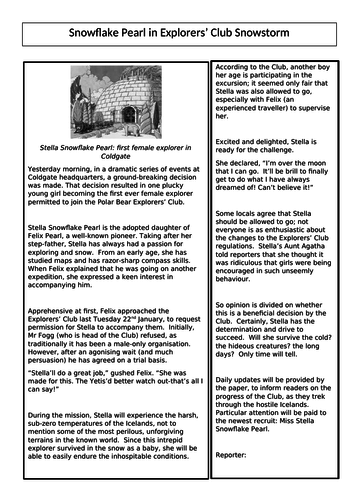 I have created a newspaper report based on Polar Bear Explorers' Club by Alex Bell. It is based on the news that Stella is now allowed to go on the expedition (as the first female explorer). I have used it in class (Year 6) to pick out vocabulary and sentences before writing their own. Included is a word document as well as a PDF version, in case you want to tweak it. I would welcome any constructive feedback. Thanks for looking :)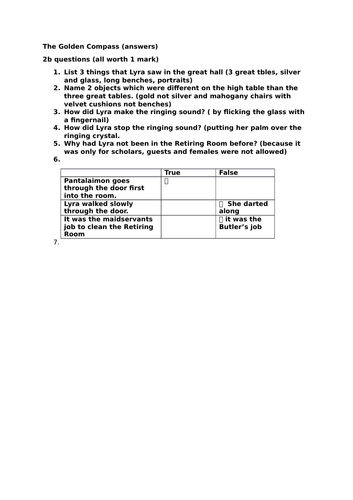 For UKS2. Complete comprehension on the Golden Compass broken down into skill sections. There is a basic IWB for each session included with questions and answers in a sats style. I have included a section on 2a (vocabulary), 2b (retrieval) and 2d (inference). The retrieval section is just a few quick revision questions at this stage of the year. I spent most of the time on vocabulary and inference questions. If you have any feedback about this resource I am always looking to improve :) Thanks for looking.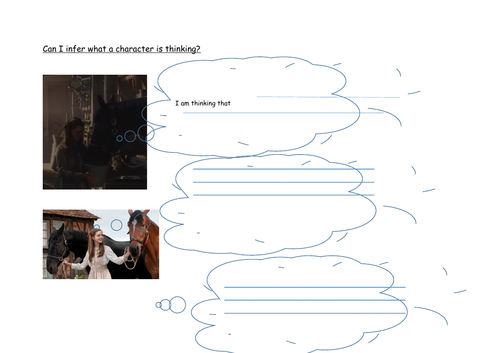 I used this with Year 6 struggling with inference. I used the inference scaffolding technique as described by That Boy Can Teach. All the purple questions are vocabulary, green questions are retrieval and black questions are inference. HAP pupils just had the inference questions without this scaffold and LAP wrote what they thought each character was thinking at important parts of the story. Hope this is helpful. Please leave feedback if there is anything which could be improved.

I have created a comprehension around Wilfred Owen's poem Dulce et Decorum est for my Year 6 pupils for Remembrance Day. I have only used the first two verses as it is challenging but also quite graphic. I have included the Smart board where I have highlighted the vocabulary we will discuss and pupils can annotate the poem as we go through it. I have also included vocabulary questions, some appropriate answers and some notes which I made on the poem. Hope it is useful. Please leave me constructive feedback in order to improve my resources. Thanks for looking.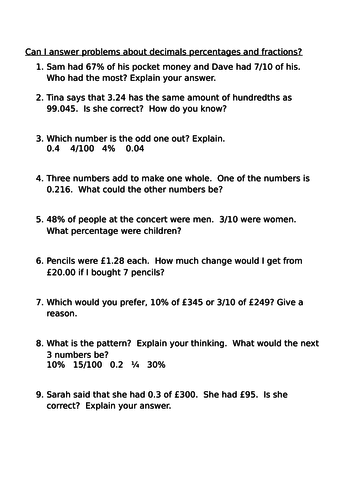 Aimed at MA Year 6 to get pupils proficient in explaining their reasoning to do with fractions, decimals and percentages and the equivalences between them. I have included an odd one out question, a continue to pattern, would you rather etc to get children to give reasons for their ideas. Includes answers and an extension task. Please let me know if you have any feedback for this resources as I am constantly trying to improve my work. Thanks for looking.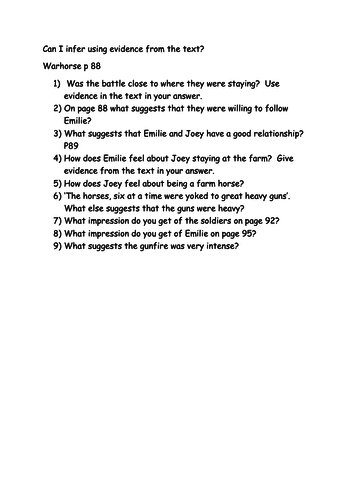 I have been trialling the scaffolding of inference suggested by That Boy Can Teach http://thatboycanteach.blogspot.co.uk/2016/10/scaffolding-inference-trialling.html In short, it starts with a vocabulary question, then a retrieval question and then an inference question all about the same topic with the idea that children are more familiar with the vocab and events by the time they get to the third question. The questions are colour coded: purple questions are vocabulary; green questions are retrieval and black questions are inference. I have tried it a few times with my class and have seen some progress. I have also attached some other inference questions which I gave the HAP in the same lesson which were all inference as I didn't think they needed that level of support.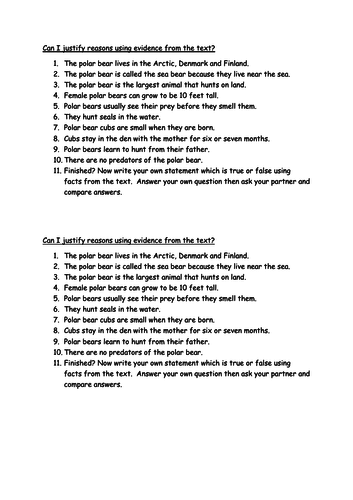 I made this resource to help middle ability year 6 pupils to give more evidence when answering comprehension questions. Pupils have to say whether each question is true or false and give a reason why based on the text. The text is sold separately.