SBarnes Resources
Mainly languages based resources.
34Uploads
57k+Views
28k+Downloads
Mainly languages based resources.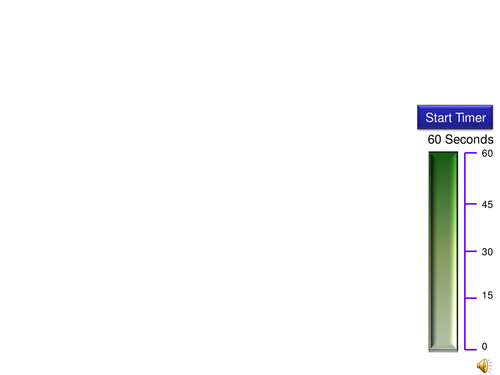 30 seconds, 1 minute, 5 minutes and 10 minutes. Can be copied and pasted onto your powerpoints or used as they are.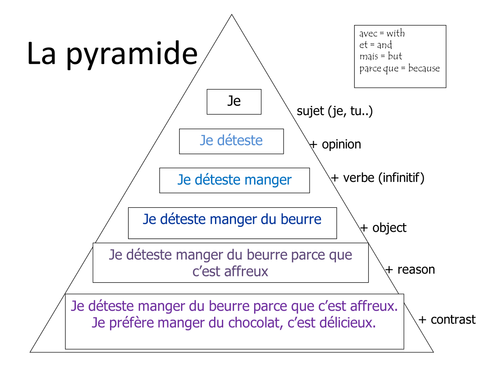 Pupils are given picture prompts with optional vocabulary on the reverse of the pictures. Those who need to can refer to the vocabulary during the task. Using the group talk structures, they are encouraged to have spontaneous conversations. Group talk can be differentiated to allow all abilities to participate. I normally use groups of 4 or 6 and set a time limit. Afterwards, I encourage reflective feedback and ask for examples of conversations. I also use peer assessment sheets so that pupils can assess each other.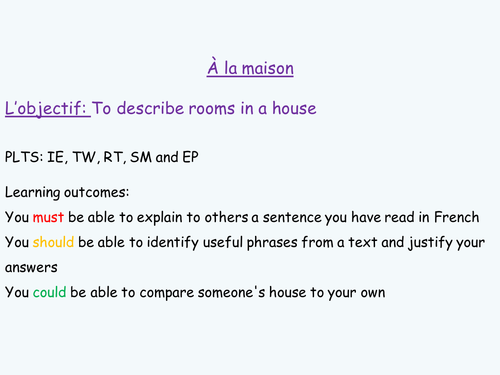 Can be used with any class, my year 7 class loved it. There is a higher ability power point that I used with year 9. Print out A3 copies of the text and place outside the room. Use rules slide to explain expectations of the group. I have attached a timer to keep the pace of the task and to allow students to keep track of time. Afterwards, you can use a mark scheme to check the sentences. I have also included a follow on text so that pupils can understand what they have been reading. On the higher power point there is a writing mat which can be used as an extension task.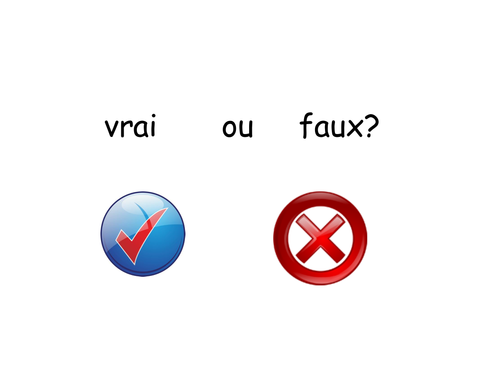 Pupils work in pairs or small groups and bid on whether they think the sentence is correct or not. I have included timers for each slide.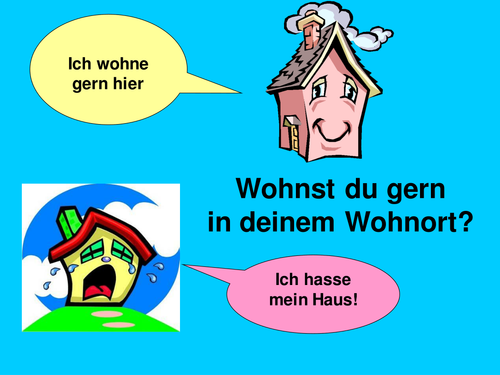 Links into topic on house and home. Reading text followed by conjunction exercise.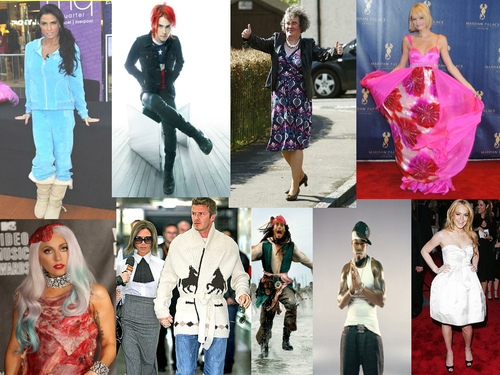 Students are given copies of the pictures and encouraged to discuss the outfits using the prompt phrases.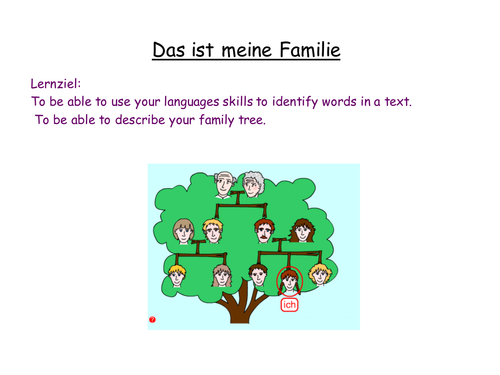 Starter: using language knowledge to skim and scan a text. Understanding a text without using a dictionary. Running dictation task with extension questions.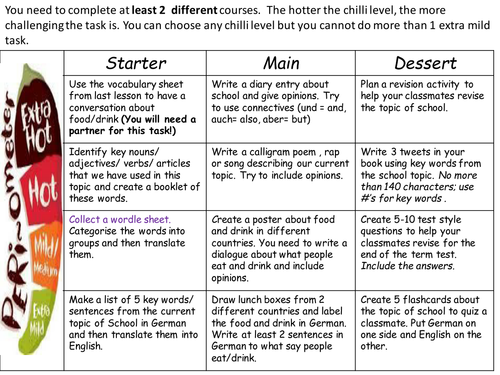 This can be adapted to suit your subject and lesson topic. I use the AFL sheet at the end of the lesson to review the topics.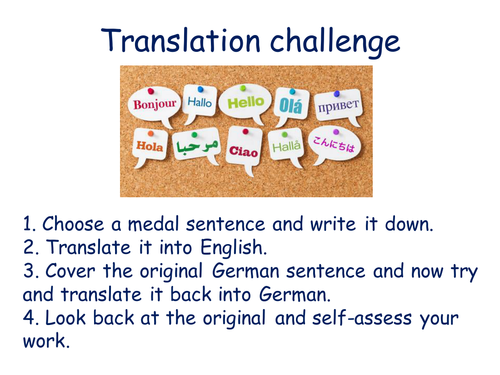 Students choose a medal challenge and translate the text into English. The challenge is to then cover over the original German text and try and translate the paragraph back into German.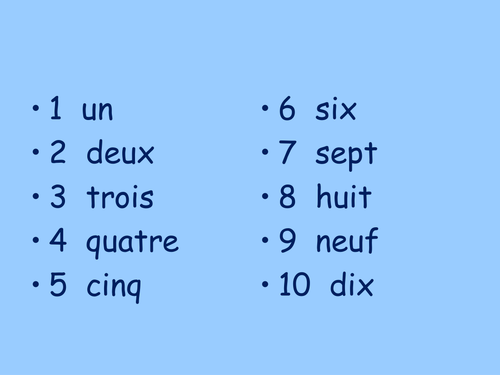 Can be altered for other MFL subjects or change the numbers to words or questions. For Plouf- pupils have to get accross the river by jumping from one stone to another, saying the number as they go. If they hesitate they fall in and the class shout 'Plouf'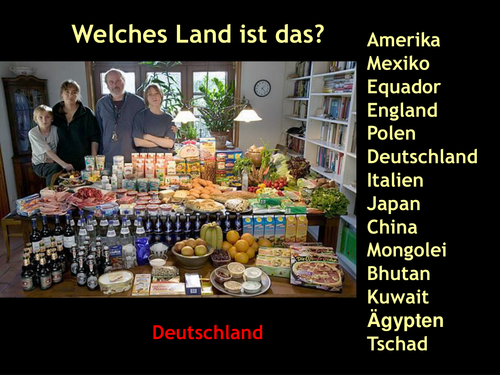 Pictures of weekly shopping in other countries. Pupils have to guess which countries they are and say what items they can see. I used this with a top set and asked them to pretend they were in one of the countries and say what they bought and ate last week and what they will buy and eat next week.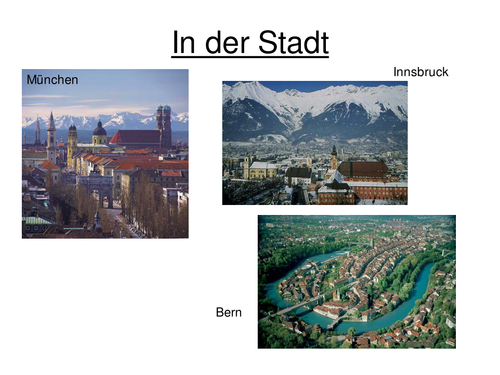 Presentation to introduce places in town in German with global pictures.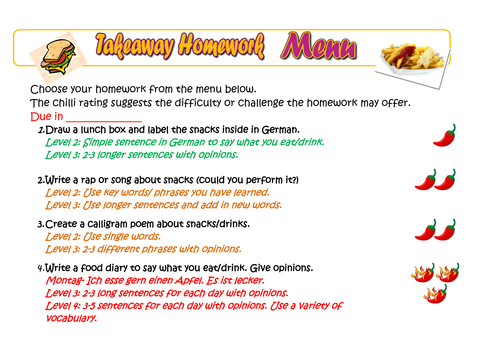 Differentiated takeaway homework that can be easily adapted.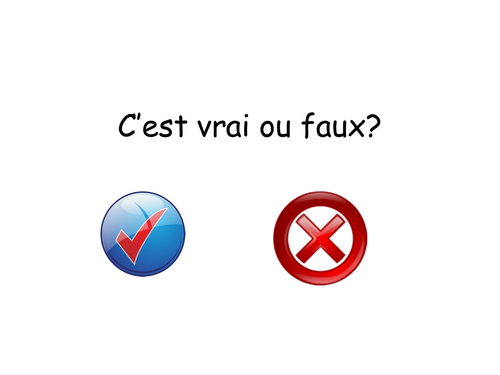 This is an alternative version to my expo 1 revision ppt. Can be adapted to include different sentences.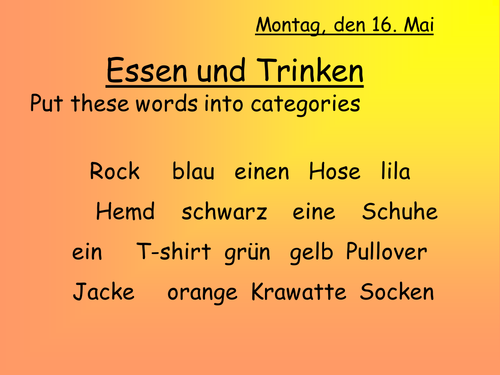 Memory test of vocabulary then slides to introduce opinions and a reading challenge text.