The HoG's Shop
German and French resources, expertly made.
107Uploads
109k+Views
71k+Downloads
German and French resources, expertly made.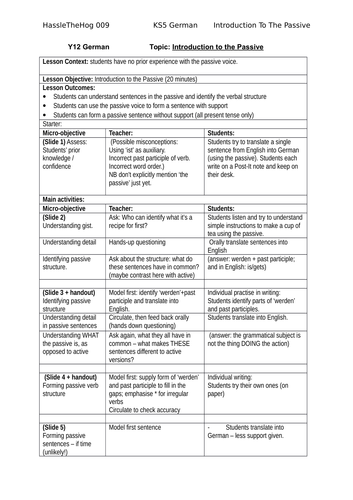 A really solid introduction to the passive voice (and another of my successful interview lessons)! Warning: many example sentences are based on recipes for e.g. Lebkuchen/Gluehwein - do not teach this on an empty stomach! There is enough for two lessons here, or perhaps one lesson and a homework. First lesson: focus is on UNDERSTANDING the passive voice, in the present tense only. Agents using 'von' are also touched upon. (.ppt and handout 1) Second lesson: the focus turns now to using the passive in a range of tenses: present, imperfect and perfect. This worksheet provides systematic practice in the style of a real-life situation.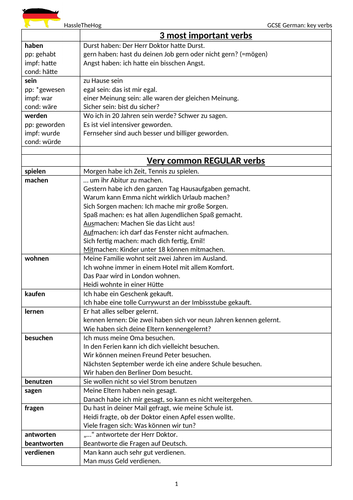 This is a 7-page document which acts as a short frequency dictionary, tailored specifically to the verbs used in the new GCSE German specifications (it is most closely based on AQA and Edexcel). Verbs are presented in short sections, starting with the most frequently used in Reading/Listening texts. For irregular verbs, key forms are given. For all verbs, sentences putting the verbs in context are provided. This allows learners to 1) see how the verb works in a sentence (perfect for reflexives/separables) and 2) take an educated guess at the meaning. NB modal verbs are not given as a separate section, but are included in very many of the example sentences, reflecting usage in GCSE-level texts. If students are familiar with all the verbs in this document, they will succeed at GCSE.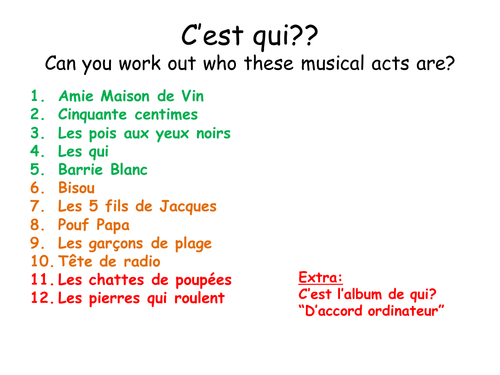 I came across this buzzfeed.fr article and was inspired to create this fun starter! buzzly.fr/les-noms-des-grands-groupes-de-musique-traduits-en-francais-quand-la-credibilite-chute.html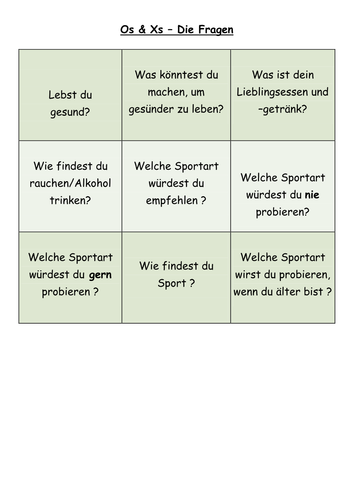 Two lessons focusing on modal structures and questions/answers in preparation for a controlled assessment for a mixed year 10 group.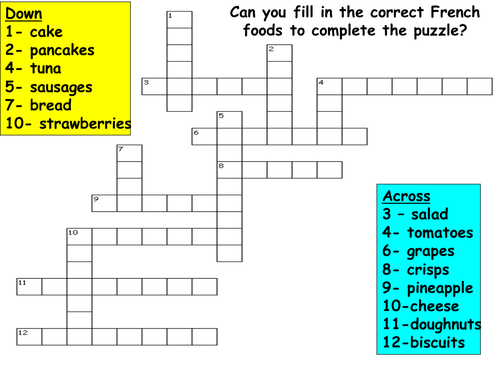 Lesson and fun worksheet on the topic of party invitations. Uses listening exercise from Expo 2 rouge.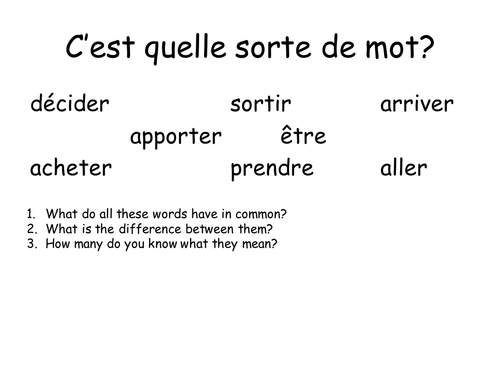 Reading activity (based on a Listening from Expo 3 Rouge) with comprehension activities; a grid to visually show the different tenses (useful for revision); a multiple-choice quiz on verb conjugations; a re-translation exercise to develop the skill of adapting; a final activity to build Level 7 sentences.

Comprehensive sheet to prepare students for speaking/writing assessment, including Languages Ladder to show students specifically what they need to do/how to improve. The ladder is particularly useful for quickly setting very specific targets.

Used as a follow-up to Levelled assessment, this lesson guides students towards reflecting on their achievements and improving. There are two similar versions of this lesson - the normal one (Levels 6-7) and the HIGHER one (Levels 7-8), with full resources for both. You could even mix them together and do a lesson that covers Levels 6-8!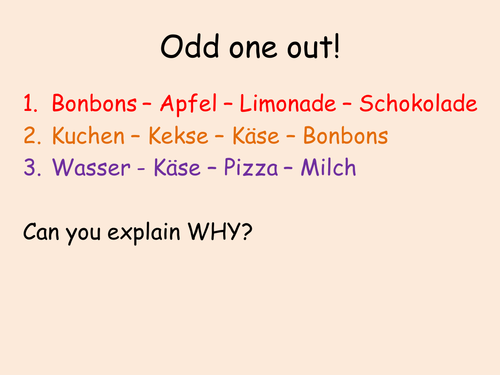 Final lesson in a series on food and drink with code-breaker activity and peer-assessed speaking activity.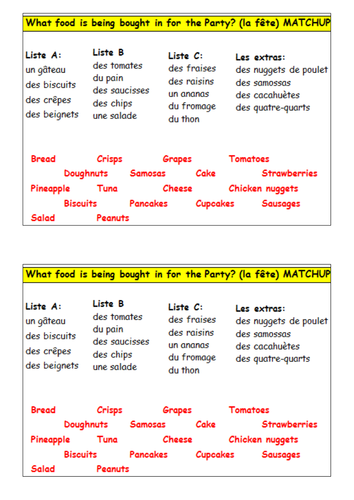 Lesson on party foods. Corresponds with Expo 2 vert module Manger et Boire. For weaker students.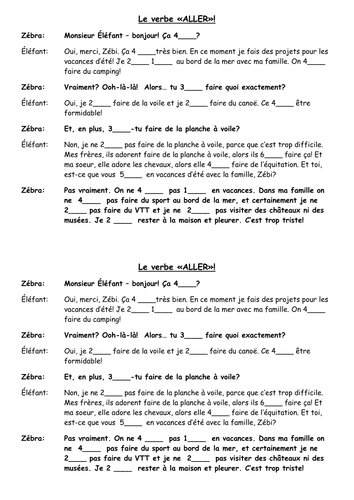 Similar lesson to 'FAIRE', with a goanimate video - with a focus on forming closed questions. Introducing the class's first irregular verb - present tense only.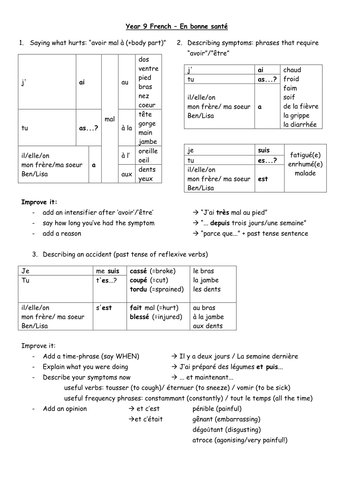 1) Help sheet for year 9 French, corresponds to Expo 3 Rouge Module 3. Guides students towards creating basic sentences, then improving them. 2) An activity, created for a cover lesson, based on this collection of sentence-builders.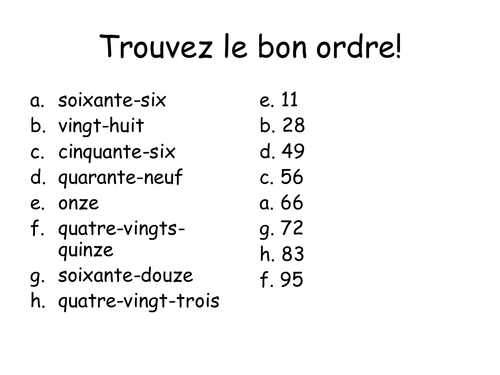 Preparation materials for speaking/writing assessments in Year 9 French. Used in combination with Expo 3 Rouge textbooks, and given out along with my 'En bonne santé' sentence-builders sheet.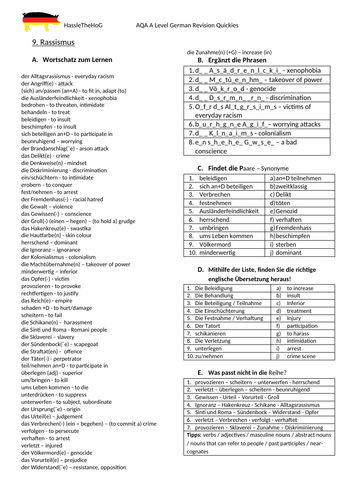 Self-contained worksheet focusing on the most important vocabulary for the topics from AQA A Level German Theme 3 (Multiculturalism in German-speaking Society): 7. Einwanderung, 8. Integration, 9. Rassismus. The worksheets each contain a handpicked vocabulary list, followed by four exercises to aid learning of this vocabulary. Both worksheets are included in editable .doc format, as well as an easily printable .pdf. Suitable for a quick starter or revision activity, or to encourage students to find creative ways to learn vocabulary. If you like this resource, try the vocabulary worksheets for Themes 1, 2 and 4 too, or buy the bundle of all four - feedback welcomed!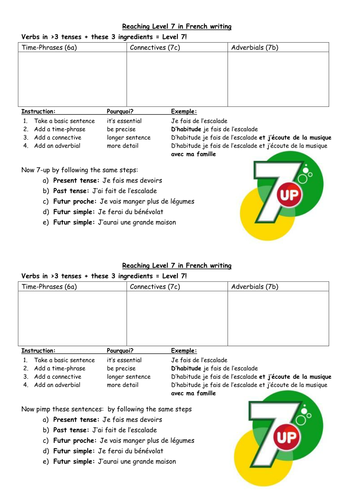 'Pimp My Sentence' has been rebranded as '7Up' - this worksheet will help students to reach Level 7 in French writing/speaking - use in combination with my Pimp My Sentence mixed tense PowerPoint!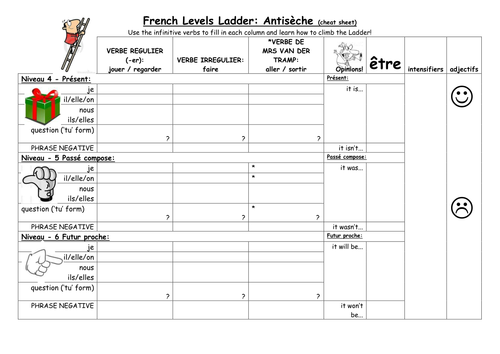 Used to review tenses after a writing exam, this grid should help my bright year 8s to sort out their tenses (and extend them towards negative sentences). Help sheet on second page with references to Expo 2 rouge textbook.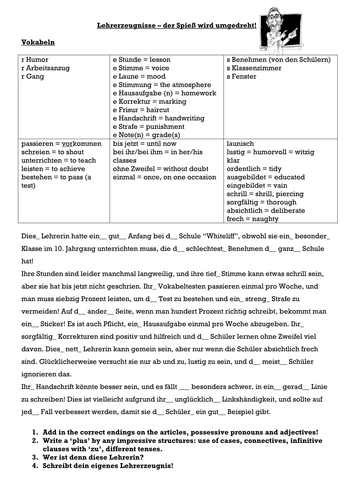 Slightly tongue-in-cheek lesson about writing a report on your teacher. Pupils read my report and fill in the appropriate endings, then pick out the best grammatical structures, and finally use what they've learnt to write their own reports on a teacher (suitable for a guessing game on which teacher they&'re talking about). Fun for my top-set year 10s.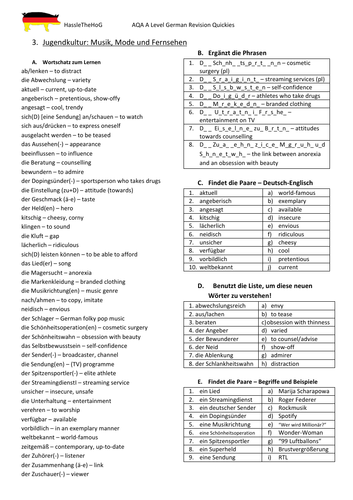 Three self-contained worksheets focusing on the most important vocabulary for topics from Theme 1 of the AQA A Level German specification (Aspects of German-speaking Society): Familie im Wandel, die digitale Welt, Jugendkultur: Musik, Mode und Fernsehen. For all worksheets there is a selected vocabulary list, followed by four exercises to aid learning of this vocabulary. Both worksheets are included in editable .doc format, as well as an easily printable .pdf. If you like this resource, try the vocabulary for Themes 2, 3 and 4 too - feedback welcomed!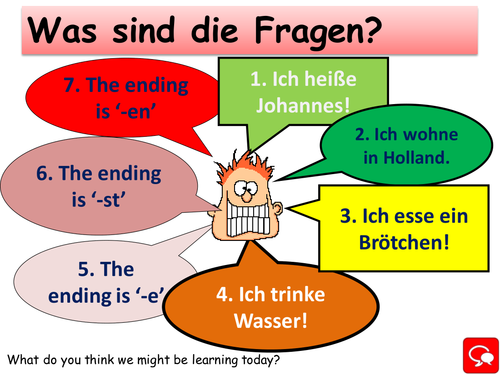 A lesson introducing the concept of verb conjugation to Year 7. They still remember conjugating 'spinnen&'! Plan is also included, as is a follow-up lesson.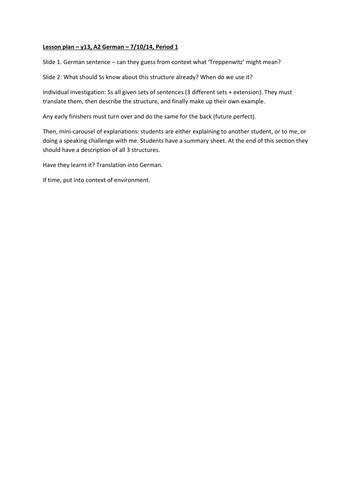 A lesson to teach/revise structures with the conditional perfect. Ideal for a small class, each member of the class becomes an investigator of one particular structure, and then in a mini-carousel, students explain their findings to each other and write notes on the summary sheet. If there is an odd number (as in my class), you can use the slot with the student to do some specific oral work or other challenging activity. Extension activity on reverse is on the future perfect. Very challenging - not for the faint-hearted!