The HoG's Shop
German and French resources, based on experience, made with love.
81Uploads
80k+Views
57k+Downloads
German and French resources, based on experience, made with love.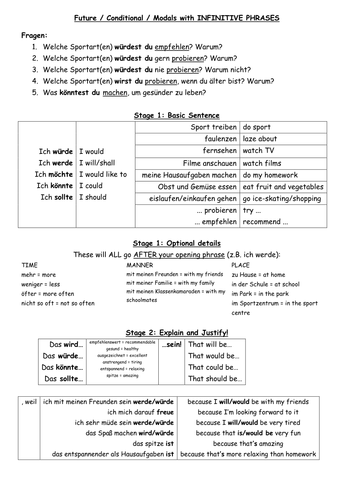 Comprehensive worksheet on the topic of health, focusing on practising and producing the verb structure 'second-final' (i.e. future, conditional and modal verbs + infinitive). Because we all like to talk about what we WILL/WOULD/COULD/SHOULD do!! Great for GCSE classes. Clearly demonstrated using 'sentence-builders', which can also be used for revision, or to create longer pieces of writing.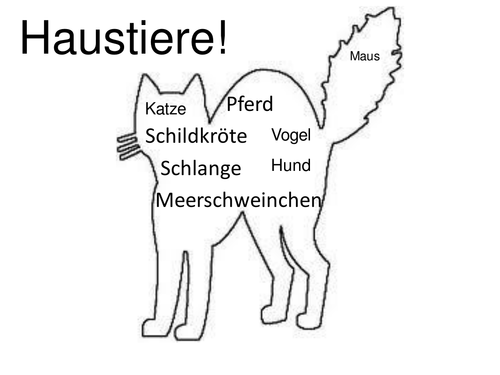 A great series of lessons on the topic of 'pets' with a focus on gender and the accusative case.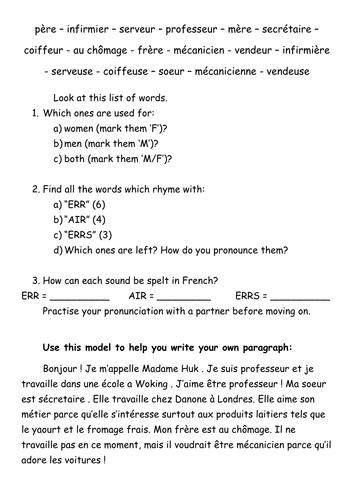 Three worksheets for the topic of jobs. 1) Sheet focusing on masculine/feminine forms of jobs. 2) Sheet focusing on the PRONUNCIATION of these jobs. 3) Sheet encouraging speaking practice - Carroll diagram (basically a grid) can be used for e.g. Os and Xs or battleships and other pairwork or whole class activities to practice language at word- or sentence-level.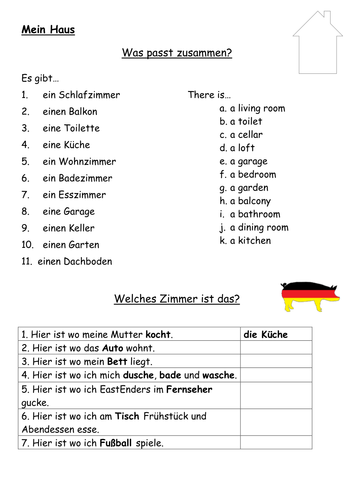 Lesson introducing rooms in the house, including a guessing-game for the starter, a match-up, a reading activity, battleships for speaking practice (handout version is already available on TES), a longer reading activity and an ongoing dictionary task as an extension activity. Successfully used as an interview lesson!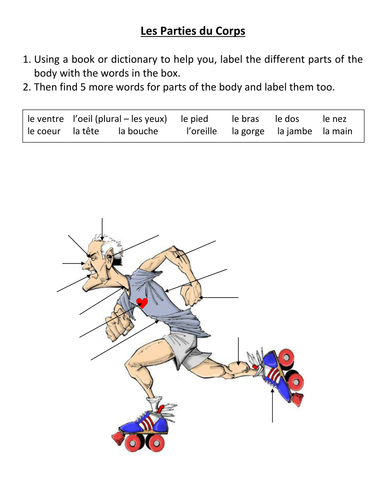 Series of lessons guiding pupils through Expo 3 Rouge Module 3, covering: 1. parts of the body and 'avoir mal a' construction 2. other symptoms using 'etre' and 'avoir' 3. reflexive verbs in the past tense 4. negative sandwiches 5. phrases that take infinitives I made this for my top set, but it was also useful for middle sets!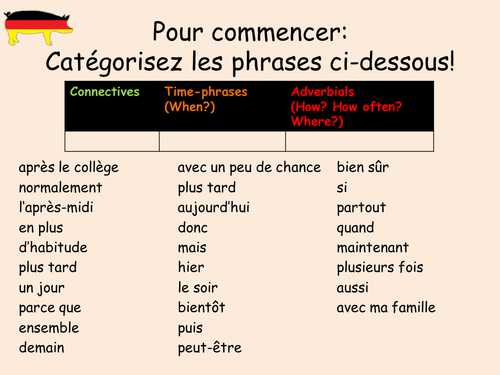 A lesson showing students how to improve their writing using connectives, time-phrases and adverbials. See also my 7Up resource to help not-so-strong students form extended sentences!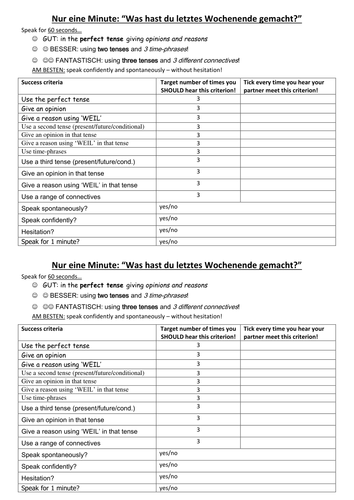 Lesson focusing on speaking skills before a speaking controlled assessment. Easily adaptable to any topic!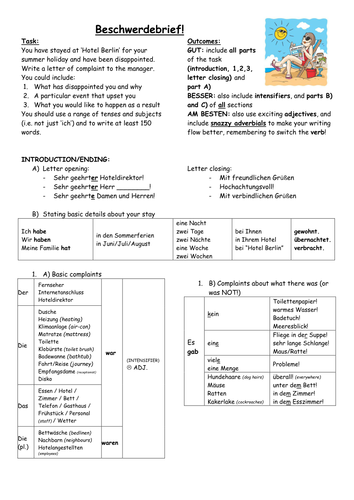 A task to write a holiday complaint letter with step-by-step instructions to create a good answer. Used as an opportunity for students to write their first controlled-asessment style piece of writing, with plenty of support and room for extending with adverbial phrases (on separate sheet). I hope you have as much fun reading/teaching it as I did making it up!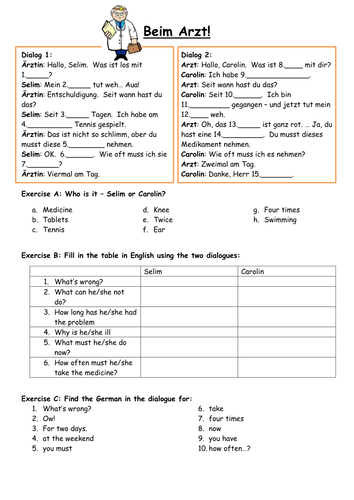 Worksheet on the topic of going to the doctor's for weaker students.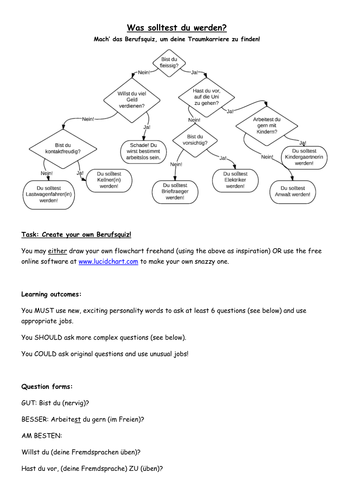 Fun independent activity for KS4 German. In lessons we covered jobs, personality words, and modal verbs: then students created a flowchart quiz using questions about personality and future plans (I used lucidchart.com to create mine!). They loved bringing in their flowcharts and doing each other's!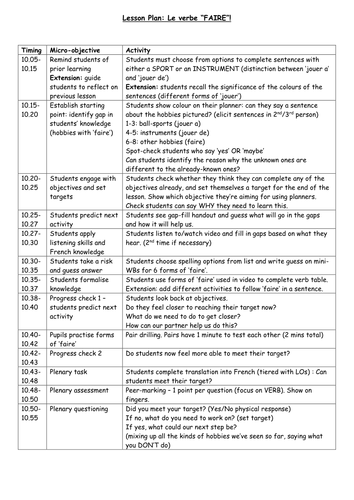 Lesson for top-set year 7 learners of French. Following on from learning 'jouer' with sports and instruments, students discover the verb 'faire' through a video!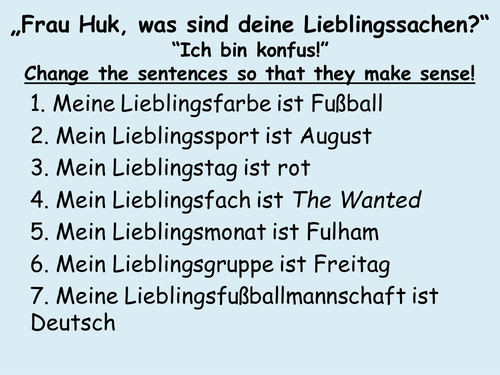 An introduction to subordinating conjunctions in German. Follows on from 'meine Lieblingssachen&' (my favourite things), adding reasons.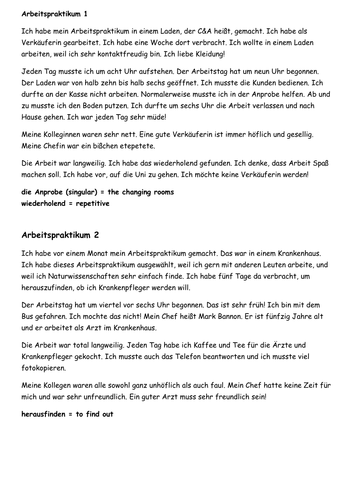 Students read model answers about work experience placements and use them to learn about the past tense. Focus on features of high-quality German.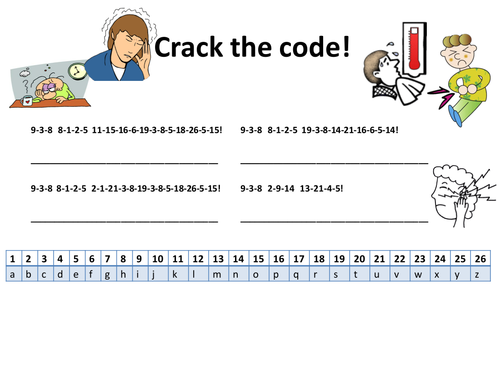 Two lessons' worth of materials and work on the topic of illnesses. For weaker students.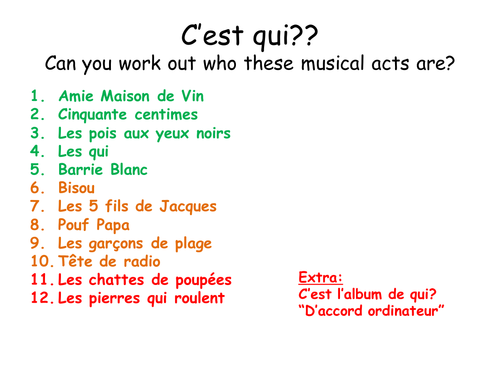 I came across this buzzfeed.fr article and was inspired to create this fun starter! buzzly.fr/les-noms-des-grands-groupes-de-musique-traduits-en-francais-quand-la-credibilite-chute.html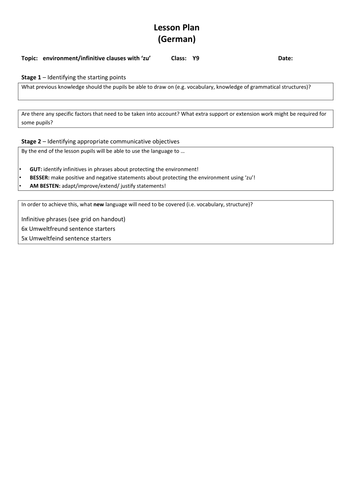 Resources for a lesson with a lower set on protecting the environment and phrases with 'zu&'. Lots of room for fun (with phrases such as &';I refuse to take the bus!') and extension by coordinating sentences (&'...but I promise to protect the environment!&';). Includes Diamond 9 activity (with support for discussing in German), guess my sentence activity, battleships, and Os and Xs. (Another successful interview lesson!)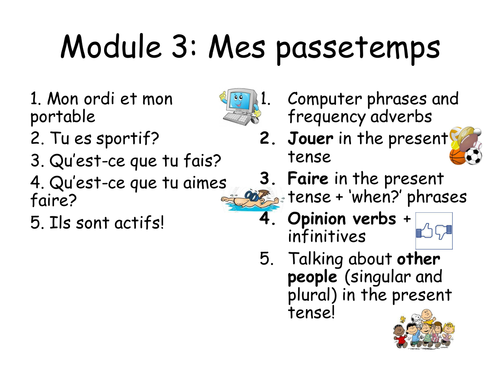 When I taught this topic (Module 3 from Studio 1) I used a sentence builder at some point in each lesson to demonstrate the relevant language point. For revision I put them all together to remind the students of their learning. Great for a variety of games: Guess my sentence, translation into French, hands-down questioning (say an English sentence, turn the projector off after 3 seconds, and pupils give an answer from memory), the beep game ('beep' one element out - student guesses).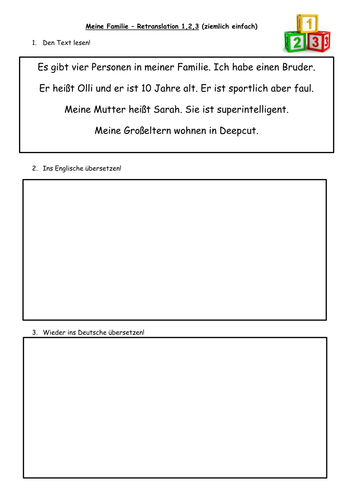 Inspired by the wonderful rhawkes, I've put together this tiered retranslation exercise to see what my Year 7s can do!
Students learn all about modal verbs in the past in the context of work experience placements!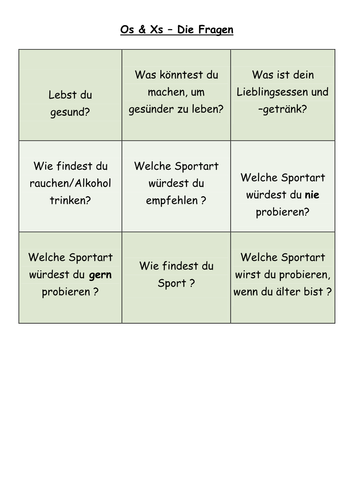 Two lessons focusing on modal structures and questions/answers in preparation for a controlled assessment for a mixed year 10 group.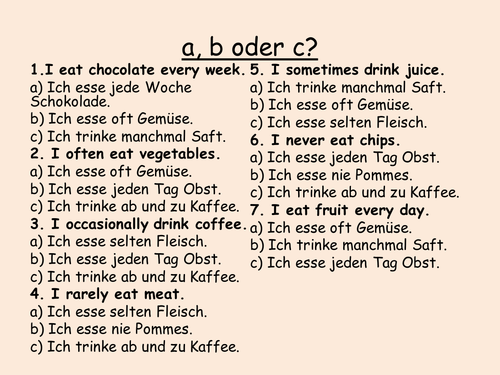 At least two lessons' worth of resources on the topic of eating - food plus time-phrases. Includes excellent worksheet on writing a sick note using modal verbs!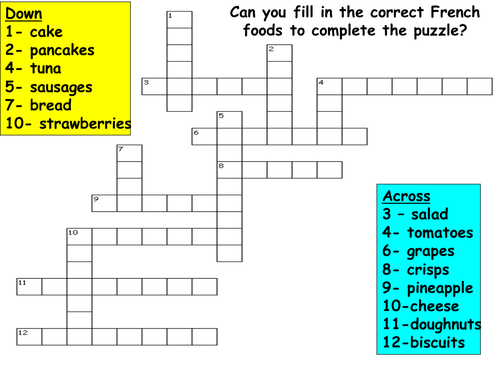 Lesson and fun worksheet on the topic of party invitations. Uses listening exercise from Expo 2 rouge.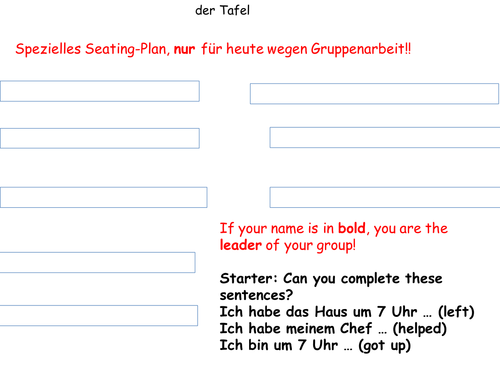 Group writing task which could last for two lessons. Used as the concluding task for a series of lessons on work experience, pupils must produce a full report about their imaginary work experience placement using the task sheets, then pupils assess each other's reports and find words/phrases which will be useful to them!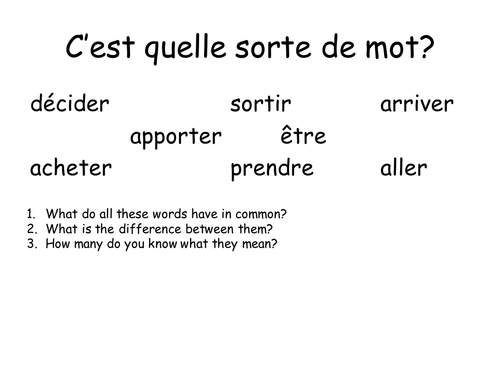 Reading activity (based on a Listening from Expo 3 Rouge) with comprehension activities; a grid to visually show the different tenses (useful for revision); a multiple-choice quiz on verb conjugations; a re-translation exercise to develop the skill of adapting; a final activity to build Level 7 sentences.