The HoG's Shop
German and French resources, expertly made.
92Uploads
83k+Views
57k+Downloads
German and French resources, expertly made.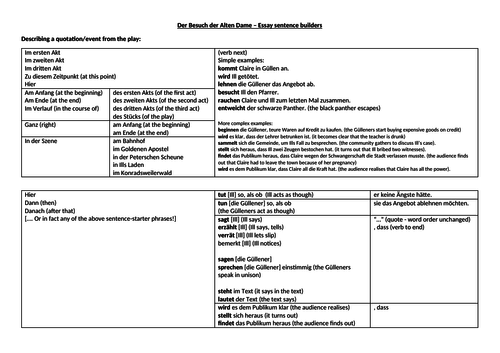 A really useful resource for showing students how to use formal essay language to get their point across in A Level German essays. This is the hardest element of the new A Level - both to teach and for students to do themselves. This resource provides a crucial stepping stone between knowing the work of literature really well, and constructing a sound answer in essay form. To use each sentence-builder, simply choose an option from each box moving from left to right. Ideas for use by students: orally, give students English sentences to translate into German (stick to options given in full in the tables to familiarise them with what they contain) write short paragraphs in English mixing simple sentences stating events with sentences built from the sentence-builders - students then translate into English. give students a target when writing an essay to include a certain number of sentences (e.g. 5) made from the sentence-builders. On their subsequent essay encourage them to use the sentence-builders but to choose different verbs (i.e. if they used betont, behauptet, gezeigt, illustriert, tell them these ones are now banned, which should encourage more advanced verbs like darauf hingewiesen, vermittelt.

Contains worksheets for all four Themes (including all 12 topics) for AQA A Level German. Each worksheet contains a list of handpicked topical vocabulary, followed by four exercises aimed at familiarising students with this vocabulary. All worksheets are included in an easily editable .doc format, as well as an easily printable .pdf format. 29% saving on buying each pack individually!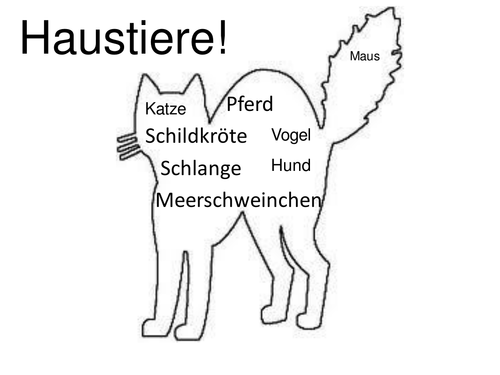 A great series of lessons on the topic of 'pets' with a focus on gender and the accusative case.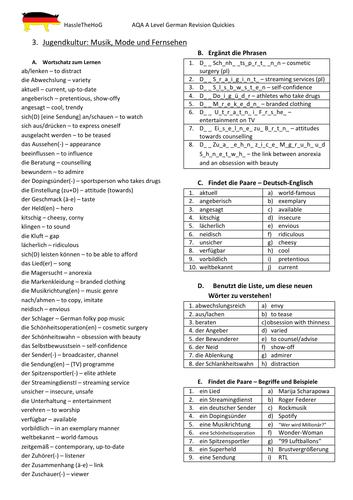 Three self-contained worksheets focusing on the most important vocabulary for the topics 1. Familie im Wandel, 2. die digitale Welt, 3. Jugendkultur: Musik, Mode und Fernsehen. For all worksheets there is a selected vocabulary list, followed by four exercises to aid learning of this vocabulary. Both worksheets are included in editable .doc format, as well as an easily printable .pdf. If you like this resource, try the vocabulary for other Themes too - feedback welcomed!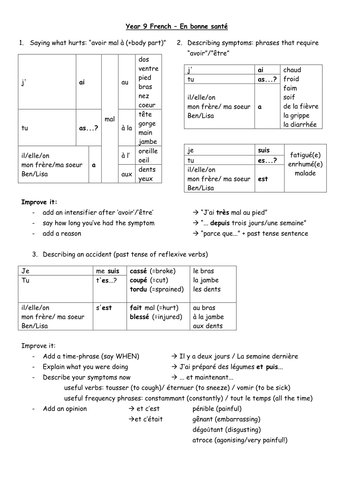 1) Help sheet for year 9 French, corresponds to Expo 3 Rouge Module 3. Guides students towards creating basic sentences, then improving them. 2) An activity, created for a cover lesson, based on this collection of sentence-builders.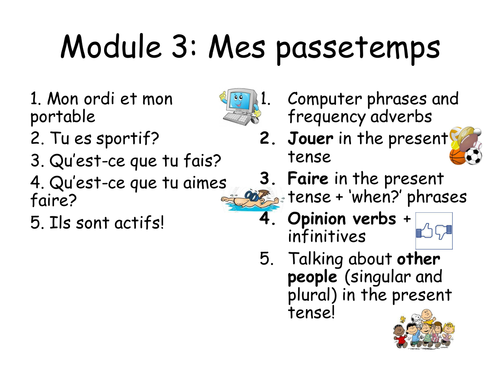 When I taught this topic (Module 3 from Studio 1) I used a sentence builder at some point in each lesson to demonstrate the relevant language point. For revision I put them all together to remind the students of their learning. Great for a variety of games: Guess my sentence, translation into French, hands-down questioning (say an English sentence, turn the projector off after 3 seconds, and pupils give an answer from memory), the beep game ('beep' one element out - student guesses).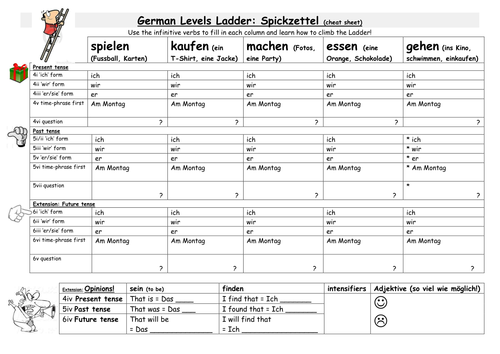 Task for year 8 students to consolidate knowledge of present and past tense, with an extension of future tense. Use the levels ladder as an easy, consistent way of giving specific targets! There is a blank sheet for higher sets, and a help sheet and scaffolded version for lower sets.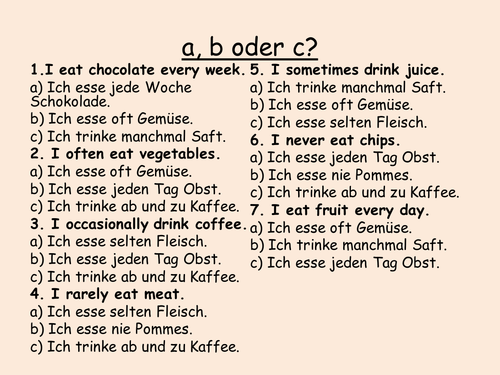 At least two lessons' worth of resources on the topic of eating - food plus time-phrases. Includes excellent worksheet on writing a sick note using modal verbs!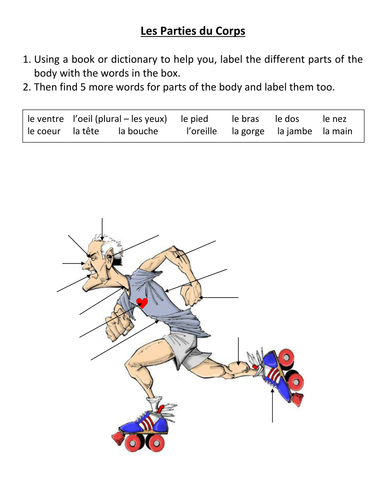 Series of lessons guiding pupils through Expo 3 Rouge Module 3, covering: 1. parts of the body and 'avoir mal a' construction 2. other symptoms using 'etre' and 'avoir' 3. reflexive verbs in the past tense 4. negative sandwiches 5. phrases that take infinitives I made this for my top set, but it was also useful for middle sets!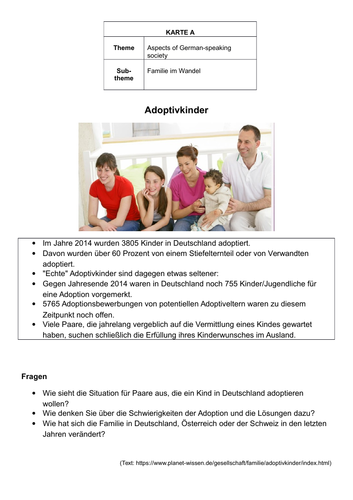 This AQA-style speaking card for A Level/AS was inspired by this resource (https://www.tes.com/teaching-resource/aqa-a-level-german-2016-speaking-card-familie-im-wandel-11801641). I've used the original source text (link given in resource) to create a speaking card and questions which very closely mirror the specification. This card falls within the 'Familie im Wandel' sub-theme, and focuses on issues of adoption.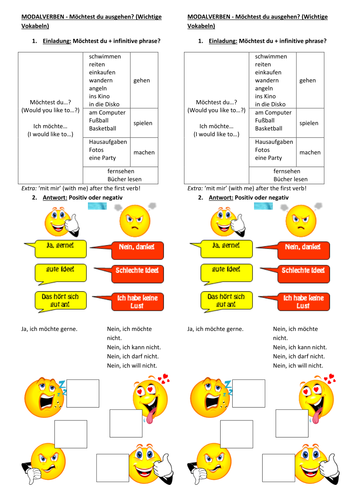 A really useful double-sided handout to help German beginners ask people out, refuse/accept, give reasons why/why not. Grammar: modal verbs, future tense, conditional, subordination. Uses the ever-popular sentence- builder style of presenting multiple options for sentences. Great fun.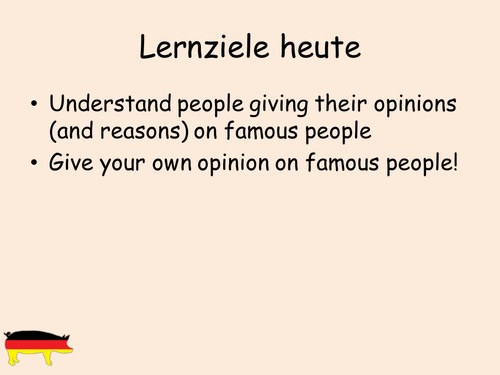 2 full lessons at both higher (Rot) and foundation (Grün) level, based on Echo 3 Rot/Grün - about describing famous people, giving reasons why you like/don't like them (using 'weil'). The worksheet can be used to support in the second lesson.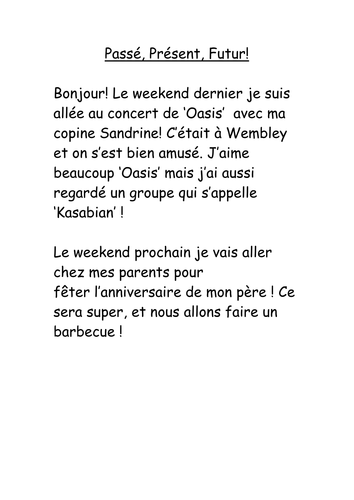 Series of lessons to equip year 9s to begin their GCSE in French with a sound understanding of the tenses. 3 tenses lesson and knowledge audit is the beginning, then 5 lessons working on the booklets which can then be used when they go into Year 10! Final lesson is peer-assessment. Pupils use the grid to play 'les chaises musicales&' and comment on 5 other booklets.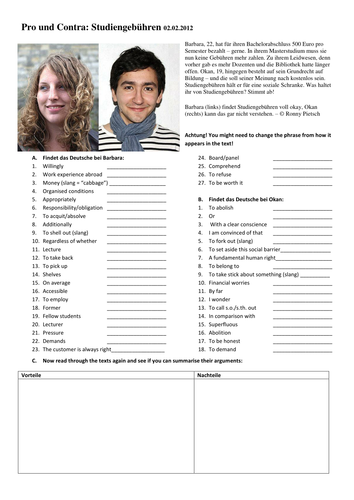 text (from http://www.mitmischen.de/diskutieren/topthemen/politikfeld_bildung/studiengebuehren/streitgespraech/index.jsp) with activities for AS students!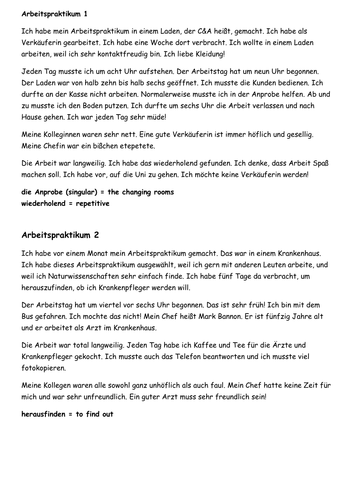 Students read model answers about work experience placements and use them to learn about the past tense. Focus on features of high-quality German.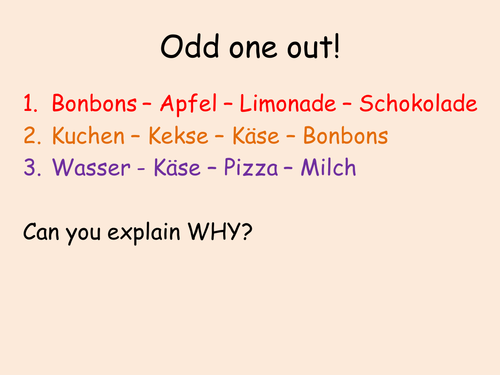 Final lesson in a series on food and drink with code-breaker activity and peer-assessed speaking activity.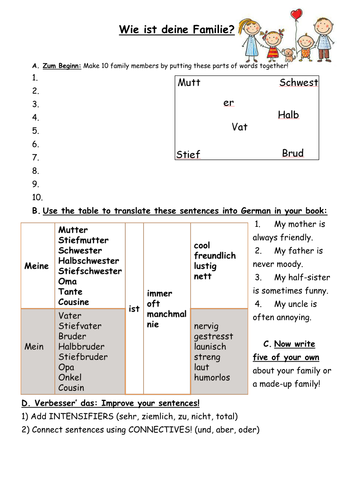 A double-sided worksheet (file makes two A5 double-sided sheets) revising family members, adverbs of frequency and adjectives describing personality. Sentence-builders demonstrate how to compare family members - ends with a fairly amusing opportunity to say things like 'my mum is funnier than your mum!'; And a double-sided lesson of sentence builders describing your own family. Both suitable for lower sets.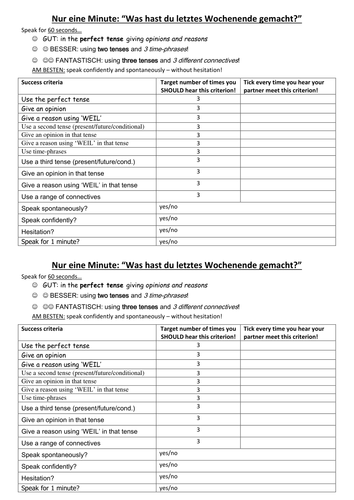 Lesson focusing on speaking skills before a speaking controlled assessment. Easily adaptable to any topic!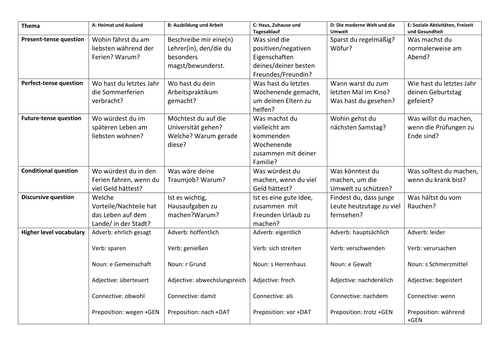 1) A useful exercise for oral practice/revision to encourage high-quality answers - one question per tense and per topic, with challenging vocabulary, connectives etc.. For high-achievers! 2) A comprehensive revision resource - a grid of translation sentences on all topics and a range of complex grammar points. 'Answers & Hints' document gives an intermediary support sheet with vocabulary and hints, followed by a sheet of the answers.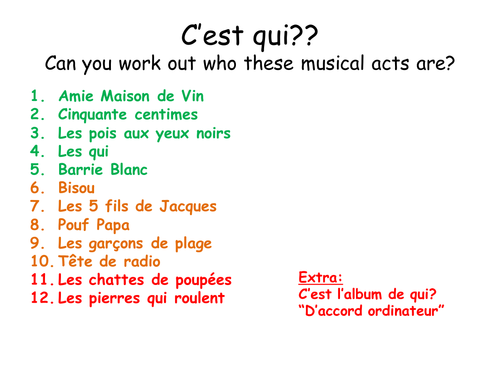 I came across this buzzfeed.fr article and was inspired to create this fun starter! buzzly.fr/les-noms-des-grands-groupes-de-musique-traduits-en-francais-quand-la-credibilite-chute.html