The HoG's Shop
German and French resources, expertly made.
107Uploads
108k+Views
71k+Downloads
German and French resources, expertly made.

Four key resources for kickstarting students' revision for any GCSE exam: Essential vocabulary ('Key verbs in context' and 'Antonyms and synonyms') Genders and plurals Translation grid (complex grammar and a range of topics)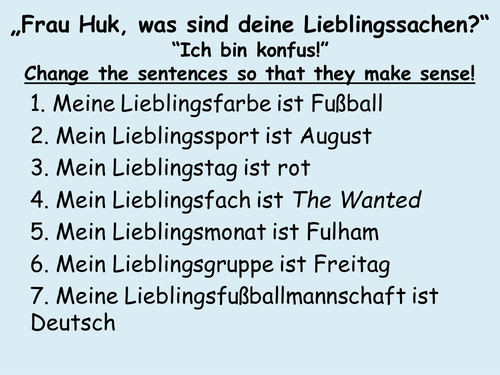 An introduction to subordinating conjunctions in German. Follows on from 'meine Lieblingssachen&' (my favourite things), adding reasons.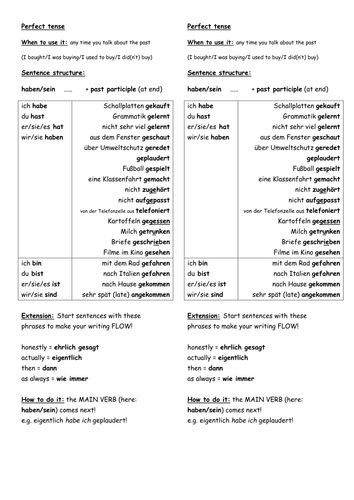 A handy self-contained differentiated worksheet practising the perfect tense.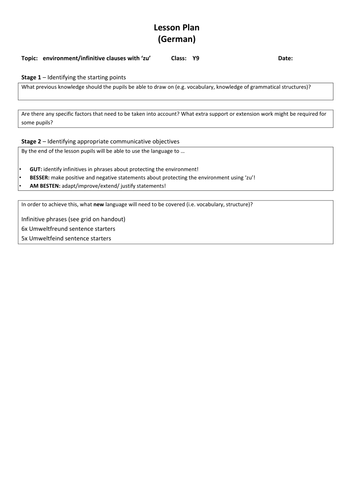 Resources for a lesson with a lower set on protecting the environment and phrases with 'zu&'. Lots of room for fun (with phrases such as &';I refuse to take the bus!') and extension by coordinating sentences (&'...but I promise to protect the environment!&';). Includes Diamond 9 activity (with support for discussing in German), guess my sentence activity, battleships, and Os and Xs. (Another successful interview lesson!)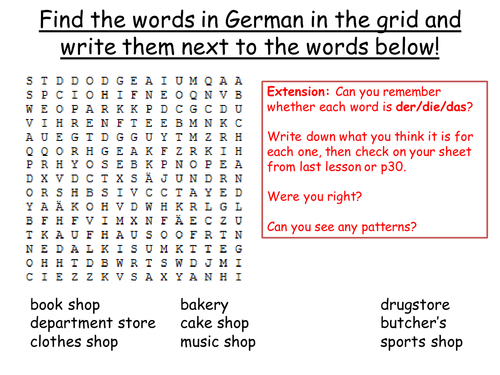 2 lessons: in lesson 1, students learn 9 different shops. This lesson is full of AfL as the students set their own targets for learning these phrases during the lesson. In lesson 2, students use these phrases in sentences to describe what you buy where. Again, lots of practice and AfL techniques with a thumbs-up/down quiz to finish. Great for year 8.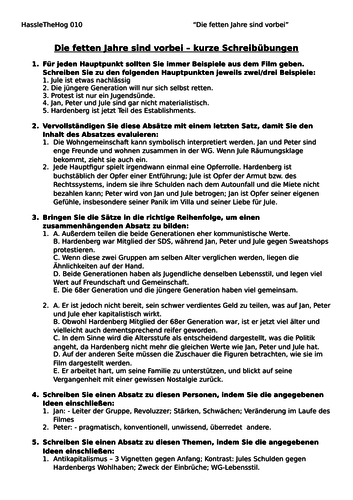 Writing essays on films is a skill which students often struggle with, and it can be difficult to pinpoint exactly what students need to do to improve their essays and get better marks. This is a sequence of exercises which lead students toward writing their own paragraphs which would score highly in the A Level exams by drawing evidence from the film and analysing it. The exercises will also deepen students' understanding of aspects of the film 'die fetten Jahre sind vorbei', and give them valuable practice of analysing the characters, events and themes of the film. Answers to the exercises are included (but for the full paragraph exercises, clearly many answers are possible).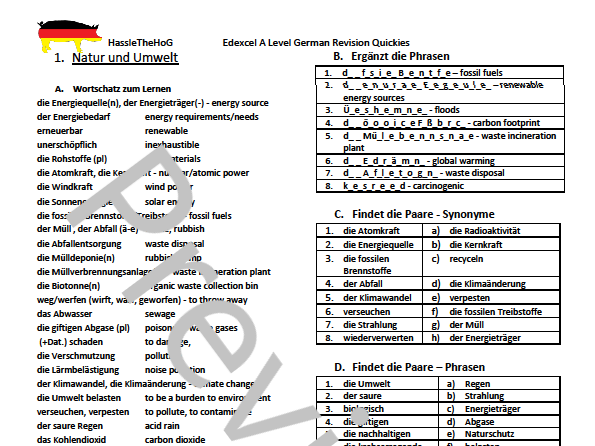 Bundle of seven worksheets covering key vocabulary from Themes 1 and 2 on the new Edexcel AS/A Level German specification. Theme 1: Gesellschaftliche Entwicklung in Deutschland Natur und Umwelt Bildung Die Welt der Arbeit (2 parts) Theme 2: Politische und künstlerische Kultur im deutschen Sprachraum 4. Musik 5. Die Medien 6. Die Rolle von Festen und Traditionen Perfect as lesson starters, as an independent task, and to kickstart revision!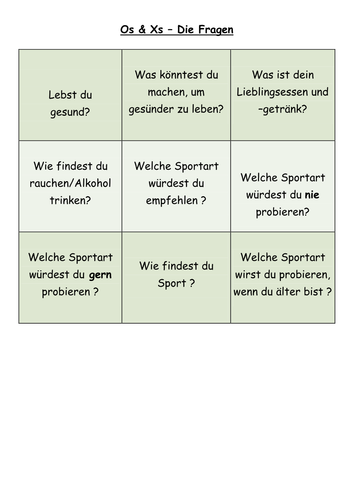 Two lessons focusing on modal structures and questions/answers in preparation for a controlled assessment for a mixed year 10 group.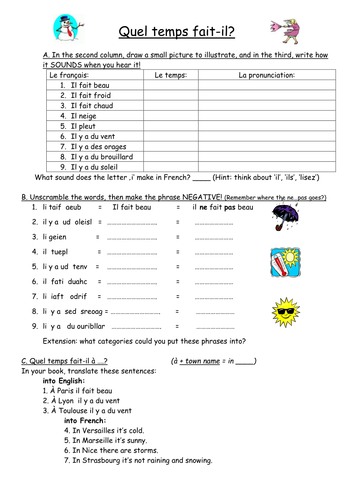 Double-sided resource practising phrases to do with the weather - the reverse side features a weather-forecasting activity!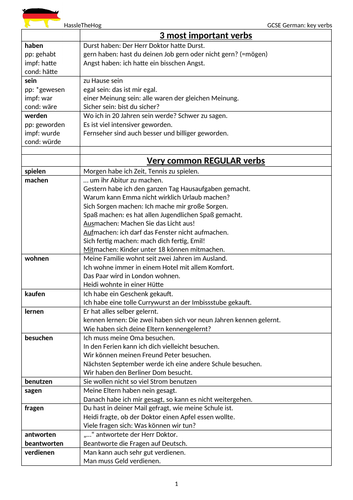 This is a 7-page document which acts as a short frequency dictionary, tailored specifically to the verbs used in the new GCSE German specifications (it is most closely based on AQA and Edexcel). Verbs are presented in short sections, starting with the most frequently used in Reading/Listening texts. For irregular verbs, key forms are given. For all verbs, sentences putting the verbs in context are provided. This allows learners to 1) see how the verb works in a sentence (perfect for reflexives/separables) and 2) take an educated guess at the meaning. NB modal verbs are not given as a separate section, but are included in very many of the example sentences, reflecting usage in GCSE-level texts. If students are familiar with all the verbs in this document, they will succeed at GCSE.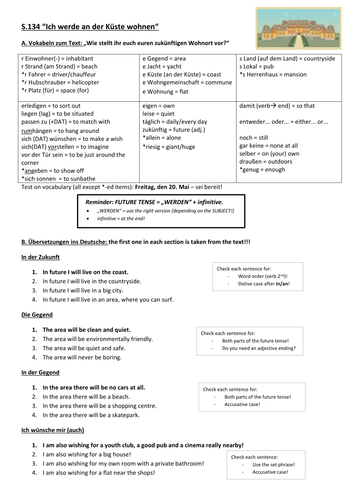 2 whole lessons on p134-135 spread in Edexcel GCSE book. First lesson on p.134 - Reading and Writing, revising the use of the future tense in the context of the 'Wohnort' topic. 5-4-3-2-1 starter to reactivate previous knowledge, then textbook activities (helped by vocab list), then translations to USE the future tense. Second lesson on p.135 - starts with vocab test, then reactivation of structures to be used in the lesson, then Listening Bingo activity to introduce Listening recording, then Listening activity itself, then writing activity based on last two lessons, with a sheet of 4 steps to creating an excellent piece of writing.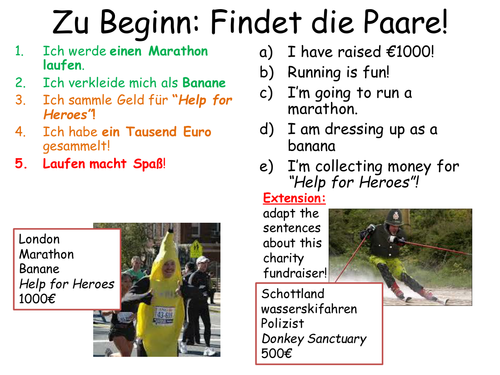 I used this with a mixed Year 10 class in the final lesson before beginning a controlled assessment on a sporting event for charity. This activity introduces key phrases and structures, and also subtly gives some ideas as to how to have fun with your writing.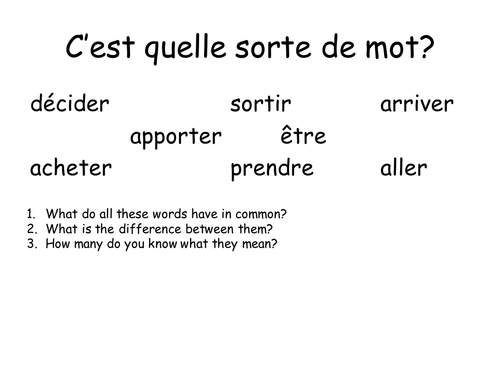 Reading activity (based on a Listening from Expo 3 Rouge) with comprehension activities; a grid to visually show the different tenses (useful for revision); a multiple-choice quiz on verb conjugations; a re-translation exercise to develop the skill of adapting; a final activity to build Level 7 sentences.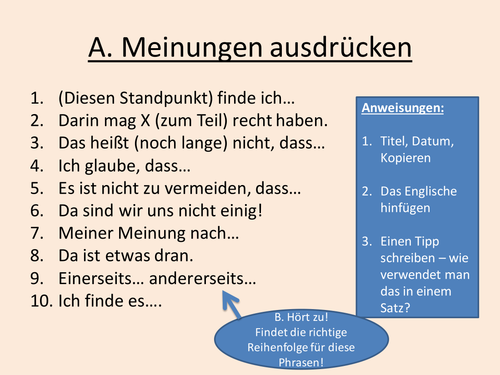 A lesson based on a text from Lernpunkt Deutsch 3 (p72) for year 10 on the topic of health. Activities all lettered (to explain the order): Starter of opinion vocabulary, then pre-teaching of topic-specific vocabulary, gapfill, multiple choice, etc etc etc. Then returning to the opinion phrases for a final plenary summarizing other's opinions.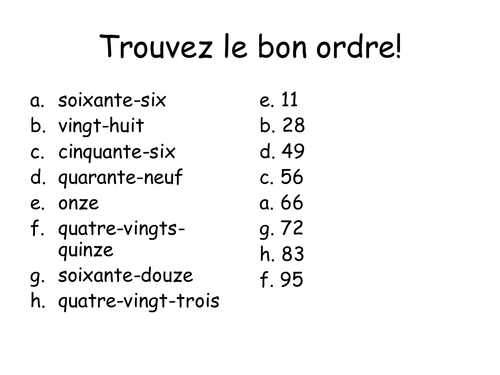 Preparation materials for speaking/writing assessments in Year 9 French. Used in combination with Expo 3 Rouge textbooks, and given out along with my 'En bonne santé' sentence-builders sheet.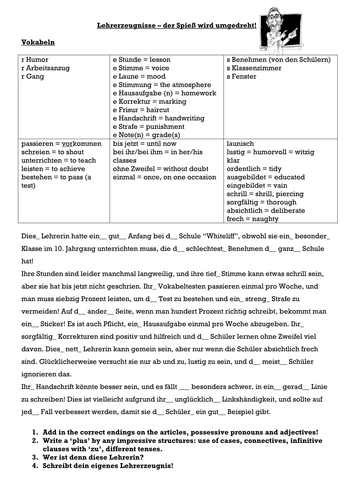 Slightly tongue-in-cheek lesson about writing a report on your teacher. Pupils read my report and fill in the appropriate endings, then pick out the best grammatical structures, and finally use what they've learnt to write their own reports on a teacher (suitable for a guessing game on which teacher they&'re talking about). Fun for my top-set year 10s.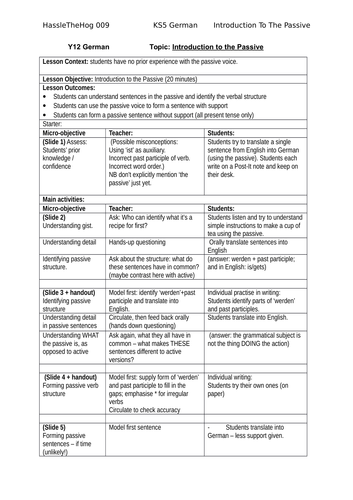 A really solid introduction to the passive voice (and another of my successful interview lessons)! Warning: many example sentences are based on recipes for e.g. Lebkuchen/Gluehwein - do not teach this on an empty stomach! There is enough for two lessons here, or perhaps one lesson and a homework. First lesson: focus is on UNDERSTANDING the passive voice, in the present tense only. Agents using 'von' are also touched upon. (.ppt and handout 1) Second lesson: the focus turns now to using the passive in a range of tenses: present, imperfect and perfect. This worksheet provides systematic practice in the style of a real-life situation.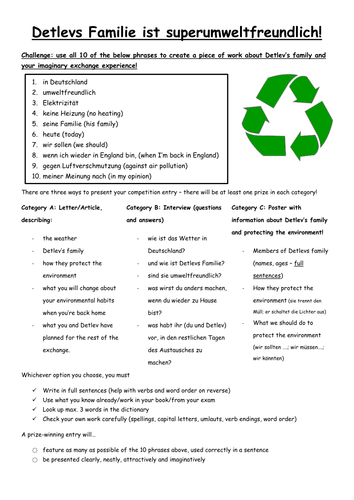 Originally conceived to encourage students to improve on an existing piece of writing, this Writing Challenge could be used as a motivational competition (with prizes for the best entries), as a guided writing task in-lesson or an independent homework task. Maturer classes may even be able to cope with this as a cover lesson. The task: write a letter home about your (fictional) German exchange experience - your German exchange partner is Detlev, whose family are incredibly environmentally friendly (no heating, no electricity(!)). This challenge allows all students to create an end-product by choosing one of the three on offer (article, interview, poster). On the back is a colour-coded guide to verb forms and word order (present tense, modal/future structure, and verb-comma-verb/subordination, which could be used separately, or indeed throughout a GCSE course, as a reference tool.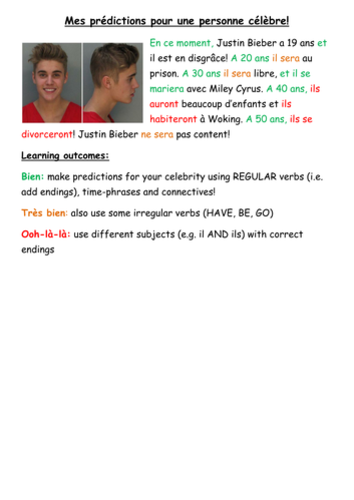 Task to conclude the introduction of the simple future (3rd person). Pupils must read the example predictions about my predictions for Justin Bieber's (less than enviable) future, then create their own about another celebrity or a classmate, either by adapting or writing from scratch. With differentiated learning outcomes (relating to highlighted text).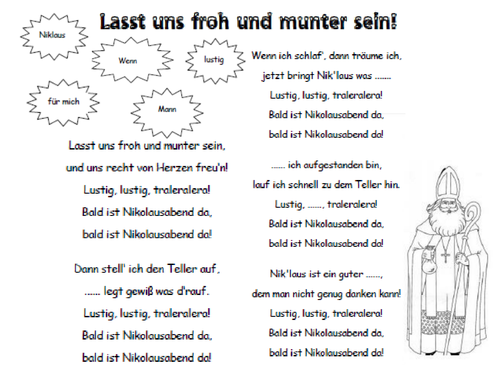 A special lesson for around 6th December using the traditional song 'Lasst uns froh und munter sein!' to teach about traditions surrounding Nikolaustag in German-speaking countries.