The HoG's Shop
German and French resources, expertly made.
107Uploads
109k+Views
72k+Downloads
German and French resources, expertly made.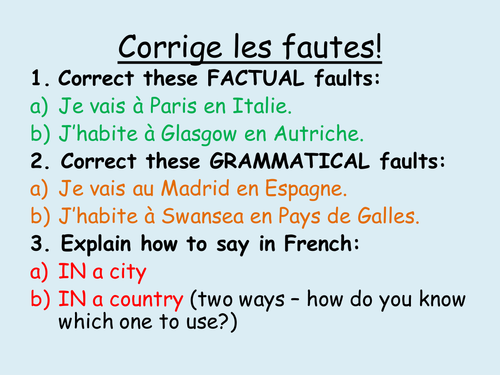 Lesson based on 'Les pays et les langues' - working in three tenses, and using le/la/les/a la/au/aux/en with countries! Excellent for year 9.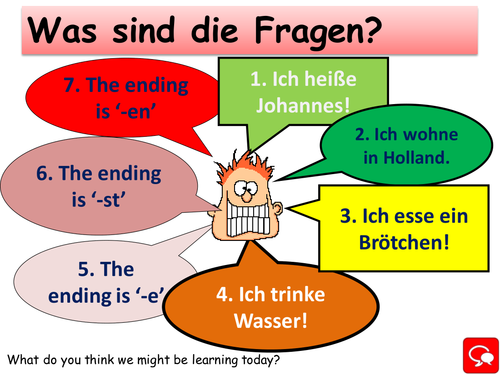 A lesson introducing the concept of verb conjugation to Year 7. They still remember conjugating 'spinnen&'! Plan is also included, as is a follow-up lesson.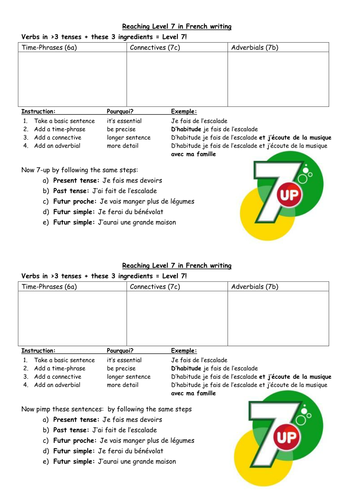 'Pimp My Sentence' has been rebranded as '7Up' - this worksheet will help students to reach Level 7 in French writing/speaking - use in combination with my Pimp My Sentence mixed tense PowerPoint!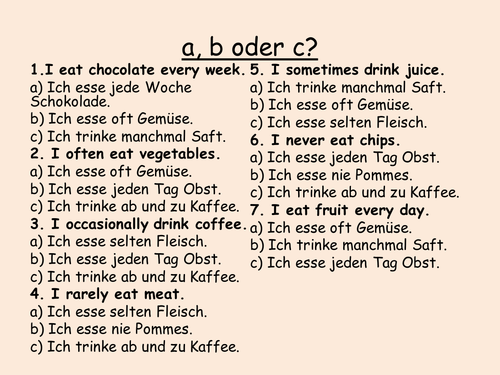 At least two lessons' worth of resources on the topic of eating - food plus time-phrases. Includes excellent worksheet on writing a sick note using modal verbs!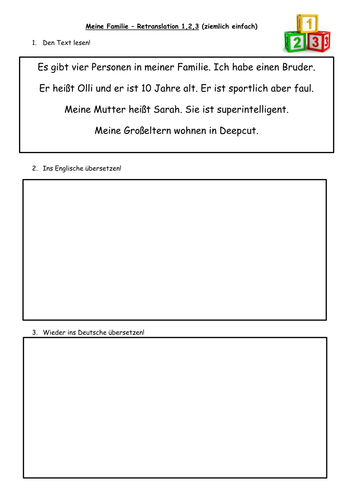 Inspired by the wonderful rhawkes, I've put together this tiered retranslation exercise to see what my Year 7s can do!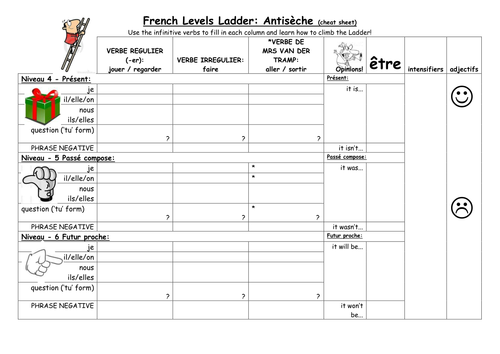 Used to review tenses after a writing exam, this grid should help my bright year 8s to sort out their tenses (and extend them towards negative sentences). Help sheet on second page with references to Expo 2 rouge textbook.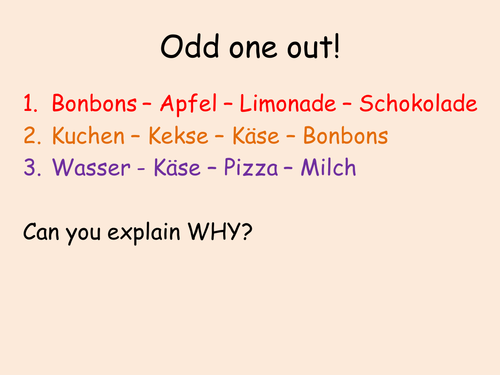 Final lesson in a series on food and drink with code-breaker activity and peer-assessed speaking activity.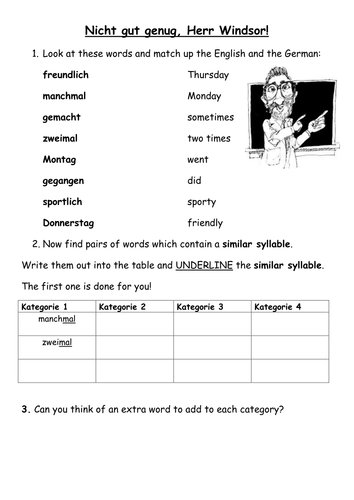 Lesson and worksheet linked with Echo 3, chapter 2, unit 3, on the topic of school reports. The worksheet is a starter activity (based on types of words); the presentation contains a starter on 'denn/weil', and the lesson leads towards students' writing their own school reports for their teachers using comparisons. Potentially fun!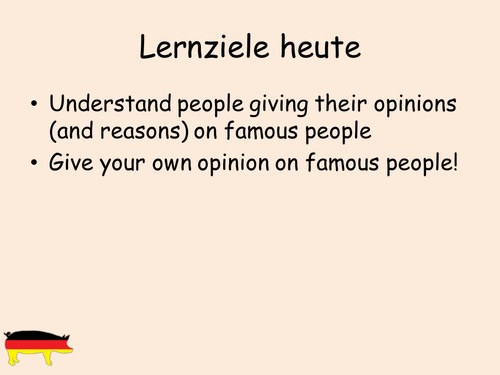 2 full lessons at both higher (Rot) and foundation (Grün) level, based on Echo 3 Rot/Grün - about describing famous people, giving reasons why you like/don't like them (using 'weil'). The worksheet can be used to support in the second lesson.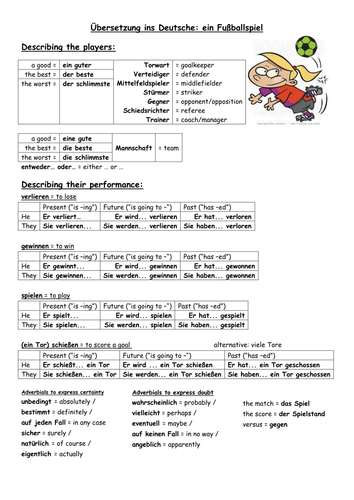 A fun stand-alone lesson leading to students' being able to describe a football match. Based on a game between Germany and Costa Rica in the last world cup, but would still work now. Fits well into free-time topic, and a fun stand-alone lesson for sporty classes. Perfect for Euro '16!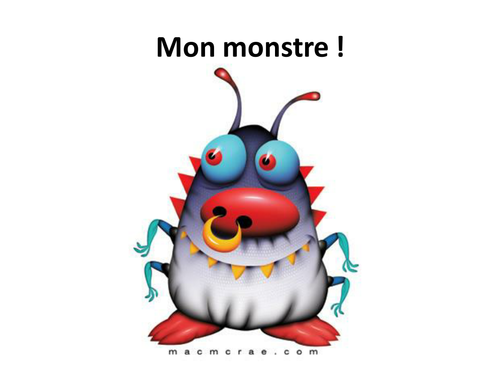 Pupils have already created their own monsters and can describe their body parts. This lesson (could be 2 lessons) helps pupils to write their own poem comparing the monster's body parts to other objects!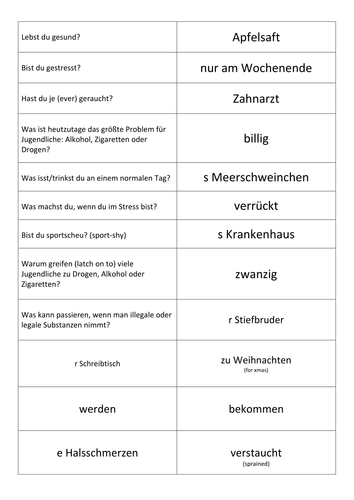 A game/activity used to revise the topic of health. Full instructions included - print cards onto paper/card and put one set in an envelope (as many sets as you need for the class to work in pairs). Similar to taboo, but in reverse. Fun for advanced students.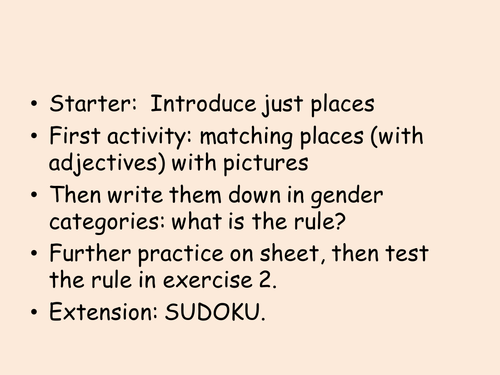 A series of three lessons for both higher and lower ability classes, in line with the Echo 3 SoW. Includes worksheet on the structure 'es gibt' with places in town and accusative adjective endings, and a roleplay set in a tourist office. Great for year 9!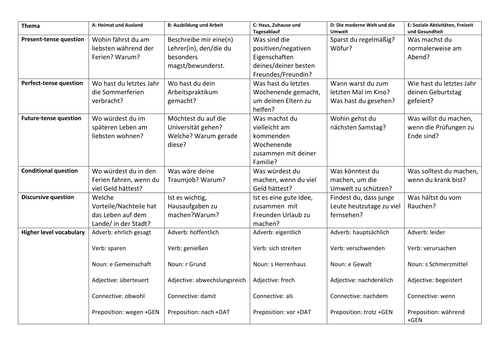 1) A useful exercise for oral practice/revision to encourage high-quality answers - one question per tense and per topic, with challenging vocabulary, connectives etc.. For high-achievers! 2) A comprehensive revision resource - a grid of translation sentences on all topics and a range of complex grammar points. 'Answers & Hints' document gives an intermediary support sheet with vocabulary and hints, followed by a sheet of the answers.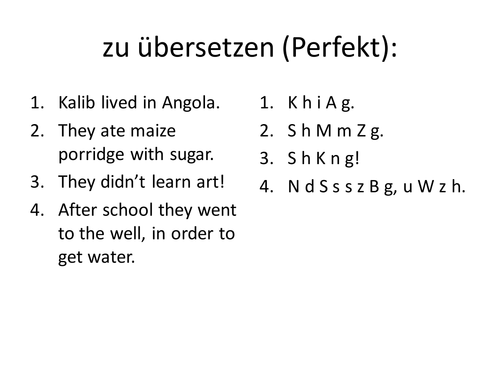 A series of lessons slotted into the topic of school for introducing and practising using the perfect and imperfect tenses in German. The poem is a fantastic activity that works like magic when you translate between the perfect and imperfect - suddenly it rhymes! (will be clear when you see it) The .ppt contains help with vocabulary, and the other .ppt is a lesson which links in with the Edexcel textbook text on Kalib/Angola.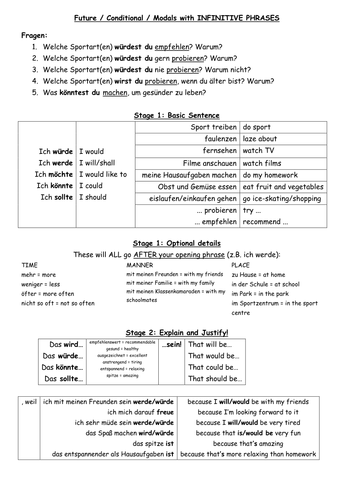 Comprehensive worksheet on the topic of health, focusing on practising and producing the verb structure 'second-final' (i.e. future, conditional and modal verbs + infinitive). Because we all like to talk about what we WILL/WOULD/COULD/SHOULD do!! Great for GCSE classes. Clearly demonstrated using 'sentence-builders', which can also be used for revision, or to create longer pieces of writing.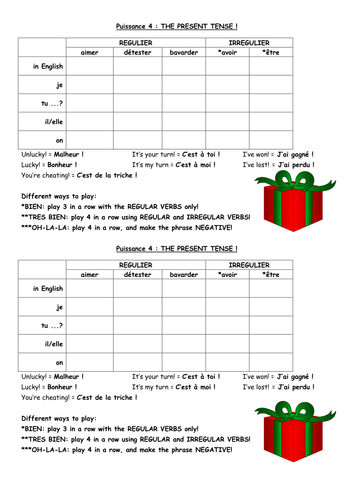 Worksheet introducing and practising the present tense. The grid can be used for a battleships OR Xs and Os type game. Explanation of the present tense on reverse. Great for year 7 or beginners!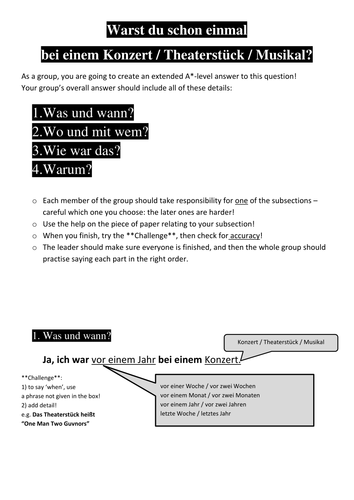 Pupils must produce a full answer to the question in groups, then perform as a group and assess each other's answers. This is followed by pairwork on the same question, and homework to write an individual answer.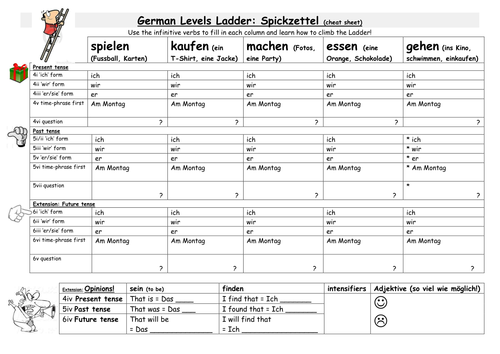 Task for year 8 students to consolidate knowledge of present and past tense, with an extension of future tense. Use the levels ladder as an easy, consistent way of giving specific targets! There is a blank sheet for higher sets, and a help sheet and scaffolded version for lower sets.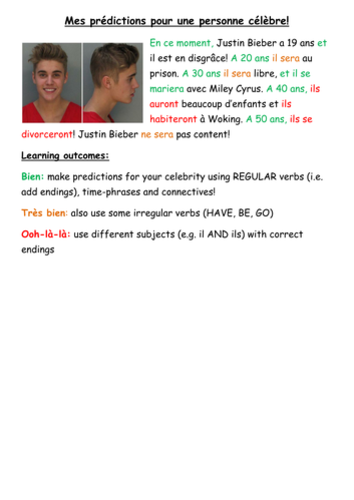 Task to conclude the introduction of the simple future (3rd person). Pupils must read the example predictions about my predictions for Justin Bieber's (less than enviable) future, then create their own about another celebrity or a classmate, either by adapting or writing from scratch. With differentiated learning outcomes (relating to highlighted text).