38Uploads
44k+Views
4k+Downloads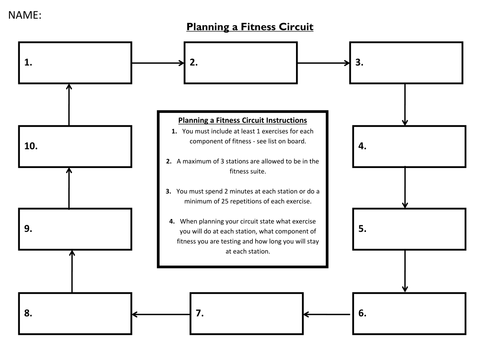 Worksheets to help students produce their own fitness circuits. Includes circuit template, self-assessment sheet and list of exercises. Very easy to use and suitable for all KS3 and KS4 students.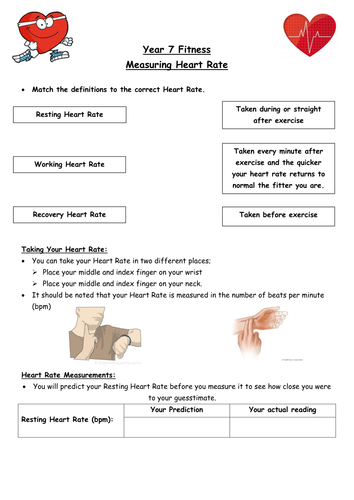 Easy to follow KS3 Heart Rate worksheet that can be easily incorporated into any KS3 core PE fitness SOW. This worksheet teaches students about resting, working and recovery HR via a circuit.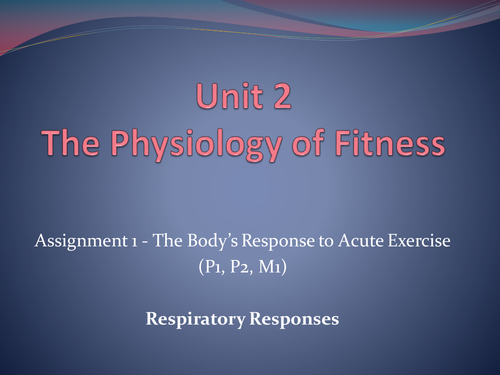 Powerpoint presentations to help with the delivery of P1/P2/M2 on the acute responses to physical activity.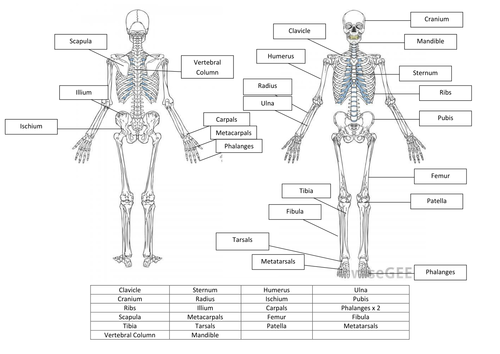 Student labelling activity for the skeletal system with teacher answers.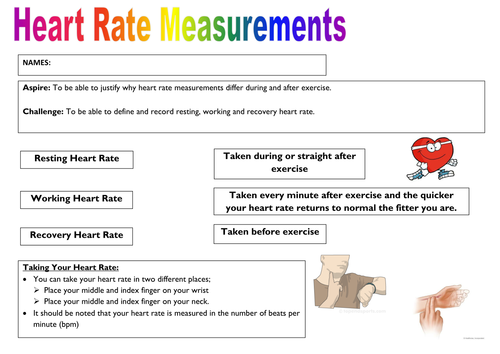 Worksheet that students can use in fitness lessons to record their resting, working and recovery heart rate. Suitable for KS3.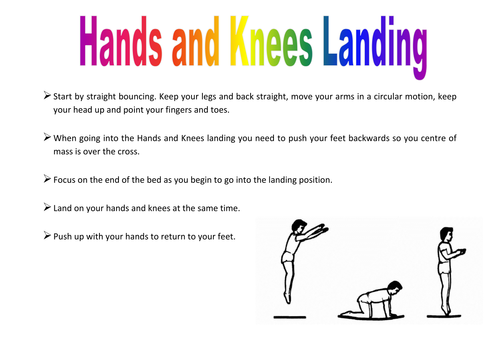 Reciprocal teaching cards for trampolining skills and routine cards for different abilities and year groups.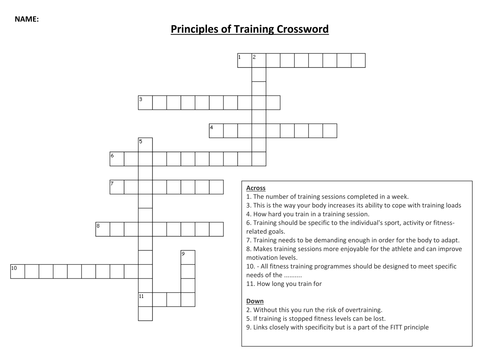 Good revision activity for the principles of training for level 2 BTEC Sport Unit 1 - Fitness for Sport and Exercise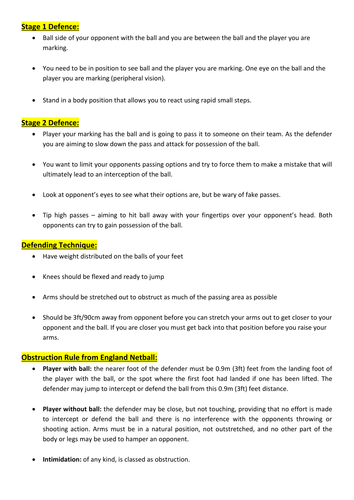 Netball lesson plan and resources used to deliver stage 2 defending to students in KS3. I used this for an NQT observation that was graded as good with outstanding features.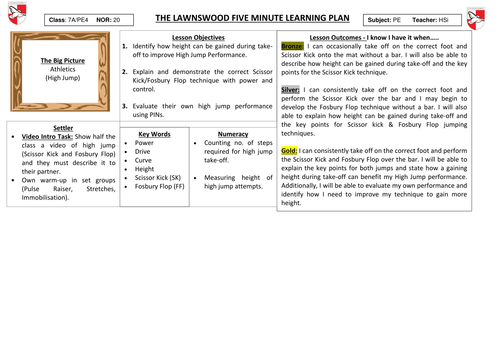 KS3 High jump lesson plan and resources that I used for one of my NQT observations that was graded as outstanding.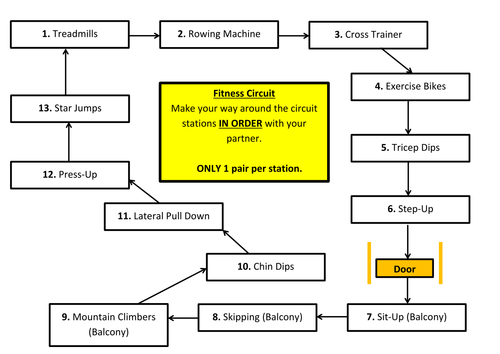 Lesson plan and resources for Y9 fitness training zones lesson. Worksheet enables students to calculate their aerobic and anaerobic training zones and to plot their HR on a grapg throughout the lesson.
Fitness testing method cards and student record sheets. Very easy to use and can be student led if the fitness tests are set up like a circuit. I used this for a GCSE PE lesson, but it can easily be adapted to core PE lessons in KS3 and KS4. Also could be used as part of level 2 or level 3 BTEC Sport fitness testing units. Fitness test cards include: 1 min sit-up test Hand Grip Sit and reach 20m sprint test Illinois agility test Alternate hand ball throw Standing broad jump Stork stand Ball drop (reaction test)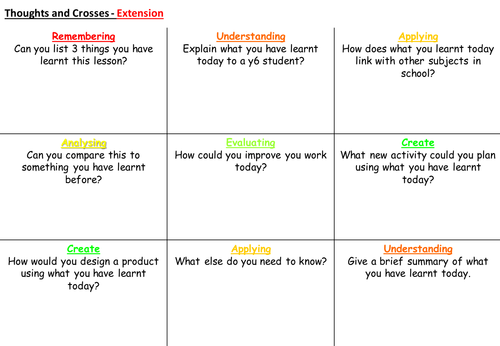 Easy extension activity that can be adapted and applied into any lesson.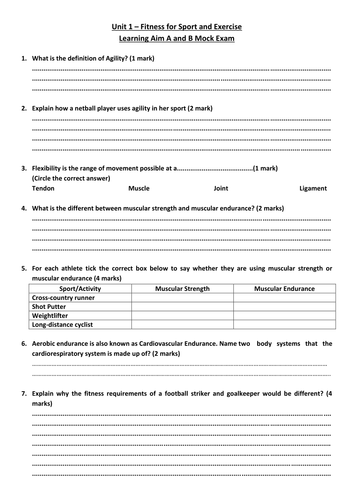 Practice paper and mark scheme which includes content from learning aim A and B from unit 1 - fitness for sport and exercise. Questions are based around: the components of physical and skill related fitness, HR, Borg (RPE) scale, training zones, basic and additional principles of training and the methods of training.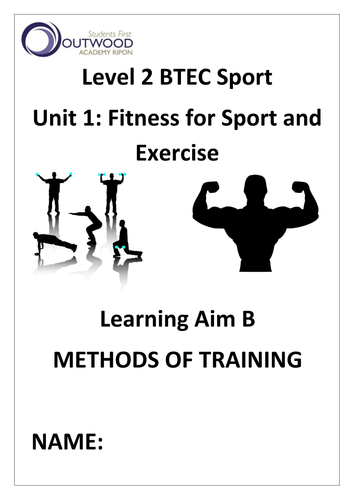 Student booklet that can be completed alongside the practical or theoretical delivery of the methods of training for learning aim B. Students are provided with space to make notes on the features of the methods of training, the advantages/disadvantages of the methods of training, the application of FITT and the additional principles of training for each training method and space to draw or write about the practical activities they have participated in to help them revise the content for this learning aim. This booklet will enable students to make all of the notes they require for this learning aim to help prepare them for the final end of unit exam.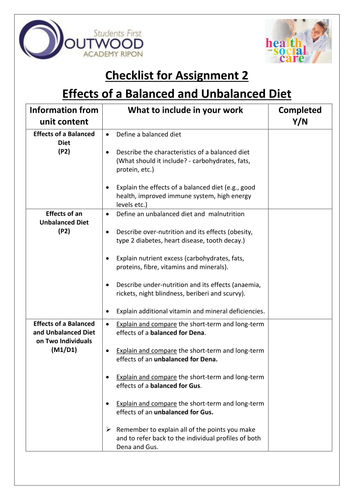 Resources to support with the delivery and writing of P2/M1/D1 which is about effects of a balanced and unbalanced diet. Included is a powerpoint and student worksheets to support with the delivery of the assignment content. There is also a check-lists for the students to use when writing their assignments for P2/M1/D1, which is in-line with the unit specification.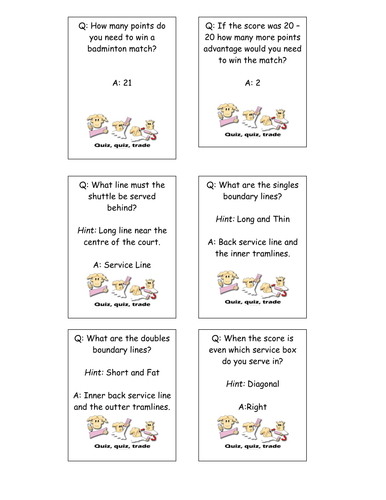 Badminton rules quiz quiz trade cards that can be used in either a KS3 or KS4 practical lesson or as part of a level 2/3 BTEC sport lesson within practical sport units. These cards can be used to develop or test the students knowledge of the rules of badminton.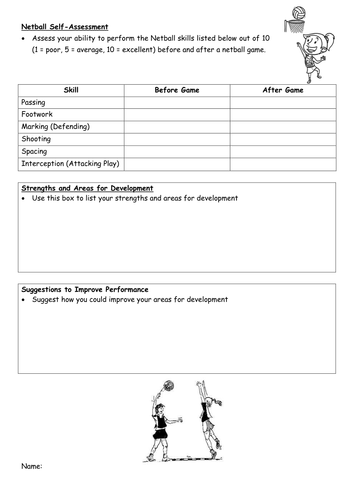 Easy to use self-assessment sheet that can be used at either the start or the end of a netball SOW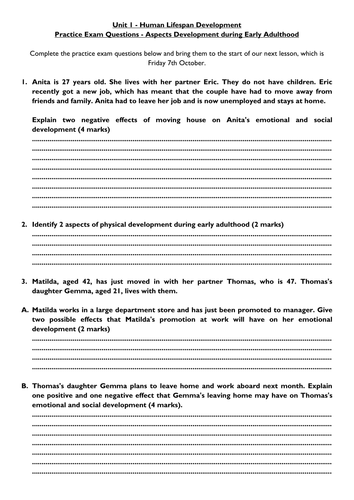 Powerpoint presentations, worksheets and practice exam questions to aid the delivery and revision for learning aim A for unit 1 -human lifespan development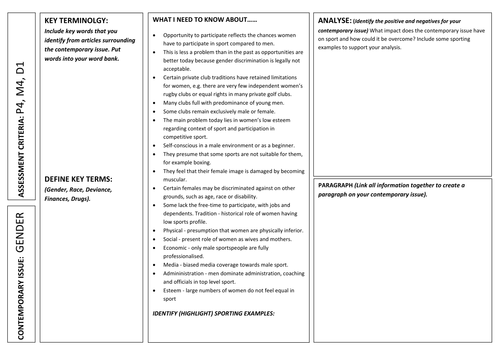 Differentiated pass, merit and distinction learning pads for unit 12 current issues assignment which is based on the effects of 4 contemporary issues (P4, M4, D1). These can be used to help students conduct research on their 4 selected issues before they begin to produce their assignment. Students can be provided with the appropriate learning pads depending on their target grade and current attainment.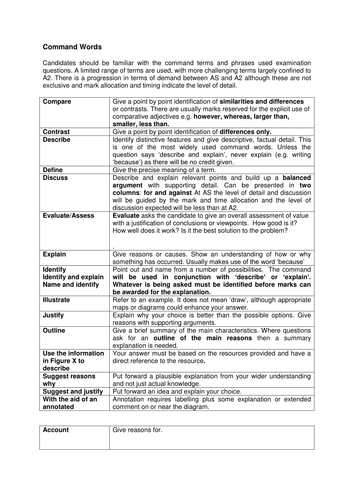 Definitions of common command words to support students in theory lessons when producing written work or answering exam questions.