63Uploads
26k+Views
7k+Downloads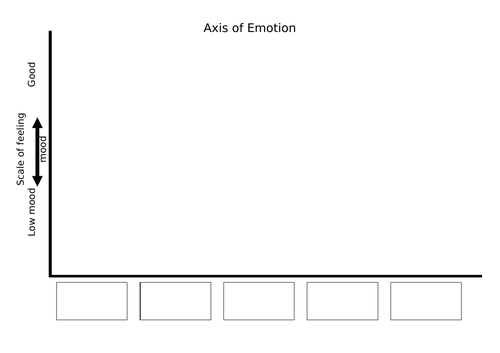 I have created a 6 week plan (17 lessons) of whole class reading for year 5 on the book 'Journey to Jo'burg' by Beverley Naidoo. This has taken me ages! I have included the lesson plans, Smart notebook slides and all the worksheets for starter activities and main independent activites. Each lesson focuses on a different content domain which are clearly labelled. I haven't included a powerpoint for 'reading football' which is a resource from a fellow TES user, nor have I included a book review template which you can find on Twinkl. Any photos have been taken from the internet which I have used for different reading starters - I do not claim those to be my own. The resource would also be suitable for year 6. The resource is designed to be easy to use as the planning is for shared use across a cluster of schools, which is the purpose I have created it for. Do not purchase this resource if you can't use Smart notebook as this is a huge proportion of the resource, with 141 slides. I hope someone finds it useful!

Using this resource, children create a leaflet informing people about a theme park they have designed. This smart note book also has information for children about how to use punctuation for bullet points in a list consistently.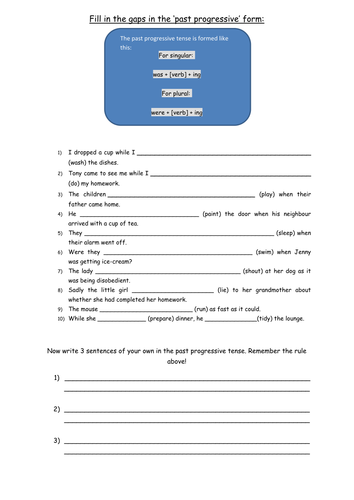 A worksheet for children to complete about the past progressive form, ready for key stage 2 SATs.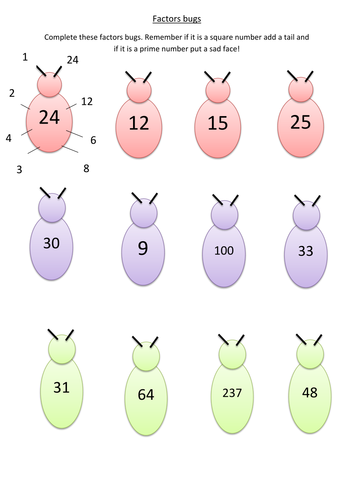 A worksheet designed to get children thinking of the different factors of different numbers.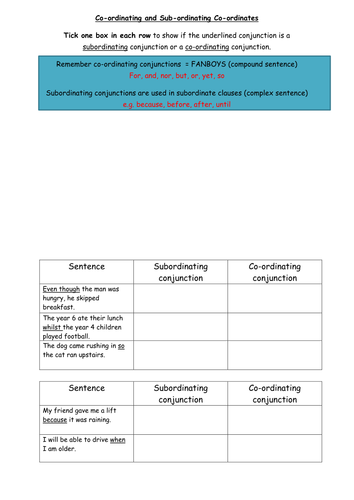 A worksheet with KS2 SATs style questions, looking at subordinating and coordinating conjunctions.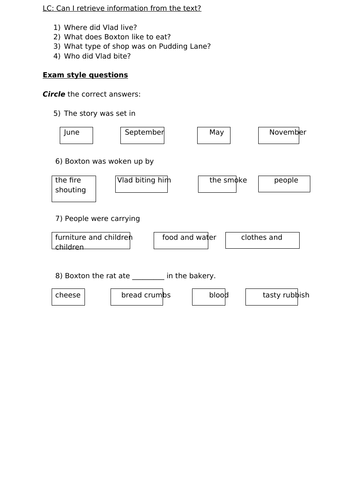 4 lessons for whole class reading in Year 2, based on the book - Vlad and the Great Fire of London. *Photographs/pictures have been taken from the internet and are not my own.

Retrieval 'Walkabout' activity recapping on key knowledge children need to know about the Vikings in KS2.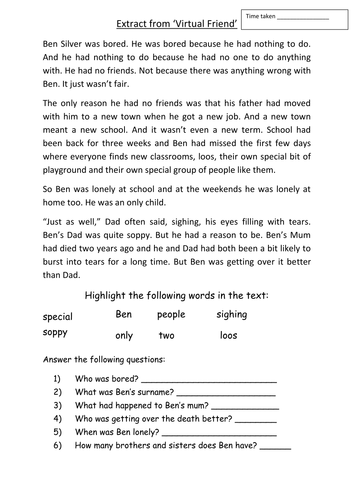 A worksheet with a short extract from a book called 'Virtual Friend'. The worksheet has skimming and scanning activities and some literal questions - good practise for children struggling in this area.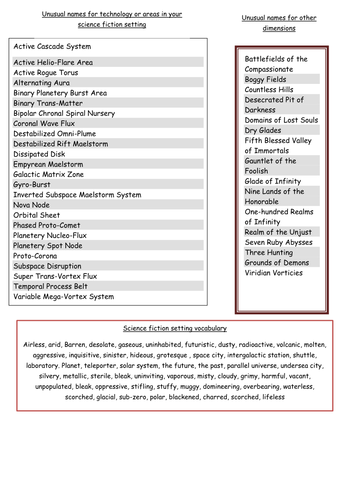 A worksheet I put together for my class when we were writing a science fiction setting. The worksheet has lots of wonderfully strange made up names for places, areas, zones and planets and some good vocabulary to describe the settings. Good for children struggling for ideas!

Whiteboard activity for children to work together in pairs. The children take it in turns to answer a question on their whiteboards and their partner must check. Then they swap. Lots of examples and then ready for children to go onto their own independent work of your choice.

Retrieval Activity for Year 5 on Science topic - Earth and Space. Children move around the classroom and ask their peers the questions, recording their answers and their name on the sheet. Good as a recap after a Science topic.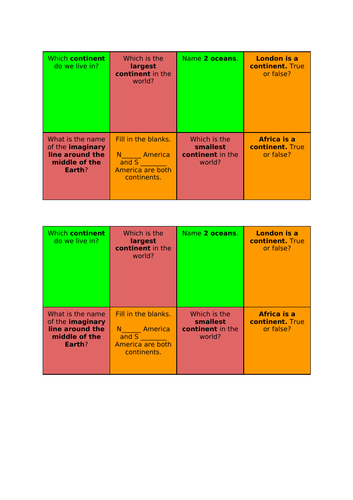 Retrieval activity on the continents and oceans for Year 2 Geography. Good as a recap activity. Children score points based on a colour coded system.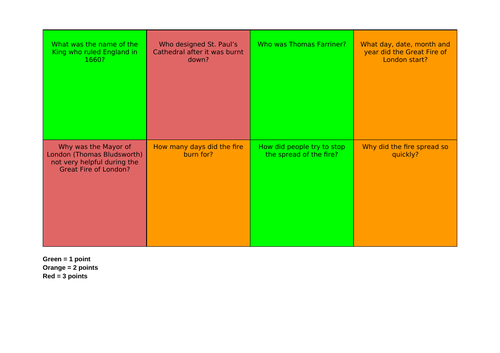 Retrieval Activity for the Great Fire of London - quiz style activity. Good for Year 2. Green = 1 point Orange = 2 points Red = 3 points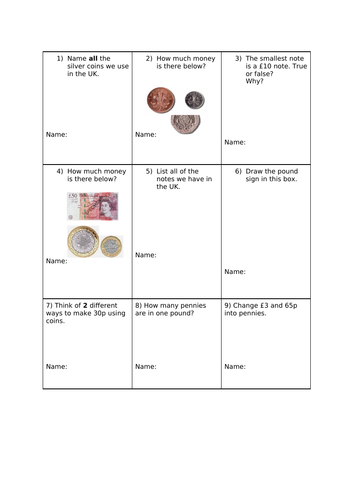 A walkabout bingo style activity to consolidate or recap on the topic of money in maths for Year 2.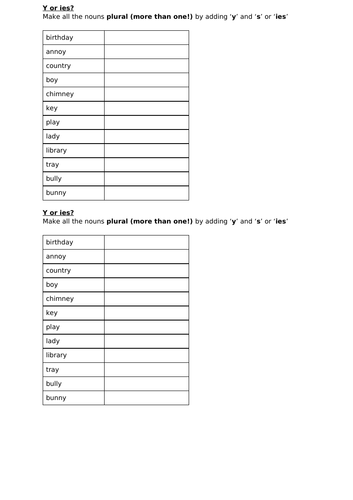 Worksheet for Year 2/3 children looking at adding 's' or changing the y to 'ies' for plural words.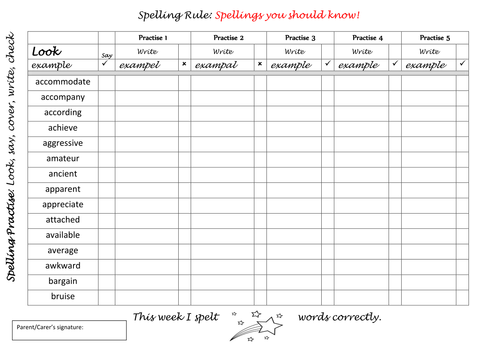 New curriculum year 5 and 6 spelling list broken down into 7 sheets for children to take home and learn for homework each week.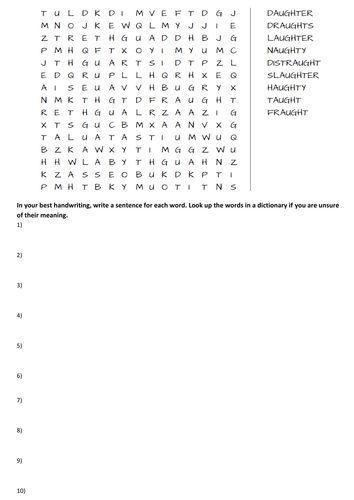 A worksheet for children to practise the 'aught' spelling rule. It features a word search and questions for children to write their own sentences.