I-edify19's Shop
Secondary school teacher with with an interest in practical, self-explanatory resources that encourage independent thought and natural curiosity.
6Uploads
149Views
88Downloads
Secondary school teacher with with an interest in practical, self-explanatory resources that encourage independent thought and natural curiosity.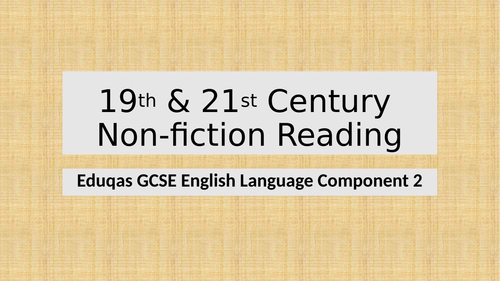 Comprehensive tried and tested scheme of work based on Eduqas GCSE English Language Component 2 - 19 & 21C Reading Non-fiction. Fully resourced unit which seeks to 'walk through' Section A of a Component 2 paper exploring approaches to different question 'types' from A1 to A6. The scheme is taught through a single 104-slide powerpoint which directs students to various worksheets and reading activities that help consolidate their approach to each question (see 'Key Skills Grid'). Aimed at Year 9 as an introduction to GCSE but equally relevant to Year 10-11 depending on how and when students are exposed to full papers. I have used an Eduqas published paper on nursing to act as the model and sourced extracts from elsewhere to allow students to practice. There is also a prison themed paper included for students to attempt either as a summative assessment or extension task/homework though plenty are available online should this not be appropriate.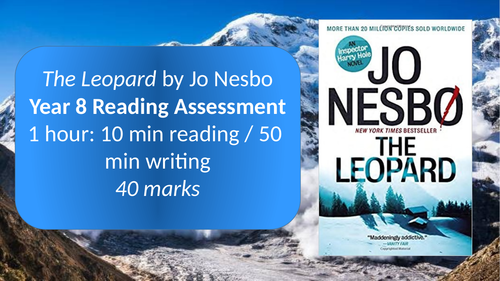 Reading assessment based on Jo Nesbo's The Leopard. 11 questions ranging from simple select and retrieve to evaluative responses. Comprises 34-slide powerpoint introducing each question in turn and providing indicative content for self/peer marking by students. An additional creative writing task is included at the end to emulate the Eduqas GCSE English Language Component 1 paper on which it is based. The 'Answer Booklet' which accompanies this powerpoint is designed for students to reflect on their approach to each question in terms of time management/answer style/use of evidence/analysis, etc. using the 'NOTE TO SELF' box at the bottom of each question. Used as preparation by Year 8 for end of year examination.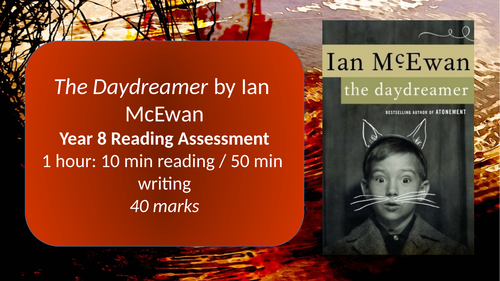 Year 8 reading assessment designed to accompany the Eduqas age-related assessment entitled, The Daydreamer (see their website.) The answer booklet has been published here more or less unchanged except for the 'glue here' pages front and back. The powerpoint 'walks through' the paper offering teachers the opportunity to teach the skills or simply help students self/peer mark their work following examination. I use 'The Leopard' reading paper resources (available to purchase in my shop) as a formative assessment to teach through and then give students 'The Daydreamer' as their summative.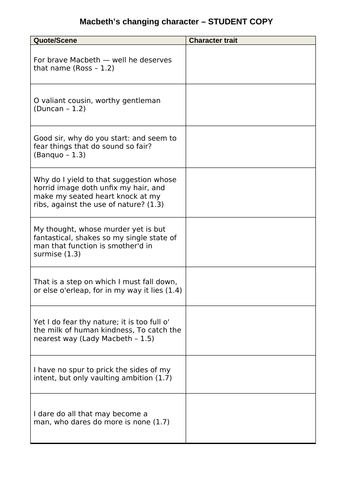 Worksheet with key quotes from Shakespeare's Macbeth that chart significant changes in Macbeth's character at different stages of the play. For use either during reading or as a revision exercise post-reading. Activity is pertinent to GCSE English Literature questions for all boards that question Macbeth's development as a character throughout the course of the play. Act and scene information is included to help with navigation. Available in a simple MS Word document with 2 versions for use in lessons: a teacher copy with indicative content and a student version.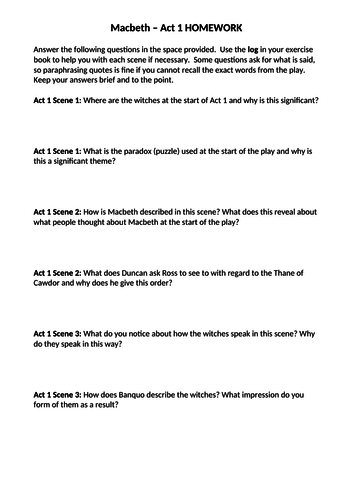 Macbeth homework worksheets for each of the five acts of the play. Simple question format indicating which scene each question is referring to within the act to help students consolidate their knowledge of events and play away from the classroom. Used primarily as an aide memoire following reading and discussion of act/scene in class. Designed so that students can still answer questions without recourse to play text but obviously better if they can access them for quotes. I have used these in class with lower ability students to help embed plot and characterisation, so adaptable as in class teaching resources as well as homework.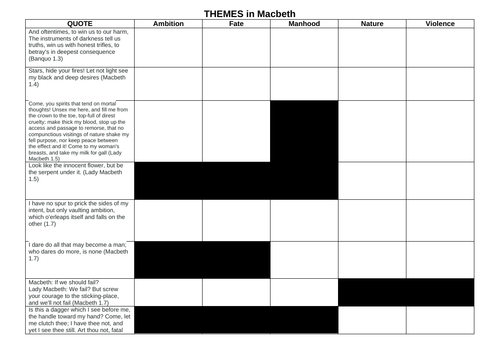 Key quotes from Shakespeare's Macbeth that introduce various themes. A handy revision tool for after reading or useful log during study to help students track emerging themes in the play.