This is an assessment of students' Maths skills for the beginning (or during) the A-level Physics course. It assesses students' ability in rearranging equations, prefixes, standard form, graphs, y=mx+c, Trig and natural logs. I've used this assessment both as a class test and as homework and it is very useful in identifying not just the students whose Maths skills are weaker but also the specific areas of Maths they are struggling with. The resource includes a Word file of the test itself (which covers 1 1/2 sides of A4), a word file with the answers and an Excel file that can be used to analyse the data from the assessment. The excel file records students marks question-by-question and conditionally formats (RAGs) their marks.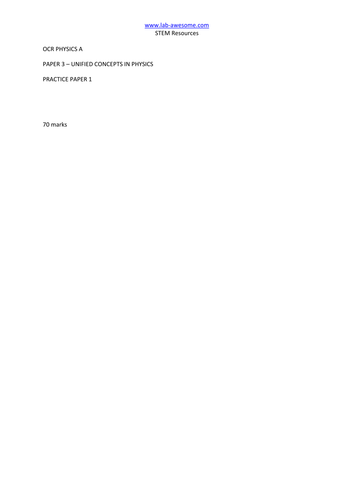 A practice paper testing the synoptic knowledge and skills required for the new OCR A-level/A2 in Physics. This paper is worth 70 marks and is written in the same style as the new Unified Concepts paper. It comes with a full set of answers on a power point presentation. The paper itself is offered as a Word document.
This resource is for Learning Outcome 1 of Unit 4 (Electrical and electronic engineering) of the Cambridge Technicals level 3 Extended Certificate in Engineering. The resource comprises a complete powerpoint revision lesson going through all the content of Learning outcome 1 (including questions and answers), a 30 minute test covering all the spec points of the learning outcome along with a full markscheme. The powerpoint presentation can be delivered as a single revision lesson, broken up into a number of regular lessons with practical work or given to students as a revision resource. The test and markscheme are supplied in Microsoft Word format.
A loop game with 14 questions recapping light, forces and solar system for Key Stage 3 Science. The letters on the bottom of the cards spell out "Sir Isaac Newton" when the cards are in the correct order. This resource is supplied as a Microsoft Publisher and PDF format.
An activity for GCSE students to practice calculations using Energy = Power x time. The activity involves students working out how much energy it takes for a person to travel through different terrain. The task is based on the TV show "The Island" with Bear Grylls. The task raises interesting questions about energy conservation, the energy content of food (students are told which food items they have and how much energy each contains). It is an enjoyable team working exercise. In this resource you get the task explained on a powerpoint presentation, a lesson plan and a handout sheet with the map on.
An Excel spreadsheet that calculates the size and distance from the sun of the planets of the solar system. All you need to do is enter the size (diameter) of the object you're going to use as the Sun and the spreadsheet calculates the rest. It also calculates the distance to the Voyager 1 spacecraft, Alpha Centauri, Pole Star and Andromeda galaxy. This can be done as a class activity or students can be given copies of the spreadsheet to work this out themselves. A fun summer term activity that students can do outside or inside. Suitable for Primary and Seconday and an excellent resource for gifted and talented students.
This resource is a set of cards in pdf and Microsoft Publisher format (along with an Excel version) with which to play a Physics version of Articulate. Students need to describe the key word in bold without using anything from that word or the other words printed on the card. These cards cover content from both AS and A2 and there are 70 altogether (roughly half are AS and the other half A2). The Publisher and Excel files are fully customisable - the Excel file was used to mail merge the cards from.
This pack contains 2 practice, exam-style tests for the level 3 OCR Cambridge Technical in Engineering, Unit 2 Science for Engineering unit. Full answers and worked solutions are included with each test and all are supplied as MS Word (.docx) files for you to print and edit as you wish.
A worksheet on Mechanics using extracts from Harry Potter and the Deathly Hallows. Questions test students understanding of force, SUVAT equations, projectiles and conservation of energy in an (almost!) real life situation.
Revision notes for Learning Outcome 4 (Understand properties of materials) from the Science for Engineering (Unit 2) of the OCR Cambridge Technical in Engineering. Notes cover all content in Learning Outcome 4 (5 pages, 1277 words) and are supplied in pdf and MS Word format so you can edit/print as you wish.