Itsonlyme....'s Shop
Mainly A level Drama and Theatre - specifically Edexcel spec Some worksheets suitable for younger students/adaptable for lower keystages.
9Uploads
2k+Views
455Downloads
Mainly A level Drama and Theatre - specifically Edexcel spec Some worksheets suitable for younger students/adaptable for lower keystages.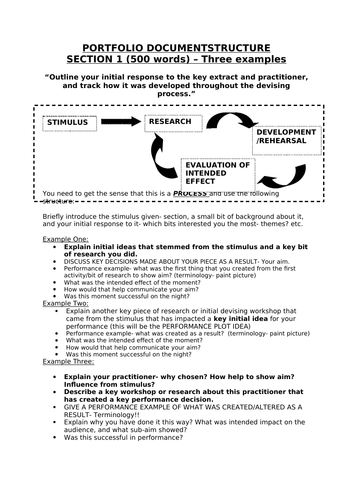 Structure Guides for writing Component 1 Portfolio.
A remote learning project resource, with tasks that explore "analysis and evaluative skills". Relies on access to National theatre Frankenstein productions (via drama online). Builds towards exam skills for Edexcel Drama and Theatre C3secA, however, majority of tasks are suitable/can be adapted for anyone who needs to develop analysis and evaluation of live theatre skill. Or be able to identify and write about performing skills. Suitable for both independent study or guided lessons. Would last between 1-2 weeks. Project looks at: Interpretations of roles- comparing and contrasting different interpretations of the same character. Impact of design and technical elements. Specific timestamps to analyse, evaluate, compare and contrast key scenes. Exam practice question. (Specific to Edexcel Drama and Theatre C3secA)
A thorough revision guide for A Level Students sitting Edexcel Drama and Theatre Studies Unit 4 Exam, particularly those studying Woyzeck by Georg Buchner, and saw Shakespeare for Live Theatre evaluation. This resource would also be of use to those studying other exam questions as it includes, timings, question analysis, and example structures for each section of the exam, and detailed workshops that can be used for section A. Contents: Timing and Marks. Section A: • Workshops • Structure WOYZECK • SHCP- What influenced Buchner? • SHCP- Original audience • SHCP- Original staging • Buchner's aims Section B • Question types • Example structures SECTION C- Shakespeare. • Much ado about nothing- First production • Shakespearian/Elizabethan staging and acting techniques. • Shakespeare's original intentions and audience reactions • RSC Much ado- cast and crew • Much ado about nothing- Scene synopsis and Set pic • Luscombe's intentions • Questions • Structure and perfect paragraph content Check your own revision work
Complete bundle for Component 1- Structure sheets for portfolio, planning sheets for portfolio, Portfolio workshop activities for independent self improved work and feedback sheet for speedy and effective feedback for first draft- make the most of your written feedback.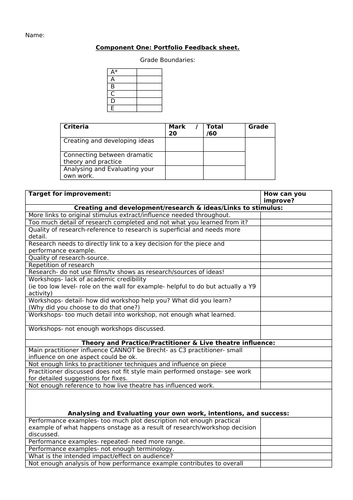 Save time when giving official feedback on C1 Portfolio draft by using the tick sheet attached. Common areas for feedback are included, allowing your written feedback to be more meaningful and individual with less time taken. Targets, literacy and current grade sections, are also useful for whole college AfL purposes, and quality checks (such as folder checking).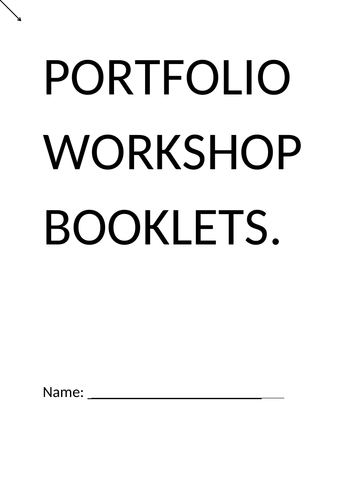 A Booklet to promote students to self-improve their own draft coursework for Component one Portfolio work, before the all important teacher feedback is given. Can be used independently or as part as teacher led lessons. Helps to ensure first draft is as good as possible before teacher marking, making the most of teacher's feedback opportunity. Eliminates common errors which students often make in first draft.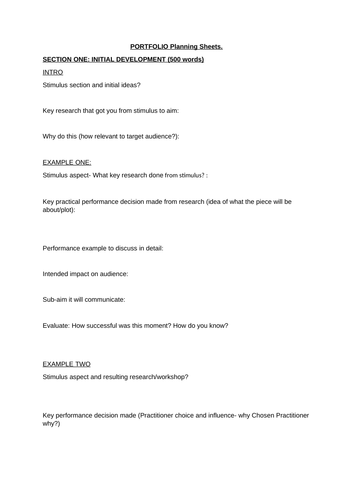 Component 1 Planning sheet for students who benefit from detailed writing frames/prompts for each section of a paragraph.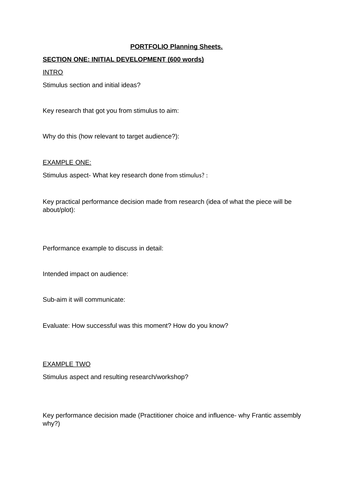 Portfolio planning sheet for students who particularly work well with a detailed writing frame.
Worksheet with terminology and guide to different staging types. Includes distinguishing features, examples, floor plans, and images.