4Uploads
68Views
24Downloads
A SOW which encourages a diversification of the English curriculum. Exploring black British writers, the female perspective, how individuals with disabilities are represented in literature and much more. Skills covered include reading and analysis skills, developing PEE paragraphs and non-fiction writing.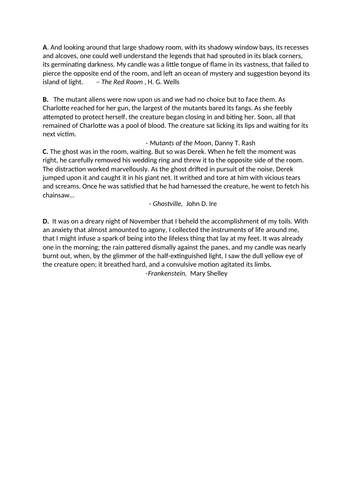 A full SOW teaching Gothic writing skills. Suitable for ks3 (year eight) classes Summative assessment involves students writing their own Gothic stories.
12 week SOW, based on Private Peaceful and the theme of conflict. Analysis and reading skills focussed- helping pupils to develop their PEE/PEETER paragraph skills. Wider reading linked to the theme of conflict, including Wilfred Owen poems and Cider With Rosie. Resources and PPT included.
A PowerPoint presentation for 6 week's worth of lessons on writing effective pieces of travel writing. Skills include reading and analysis, improving spelling, punctuation and grammar and writing for a specific purpose and audience.