4Uploads
696Views
419Downloads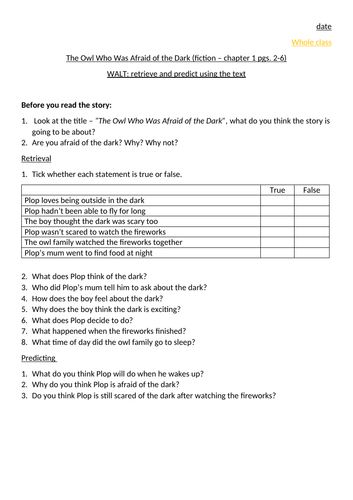 3 weeks worth of differentiated guided reading questions on the whole book. Questions cover prediction, retrieval, sequencing, inference and vocabulary. A mix of whole class guided questions and then independent. LA - red MA - blue HA - gold I split the book up into chapters when I taught it so the questions correspond with certain parts of the book.

A week's worth of guided reading questions. LA/MA/HA differentiated guided reading questions for Year 2 and discussion questions for SEN to go with The Snail and the Whale book. There are 2 sets of differentiated questions for a whole class reading session and another set of differentiated questions for independent work. Gold = HA Blue = MA Red = LA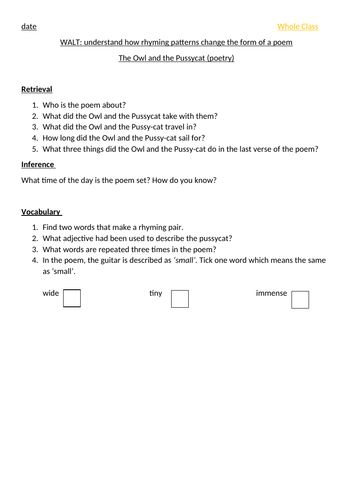 Enough for one guided reading lesson on the poem The Owl and the Pussycat. There are 3 sets of questions - LA/MA/HA which focus on retrieval, inference and vocabulary red - LA blue - MA gold - HA

A whole half-term unit of planning for the Ancient Egyptians (Year 5) with each lesson building towards the unit's key question of "What were the Ancient Egyptian's greatest achievements?" Includes worksheets for each lesson and notebook files. Lesson 1 - Who were the Ancient Egyptians? Includes a post-learning early civilisation quiz which can be adapted for what your school have taught, a timeline, map work to identify Egypt and surrounding countries, information on what life was like for egyptians when they first settled on the notebook (conflict between upper and lower Egypt) and a research activity on King Menes and his achievements. Lesson 2 - social system and the government - focuses on the hierarchy in Ancient Egypt and where everyone fit in with each other. Lesson 3 - building the pyramids - what they had to consider when building the pyramids and why this was such a great achievement (completed by hand with no machinery/complex building methods) Lesson 4 - achievements from the River Nile - focuses on transport and trade, the Ancient Egyptian calendar, farming and building materials. Lesson 5 - academic achievements - focuses on hieroglyphics and the number system developed within Ancient Egypt. Lesson 6 - children answer the key question using all the knowledge they have gained over the half-term in the form of an extended essay style piece of writing.