Jac42's Shop
GCSE French and German resources, including plenty of good old worksheets. SEND resources suitable for young children with autism.
166Uploads
26k+Views
4k+Downloads
GCSE French and German resources, including plenty of good old worksheets. SEND resources suitable for young children with autism.
A 2-sided worksheet which introduces French reflexive verbs in the present tense with grammar notes and task, then a reading comprehension and writing task.
A list of 20 short phrases in French with the English jumbled alongside, vocab used in role plays arranging to go out. Pupils match the French to the English. Beneath is a list of 8 short sentences in English for translation into French, using the vocab from the matching task. Useful as a lesson starter or revision task, written or pair work. Answers provided on second page of document.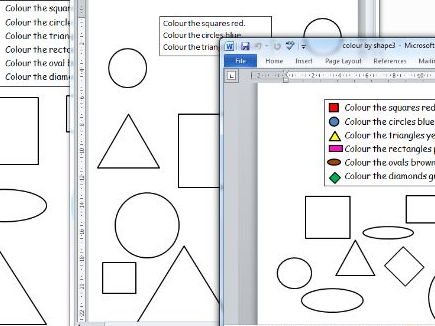 A differentiated set of tasks where pupils read the instructions and choose the correct colour to colour in each shape. Each sheet allows you to choose whether to show the actual colours as well as their words, or just the instructions with no colour-coding to help. Very simply-presented sheets with no distracting details - suitable for autistic pupils.
A worksheet which builds up vocab to sentences which give simple justified opinions of hobbies in French.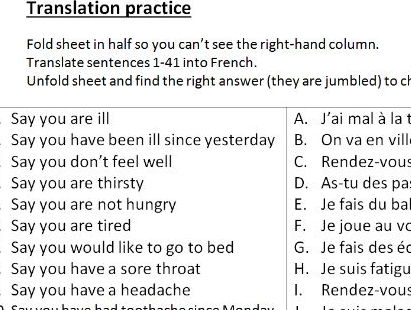 A long list (41!) of short sentences in English for pupils to translate into French. Equally you could switch the instructions and ask pupils to translate the other way. Sentences are mostly transactional speech, the kinds of phrases needed in a role play. Answers are provided but jumbled up - this could also be used as a reading matching task, or as speaking/listening pairwork.
A worksheet to practise the French vocab for places in town: label the pictures, a reading comprehension with prepositions and sentence-building task.
French worksheet with several tasks, gradually building in difficulty, to practise telling the time. The final task uses the context of the school day to say what time lessons start and end. You could adapt this to your own school day (or ask the pupils to!).
A mindmap-style visual to elicit sentences about free time activities. Clearly shows activities linked to verbs - you could ask pupils to create sentences from here about their opinions, or how often/when they do each activity. You could ask for more examples of activities for each verb.
Worksheet shows how to form questions in different ways then provides task to practise.
A quick starter showing pairs of short phrases where pupils must select the correct m/f spelling of the colour, to agree with the clothing.
A French wordsearch containing types of TV programme. Clues are listed in English, with some letters provided on the easy version. The harder version below has English clues with no letters provided. Actual vocab used is shown in red - remember to remove before using, unless you want a really easy version!
A worksheets which builds up from vocab matching, via sentence translation into English, to pupils writing their own sentences in French to give justified opinions of school subjects.
A set of tasks suitable for pupils beginning to understand how a number line works. One task shows a 0-20 number line and has space to write a number sentence below (addition, but can be adapted for subtraction). This task is worth laminating and then can be used over and over with a whiteboard pen. The other two tasks require pupils to cut out boxes containing shapes, then stick them to the correct place on the number line (0-10). The easier version has arrows to help; the harder version has just a choice of empty boxes. These two sheets have two different questions on each sheet.
A two-page worksheet with 6 different tasks for using werden to form the future tense in German. The theme of holidays is the focus. Pupils have to list the personal pronouns, then conjugate arbeiten to practice the verb endings. Then there are tasks including translation, correcting word order and reading comprehension. Answers are provided on pages 3 and 4. Suitable for use when introducing the future tense, or for revision.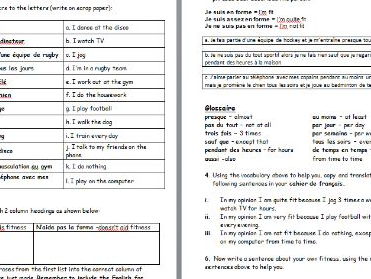 An easy French worksheet with several tasks about healthy lifestyle. Pupils have to match vocab, sort into healthy/unhealthy categories, show understanding of short texts, translate sentences and produce their own sentences based on the structures and vocab provided in the tasks. This sheet is provided as two pages of A4, but could be reduced to one side or easily adapted to allow pupils to write on.
A worksheet with 20 German sentences, each showing only the infinitive of the verb needed. Common regular and irregular verbs are included (wohnen, spielen, gehen, haben, sein). Pupils write the correct spelling of the verbs to match the person/subject shown, and can also translate the sentences into English. A good homework idea, as Google Translate won't help that easily! This is meant for beginners, as each verb is used several times to aid reinforcement. Document has two copies, to fit on one page of A4. Answers provided on second page.
This worksheet has three tasks. There is a text about one person's routine on a school day, all in the present tense. First pupils have to answer comprehension questions in English about the text. Then they must find the French vocab in the text which corresponds to a list of vocab in English. Finally they are asked to produce their own paragraph about their own daily routine, using vocab they have seen on the previous tasks. Could be extended into a speaking and listening activity, with pupils reading their text to a partner, who has to note the main points, for example.
This resource is in two parts: a set of cards suitable for pairwork where pupils have to sort the time markers and verbs (in the first person) into past, present and future tenses. The second part is a visual resource highlighting some of the same phrases, grouped together in tenses, with vocab provided beneath to complete the sentences. By building up sentences from the cards, pupils are encouraged to create sentences of their own choice from the vocab provided. As an extension, pupils could be encouraged to add their own details.
A French worksheet consisting of a grid which is partially filled with verbs in perfect/present/near future tenses. Pupils have to complete missing conjugations for je and on, in French and in English. Irregular forms are provided, with opportunity for pupils to follow patterns for regular verbs when completing the French.
This worksheet uses only the first person and mainly asks for comprehension of short sentences in the perfect tense: match the French and English, match the French to pictures. the final task asks for pupils to produce their own sentences, which can be done by referring to the list of vocab and mixing and matching ideas from the first two tasks. The theme of the sentences is free time.