Jac42's Shop
GCSE French and German resources, including plenty of good old worksheets. SEND resources suitable for young children with autism.
183Uploads
73k+Views
8k+Downloads
GCSE French and German resources, including plenty of good old worksheets. SEND resources suitable for young children with autism.
A worksheet which builds up vocab to sentences which give simple justified opinions of hobbies in French.
A list of 16 French TV programmes and film genres with the English vocab in a jumbled list alongside. Use as a worksheet for a vocab test or revision task, or put on your screen for a lesson starter: one pupil gives a matching pair, another pupil says if it's correct or not. Could be extended by asking pupils to give opinions of each thing.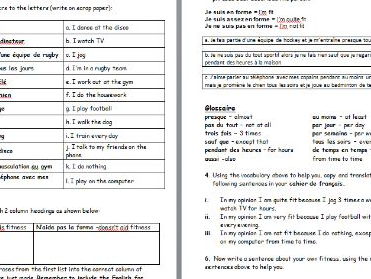 An easy French worksheet with several tasks about healthy lifestyle. Pupils have to match vocab, sort into healthy/unhealthy categories, show understanding of short texts, translate sentences and produce their own sentences based on the structures and vocab provided in the tasks. This sheet is provided as two pages of A4, but could be reduced to one side or easily adapted to allow pupils to write on.
A 2-sided worksheet which introduces French reflexive verbs in the present tense with grammar notes and task, then a reading comprehension and writing task.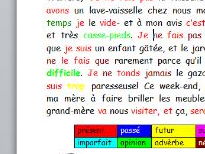 A pair of texts in French about household chores, one more detailed and more complex than the other. Parts of speech are highlighted in different colours, according to a key. Different tenses and justified opinions are included. Would make a good basis for a reading comprehension or grammar task.
This worksheet suits y7 upwards: revise regular and irregular present tense French verbs with the exercises, then complete the verbs to tell the simple story.
A worksheets which builds up from vocab matching, via sentence translation into English, to pupils writing their own sentences in French to give justified opinions of school subjects.
Worksheet shows how to form questions in different ways then provides task to practise.
A worksheet to practise the French vocab for places in town: label the pictures, a reading comprehension with prepositions and sentence-building task.
A list of phrases containing French sports: pupils must complete the spellings of the sports correctly. Easy to photocopy 4 lists on a page of A4.
A two-sided worksheet which works through a set of tasks, leading up to two translations. It starts with simple tasks to complete the spellings of verbs in the present then perfect tense, asking pupils to translate these sentences too. Then a task using Ich möchte/Ich will/Ich werde + infinitive to translate sentences into German. Then a more open-ended task for pupils to make up their own sentences in all three tenses; this task can be made more challenging by requiring more able pupils to include certain additional information if you choose. Finally there is a pair of paragraphs for translation, one into English and another into German. The translations are both on the theme of holidays. Answers provided on same document. I have used this with y10 and y11, but also suitable for confident KS3 pupils who have covered the tenses.
These tasks and resources are suited to various levels of ability at KS3. They cover foods, drinks, dishes, meals, eating healthily and living healthily. There's a lot of vocab practice and several tasks suitable for leaving as cover work, with full instructions and answers provided (on a separate page). Buying the bundle represents a significant saving compared to buying the resources separately.
French worksheet with several tasks, gradually building in difficulty, to practise telling the time. The final task uses the context of the school day to say what time lessons start and end. You could adapt this to your own school day (or ask the pupils to!).
A worksheet with 4 different tasks to practice using the perfect tense in German. Pupils have to translate short sentences into English, then choose correct vocab to complete the German sentences. They find out past participles of common verbs and write them in English as well, and finally translate some English sentences into German, using vocab from the earlier tasks. Answers provided on page 2 of the document.
A detailed text in French about a student's ideal school uniform. Information is given about current uniform in the present tense, then ideal uniform is described in the future conditional. Could be used as a translation text (may need cutting into shorter chunks), good revision material, or a lesson starter with comprehension questions made up by the pupils.
A pair of French texts, very similar in content but one using more elaborate language and more detail. Reading comprehension questions are on separate sheets. You could use this as a running competition, where the texts are stuck on the wall and pupils must take turns in a group to run to find an answer. Also can be used as scaffolding to support a piece of writing - the underlined vocab can be replaced with pupils' own choice.
A worksheet with several tasks to practise the present tense of faire, aller, lire and sortir. Starting with a task to complete the English for the conjugations, then a sentence gapfill exercise and finally a more open-ended writing task.
A pair of resources based on using the past tense to talk about a party. First, a set of cards to match the French and English phrases, which are easily photocopied (print out double-sided and the English will appear on the reverse of the correct French, if you choose to use as a memory test instead). Secondly, a worksheet with a grammar task to match perfect tense phrases to the infinitives & English, followed by a reading comprehension. This version is set up so you can print two copies on a sheet of A4.
A list of 15 directions vocab in French, with the English jumbled alongside. Pupils match the French to the English. Beneath is a list of 10 short sentences for translation into French, using the vocab from the matching task. Use as a revision task or pair work activity, or a written task. Could equally be a lesson starter. Answers provided on second page.
A quick starter showing pairs of short phrases where pupils must select the correct m/f spelling of the colour, to agree with the clothing.