Jac42's Shop
GCSE French and German resources, including plenty of good old worksheets. SEND resources suitable for young children with autism.
183Uploads
58k+Views
7k+Downloads
GCSE French and German resources, including plenty of good old worksheets. SEND resources suitable for young children with autism.
French worksheet with several tasks, gradually building in difficulty, to practise telling the time. The final task uses the context of the school day to say what time lessons start and end. You could adapt this to your own school day (or ask the pupils to!).
A two-page worksheet with 6 different tasks for using werden to form the future tense in German. The theme of holidays is the focus. Pupils have to list the personal pronouns, then conjugate arbeiten to practice the verb endings. Then there are tasks including translation, correcting word order and reading comprehension. Answers are provided on pages 3 and 4. Suitable for use when introducing the future tense, or for revision.
A worksheets which builds up from vocab matching, via sentence translation into English, to pupils writing their own sentences in French to give justified opinions of school subjects.
Worksheet shows how to form questions in different ways then provides task to practise.
A short French worksheet to practise using the superlative. Pupils choose from a list to complete the sentences with the most difficult subject/most violent sport, etc, in their opinion. They are asked to translate their sentences and invent more of their own. Look out - you may want to adapt q6 to your own choice of teacher name!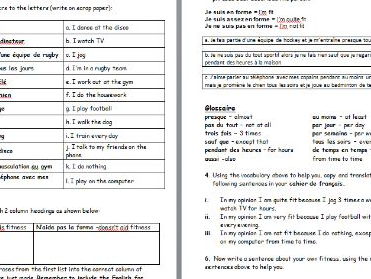 An easy French worksheet with several tasks about healthy lifestyle. Pupils have to match vocab, sort into healthy/unhealthy categories, show understanding of short texts, translate sentences and produce their own sentences based on the structures and vocab provided in the tasks. This sheet is provided as two pages of A4, but could be reduced to one side or easily adapted to allow pupils to write on.
A two-sided worksheet which works through a set of tasks, leading up to two translations. It starts with simple tasks to complete the spellings of verbs in the present then perfect tense, asking pupils to translate these sentences too. Then a task using Ich möchte/Ich will/Ich werde + infinitive to translate sentences into German. Then a more open-ended task for pupils to make up their own sentences in all three tenses; this task can be made more challenging by requiring more able pupils to include certain additional information if you choose. Finally there is a pair of paragraphs for translation, one into English and another into German. The translations are both on the theme of holidays. Answers provided on same document. I have used this with y10 and y11, but also suitable for confident KS3 pupils who have covered the tenses.
A set of 3 short role plays with one side of each scripted in French and the other giving instructions in English of what to say. Suitable for KS3 speaking practice and maybe for KS4 revision of vocab, works well as pair work.
I have used these worksheets, tasks and activities with KS3 German classes. They are mostly based around grammar, especially present tense and perfect tense. Some are also suitable as revision or reinforcement tasks for KS4 pupils. The worksheets are useful for setting cover work. Save 50% by buying the bundle instead of the same resources separately. I've included some free resources just because they match the group.
A set of sentences in German with the words jumbled. Pupils apply their knowledge of German word order rules to rearrange the words into sentences with correct word order. Make the task harder by asking pupils to find more than one possible correct version of each sentence - numbers in brackets show a minimum number of possibilities.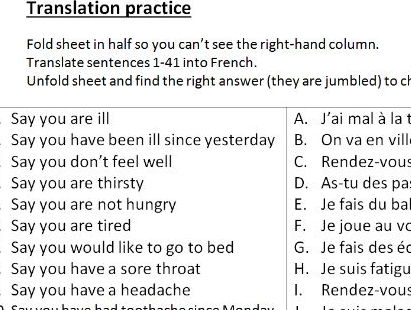 A long list (41!) of short sentences in English for pupils to translate into French. Equally you could switch the instructions and ask pupils to translate the other way. Sentences are mostly transactional speech, the kinds of phrases needed in a role play. Answers are provided but jumbled up - this could also be used as a reading matching task, or as speaking/listening pairwork.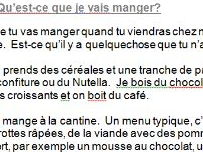 A French text with detailed descriptions of meals, almost all in the present tense. Reading comprehension task and 'find the French for...' task beneath. Fits on a sheet of A4. Varied sentence structure and many different foods and drinks included.
A 2-sided worksheet which introduces French reflexive verbs in the present tense with grammar notes and task, then a reading comprehension and writing task.
A worksheet to practise the French vocab for places in town: label the pictures, a reading comprehension with prepositions and sentence-building task.
A worksheet with two sets of sentences for pupils to practice using different cases. The first 10 sentences practice using accusative or dative after a preposition; the second set of 10 practice using accusative or dative after 'in' (to show movement or no movement). All 20 sentences test the use of nominative for the subject of the sentence and accusative for the direct object of the sentence. All sentences are in the present tense and refer to a variety of topics. Pupils have to complete the correct spelling for the articles the/a/my etc, and also translate the sentences into English. Answers are provided on the second page. This is a fairly challenging worksheet for those new to using the different cases, as there is a lot to think about; the gender of the nouns is not provided, so dictionaries may be needed if pupils are not familiar with all the vocab.
A set of worksheets on the theme of parties, festivals or celebrations. These resources could be used as homework or cover lesson work.
A colourful grid to complete on your board with the French masculine colours provided; pupils must add the feminine spellings and English. Accompanied by 2 differentiated grids for pupils to complete independently.
A set of sentences with corresponding pictures to show the use of the comparative in French (plus/moins/aussi ... que). Use as a starter where pupils must adapt the sentences to include their own choice of vocab; could be extended into a listening task where they say if each other's sentence is true/false or possible/impossible.
An imaginative activity in French: pupils read the recipe for a good teacher (subject knowledge, sense of humour, etc) and then use this as scaffolding to create their own recipes for other things like a good party.
A set of 12 pictures/symbols with a choice of three phrases below each, about campsite facilities and making a booking. Would also work as a translation task once pupils have chosen the correct phrase. Could be extended by asking pupils to suggest another alternative for each set of phrases, or to make up their own quiz about hotel/youth hostel accommodation. Answers provided - WARNING: the answers are at the bottom of the page, take care not to print them!