Jac42's Shop
GCSE French and German resources, including plenty of good old worksheets. SEND resources suitable for young children with autism.
183Uploads
85k+Views
11k+Downloads
GCSE French and German resources, including plenty of good old worksheets. SEND resources suitable for young children with autism.
A French wordsearch containing types of TV programme. Clues are listed in English, with some letters provided on the easy version. The harder version below has English clues with no letters provided. Actual vocab used is shown in red - remember to remove before using, unless you want a really easy version!
A list of 15 directions vocab in French, with the English jumbled alongside. Pupils match the French to the English. Beneath is a list of 10 short sentences for translation into French, using the vocab from the matching task. Use as a revision task or pair work activity, or a written task. Could equally be a lesson starter. Answers provided on second page.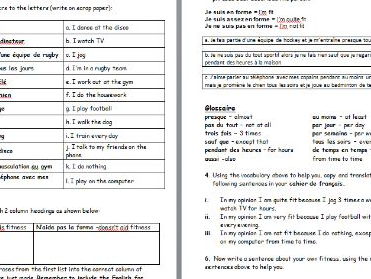 An easy French worksheet with several tasks about healthy lifestyle. Pupils have to match vocab, sort into healthy/unhealthy categories, show understanding of short texts, translate sentences and produce their own sentences based on the structures and vocab provided in the tasks. This sheet is provided as two pages of A4, but could be reduced to one side or easily adapted to allow pupils to write on.
A photo-copiable sheet of 32 dominoes to practise French numbers up to 40. Cut up along the lines shown to create a set which works well in a small group.
French worksheet which builds up gradually to get pupils producing their own perfect tense sentences: grammar notes, then a task to sort sentences into present/past, followed by a task to convert the present tense sentences into perfect tense.
On each slide a phrase appears at the top and pupils have to say if it is present or past tense. Works well with mini whiteboards, or right hand/left hand up to show choice. Answer is shown before next question each time. Verbs are paired up, but don't appear in order.
A set of cards in French for pupils to sort into categories (time marker, near future tense, details). This builds up into sentences which describe plans for a trip to Paris in the future. Can be extended by adding own information and more details. Also works as a vocab-learning task in pairs or small groups. The cards fit on one side of A4 and there's a grid to place the cards on if your pupils like visual sorting grids like this.
A pair of French texts, very similar in content but one using more elaborate language and more detail. Reading comprehension questions are on separate sheets. You could use this as a running competition, where the texts are stuck on the wall and pupils must take turns in a group to run to find an answer. Also can be used as scaffolding to support a piece of writing - the underlined vocab can be replaced with pupils' own choice.
A list of 16 items of vocab in French. Pupils decide whether each is a type of TV programme or film (or both). Instructions in English ask for pupils to write answers in lists. Could equally be used as a speaking task: one pupil says item of vocab, another says whether it's TV or film. Easy to extend into a task where pupils give opinions. Good revision task.
Worksheet shows how to form questions in different ways then provides task to practise.
A French worksheet with a range of different puzzles and quiz questions, all on the topic of food and drink. Two sides of A4. Separate sheet included showing the answers for easy marking. Ideal for end of term activity.
A worksheet with 20 German sentences, each showing only the infinitive of the verb needed. Common regular and irregular verbs are included (wohnen, spielen, gehen, haben, sein). Pupils write the correct spelling of the verbs to match the person/subject shown, and can also translate the sentences into English. A good homework idea, as Google Translate won't help that easily! This is meant for beginners, as each verb is used several times to aid reinforcement. Document has two copies, to fit on one page of A4. Answers provided on second page.
A worksheet to practise the French vocab for places in town: label the pictures, a reading comprehension with prepositions and sentence-building task.
A selection of activities and worksheets covering the topics of where you live: house and home, local area. All are aimed at KS3, some are differentiated. Many are suitable to leave as cover work, in the format of a worksheet with full instructions and answers provided (on a separate page). Buying the bundle represents a significant saving, compared with buying the resources separately.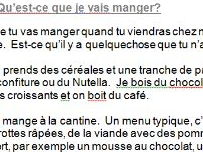 A French text with detailed descriptions of meals, almost all in the present tense. Reading comprehension task and 'find the French for...' task beneath. Fits on a sheet of A4. Varied sentence structure and many different foods and drinks included.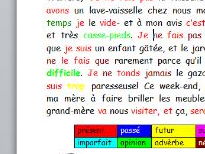 A pair of texts in French about household chores, one more detailed and more complex than the other. Parts of speech are highlighted in different colours, according to a key. Different tenses and justified opinions are included. Would make a good basis for a reading comprehension or grammar task.
This worksheet has three tasks. There is a text about one person's routine on a school day, all in the present tense. First pupils have to answer comprehension questions in English about the text. Then they must find the French vocab in the text which corresponds to a list of vocab in English. Finally they are asked to produce their own paragraph about their own daily routine, using vocab they have seen on the previous tasks. Could be extended into a speaking and listening activity, with pupils reading their text to a partner, who has to note the main points, for example.
A reading task with 14 sentences in French which give opinions about school uniform. Pupils have to tick or cross the sentences to show whether each opinion is for or against uniform. Could be extended to use as a translation task into English, or a basis for a pair work discussion. Save money photocopying: 2 copies of the task fit on one page of A4.
A set of worksheets and activities on common regular and irregular verbs in the present, perfect and near future tenses. Also reflexive verbs in the present tense. Some are quick starter tasks, others are longer worksheets which would be well suited to homework or cover lesson tasks. All these resources are aimed at years 7, 8 and 9, but equally may be useful revision materials for lower ability GCSE students. A saving of 50% compared to buying these resources separately! I've included some free resources just because they match this group.