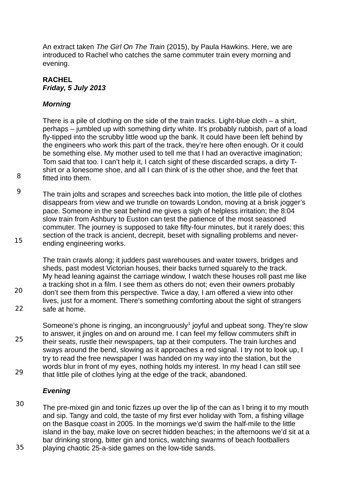 Full AQA-style English Paper 1. Features an extract from the opening chapter of The Girl on the Train, questions and a full set of exemplar responses.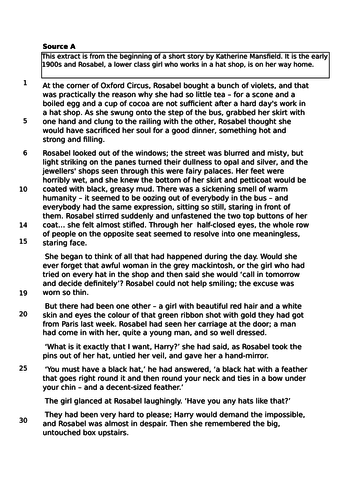 Copy of the June 2017 English Language Paper with source and full set of exemplar responses.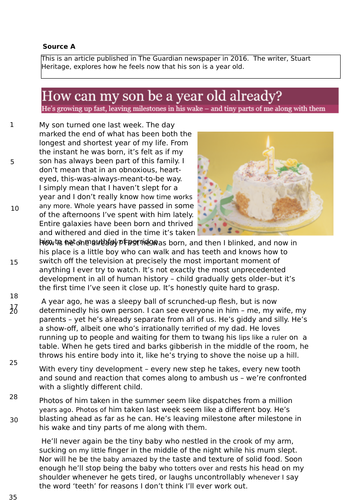 Copy of the June 2017 English Language Paper with sources and full set of exemplar responses.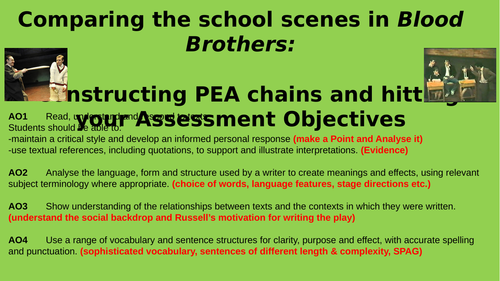 Focuses on the parallel school scenes in Blood Brothers with a focus on: -Constructing PEA chains, and -Hitting Assessment Objectives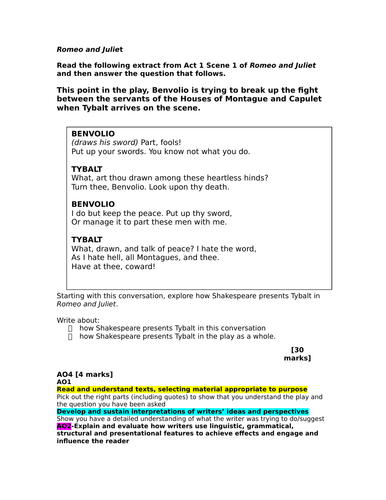 AQA style exam question based on an extract from Act 1, Scene 1, focussing on the character of Tybalt with exemplar response. All colour coded for AOs.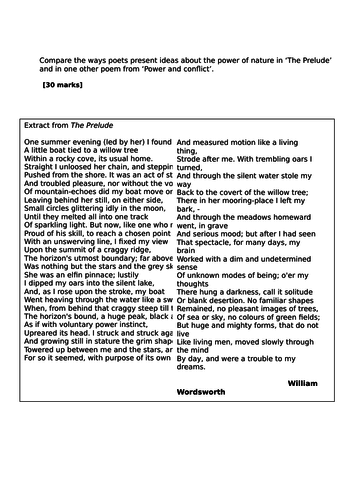 "How does the poet explore the power of nature in this poem and one other poem of your choice?"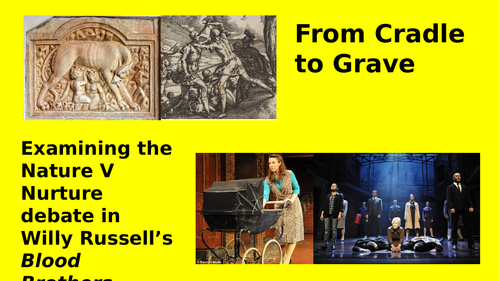 A whole lesson examining the presence of stories of fratricide in classical fiction, the Mengele experiments on twins and the empirical evidence on the Nature V Nurture debate plus a mock exam question on the theme, examined through the characters of Mickey and Edward with Assessment Objectives annotations.
An all-in-one Literature Paper 1 resource covering the entire play of "Macbeth" (115 quality and detailed slides) designed to form the basis of an entire half-term's teaching. Covers all aspects students require for this chosen Shakespeare play. Incorporates: -An in-depth social and historical background to the play, discussing the move from the Elizabethan to the Jacobean era -A scene-by-scene bullet-point breakdown of every scene in all five acts -A close analysis of the scenes, positing questions based on AO2 (language and structure) and AO3 (social/historical context) skills -An introduction to the Literature Paper 1 Shakespeare question format and student-friendly assessment objectives -Very thorough characters analyses and charting of the decline of Macbeth and Lady Macbeth -Detailed examinations of the central themes- "Ambition", "Being 'a man' and an 'unsexed woman', "False Appearance" and "Guilt"- with key quotes from throughout the play for each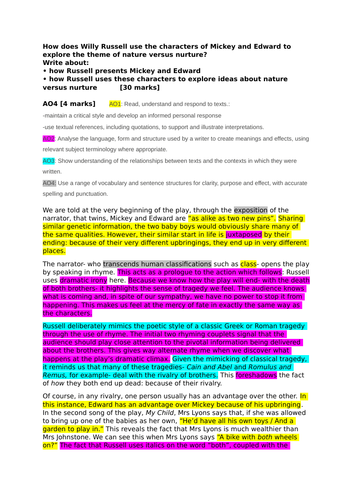 Lit Paper 2 style question "How does Willy Russell use the characters of Mickey and Edward to explore the theme of nature versus nurture?" Contains model response with colour-coded AOs.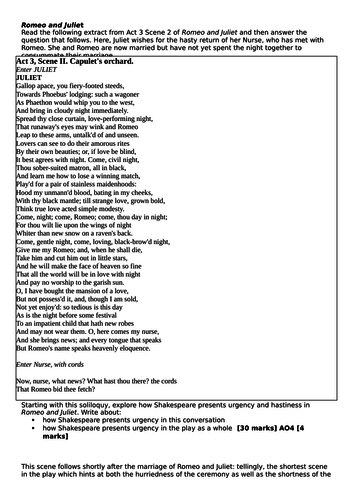 AQA Paper 1 Style Question with extract- Juliet's soliloquy 3,2 ("I have bought the mansion of love…") with question on the theme of haste. Exemplar response included.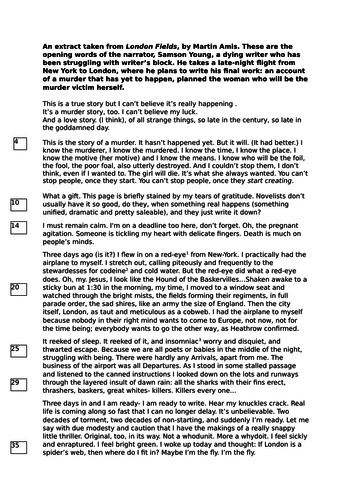 Full AQA style Paper 1 including source taken from 'London Fields', by Martin Amis. Includes exemplar responses including writing task response.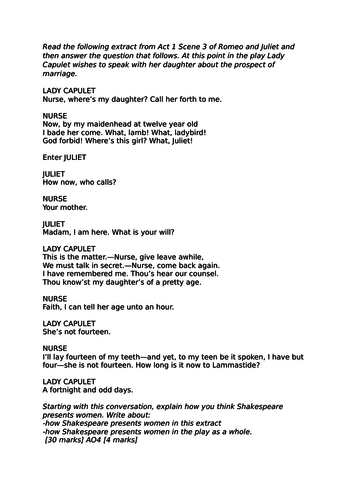 AQA-style Romeo and Juliet extract and exemplar response (Act 1, Scene 3 Juliet, Nurse, Lady Capulet). Question focusses on Shakespeare's portrayal of women in the extract and wide play.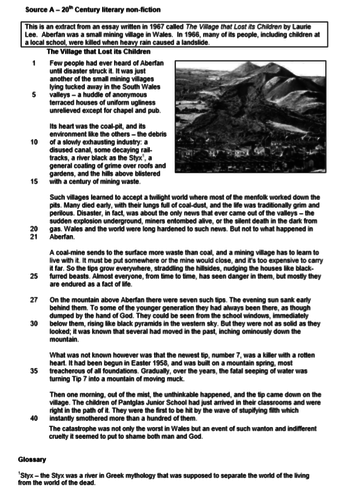 A full set of exemplar responses to the sample Paper 2 provided by the board. Demonstrates, exhaustively, all the things which the students could cover in their responses.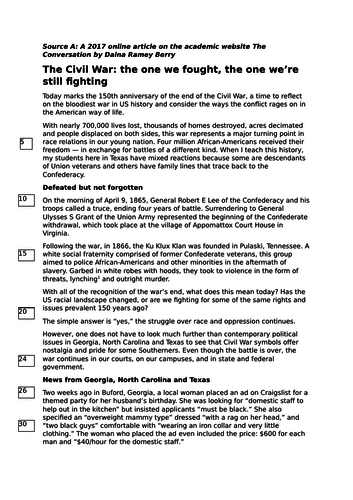 A full AQA-style Paper 2 with sources and full exemplar responses included.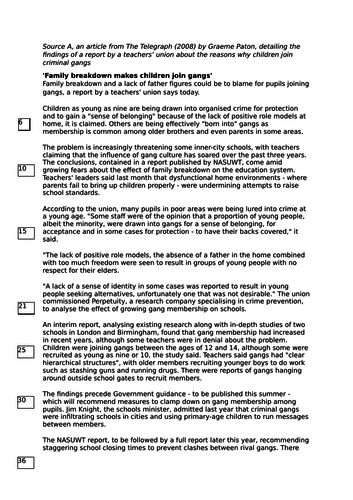 A full AQA-style Paper 2 with two sources. Full exemplar responses included.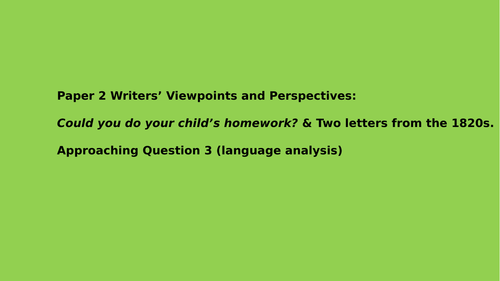 Powerpoint (including feedback from AQA examiner) exploring how to approach Q3. With table for completion by students and exemplar response.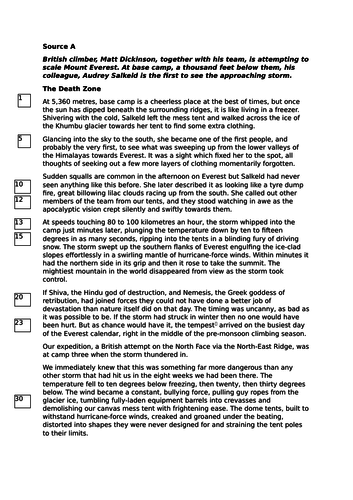 Replicated articles (also found on AQA resources on the official website) and model responses to the reading and writing section.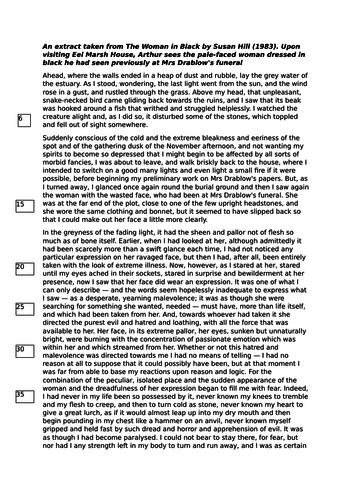 A full Paper 1 with a source taken from The Woman In Black. Includes full set of exemplar responses.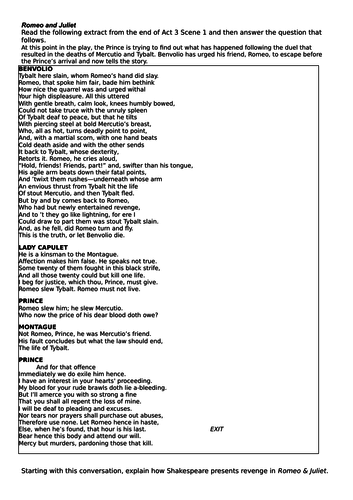 AQA Paper 1 Literature-style question based on the end of Act 3, Scene 1, with exemplar response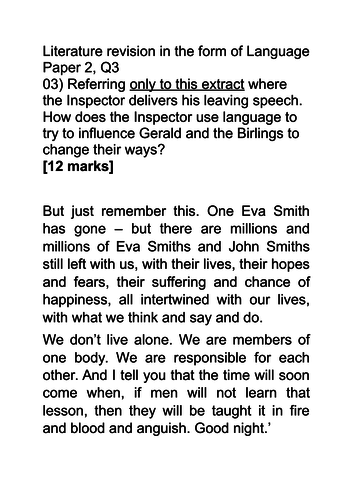 An extract (Goole's final speech) with an associated AQA Language Paper 2, Q3 (language analysis). Includes exemplar response.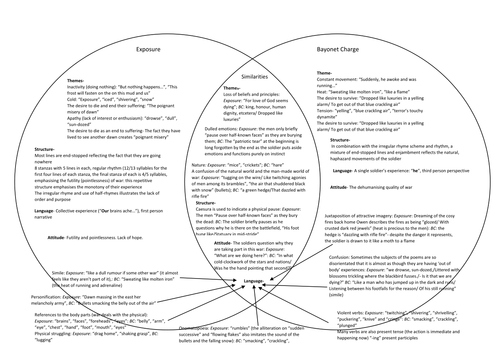 GCSE Power and Conflict Poetry: In-depth analysis of the similarities and differences between the two poems, looking at perspective, tone, imagery, structure and language.