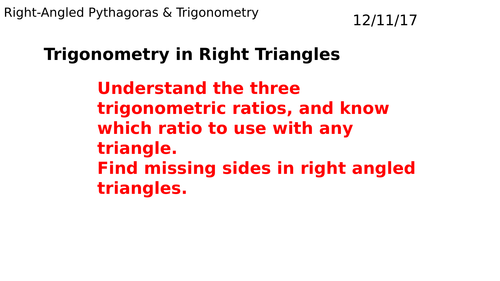 Three 9-1 GCSE lessons explaining the trigonometric functions and then providing examples, questions and full answers on problems involving missing sides, missing angles and on problem solving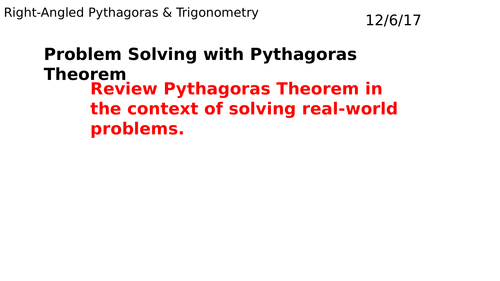 Review lesson on Pythagoras Theorem followed by contextual questions eg distance between two points, lengths of diagonals in quadrilaterals, distances from journeys described using bearings. 2 Starters on calculating square roots and estimating square roots. Answers provided for all questions.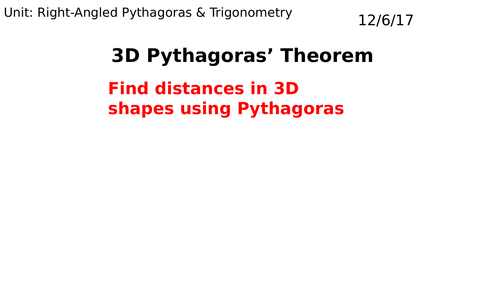 9-1 GCSE Lesson: Starter reviews Pythagoras in 2 dimensions. Worked examples of finding lengths in cubes, cuboids, triangular prism. Questions on 3 D Pythagoras. All answers included.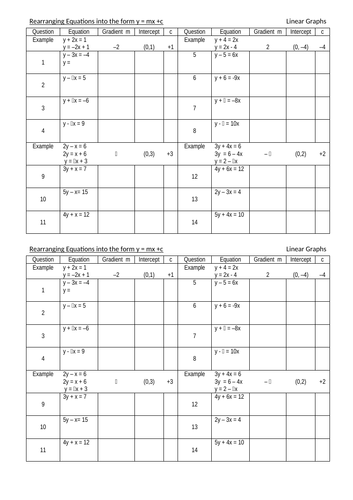 Lesson recapping gradient and y-axis intercept from y=mx + c. Structured examples on why and how some equations need to be rearranged to find the gradient and intercept.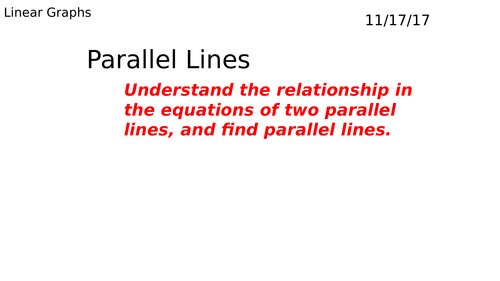 GCSE 9-1 Higher lesson: Recaps y=mx+c and looks at finding parallel lines, rearranging equations into y=mx+c, fining equations of parallel lines through a fixed point.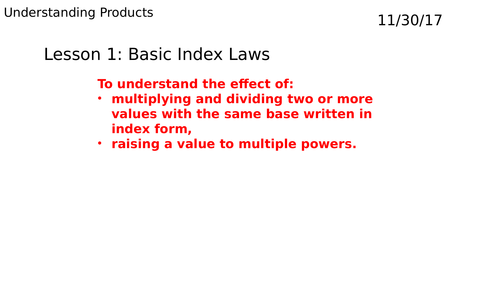 9-1 GCSE: 8 lessons covering 1]Basic Index Laws, 2]Negative & Fractional Powers, 3] Prime Factors, 4] Standard From, 5] Multiplying & Dividing with SF 6] Adding & Subtracting with SF 7] Factorials 8] Unit Preview and Review covering objectives, baseline learning, quick question & exam style questions. All Answers included.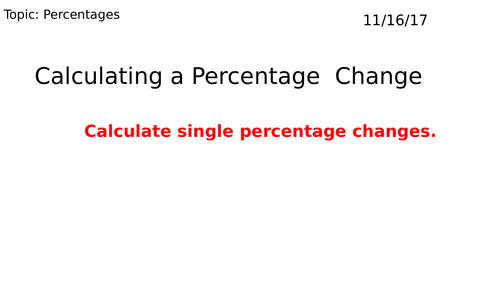 Lesson examining the use of bar models, finding change in terms of %s and using % multipliers to calculate individual % changes.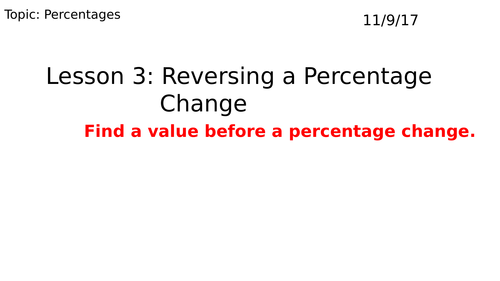 GCSE lesson finding original values after a % change has been applied by using the % multiplier.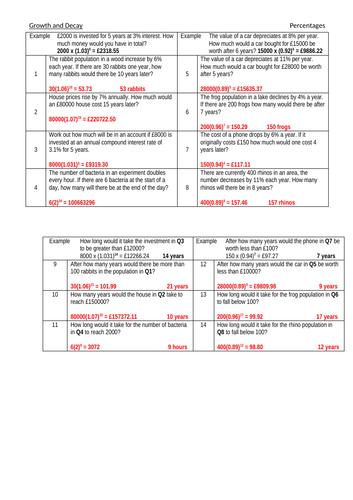 9-1 GCSE Higher lesson covering using repeated % changes to calculate growth & decay.
8 Differentiated worksheets [20 questions per slide] Including: Fractions of a Quantity, Equivalent Fractions , Improper Fractions & Mixed Numbers ,Adding/Subtracting/Multiplying & Dividing with Fractions. All answers provided.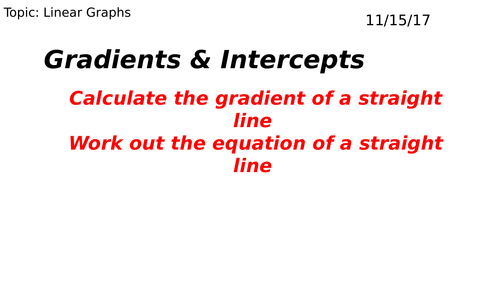 Find the gradient & intercept of a straight line. Write the equation of a straight line. Rearrange equations into the form y = mx + c.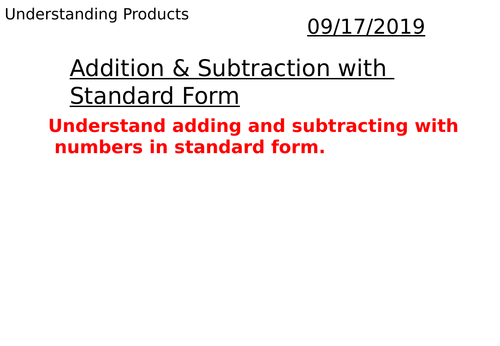 9-1GCSE lesson. Starter 10 Multiple Choice questions on converting numbers between powers of 10. Worked examples on adding & subtracting with numbers in Standard Form. Differentiated worksheet with 20 questions. Plenary of exam style questions. All answers included.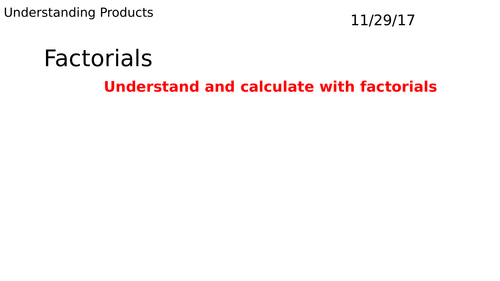 9-1 GCSE lesson. Starter reviews standard form and sizes of numbers. Definitions of repeated multiplication and increasing multiplication and of factorials. Worked examples calculating with factorials. Differentiated worksheet on Factorials. Plenary explores 0! and 52!.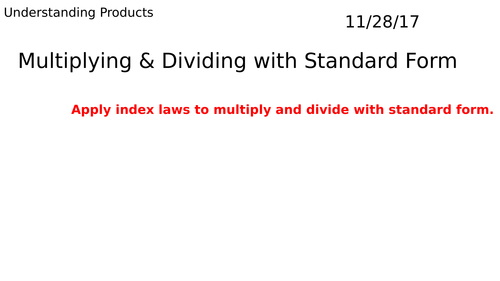 9-1 GCSE Lesson: Starter: 10 questions Multiple Choice on Writing Numbers in Standard Form. Explanations & worked examples multiplying and dividing numbers in Standard Form including adjustments when product/quotient isn't between 1 & 10. Differentiated worksheet of 20 questions, All answers included.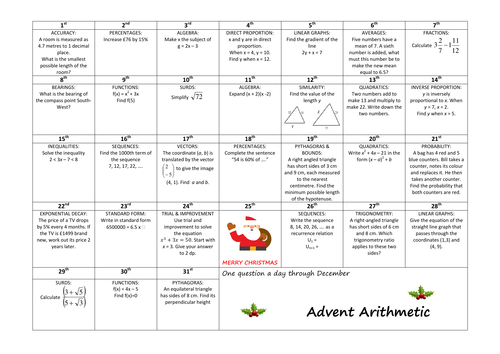 Questions for every day through December. Aimed at GCSE higher pupils. Ideal as a starter, revision or homework.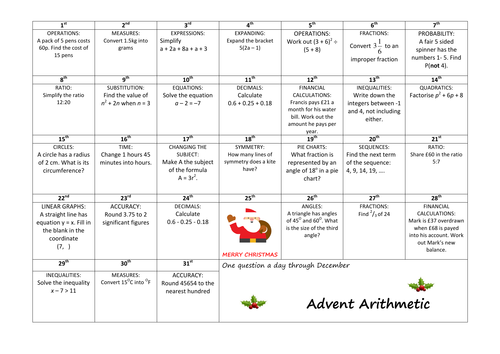 One question a day across December, aimed at GCSE Foundation pupils. Ideal for starters, revision or homework.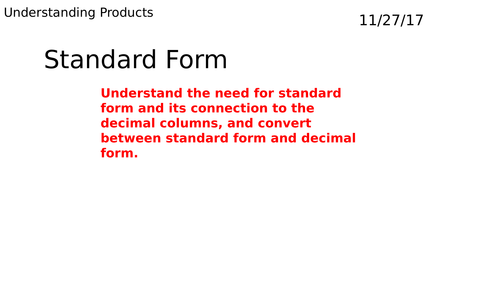 9-1 GCSE Lesson covering what standard form is, why we use it. How to convert from ordinary numbers to standard form and vice-versa. Examples and a differentiated LIMBO worksheet all with answers provided. Plenary is an exam style question involving converting between units of mass and ordering.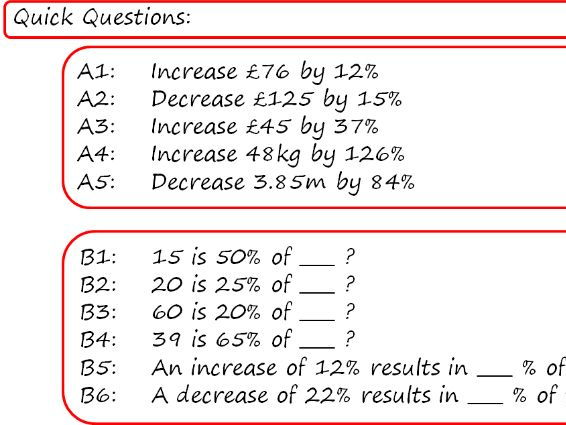 5 lessons covering Proportions, Percentage Change, Reversing a Percentage Change, Growth & Decay and a Unit Preview/Review lesson covering the objectives, prior learning and exam-style questions.
GCSE Maths. LIMBO [the lower you go, the harder it gets...] differentiated worksheets on 1] Finding a % of a Quantity 2] % Change 3] Write Proportions as %s 4] Reverse %s 5] % Equivalences 6] % Multipliers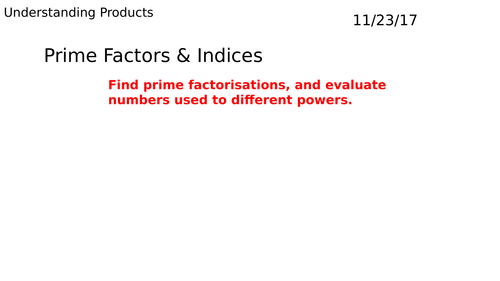 9-1 GCSE Lesson covering finding the prime factorisation of composite numbers, finding properties of numbers from the prime factorisation [is it odd,even, a multiple of ..?], finding the HCF of 2 numbers from the prime factorisations. Examples, questions and answers supplied.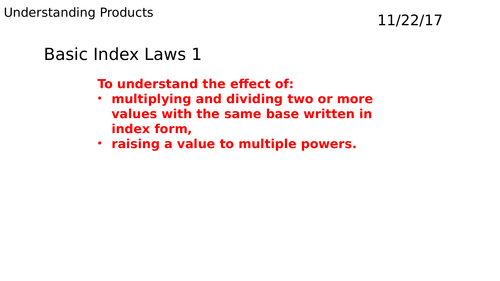 9-1 GCSE: 2 lessons covering the Index laws of 1] Multiplication 2] Division 3] Brackets 4] Negative Powers 5] Fractional Powers. Fully worked examples and answers for all questions