Monsieur MFL's Shop
KS3 & KS4 French resources.
63Uploads
8k+Views
1k+Downloads
KS3 & KS4 French resources.

a worksheet to practice near future in French. Perfect to support an introductory lesson with KS3 pupils.

To be used during Francophonie week. Ideal for KS3 + linked to house/home/food topics Reading, listening + treasure hunt activity. (all worksheets and games included)

This is a virtual visit of the Côte d'Azure aimed at KS3 / KS4 students to help practice key vocab + discover the south of France. Various activities, pupils are asked to go through the presentation and take down as much information as possible to be able to do the online quiz (link attached to powerpoint) Perfect way to end the summer term (especially when stuck at home!)

LO: To learn new vocabulary linked to Easter and learn about French traditions Introduction to new key Easter vocab followed by a wordsearch, then French easter traditions with a quiz (link to Youtube video) + loto (my pupils love loto!) - comes with worksheet. Ideal for KS3

A lesson to introduce year 7 pupils to Paris ahead of their school trip. Introduction to monuments, map of paris and parisian metro, followed by a Paris quiz. Plenary : video of Paris, pupils need to name the monuments they recognise. Comes with worksheet.

Jouer ou faire lesson. Objectives: to become more confident when using the verbs faire and jouer Starter : fill in sentences with the correct form or jouer et faire Boardgame : 24 boxes, 24 differentiated translations. Play with two teams (green and purple) - challenging and the challenge aspects allows great engagement from the pupils

LO: to learn about France's national day and how it is celebrated across the country Plenty of activities : a) wordsearch of key vocab of the 14th July b) a short history of the French revolution (pupils have to draw the key information into a comic strip) c ) values of the French Republic d ) customs and celebrations in France (link to fireworks in Paris) e) quiz Comes with handout

This is a lesson to go alongside the film. Activities include : name the character, match characters with personality traits, describe some characters and a quiz on the film after they watched it. The lesson comes with a worksheet so pupils can have it with them when watching the film.

KS3. LO: to be able to talk about your favourite film and actors / actresses. Vocab search and translation using present and past tense.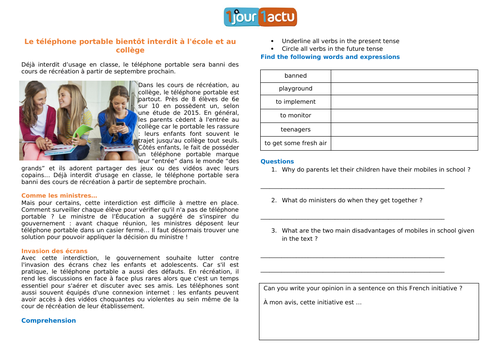 Text taken from 1jour1actu.fr - worksheet to practice technology topic in French. Exercises include grammar, vocabulary and comprehension questions.

To adapt the game, all you need to do is amend the question slides. To make the board move, you either click on the photo of the chaser if the chaser gets it right, or the chase logo if the team gets it right To go back to the board slide, you click on the little house at the top of each question slide. Kids loved it! It makes the classroom a bit more entertaining despite covid-19 safety measures…

To engage pupils into thinking about racism and xenophobia and discussing it. 3 videos + quiz and plenary : design a poster for tolerance and acceptance

KS3: instruments. Objectives: to be able to use the verb jouer with musical instruments. Starter - fill in texts, find time phrases, intensifiers, activities. Differentiated plenary (translation)

LO: to be able to book a hotel room (role-play situation for AQA GCSE) Hotel vocab (facilities) . Includes reading, translation, listening and gap fill and speaking plenary.

Perfect worksheet to recap learning done in the first half term of Year 7 (age, numbers, greetings, numbers, colours + agreements, pencilcase and school bag items)

KS3 / 4. Objectives: to be able to use the verb faire and frequency words when talking / writing about sports. Differentiated plenary

To be able to use the verb 'jouer à' when discussing leisure activities. au / à la / aux Writing and listening activity. Kagan for plenary

KS3. LO: Learn new vocab to describe places in a town . Say what there is and there is not in your town . Form more complex sentences. Good to use with whiteboards. Differentiated plenary.

KS3/4 : Introduction to mobile phone vocabulary. Variety of activites (listen and repeat, match up, listening and survey in classroom to promote speaking) LO: to learn new vocab linked to mobile phone and use it to say what you do with your phone.

LO: To learn how to say the time in French (KS3) starter - spot the mistakes (based on school subjects and opinions) 1st part - o'clock 2nd part - quarter / half Great to use with mini whiteboards