Biology and Physics Resources
109Uploads
14k+Views
2k+Downloads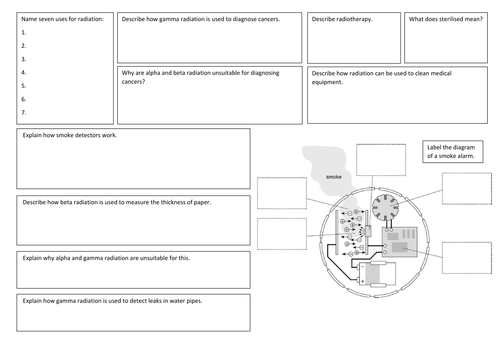 Slides for pupils to find information about the uses of radiation and a question sheet with differentiated questions for pupils to answer.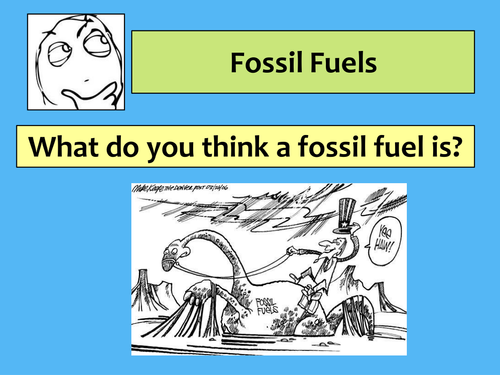 A Presentation/lesson plan on fossil fuels aimed at Y7 pupils. Includes a settler/starter, outcomes, notes, review activity, extended writing task (could be differentiated easily), a few other short tasks and a plenary.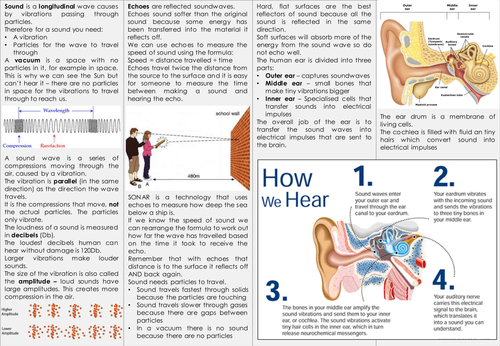 A knowledge organiser on the topics of light and sound covering all KS3 areas, particularly aimed at the AQA new KS3 specification but suitable for all curriculum's. Useful to be given as revision aid or at the start of a topic to aid learning.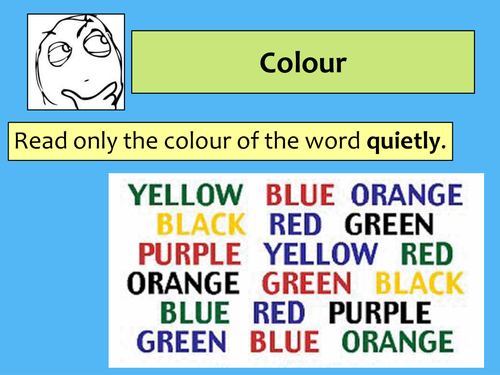 Presentation including learning outcomes, notes and an activity to assess progress on the topic of light and colour.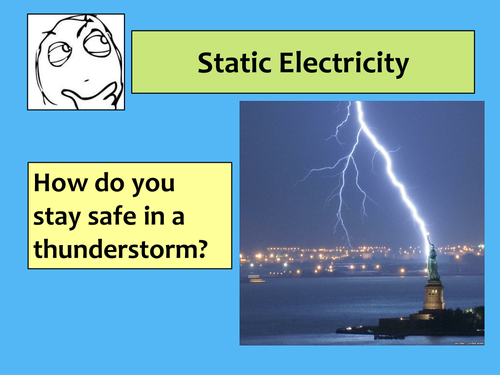 Lesson plan on static electricity includes: starter/settler, learning outcomes, notes on static electricity, review questions and a practical investigation to be carried out on static electricity.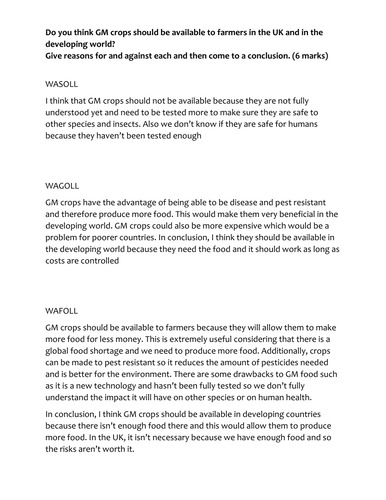 A six mark question considering arguments for and against the use of GM crops in different senarios. Includes a WASOLL (What a shocking one looks like), WAGOLL (What a good one looks like) and a WAFOLL (What a fantastic one looks like). Pupils can annotate good/bad points and how to improve them and then use this to produce their own answer to the question.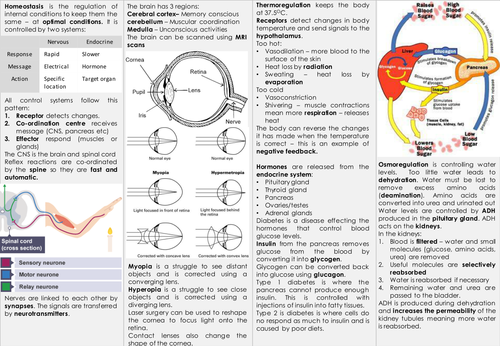 A knowledge organiser for the homeostasis and response section of the AQA GCSE Biology specification. Includes notes on all sections, keywords and diagrams on key processes. Suitable for revision of the topic, to support learning of the topic and/or to support revision activities in class.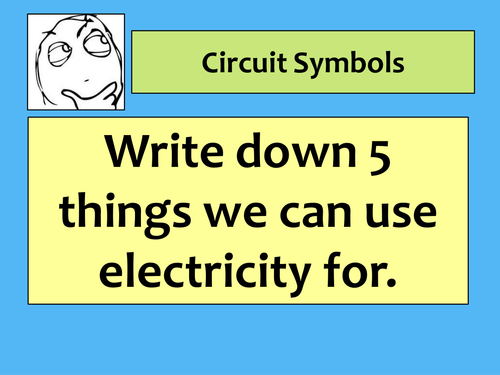 A first lesson in an electricity topic aimed at Y7 pupils. Includes a presentation that includes a complete lesson: starter/settler, learning outcomes, notes on circuits, symbols and current in circuits, instructions on a simple investigation into circuits and current, review questions, introduction to circuit symbols, instructions on how to draw circuit symbols (with opportunity to model for pupils) and an activity for pupils to draw their own circuit diagrams.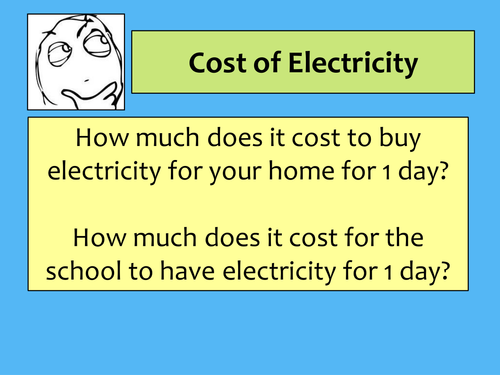 A complete lesson on power and the cost of electricity in a PowerPoint including: settler; starter; learning outcomes and keywords; how to calculate power and calculations for pupils; how to rearrange the formula to calculate energy and calculations for pupils to practice; and introduction and activity calculating power in kWh and the cost of electricity.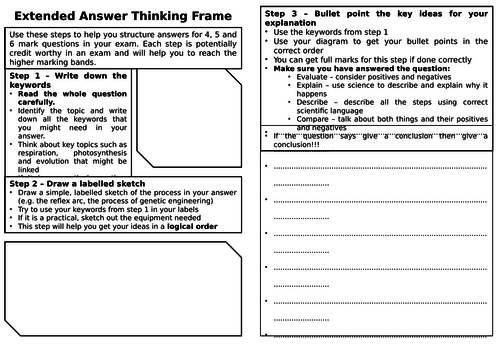 A thinking frame to help pupils structure longer answer questions (4, 5 and 6 mark questions). The activity guides pupils through three steps that can be applied to nearly every extended answer questions and is particularly relevant to the extended writing focus of the new GCSE specifications. I have found it very useful with lower ability and/or under confident pupils that struggle to get started on these longer answer style questions. This frame provides an accessible start for pupils and allows them to reach the higher marking bands.

Complete lesson on the uses of different radiation including lesson plan used for internal observation. Tasks come with answers for pupils to peer and self assess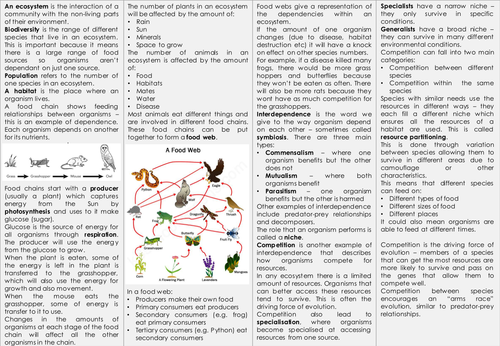 A knowledge organiser for the ecology topics of KS3 science/biology aimed at the AQA KS3 specification but suitable for all courses. Contains revision notes/key points of the topic over 2 sides of A4 to be given at the start of topic and/or to use as revision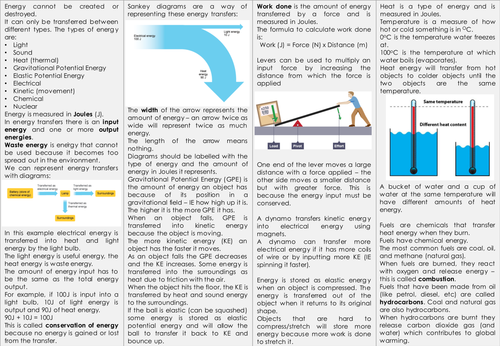 A knowledge organiser on energy transfers, the cost of electricity and power to be used for revision or to aid learning. Designed for the AQA specification KS3 curriculum but suitable for all.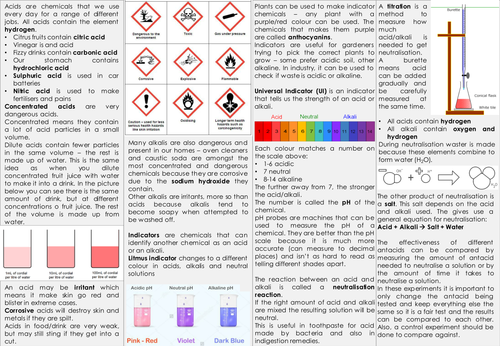 A knowledge organiser covering acids and alkalis (haz symbols, indicators, neutralisation etc) and metals (properties and reactions) for KS3 classes. Ideal for revision or to give to a class at the start of a topic to aid their study.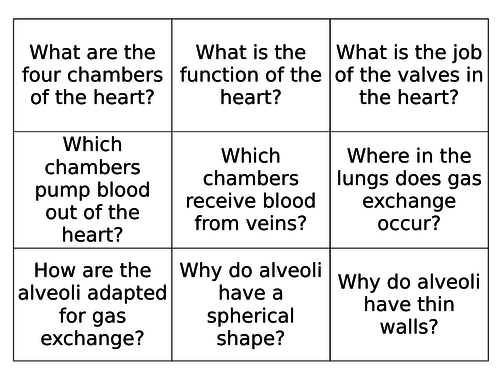 A set of 45 question/answer flash cards for revision of the key points of contraception/hormones from the circulatory system section of the Organisation topic of AQA 9-1 Biology (Trilogy). Contains 2 documents - one with both question and answer, the other with questions but no answers. Suggestions for use: - Flash card revision - work through the cards making pile of correct and incorrect then repeat with just the incorrect pile until all have been answered correctly - Use blank flash cards for pupils to find the answers themselves - Can be used for pupils to test each other - Quiz quiz trade activity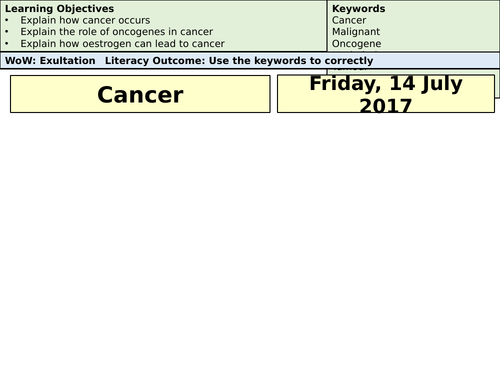 Lecture notes for AQA A-Level Cancer topic to accompany a lesson or provide as revision notes. Includes past exam questions and mark scheme.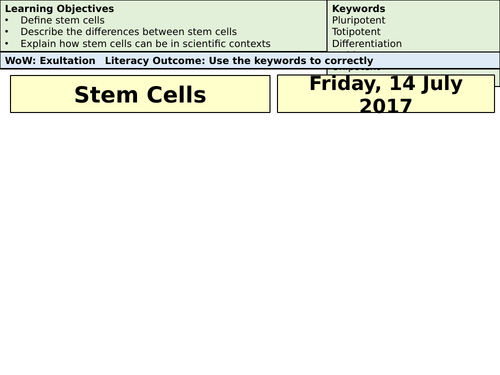 A set of lecture notes for AQA A-Level Biology (new spec) on stem cells. Includes learning outcomes and some past exam questions with mark scheme.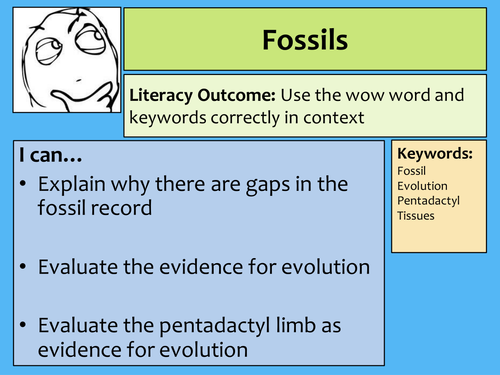 Collection of 6 mark questions from past edexcel B2 papers including mark schemes for revision/ exam practice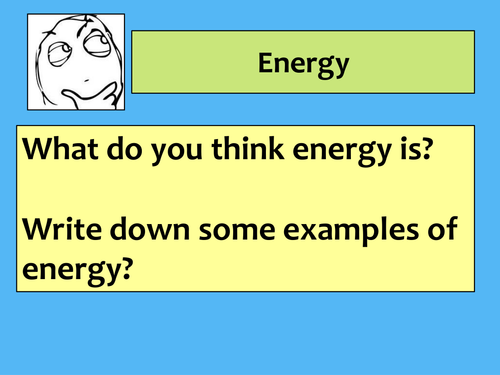 A complete lesson for the introduction of energy used with a Y7 class. No printing needed.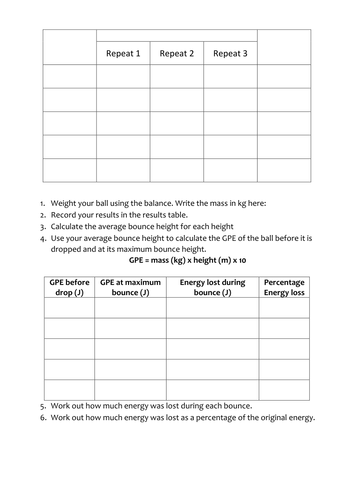 Differentiated sheets for investigating the energy changes when a ball bounces.