Jordanbatters' Shop
I am a History teacher working in Yorkshire.
75Uploads
31k+Views
50k+Downloads
I am a History teacher working in Yorkshire.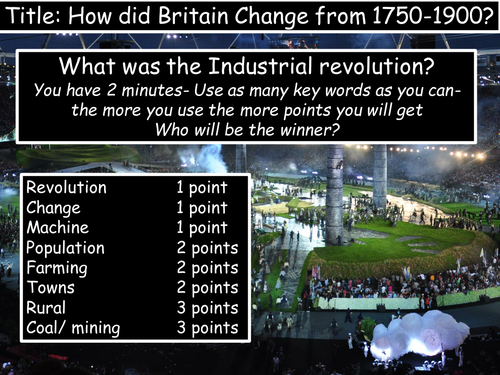 This is the first 12 lessons for an industrial revolution SOW. Included: introduction- living conditions- health and medicine - factories- coal mining- population- towns - conclusion All activities and support materials included (apart from video clips, but hyperlinks have been added). This has been produced for a mixed ability year 9 class- but can be used with other years. These are some ideas that I have created, found and adapted Use how you wish and enjoy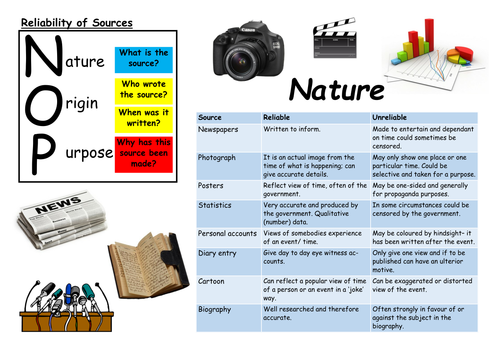 This resource can be used to help students write about reliability. I have used this to help both KS3 and GCSE students to start thinking about the reliability of a source.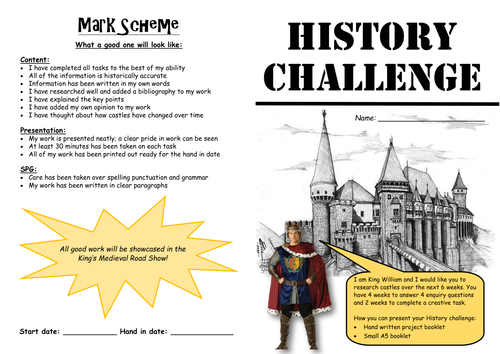 This is a differentiated project booklet. It has been designed for Year 7 all ability, but could be used for other years. It contains 4 enquiry questions- each has a level 3/4/5/6 task that can be chosen by the students. There is then a creative task for the students to complete. My students have really enjoyed completing this History Challenge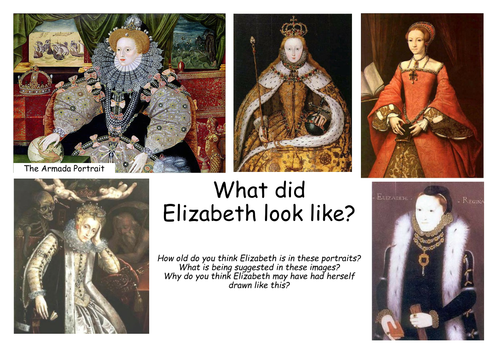 I use this set of resources with Year 8 when introducing Elizabeth I. The students really enjoy these lessons as they have been designed to be quite creative. There are also SEN alternatives within the resources and Power Points for most lessons. Lessons: 1. Elizabeth introduction- some problems Elizabeth I had 2. Elizabeth and marriage. Take me out lesson- (you will need information on the men as I have lost the electronic copy- if you would like me to take a picture of the sheet I use then message through.) 3. Elizabeth's problem image. (can take 2 lessons) 4. Who was Mary Queen of Scots (can take 2 lessons if students are designing movie trailers) 5. What should Elizabeth do with Mary? 6. The Spanish Armada - why was it sent? what happened? 7. Conclusion lesson and resources 8. Assessment Use and enjoy as you wish.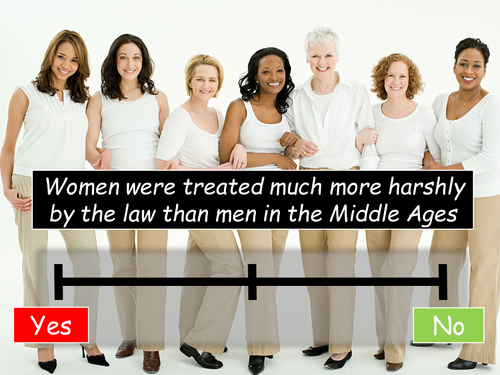 I use this resource with my Year 7 class after we have studied the Norman Conquest. The lesson: Who was Matilda? Who should be the next monarch? Stephen or Matilda? Practice GCSE question- implementing GCSE skills into KS3 What happened next? Conclusion Enjoy and use as you wish!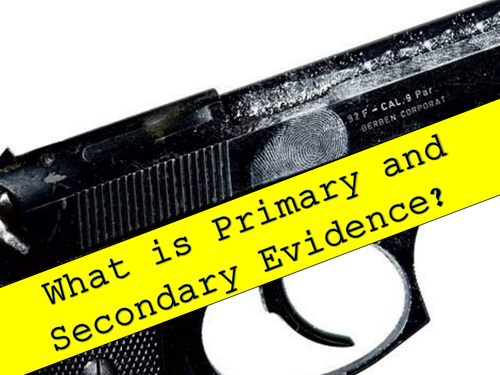 This is a murder mystery used to introduce my year 7 class to using evidence in History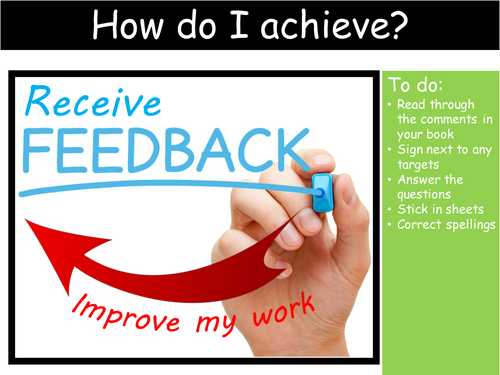 This is a resource I have taught to all ability year 7- (SEN alternatives are provided on the slides ) It includes L1- introduction to early settlers and what people have brought to Britain- students are to sell Stone Henge- I usually complete this task over 2 lessons L2- What does it mean to be British? L3- Create your own country- booklets for students and they are to work in groups to find out the basics to establishing their own country- usually takes 2 lessons L4- Early immigration research- find out about the Romans, Celts, Vikings, Anglo-Saxons L5- Assessment/ essay. SEN resources provided as well for assessment L6- Other immigrants L7- Positives and Negatives immigration has brought L8- Linking to modern day and the immigration problem today The whole point of this topic is to establish what is an immigrant and to conclude that everyone in Britain is an immigrant. Enjoy!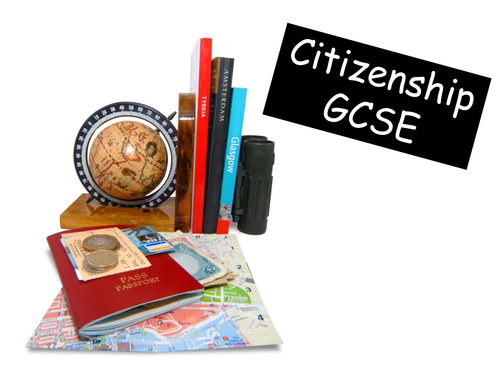 I used this resource with my current GCSE citizenship group when teaching unit 3: The global community It includes: 3 introduction lessons on citizenship and using citizenship perspectives (I have used the recent Calais crisis). The next lesson is all about the economy and then it leads onto government spending, inflation, who does what and then finally the successes and failures of business. Use as you wish and enjoy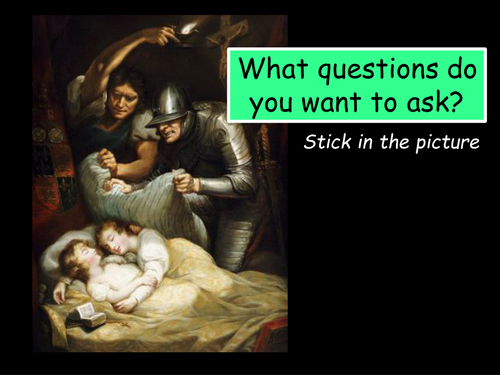 Princes in the Tower lesson For SEN I print off the easier sources and allow students to highlight Enjoy!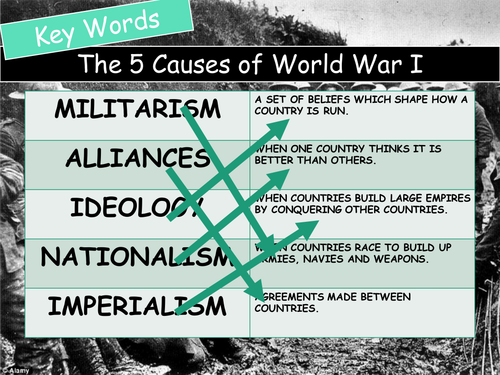 I use this resource to teach year 9 about WWI. All resources are included and some lessons can take more than one period. 1. Long term factors about the start of WWI 2. Short term factors about the start of WWI Race Track WWI- this involved students working in groups to act out the causes of WWI 3. The BEF and the Schlieffen Plan 4. Recruitment and Conscientious Objectors 5. Trench Life 6. Weapons 7. Battle of the Somme L1 8. Battle of the Somme L2 9. Censorship and Rationing 10. Shell Shock (information on Harry Farr not included) 11. Assessment Enjoy and use as you wish :)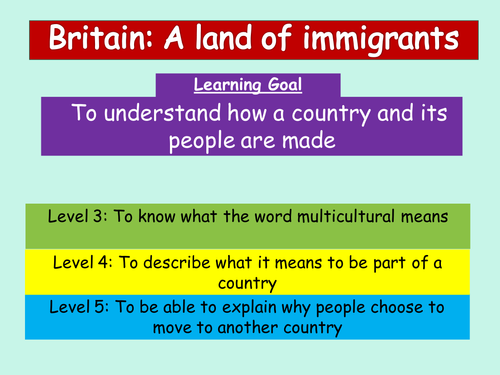 I use this resource whilst teaching about early immigration and why people decide to move from different countries. This lesson can run over 1 or 2 lessons and it thoroughly enjoyed by students. It involves them getting into groups, creating a name for their country, developing a national anthem, creating a flag, presenting their country and then deciding if they would like to emigrate to a different country.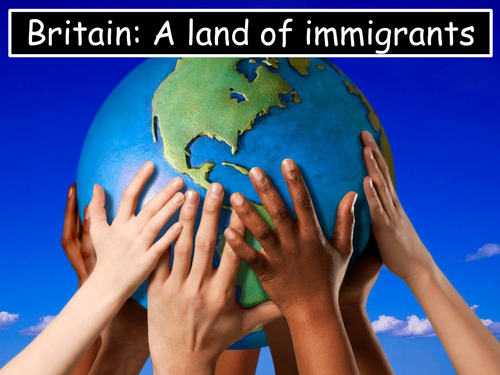 This is an updated SOW that I use to teach KS3. It teaches about immigration and links very well to citizenship. The lessons include early settlers- refugee crisis today. A good SOW to teach if your school teaches migration through time. Lessons include: 1. What does it mean to be British? 2. Why do people move countries? (create your own country - takes 2 lessons) 3. Early settlers- (assessment question included) 4. Other immigrants that came to Britain- (chance to extend and research the Windrush further) 5. Positives of immigration 6. The media and immigration 7. Refugee Crisis- modern day immigration 8. Assessment lesson with prep sheet and mark scheme Enjoy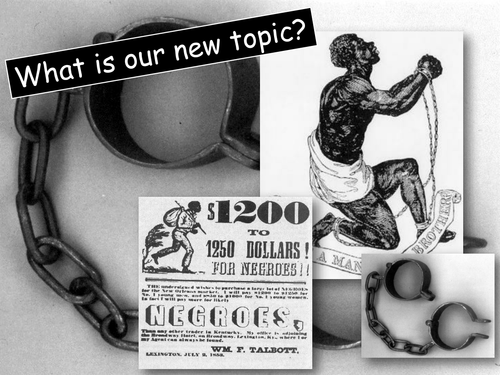 This is a set of resources I use with Year 8 in the Summer term. I have had very positive reviews and Year 8 love to finish the year with this. You will need a copy of 'Roots' DVD to play along side these lessons, however you could use some of the lessons without. Lessons: 1. Introduction to the slave triangle and slave trade 2. Why was slavery allowed? 3. African Culture 4. Capturing Slaves 5. Middle Passage 6. Middle Passage Assessment 7. Auction 8. Role Play auction 9. Slave routine 10. Plantation Life 11. Slave resistance 12. Underground railroad (fun lesson) Enjoy and use as you wish :)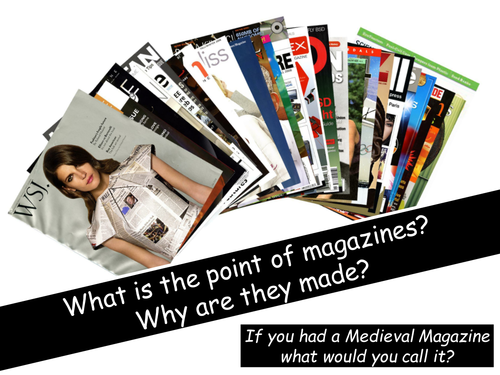 These lessons have been designed for Year 7 Medieval History. This is not a SOW as such, but lessons that I teach throughout the Medieval module. For example, when teaching about Queen Matilda I first teach Medieval women; when teaching the Black Death, I first teach about Medieval Medicine You can use these lessons how and where you would like. The lessons include: 1. Medieval towns- I use this at the beginning of the Medieval module before I teach about 1066 and Hastings as an introduction 2. Medieval villages- I use this at the beginning of the Medieval module before I teach about 1066 and Hastings 3. Medieval Fun- I use as a one off fun lesson 4. Medieval Church/ religion - I use this before I teach about Henry II and Thomas Becket 5. Medieval Women - I use this PP before I teach about Queen Matilda 6. Medieval Medicine- I use this before I teach about the Black Death 7. Medieval Law and Order- I use this before I teach Henry II 8. Medieval Food Enjoy and use as you wish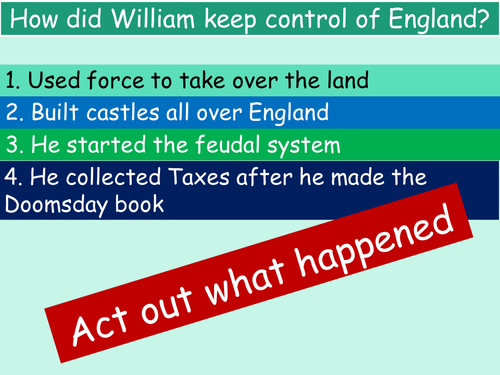 This is a set of resources designed for Year 7 any ability. All lessons have been differentiated for top ability and for SEN groups. This includes: 1. What is a castle? What were the first types of castles? 2. Where should castles be built? 3. How to attack and defend a castle? 4. How did castles affect England? - source work lesson 5. Marshmallow challenge 6. Project- 6 week project booklet My year 7 students have thoroughly enjoyed these lessons- in particular completing the castle History challenge at home :) Use as you wish and enjoy!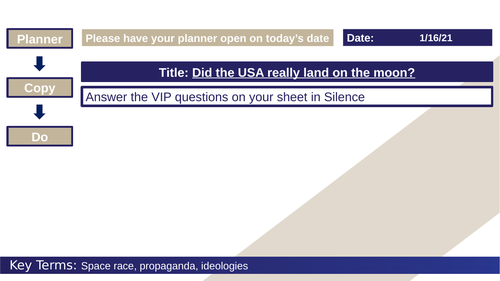 This is lesson 8 of the KS3 Year 9 Cold War SOW that I have designed. During this lesson students investigate using evidence if the USA really did land on the moon or not. There is no need to use any textbooks, all resources are provided at the end of the PP to print. I hope you enjoy. Please find the other lessons in my shop :)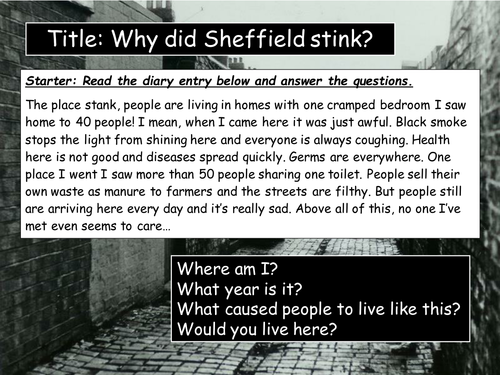 This is a set of resources used to teach medicine during the industrial revolution. Enjoy and use as you wish. This timeline is ideal for a History classroom- it is 65 pages long and fits all the way around my walls in my classroom. Enjoy and use as you wish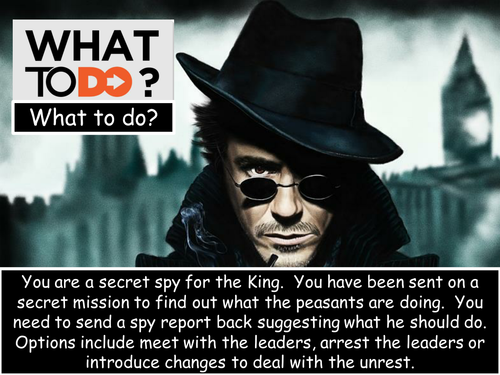 I use this PP over two lessons to teach about the story of the peasant (not so peasant) revolt.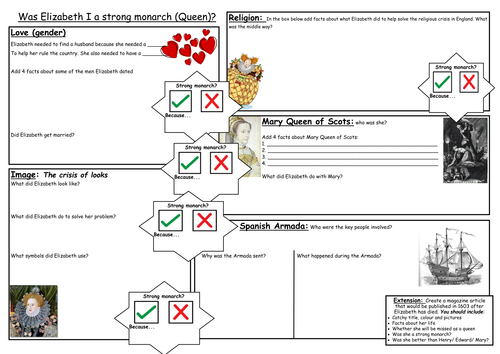 Elizabeth revision sheet and assessment lesson, wish SEN alternatives and help sheets. The assessment title is: 'Elizabeth was a strong Monarch' Do you agree or disagree with this statement? The A3 conclusion sheet allows the students time to get ready for their assessment and revise. If interested then please see all of my Elizabeth resources for sale in my shop. Enjoy and use as you wish.