Miss Anderton
Resources for Design Technology (Graphics and Product Design) Resources for A Level Graphic Communication (Art & Design AQA)
18Uploads
9k+Views
667Downloads
Resources for Design Technology (Graphics and Product Design) Resources for A Level Graphic Communication (Art & Design AQA) Examples of A Level Graphic Communication work. Photographs from the end of year exhibition Photographs of an A* (full marks) portfolio of work. Exemplar folder for A Level and As Level Art Communication: Graphic Design Showing page layouts AO1,2,3,4 - research, experiments, development, refinement, final posters and products. A* Grade.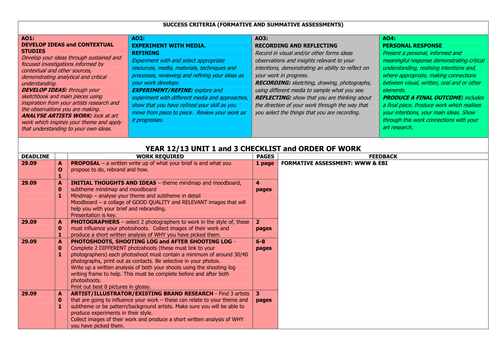 Sheet used for assessment using A01/2/3/4 Folder order and what to include Success Criteria I place this at the front of each students sketchbook to use as a reference point and to give formative WWW and EBI feedback.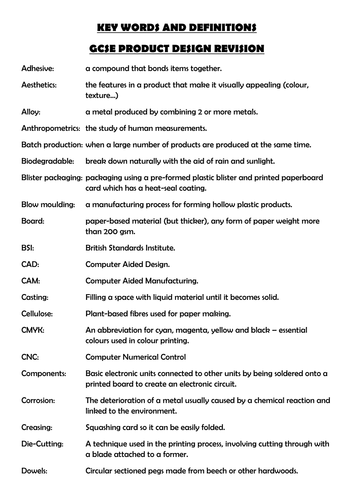 A list of key words used in Design Technology and Product Design that can be used as a revision aid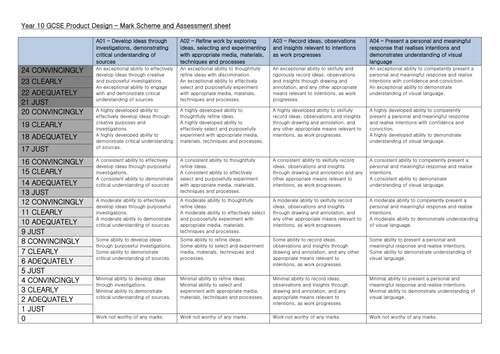 Using this as my assessment sheet for Art and Design GCSE Using the mark scheme Space given for formative feedback and final marks Section A of the Product Design exam Moodboards for inspiration 3 AQA Exam style practice questions for Section A 1. Packaging powerpoint - symbols found on packaging 2. Match up symbol and definition worksheet/exercise 3. Definitions worksheet 4. Packaging logo/symbol development worksheet Complete unit of work. This is a mini Product Design/Graphics project where students look at existing work of a designer, complete plastic theory, specification, design ideas in the style of Jon Burgerman, assessments/tests, plan of making, evaluation. Project is designing a Jon Burgerman inspired keyring from acrylic. Resources include: 7 week/lesson Scheme of Work Lesson by lesson Powerpoint presentation Jon Burgerman artist profile sheet Student workbook for each lesson Front cover assessment sheet - used for marking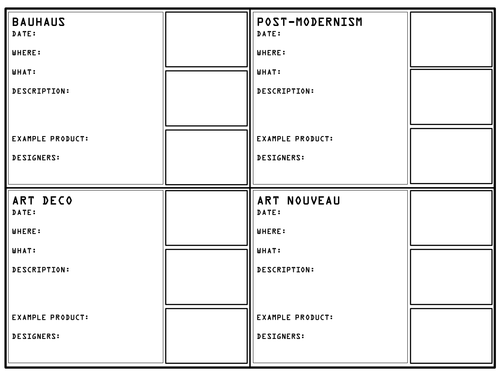 Revision lesson on 4 key Art and Design Movements Art Deco, Art Nouveau, Bauhaus, Post-Modernism Using videos from Youtube and worksheet to complete that runs alongside with a match up image exercise GCSE Exam practice questions included Completed worksheet as reference included Topics covered: Paper and board Printing methods Timber materials Joining techniques Plastic - forming and stock forms new and smart materials modern materials packaging human factors product evolution CAD/CAM sustainability Conrete examples of: 2D Design page layout How to vectorise an image How to add text How to send to Lasercut53 Step by step images with written instructions Moodboards on the following theme topics to be used as visual displays and inspiration Childrens illustration book, festivals, drinks branding, wallpaper, homewear/interiors, greeting cards, programmes/tour guides, stationary, games, underwater, ice cream, food/restaurants, wedding, calendars A4 revision sheets on the following topics: Evolution of product design Human factors (ergonomics, anthropometrics) Packaging and the environment Labelling Paper and card Timber and manufactured boards Plastics Forming and bending Ergonomics and Anthropometrics lesson Powerpoint included Worksheet included Used at GCSE Product Design