COMPUTER SCIENCE SHOP
Computer Science Resources
56Uploads
19k+Views
688Downloads
Computer Science Resources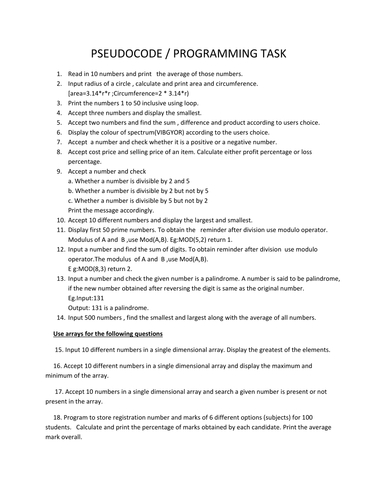 TASK SHEET WITH PSEUDO CODE / PROGRAMMING QUESTIONS. CAN BE USED AS AN ASSIGNMENT OR AS HOMEWORK. IT WILL HELP THE STUDENT TO REINFORCE THE PROGRAMMING CONCEPTS.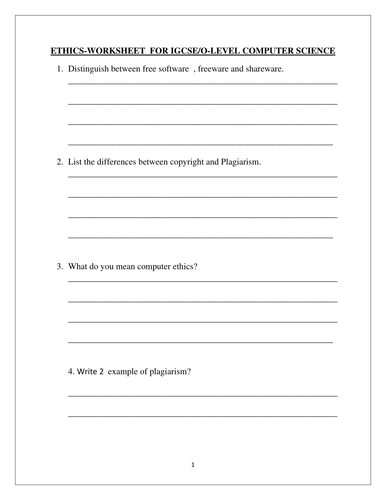 ETHICS-WORKSHEET FOR IGCSE /O-LEVEL COMPUTER SCIENCE. Includes copyright,plagiarism,ethical issues raised by the spread of electronic communication.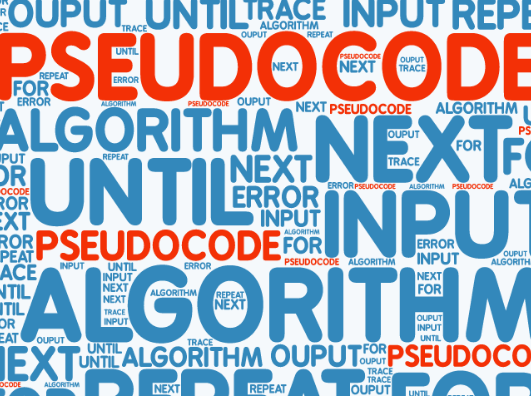 INCLUDES HANDOUT, BUILD UP EXERCISE TO WRITE PSEUDOCODE , ASSIGNMENTS , HOMEWORK TASK ,COMMON PRE-RELEASE BASED QUESTIONS ETC .SUITABLE FOR IGCSE / O -LEVEL COMPUTER SCIENCE PAPER 2.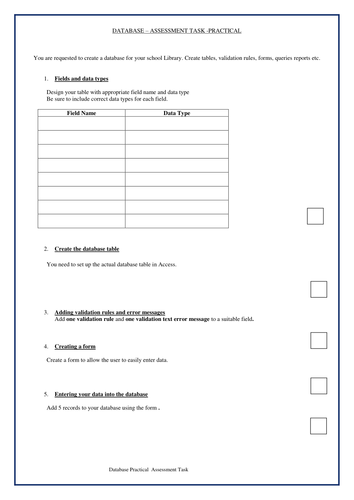 DATABASE PRACTICAL ASSESSMENT TASK FOR YEAR 7/YEAR 8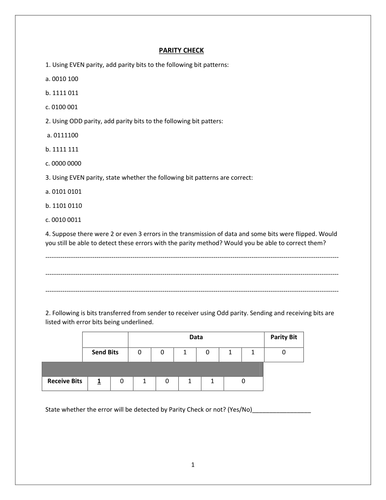 REVISION/ HOMEWORK TOOL FOR THE UNDERSTANDING OF PARITY CHECK METHOD FOR ERROR DETECTION.POSSIBLE EXAMINATION PATTERN QUESTIONS INCLUDED.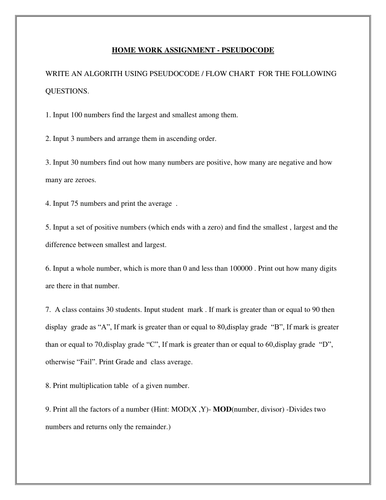 PSEUDO CODE HOMEWORK ASSIGNMENT SUITABLE FOR IGCSE COMPUTER SCIENCE.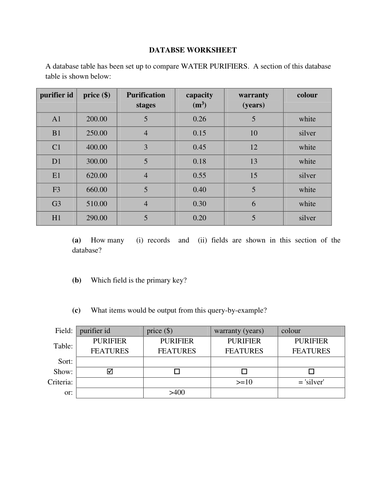 Database worksheet -IGCSE / O LEVEL Computer Science.It can be used as homework task or as a class activity or as an assessment .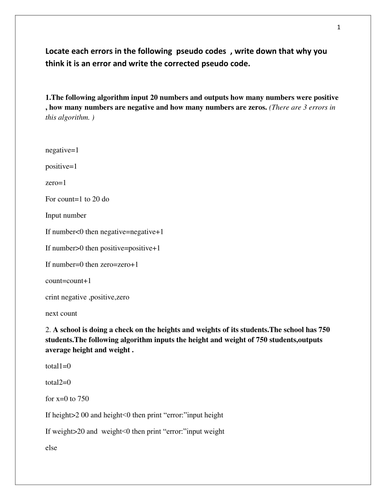 IGCSE/O LEVEL COMPUTER SCIENCE. Locate error in the pseudo codes , write down that why you think it is an error and write the corrected pseudocode.

SUITABLE FOR IGCSE / O LEVEL COMPUTER SCIENCE AND IGCSE -ICT. CAN BE USED FOR KS3 .INCLUDE BOTH THEORY AND PRACTICAL TASKS.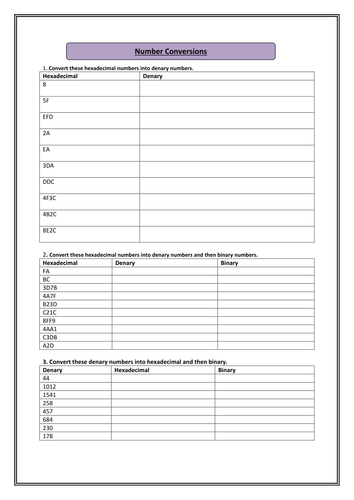 Number conversions.Convert hexadecimal numbers into denary numbers. Convert hexadecimal numbers into denary numbers and then binary numbers. Convert denary numbers into hexadecimal and then binary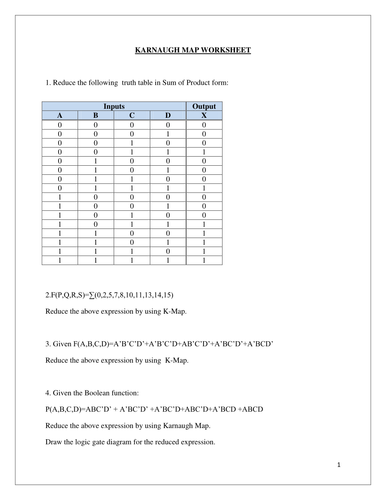 Solve binary logic problems using Karnaugh Maps -With Solution. Suitable for A-Level Computer Science(9608). Can be used as homework or as class activity.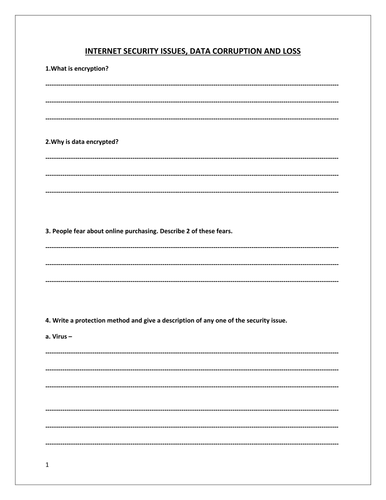 Internet security issues ,Encryption ,Compression and Data security -IGCSE/O Level Computer Science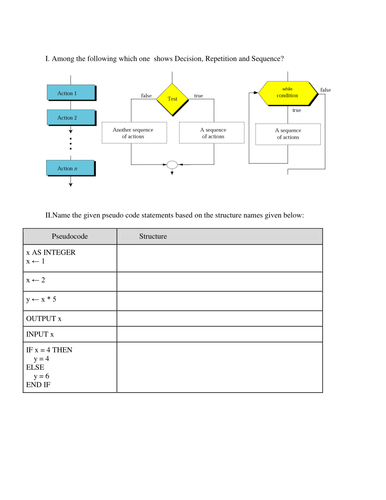 A build up exercise to learn and understand how to write algorithm and pseudo code.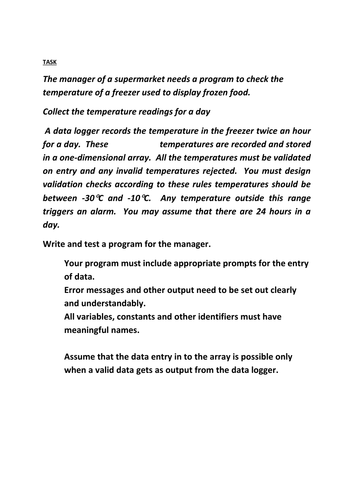 A handout cum worksheet , to help your students complete tasks from a sample pre-release material, in the programming language of student's choice.Starting from very basic steps to development of code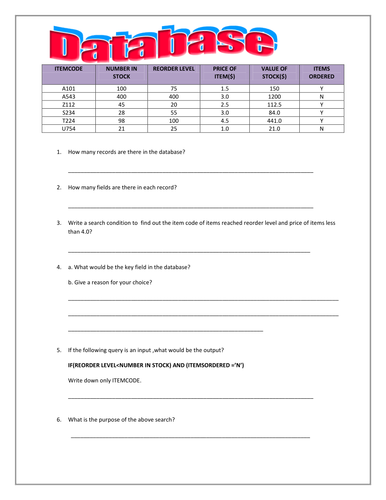 DATABASE WORKSHEET SUITABLE FOR IGCSE / O LEVEL COMPUTER SCIENCE TO REINFORCE THE CONCEPTS .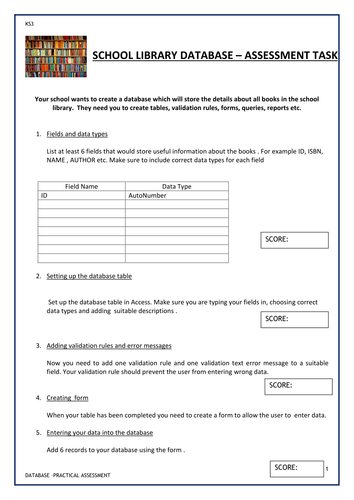 ASSESSMENT FOR PRACTICAL-DATABASE APPLICATION SUITABLE FOR GRADE 7 OR 8.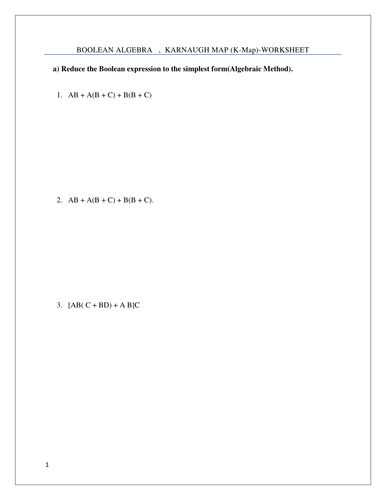 BOOLEAN ALGEBRA AND KARNAUGH MAP (K-MAP) HOME WORK ACTIVITY WORKSHEET.SUITABLE FOR A LEVEL COMPUTER SCIENCE. ANSWERS ARE NOT INCLUDED.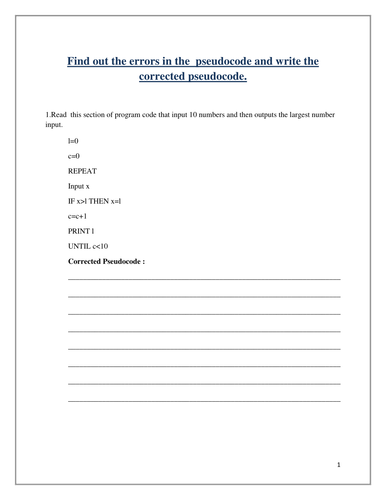 An activity worksheet to spot the errors in the pseudocode and write the corrected pseudocode. Suitable for improving the knowledge of programming concepts.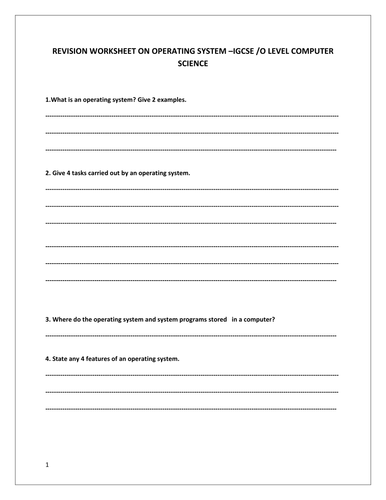 A worksheet on operating system,compiler,interpreter,interrupt,high and low level languages etc.