Karenanneandrews's Shop
KS3, GCSE & A level resources
7Uploads
2k+Views
218Downloads
KS3, GCSE & A level resources
GCSE ASSESSMENT OBJECTIVES/MARK SCHEME (AQA) IN STUDENT FRIENDLY LANGUAGE WITH 2018 GRADE BOUNDARIES. USEFUL TO KEEP IN FRONT OF SKETCHBOOKS TO REFER TO WHEN MARKING/DISCUSSING WORK IN PROGRESS.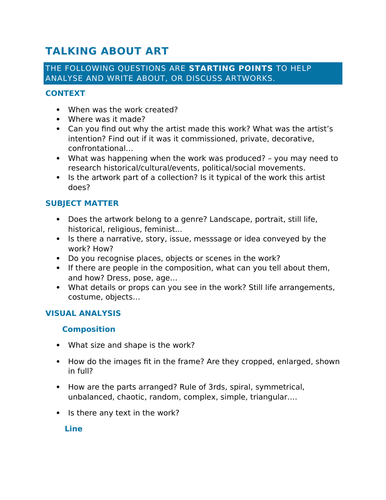 A series of questions and prompts to support critical studies and literacy links in Art. Can be used to aid discussion or to annotate sketchbooks. Key vocabulary throughout. Can be used throughout the key stages, including A level.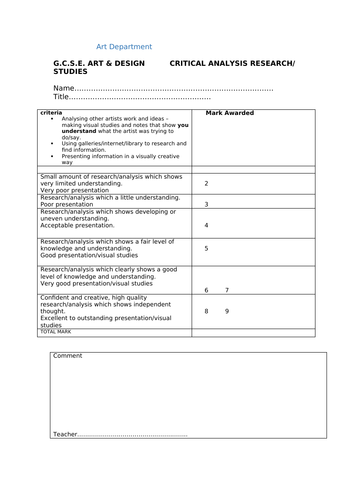 Mark sheet for written analysis at GCSE linked to mark criteria (AQA) and space for individual feedback to the student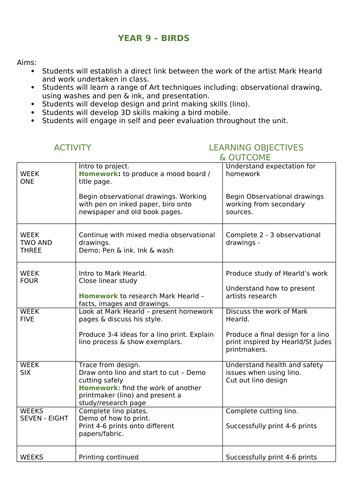 Full term's Scheme of work, resources and Powerpoint presentation. Drawing, designing, research and linoprinting
1 LESSON WRITTEN AND DRAWING SKILLS/BASIC KNOWLEDGE TEST FOR NEW INTAKE
Suggested framework for a 'foundation skills' scheme of work based on Natural forms. Initially teacher led, will guide students through a range of techniques and materials leading to an independently developed outcome. Includes powerpoints on artists. photography & printmaking and essay advice and assessment sheet. Can be easily adapted to your facilities/materials you have available in your department.