26Uploads
10k+Views
10k+Downloads
Expressive arts and design
A one off lesson that could be set remotely or for homework where students create and film an original monologue for an inanimate object of their choice! This pack includes: A powerpoint for the lesson A students worksheet An example video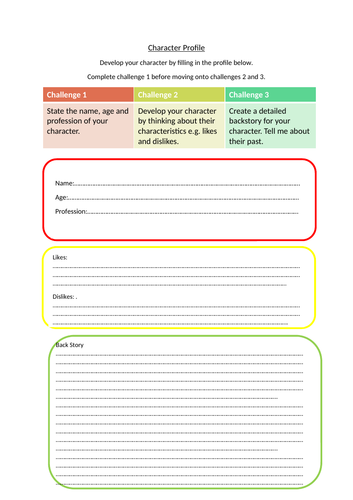 The resource is designed for Key Stage 3 but could also be used by GCSE Drama or Performing Arts student as a way of creating or developing a character.
A skills audit that students can use to review their musical theatre skills at the beginning and end of the unit.
A skills audit for BTEC Level 3 Performing Arts Choreography for Live Performance. Students can use the document to review their skills at the start and end of the unit and to help them create targets to work on throughout the unit.
2 skills audits for Dance and Acting students (seperate audits for each discipline) to reflect on their skills at the start of the unit. Students can use this to help them identify long term targets to work on as part of the units. Students could reflect on their skills level a the end of the unit using the same template.
This is a Drama scheme of work that is designed for Key Stage 3 Drama students who are working in classrooms to complete whilst sat at a desk. This has been created in response to the Coronavirus pandemic. This pack explores the idea of Crime and Punishment through the use of still image, thought-tracking, Teacher-in-Role, dramatic monologue, flashback and flashforward. Students also have the opportunity to develop their knowledge of different types of crime today and Medieval Crime and Punishments. This pack could also be used as cover work by non-specialists when the regular teacher is absent. This pack includes: A scheme of work overview 6 PowerPoint lessons A student booklet for all theory tasks 2 x homework tasks
This resource has been created during the Coronavirus Pandemic and is designed for students to complete during lockdown or whilst they are isolating and working from home. This pack contains 6 lessons including an end of unit written assessment. Each lesson contains a PowerPoint and corresponding worksheet covering a range of dramatic skills, elements and techniques including; still image, creating and performing a dramatic monologue, flashback and flashforward and thought-tracking. These lessons would also be suitable for students who have been set out of a lesson to complete elsewhere or to be used as high quality cover work when the usual classteacher is absent. Some of the lessons require students to have access to the internet - however you could supply them with some news paper articles or printed information from the internet instead.