Kburgess88's Shop
| Art & Design Teacher | 11 years in Education |
15Uploads
914Views
123Downloads
| Art & Design Teacher | 11 years in Education |
This is a resource that I have used for both homework and in class - could be idea for remote learning also. This activity is based on the amazing book - Invisible Cities by Italo Calvino. This activity uses an extract from the book and students have to draw a response based on the description. The city I chose for this activity was Zenobia (this extract is available online) but this could be adaptable if you have the book and wish to study another city. I have also included starting points for students, which I have used. I used this activity as part of my year 8 architectural facades project. I have had some incredible responses from this activity!
ACCESS FM Poster on things to consider when analysing a product or creating a design specification. Suitable for years 7-13 .
I used this worksheet for class and remote learning. Gives a step by step guide to allow students to create a response to Jasper Johns Work.
Teachers' standards folder dividers for your folder of evidence. Perfect for trainee teachers.
This activity is designed to allow students to observe their surroundings in an interesting way. Students are tasked to find letters during a walk or around their home to see if they can make a digital collage of their name using the photo's they've collected of letters. This can be used for Remote Learning or as Homework.
Worksheet can be printed onto cartridge paper for students to paint. I do this alongside my year 7 classes and works really well as an introduction to colour mixing.
This hand drawn "Catch it, Bin it, Kill it" poster is a good little reminder for basic hygiene at this crucial time.
Ideal for secondary teachers to have to had for quick note taking. Ideal for virtual and face to face setting.
Coca-Cola Observational Drawing Pop Art that is ideal for cover or homework. Includes self assessment (WWW & EBI).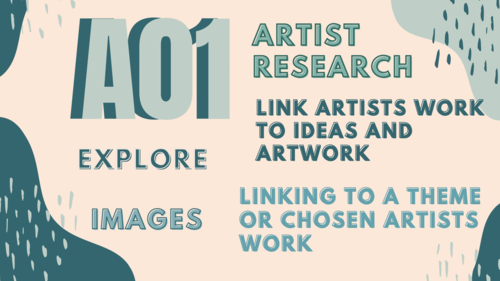 Simple design with key points for each Assessment Objectives.
Ideal use for GCSE Art students who are at the start of exploring a theme. Can be used to create a rough draft before committing to sketchbooks/presenting.
I use this worksheet when introducing/recapping tone. Can be printed and presented into sketchbooks so students can continue to refer too.
I put this resource together for the purpose of homework. Students need to read through the example of how to "read a portrait" and then complete their own.
This booklet can be used in the classroom or for online learning. It covers a range of skills and techniques from mark making, observational drawing skills and watercolour techniques.