PassionFruit Educational
Educational Resources from a teacher of 30 plus years in a wide variety of subject areas and age groups
131Uploads
27k+Views
1k+Downloads
Educational Resources from a teacher of 30 plus years in a wide variety of subject areas and age groups

This worksheet engages students in researching musical terms, the history of the electric guitar, a band of the 60's or 70's, and a band of their own era. The completed research is to be compiled in a Powerpoint presentation. There is also a design task which involves creating a CD cover for a band (real or imagined). Suitable for stage 4 music students - NSW Curriculum - Australia.

These are the instructions for building a toy car out of soft pine offcuts. They can be used as a teacher reference or handed out to students as a project worksheet. There are also instructions on the blind nailing technique of joining.

A two page internet research task in printable A4 pdf format. Designed as a full lesson handout this looks at Child Labour during the Industrial Revolution - Stage 5 History - Australian Curriculum.

Four pages of templates for creating and writing about Super Heroes and Villains. Each page has a watermark figure (1 each female hero and villain and male hero and villain) that students can drawn over and colour to create their own comic book character. There is also a section for the student to name and describe their character (hints given) and to write a short story with that character in it. Suitable for upper primary and middle school classes as an exercise in character development for story writing in English or an Art lesson that engages students in writing as an aid to visualization of ideas. Please complete a review if you find this resource useful.

This 7 page handout details the requirements for the HSC Multimedia - Project Management Folio. The author's experience as both a teacher and a HSC marker in this course have been used to provide clear and practical advice to students on the production of this mandatory document. A template for the Timeline component is also provided in xlsx format.

3 simple and fun tasks to get your students creating art on computers without the need of additional expensive software. These activities utilise the drawing tools in Microsoft Word and are designed with students in middle school in mind. If you are an 'old school' art teacher who needs to incorporate IT in your teaching program these simple exercises are a great way to start.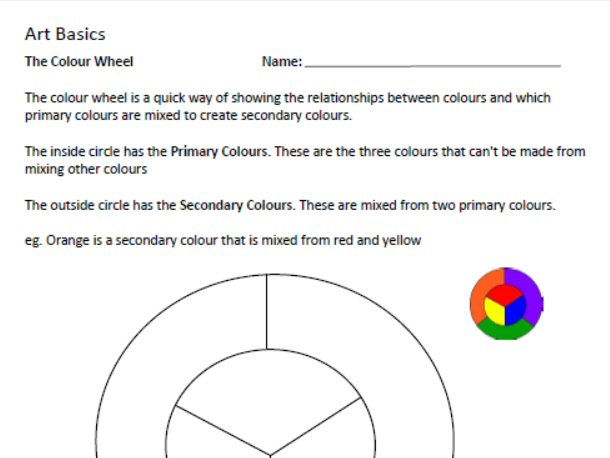 This worksheet explains primary, secondary, contrasting and harmonious colours and uses a colour wheel template for practical assessment of the understanding of these concepts. It is provided in both A4 and A3 formats.

Complete step by step instructions for drawing a wooden box with a hinged lid in 3D using Sketchup Make (Freeware). This resource is an ideal introduction to using the software for project visualization in STEM and mandatory and elective technology courses. The full colour pdf can be supplied to students as a printed handout (not so eco-friendly at 6 pages) or as a digital file for self pace learning. It can also be displayed on a screen for use in more formal teacher directed instruction and includes a number of extension activities

Sweet Home 3D is free software that allows the user to design and furnish buildings in 3D. This resource introduces students to the software and its use through practical exploration. Designed with middle school STEM, high school mandatory technology, and elective design and technology classes in mind, the print ready instructions and practice task are suitable as handouts for self paced learning or as a teacher resource for more formal instruction.

Two pages of practice sheets and answers for students completing the Year 7 and 9 Naplan testing in English. This resource focuses on Language Conventions - Spelling (Find Mistakes)

This resource focuses on Language Convention practice for the years 7 and 9 NAPLAN in English and covers contractions, homophones, past and present tense and spelling. The spelling resources include respelling of identified misspellings and identify spelling mistakes and making corrections.

Suitable for stages upper stage 4 and stages 5 and 6 English classes, this comprehension resource includes a black comedy science fiction short story and a set of comprehension questions for group discussion and interpretation. It is provided in both pdf and editable docx formats. The resource author's original short story is about a call centre operator who encounters a client well beyond the job description's ability to deal with.

Are you an 'old school' art teacher who needs a cheap and easy way to get your art students started in computer graphics? Try this simple tutorial out for yourself or use it as a worksheet. See also 'Drawing in Microsoft Word - The Basics' by the same author.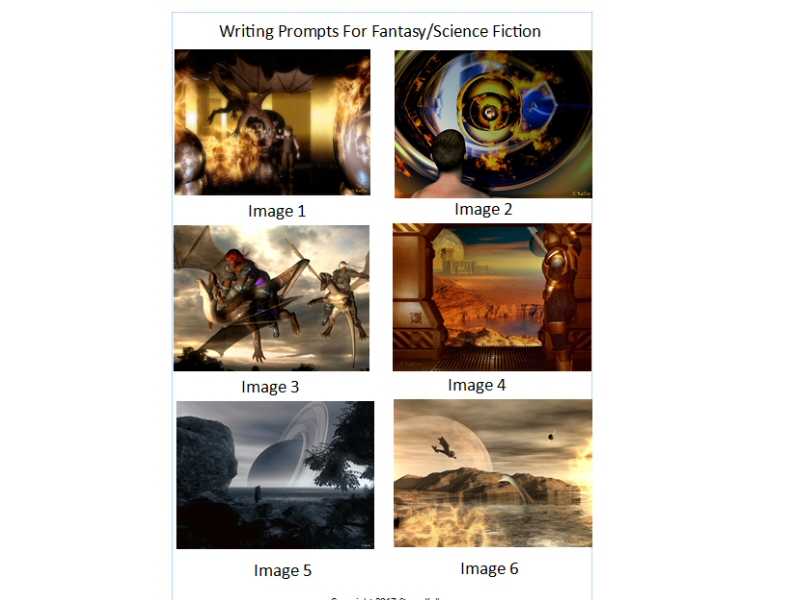 This collection of twelve, full color, original digital artworks on two A4 pages is designed to inspire students to write creatively in the Fantasy/Science fiction genres. The pages can be printed as handouts for individual students or projected on a screen for whole class viewing. Individual images can also be used as a resource in developing student skills in interpreting visual texts (Australian Curriculum) Please complete a review if you find this resource useful.

This original short play (approximately 20 minutes) is a parody of the popular Lord of the Rings books and films. It has 12 speaking parts and roles in sound effects, sound mixing and lighting. As the title suggests it is designed as a radio play in the style of the Goon Shows. This allows students to practice voice production, characterisation comedic timing and live performance without the need for learning lines or creating costumes or stage settings. It is suitable for use with Elective Drama classes (NSW BOSTES Syllabus) or the Drama component of Junior High School English. If you find this resource useful please complete a review.

This two page introduction to Sewing for Mandatory Technology (NSW - Australia) classes includes a close passage, Internet research and sketching activities. Please complete a review if you find this resource useful.

These worksheet activities involve students researching software licencing classifications and examining the related ethical issues. Designed for NSW senior computing courses such as IPT, SDD and Industrial Technology - Multimedia Industries, the 3 pages of this activity explore definitions of freeware, shareware and open source software etc. and engage students in thinking critically about software piracy, intellectual property, cracking etc. The study of ethics in relation to computing technologies is a mandatory requirement in all the approved NSW BOSTES computer and technology syllabuses. The completed worksheets could also be used as a quick reference for the ethics component of senior exams in computing.

A worksheet and answers for students completing the Year 7 and 9 Naplan testing in English. This resource is a practice sheet focusing on Language Conventions - Homophones.

This middle school science practical activity worksheet engages students in preparing Mixtures, Solutions and Suspensions and then recording (through drawings and text) and analyzing their observations.

This video was created to compliment a gallery exhibition of works by the author created using Bryce 3D. It briefly explains how this software can be used to create virtual worlds. Detailed video and paper based tutorials on the use of the software for visual arts and multimedia classes are available for purchase from this author's shop at https://www.tes.com/teaching-resources/shop/kellyocs.