PassionFruit Educational
Educational Resources from a teacher of 30 plus years in a wide variety of subject areas and age groups
125Uploads
12k+Views
723Downloads
Educational Resources from a teacher of 30 plus years in a wide variety of subject areas and age groups

Instructions for creating an Australian Aboriginal style 'Dot' painting using the drawing tools in Microsoft Word. This resource will assist middle school art teachers in fulfilling the mandatory programming requirements in Visual Arts to do with both the study of Indigenous Australian Art and the use of Computing Technologies in Visual Arts (Australian Curriculum). It can be presented as a hand out for self-paced learning or kept by the teacher as a resource for guided instruction. The sample image in pdf format for digital display is also included. Please complete a review of this resource if you have found it useful.

This worksheet engages students in researching musical terms, the history of the electric guitar, a band of the 60's or 70's, and a band of their own era. The completed research is to be compiled in a Powerpoint presentation. There is also a design task which involves creating a CD cover for a band (real or imagined). Suitable for stage 4 music students - NSW Curriculum - Australia.

This 7 page handout details the requirements for the HSC Multimedia - Project Management Folio. The author's experience as both a teacher and a HSC marker in this course have been used to provide clear and practical advice to students on the production of this mandatory document. A template for the Timeline component is also provided in xlsx format.

This middle school science practical activity worksheet engages students in preparing Mixtures, Solutions and Suspensions and then recording (through drawings and text) and analyzing their observations.

Complete step by step instructions for drawing a toy train in 3D using Sketchup Make (Freeware). This resource is an ideal introduction to using the software for project visualization in STEM and mandatory and elective technology courses. The full colour pdf can be supplied to students as a printed handout (not so eco-friendly at 7 pages) or as a digital file for self pace learning. It can also be displayed on a screen for use in more formal teacher directed instruction.

A collection of work units and resources for Industrial Technology - Multimedia Technologies. (NSW BOSTES HSC Course) This bundle contains enough resources to take your students through most of the Preliminary year of this course.

Editable Assessment Task Notifications and Marking Criteria for the 'What is Multimedia?' practical project and the 'How Did They Do That? Industry Study. The 'What is Multimedia?' complete unit is also available on this site but both task notifications have enough information regarding the Units assessed to reverse engineer them.

This 17 page student workbook is designed as a unit resource for the teaching of Mandatory Technology - Built Environments (Australian Curriculum) It looks at the issues of building for climate and environment and engages students in thinking about and developing their own designs for energy efficient and sustainable housing.

3 simple and fun tasks to get your students creating art on computers without the need of additional expensive software. These activities utilise the drawing tools in Microsoft Word and are designed with students in middle school in mind. If you are an 'old school' art teacher who needs to incorporate IT in your teaching program these simple exercises are a great way to start.

Are you an 'old school' art teacher who needs a cheap and easy way to get your middle school art students started in computer graphics? Try this simple tutorial out for yourself or use it as a worksheet. See also 'Drawing in Microsoft Word - The Basics' by the same author. The actual drawing, in Microsoft Word,created as a demonstration is included in this package.

Four pages of templates for creating and writing about Super Heroes and Villains. Each page has a watermark figure (1 each female hero and villain and male hero and villain) that students can drawn over and colour to create their own comic book character. There is also a section for the student to name and describe their character (hints given) and to write a short story with that character in it. Suitable for upper primary and middle school classes as an exercise in character development for story writing in English or an Art lesson that engages students in writing as an aid to visualization of ideas. Please complete a review if you find this resource useful.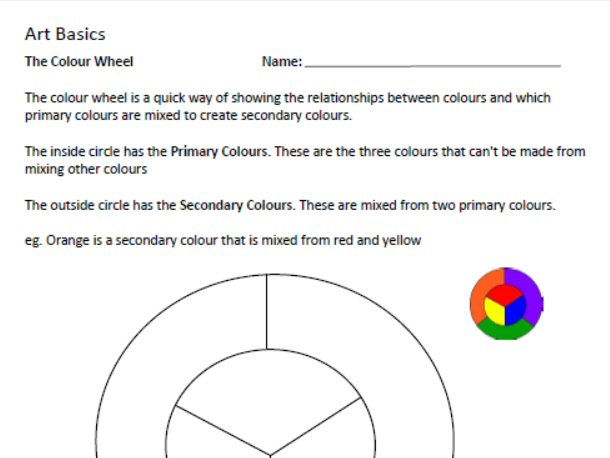 This worksheet explains primary, secondary, contrasting and harmonious colours and uses a colour wheel template for practical assessment of the understanding of these concepts. It is provided in both A4 and A3 formats.

This 2 page handout requires students to research online and write the Italian words for zoo animals, listen to the Italian words, write English phonetic versions of each word and then draw the item. A completed teacher copy and an A3 size colour poster are also included.

A two page internet research task in printable A4 pdf format. Designed as a full lesson handout this looks at Child Labour during the Industrial Revolution - Stage 5 History - Australian Curriculum.

Sweet Home 3D is free software that allows the user to design and furnish buildings in 3D. This resource introduces students to the software and its use through practical exploration. Designed with middle school STEM, high school mandatory technology, and elective design and technology classes in mind, the print ready instructions and practice task are suitable as handouts for self paced learning or as a teacher resource for more formal instruction.

Two pages of practice sheets and answers for students completing the Year 7 and 9 Naplan testing in English. This resource focuses on Language Conventions - Spelling (Find Mistakes)

This resource focuses on Language Convention practice for the years 7 and 9 NAPLAN in English and covers contractions, homophones, past and present tense and spelling. The spelling resources include respelling of identified misspellings and identify spelling mistakes and making corrections.

Suitable for stages upper stage 4 and stages 5 and 6 English classes, this comprehension resource includes a black comedy science fiction short story and a set of comprehension questions for group discussion and interpretation. It is provided in both pdf and editable docx formats. The resource author's original short story is about a call centre operator who encounters a client well beyond the job description's ability to deal with.

This lesson has been written as a resource for the BOSTES Stage 4 History sample unit of work 'The Ottoman Empire'. It engages students in researching and analysing the impact of the Ottoman Empire at its height, the contribution of Suleiman 1 and the hierarchy of Ottoman society. It is presented in both pdf and editable docx formats and a blank template for the mapping exercise is included.

This video was created to compliment a gallery exhibition of works by the author created using Bryce 3D. It briefly explains how this software can be used to create virtual worlds. Detailed video and paper based tutorials on the use of the software for visual arts and multimedia classes are available for purchase from this author's shop at https://www.tes.com/teaching-resources/shop/kellyocs.