Khussain83's Shop
I'm an art and photography teacher and when I'm not teaching I work as a wedding photographer.
38Uploads
25k+Views
10k+Downloads
I'm an art and photography teacher and when I'm not teaching I work as a wedding photographer.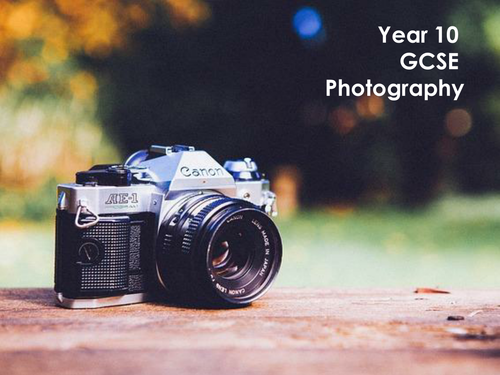 Hello, Please find attached PowerPoints to my schemes of work for Still Life Nature project. Each slides explains the artist and also with WALT and task for students to complete. Furthermore, there are also tutorials on Photoshop for students to follow. All PowerPoints coincide with the schemes of work. Thanks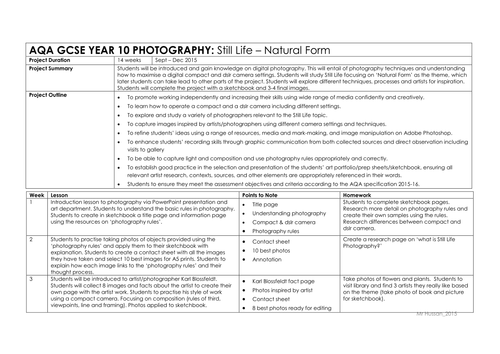 Hello, As part of developing and expanding our art departing and catering for all needs. We started a new course - GCSE Photography to help those who enjoy art/creativity but not the drawing side. We expected one group but we ended up with 3 (not complaining). We've just completed one term with our year 10 and this schemes of work I wrote was a success. As a result of our success, I'm sharing this with you all. If anyone is starting a new course or simply something different then this is for you. It will save you a lot of time and best thing is it worked. It's a 14 week course and this can be easily adapted to your dept/school. PowerPoints are available and will be on a separate advert. "Students will be introduced and gain knowledge on digital photography. This will entail of photography techniques and understanding how to maximise a digital compact camera settings. Students will study Still Life focusing on 'Natural Form' as the theme, which later students can take lead to other parts of the project. Students will explore different techniques, processes and artists for inspiration. Students will complete the project with a sketchbook and 3-4 final images" Thanks!
A simple photo merge tutorial. Please ensure to capture the photos properly in order to achieve a successful photo merge. This is a very simple tool you can use within Photoshop to create it hence the low price.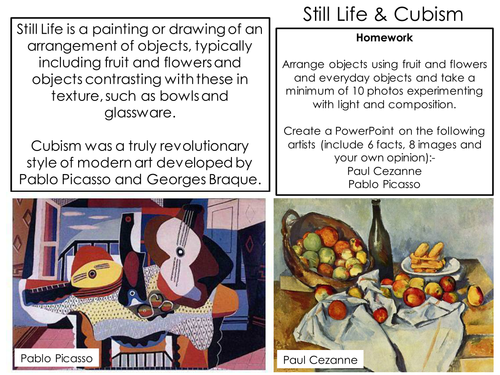 Still Life & Cubism PowerPoints PowerPoints consist of artists research - please see schemes of work
Food Art Project - GCSE This includes a 15 week plan (alter SoW if needed), 11 week PowerPoints and checklist for students to follow with space for marking. Tested with my year 11 classes. It was a great project for students to develop different techniques and capture photographs of food and produce primary observational drawing. Plenty of artists/photographers to be inspired by.
This is part of the Food Project I wrote for my year 11 GCSE Art students. Brief information on the artist Kristina Steinbring. "LO: Develop your observational drawing by focusing on line, proportion and tone."
Currently working on Architecture with our year 9 so heres a tutorial I did with them and the final outcome was a success. It was challenging but the end product was brilliant. The work is inspired by the photographer Simon Gardiner and used one of my photos as part of the tutorial. Students used the marquee tool to cut selections of the building to create a abstract piece of work along with various other tools on Photoshop. "Vortograph: the first completely abstract kind of photograph, composed of kaleidoscopic repetitions of forms achieved by photographing objects through a triangular arrangement of three mirrors."
Double Exposure Tutorial This PowerPoint shows how to combine a portrait and a landscape together inspired by artists/photographer Dan Mountford. Tutorial is based on iMac, however, Window shortcuts are also available on the PowerPoint. KS4 and 5 user friendly tutorial. Trial and tested with my year 11 and 12 class. Thanks,
I have created a Texture Photography schemes of work for year 10. This is to ensure students can access it from home for Remote Learning and use their phone cameras to capture the pictures and also edit the images on free online softwares. There are wide range of artists and photographers in the SoW to keep the students busy. It's a 12-week plan, however you can make it last longer. Resources (PowerPoints) will be made available soon. This project has been successful as students have captured some amazing viewpoints and compositions of texture utilising various 'rules of photography' and displaying dramatic photos from the use of lighting.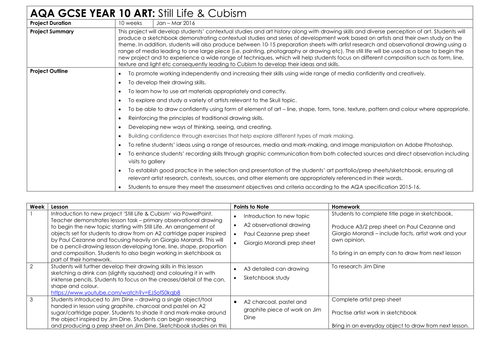 Still Life & Cubism Schemes of Work Successful 10 week plan used with year 10 art group.
I tested this out with my year 11 and 12 and it was very successful. It's a fun way to get students engaged in using long exposure with a dslr camera and get use to using the camera manually. I have put sample works of Michael Bosanko, Eric Staller, Hannu Huhtamo and Dana Maltby for inspiration. Students can begin with investigating couple of the artists for their sketchbooks then use their findings to create their own light painting. The PowerPoint teaches students how to edit their photos step-by-step. In order to achieve the best light painting you will need to slow down the shutter speed, narrow the aperture with a low ISO as you can imagine when the shutter is open for a long period of time, a lot of light will be going in. There is no specific settings to use on the camera and therefore students should experiment with exposure triangle (ISO, aperture and shutter speed) until it is the correct settings (worksheet added to record the settings). Please bear in mind the lens focus must be on 'manual focus' (MF) rather than 'auto focus' (AF) because when it's dark, it will struggle to auto focus. You will need the following: - *DSLR camera (manual focus) *Tripod *lights (phone torch are fine) *Photoshop Hope this helps everyone and have fun!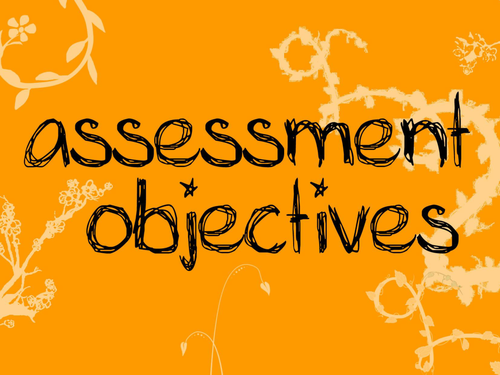 AQA GCSE Assessment Objectives PowerPoint Presentation. Colourful presentation to engage and help students to understand the AO's.
Ronen Goldman - Surrealism Photography Project. Photoshop tutorial on how to create artist inspired work. "LO: Analyse the artist work Ronen Goldman and create a supernatural and surreal piece inspired by the artist"
Tommy Ingberg - Surrealism Photography Project. Photoshop tutorial on how to create artist inspired work. Investigate the artist 'Tommy Ingberg' and apply his artistic technique.
Surrealism Photography - Schemes of Work - 15 week plan Surrealism Photography project schemes of work. Tested with my year 11 classes and it was successful. It was a great project for students to develop different techniques, processes, creativity and complex Photoshop skills. PowerPoints for 12 weeks also included (some plan/PowerPoints is for 2 weeks due to complexity of Photoshop). Plenty of artists/photographers to be inspired by. Checklist for students to follow and space for marking. Alter if needed.
Surrealism Photography Project. Photoshop tutorial on how to create artist inspired work. "LO:Implement the technique used in multiplicity photography in your own work."
This project is to provide GCSE year 9 with basic knowledge on photography and how to use various tools on Adobe Photoshop. Students introduced to a variety of experiences and that explore range of photographic media, techniques and processes. Students will have the opportunity to produce their own photos using a compact and DSLR camera. Students will explore relevant images, artefacts and resources relating to a range of art and to produce contextual pieces of work from their research to show their understanding of artist, photographers and designers. Students will be working independently as well as in groups to help develop their interpersonal skills and sharing ideas. Students would be made aware of the four assessment objectives and marking criteria to ensure they achieve the best possible grades. Students will complete the project and present it digitally on PowerPoint (or in sketchbook) with relevant annotation along with a sketchbook to show their ideas and 3-5 final images. Trial and tested with our year 9 and it was successful. It allowed students to be more confident in using the camera and developed their understanding of photography. Furthermore, students gained basic skills in Photoshop and developed their ICT skills. This includes schemes of work, checklist for students and PowerPoints for each lesson along with Photoshop tutorials. Plenty of contextual studies and it will save you hours of resources. This was our first unit of work with year 9 so if there is any issue then let me know. Thanks and enjoy!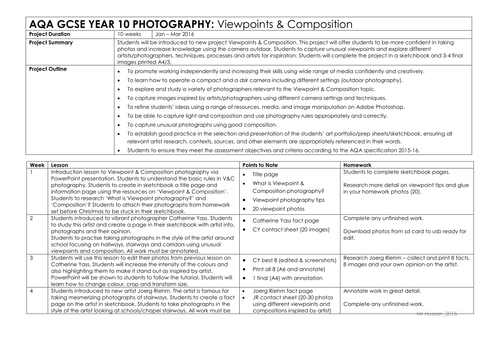 Viewpoints & Composition - Photography - Schemes of Work Successful 10 week plan used with year 10 students. Plenty of relevant artists. Ideal for indoor/outdoor within school environment photography project or first timers. Thanks!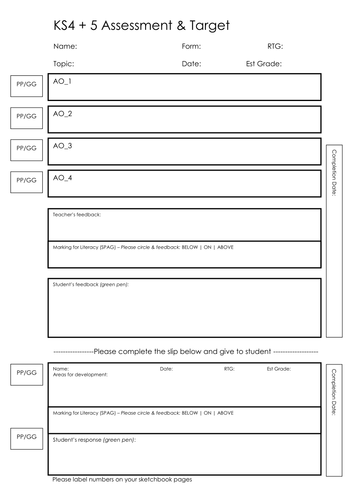 Hello, I've designed a marking/assessment sheet for key stage 4 and 5 for my department. It has space for teachers to feedback on the AQA assessment objectives, teachers overall feedback, literacy in marking and space for students to feedback on. In my school, using perfect pink, growing green is important and teacher dialogue. Top of mark sheet is teachers copy and bottom slip will be students copy to monitor students have met and completed task set. This mark sheet may come handy for some people and also you can amend/alter as you need.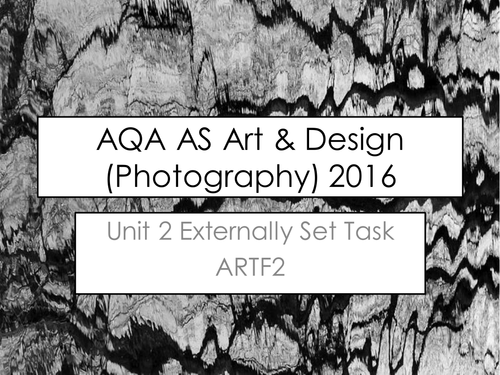 AQA AS A Level Art & Design (Photography - ARTF2) Unit 2 Exam Paper 2016 PowerPoint - hours of artists research. Visually appealing, inspiring and supportive for students - this includes images of artist work and basic info (3-4 artists for each question).