115Uploads
99k+Views
19k+Downloads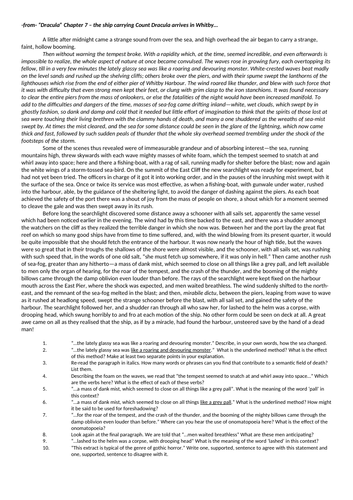 This uses the description from "Dracula" of Dracula's ship arriving at Whitby in the midst of a terrible storm, steered only by a dead man… There are ten questions, focused mainly on the writer's methods and their effect. This would be useful as a cover activity or for homework as part of a unit on gothic horror. Alternatively, the questions could be used to structure a guided reading session.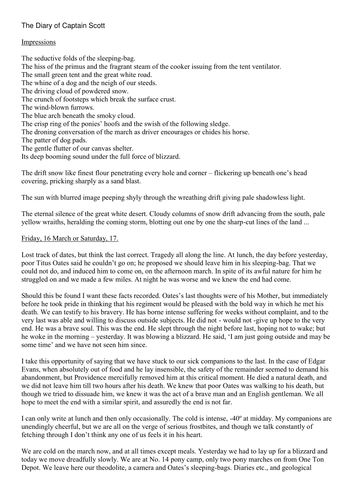 Created for my year nine group as part of a non-fiction SOW on journeys, this uses Scott's diary and focuses on the pupils using their skills of inference to link Scott's feelings to his use of language. The lesson culminates with the writing of a P.E.E response.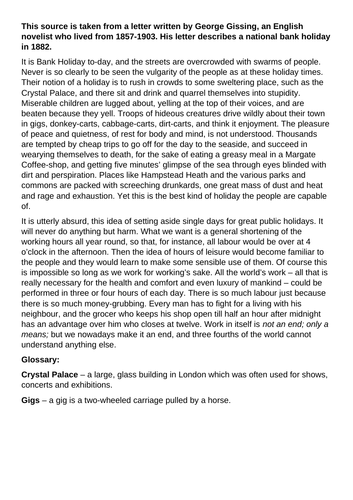 This is a straightforward comprehension activity using an excerpt from George Gissing's letter in which he airs his views about bank holidays. There are 12 questions, answering which will ensure that the student thinks about Gissing's viewpoint and the effects of the methods used to express this viewpoint. Could be used for homework or set as cover. Alternatively, the questions could be used to structure a guided reading or a revision session. Straightforward enough to be set for home learning.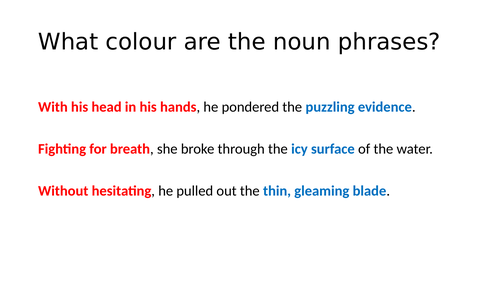 Planned for a year 8 class, this lesson takes as its central idea Holmes's comment at the end of "The Adventure of the Speckled Band" that, 'I am no doubt indirectly responsible for Dr. Grimesby Roylott's death, and I cannot say that it is likely to weigh very heavily upon my conscience.' After a recap of what's meant by a noun phrase, pupils are directed to choose adjectives to develop nouns from the story into emotive noun phrases, thereby building a word bank. They then use their word bank in developing Holmes's sentence into a speech to Watson in which he expands and develops his viewpoint.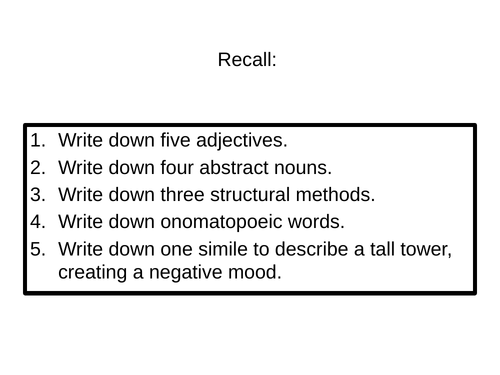 This is a 30 slide powerpoint (intended to go across more than an hour!) planned for a year 11 group who are lacking in confidence. The texts used are excerpts from "Frankenstein" and "Dracula" (older texts than would be used in the exam, but not infringing copyright!) and the focus on reading is interspersed with some recall questions focusing on writing as well as a short writing task based on an image. Modelling is used prior to asking students to tackle questions independently. There are two examples of question 1 (information retrieval). Easily editable so that you can remove/add slides to increase the level of challenge for your own class. My intention was to ask students to glue into their books the shorter extracts which is why they appear at the end of the ppt for ease of printing. The longer extract from "Frankenstein" is a separate Word document.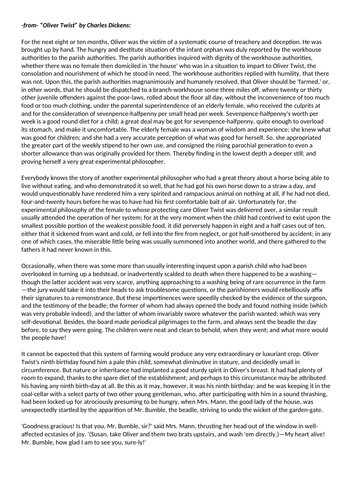 Planned for a year 8 class but also suitable for year 9, this is a lesson as part of a SOW on Charles Dickens. It asks the pupils to focus on establishing the writer's viewpoint and begins with some context on the deplorable practice of baby farming. There is an image to generate understanding and ideas, followed by a non-fiction text from Benjamin Waugh (the founder of the NSPCC) in which he exposes and denounces baby farms. This text is studied in two sections. Once the pupils have worked through these texts and got an understanding of context and of viewpoint (Waugh's writing is highly emotive and very scathing) they are then given an excerpt from "Oliver Twist" describing the parish farm run by Mrs Mann. The lesson culminates with the pupils being asked to identify Dickens's viewpoint and then explain how the methods that he uses help to communicate that viewpoint. There is paired work and questioning along the way to get the pupils to this point.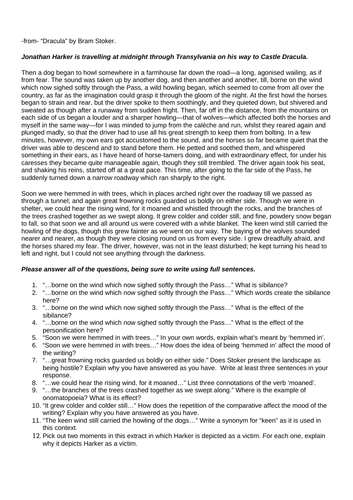 The extract used is the description of Jonathan Harker's journey towards Dracula's castle. There are 12 questions focusing mainly on the writer's methods and their effect. Useful for homework or as a cover activity. Could also be used to structure a guided reading session.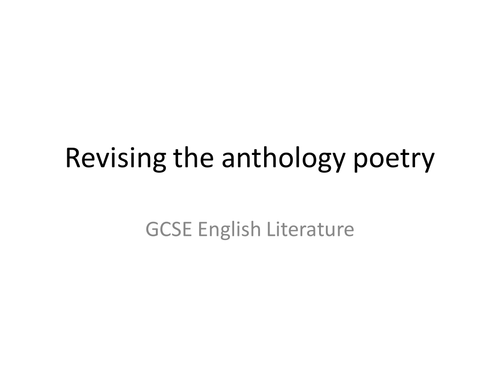 My students' mock revealed that they were not planning their answers - and that they hadn't got to grips with the need to compare. This ppt was planned to address both of those weaknesses, asking them to think about the most effective choice of poem for the comparison and trying to encourage them to use a double bubble map as part of their planning.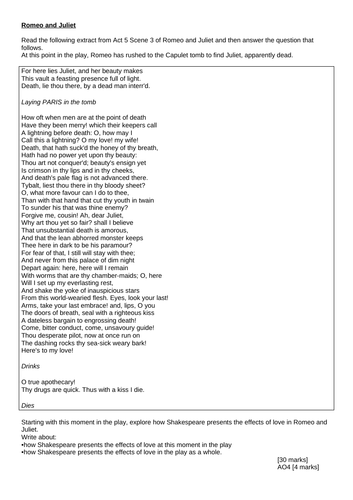 Made for my class as part of their revision, this extract is longer than they'll have in the exam - to give them more scope for choosing evidence - and is Romeo's long speech as he enters the Capulet tomb. The question, divided into two bullets as in the exam, asks the students to focus on Shakespeare's presentation of the effects of love.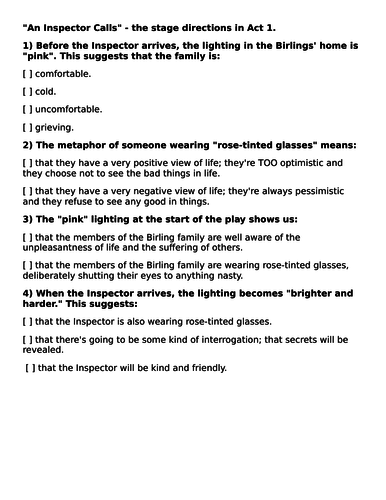 Prior to using this lesson, my class had watched the BBC adaptation of "An Inspector Calls" so already had knowledge of the plot and a basic understanding of the roles of the characters in terms of Priestley's intentions. Watching the adaptation first worked really well in my 4/5 target group. This is a short lesson (only 8 slides on the ppt) together with a multiple-choice quiz focusing the students on Priestley's use of stage directions in "An Inspector Calls". The aim of the lesson is to draw inferences from Priestley's stage directions. For more able classes, the multiple-choice quiz could be used prior to the lesson to identify gaps in the students' understanding so that subsequent teaching can be very precisely focused. With my own class (targets 4 and 5), I used the powerpoint first and then set the quiz as homework for consolidation and a little extension of knowledge. If you find either aspect of this resource useful, I would very much appreciate you taking the time to leave a review.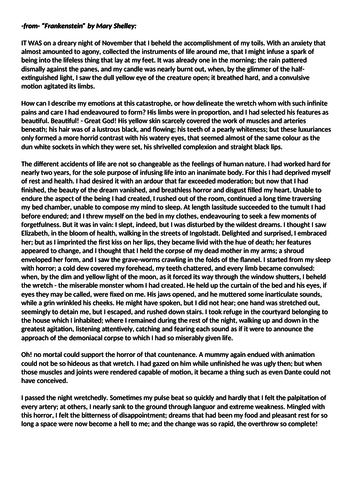 Created for a less confident year 11 group in the run-up to their first mock exam, this powerpoint makes it clear and explicit which skills are tested and required to answer question 4 on paper 1. The lesson walks the students through those skills and culminates in a model (if one is needed). The text used is from "Frankenstein".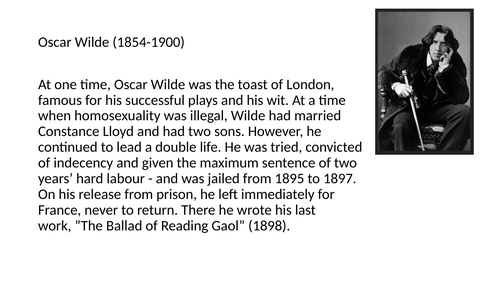 This lesson uses four stanzas from Oscar Wilde's "The Ballad of Reading Gaol". In these stanzas, there is a very clear, critical viewpoint about the prison system and its impact. The stanzas contain a wealth of language methods which should enable less confident pupils to find something to explore and give more confident pupils the opportunity to link ideas. Planned for a year 9 class to build and hone the skills of analysis of previously unseen poetry, this lesson uses close questioning and modelling to support the pupils in a response to a question requiring analysis of the writer's methods. The wording of the question echoes the question to be found on AQA's English Literature GCSE Paper 2. Slide 3 of the ppt can be used as a printable.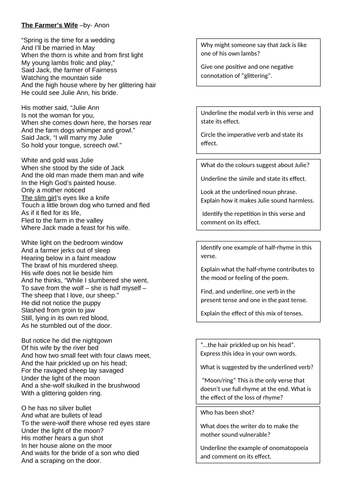 This is a straightforward worksheet. It uses the narrative poem, "The Farmer's Wife" and there are questions alongside each verse. These questions could be given to pupils for independent work or alternatively could be used to structure a guided reading session. Planned for a year 7 class as part of their distance learning - but might be of use for year 6.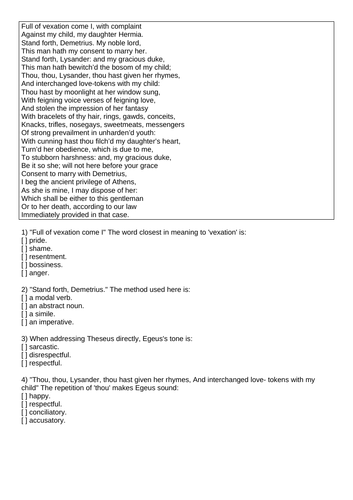 The aim of this lesson is to explore the methods Shakespeare uses to present the character of Egeus. The lesson begins with a brief prose overview of the start of of the play and then the lesson moves to focus on Egeus's speech to Theseus. The lesson uses questioning and asks the pupils to annotate their copy of the speech as well as zooming right in on a specific quotation and exploding it (again, through prompt questioning). There is a homework - a 10-question multiple-choice quiz intended to consolidate some of the learning from the lesson.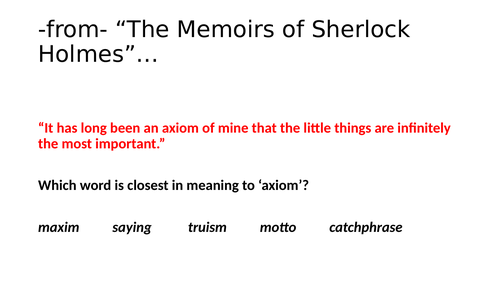 A powerpoint lesson on the opening of "The Speckled Band", planned for a middle-ability year 8 class but suitable at any point in KS3. The lesson begins with a settler activity looking at the word 'axiom' and drawing an inference about Sherlock Holmes from his maxim. Pupils are then guided through Watson's opening narration, making inferences from selected evidence. The focus then turns to Helen Stoner whereupon the inference is developed into deduction and pupils' attention is turned to what can be inferred and deduced from the simile - and how that simile can be linked to other aspects of the description. Finally, pupils are asked to draw an inference from the way in which two paragraphs of the story have been structured.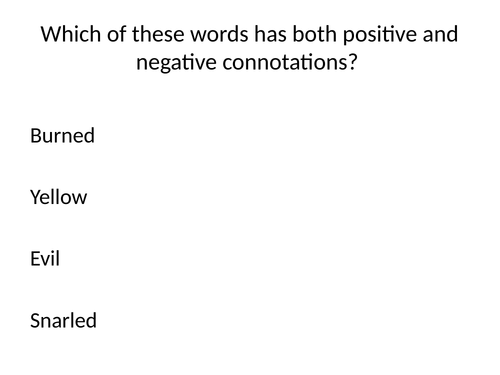 Planned for year 8 but useful at any point in KS3, I think, this lesson focuses on using understanding of connotation to broaden and deepen understanding of Doyle's characterisation of Dr Roylott as he appears in Sherlock Holmes's rooms. Pupils are asked to look at the comparison of Dr Roylott to a bird of prey and think of the connotations of this noun, using the connotations in an explanation of what they understand about the character. Thereafter, their attention is turned to Doyle's use of verbs. They are asked to choose the most effective verb - the one with the strongest connotations - and to use their work on the "bird of prey" comparison as a model to work more independently on their chosen verb.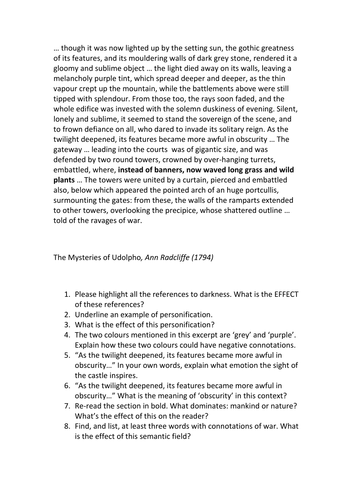 Created as a homework task as part of a unit on gothic horror, this would also work as a cover activity. It uses a short extract from "The Mysteries of Udolpho" by Ann Radcliffe and there are 8 questions, most requiring a more extended answer, focusing on analysis. Useful for honing the reading skills that will be tested at GCSE and for exploring a less common text from the genre of gothic horror.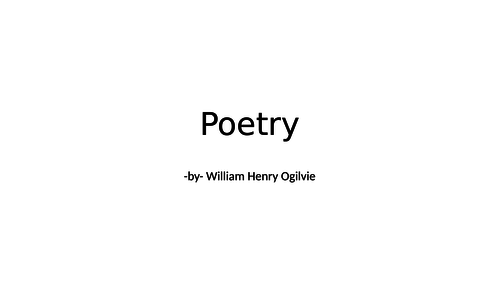 This lesson was planned for year 9 as they work on the skills that they're going to need for GCSE. The lesson uses "Drought" by William Henry Ogilvie and takes the pupils through what we mean by a writer's methods with a specific focus on personification. The lesson leads the pupils towards this question: In "Drought", how does the poet present ideas about the speaker, Drought?" This lesson would also work at KS4, particularly in the early stages of teaching the response to the unseen poetry question.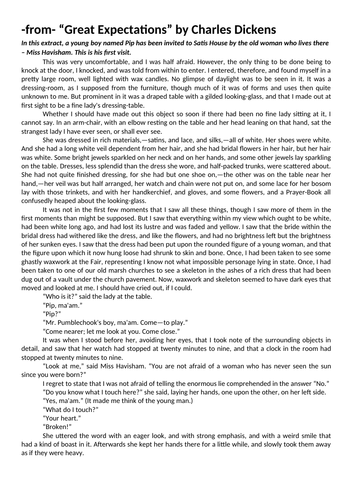 Planned as part of a SOW for year 8 - a unit on Charles Dickens with a focus on characterisation - this lesson looks at Pip's first visit to Satis House (chapter 8 of 'Great Expectations') and the first description of Miss Havisham. The aim of the lesson is to infer and deduce from description. Pupils are asked to explore the symbolism of colour, looking at the connotations of the colour used in the description of Miss Havisham. Their attention is drawn to the noun 'lustre' - this is used later to model a paragraph of analysis. Teaching strategies used are questioning, paired discussion and modelling.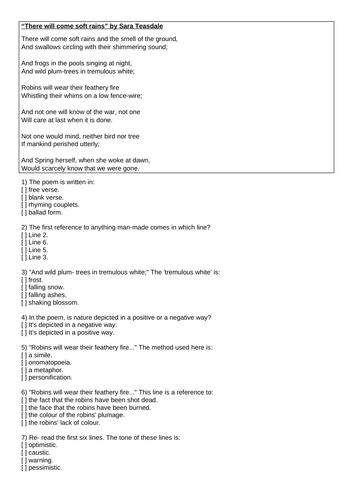 This is a straightforward multiple-choice quiz (answers provided) on Sara Teasdale's "There Will Come Soft Rains". There are 14 straightforward questions. Could be set for homework either after having studied the poem or as a pre-reading activity to identify any gaps that need particular focus in the lesson. Could also be used to structure a guided reading activity, in which case you will find that several of the questions invite follow-up questioning.