159Uploads
107k+Views
22k+Downloads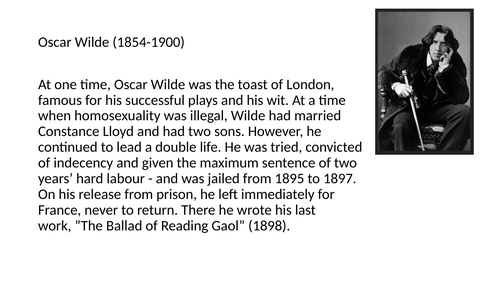 This lesson uses four stanzas from Oscar Wilde's "The Ballad of Reading Gaol". In these stanzas, there is a very clear, critical viewpoint about the prison system and its impact. The stanzas contain a wealth of language methods which should enable less confident pupils to find something to explore and give more confident pupils the opportunity to link ideas. Planned for a year 9 class to build and hone the skills of analysis of previously unseen poetry, this lesson uses close questioning and modelling to support the pupils in a response to a question requiring analysis of the writer's methods. The wording of the question echoes the question to be found on AQA's English Literature GCSE Paper 2. Slide 3 of the ppt can be used as a printable.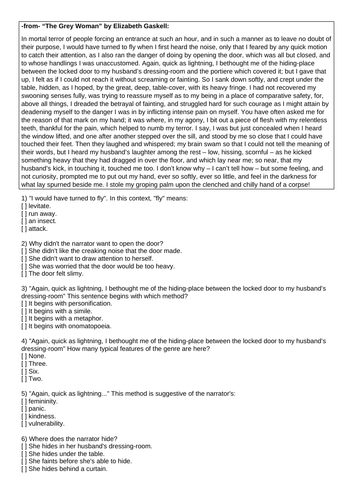 This uses an excerpt from Elizabeth Gaskell's "The Grey Woman" which uses many of the features of the gothic genre. There are 14 multiple choice questions which could be used for flipped learning or to structure a guided reading activity. Alternatively, the questions could be used as a starting point for class discussion of the extract, for homework or for cover. Answers are provided.
Here, you will find 18 exam-style questions using the format and wording of the AQA English Literature GCSE exam, paper 1. The extracts used are shorter than the students will meet in the exam - slightly shorter in some cases and much shorter in others. Created for revision sessions but useful for homework, classwork or remote learning.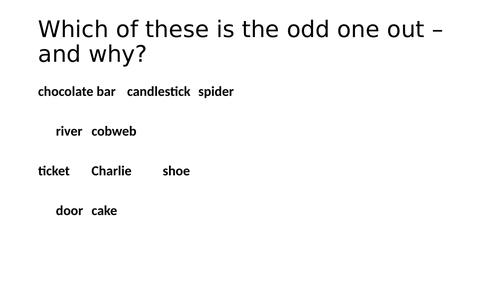 Planned for a year 8 class as part of a unit of work on Charles Dickens, this lesson focuses on Dickens's use of setting for characterisation. The extract used (a short one; printable is on slide 11); prior to that, the pupils are asked to look at the description of the Chocolate Room from 'Charlie and the Chocolate Factory', explaining how Dahl's use of colour suggests the character of Willy Wonka. There is then a focus on concrete nouns and pupils are asked what these suggest about Willy Wonka - what aspect of his personality they might reflect. Having built confidence in this skill, the focus then shifts to the more challenging text - from 'Great Expectations'. Having gone through some text marking, pupils are then asked to share what they think the setting suggests about Miss Havisham - then pick one aspect of that setting and write up an analytical paragraph. For homework, pupils are asked to describe a room that gives the reader clues as to their own character - describing the room's colour, temperature, listing at least 3 concrete nouns and mentioning the view from the window.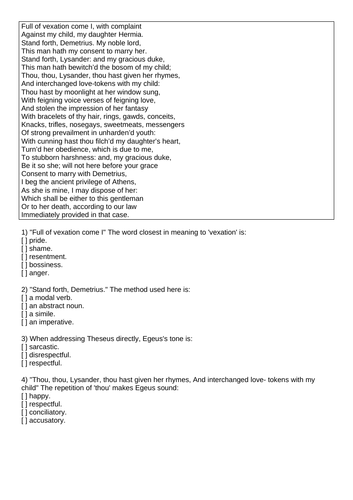 The aim of this lesson is to explore the methods Shakespeare uses to present the character of Egeus. The lesson begins with a brief prose overview of the start of of the play and then the lesson moves to focus on Egeus's speech to Theseus. The lesson uses questioning and asks the pupils to annotate their copy of the speech as well as zooming right in on a specific quotation and exploding it (again, through prompt questioning). There is a homework - a 10-question multiple-choice quiz intended to consolidate some of the learning from the lesson.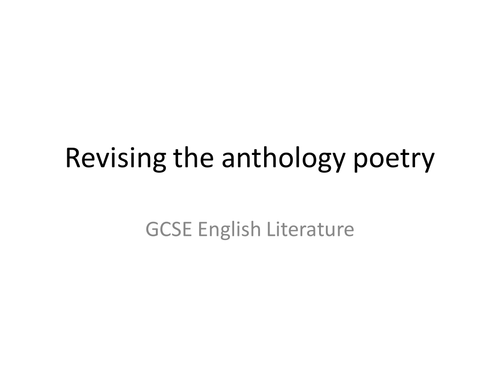 My students' mock revealed that they were not planning their answers - and that they hadn't got to grips with the need to compare. This ppt was planned to address both of those weaknesses, asking them to think about the most effective choice of poem for the comparison and trying to encourage them to use a double bubble map as part of their planning.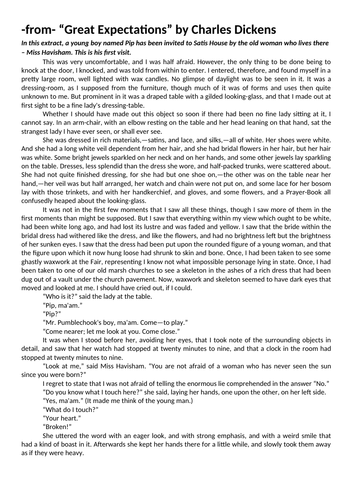 Planned as part of a SOW for year 8 - a unit on Charles Dickens with a focus on characterisation - this lesson looks at Pip's first visit to Satis House (chapter 8 of 'Great Expectations') and the first description of Miss Havisham. The aim of the lesson is to infer and deduce from description. Pupils are asked to explore the symbolism of colour, looking at the connotations of the colour used in the description of Miss Havisham. Their attention is drawn to the noun 'lustre' - this is used later to model a paragraph of analysis. Teaching strategies used are questioning, paired discussion and modelling.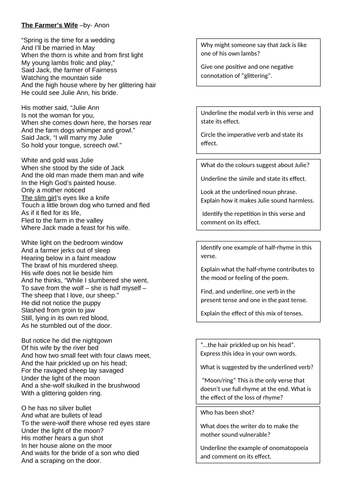 This is a straightforward worksheet. It uses the narrative poem, "The Farmer's Wife" and there are questions alongside each verse. These questions could be given to pupils for independent work or alternatively could be used to structure a guided reading session. Planned for a year 7 class as part of their distance learning - but might be of use for year 6.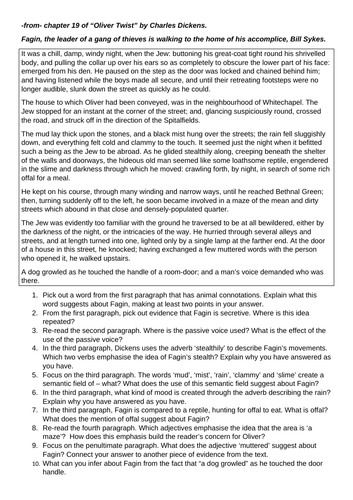 This is a comprehension activity based on the description of Fagin scuttling through the darkness to Bill Sikes. The Word document is editable so you can tailor the questions to suit the ability level of your class, if necessary. There are ten questions, some of which require extended answers, so this would be a useful activity for a cover lesson. Alternatively, the questions could be used to structure a guided reading activity.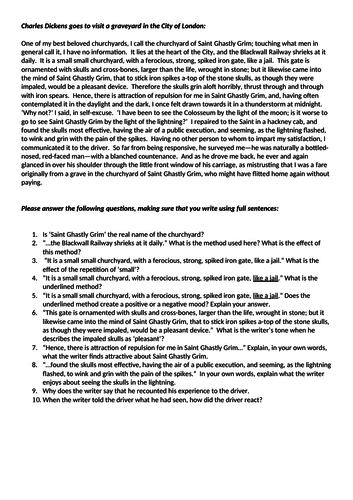 Useful to structure a guided reading activity, to set as homework or to use as cover, this is a comprehension activity based on a single paragraph from Dickens's "The Uncommercial Traveller" in which he recounts the appeal of a churchyard he nicknames St Ghastly Grim and describes an evening that he visited it in a thunderstorm. There are ten comprehension questions.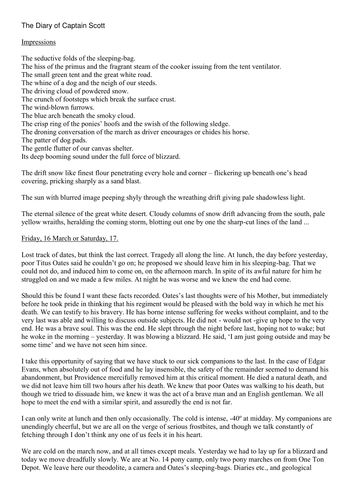 Created for my year nine group as part of a non-fiction SOW on journeys, this uses Scott's diary and focuses on the pupils using their skills of inference to link Scott's feelings to his use of language. The lesson culminates with the writing of a P.E.E response.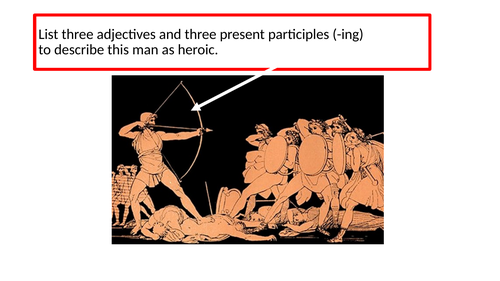 This is a 28 slide powerpoint planned for stretch and challenge in y7 exploring Tennyson's poem "Ulysses". There is lots of questioning to support the reading of the poem and there are two writing tasks (Ulysses' imagined farewell letter and Penelope/Telemachus's persuasive speech to encourage Ulysses not to leave). The two writing tasks require the pupils to use Tennysons' methods in their own writing.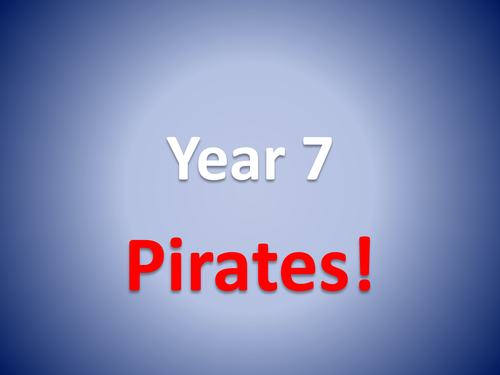 Created for a higher-ability year 7 class as part of a unit of work on "Treasure Island" and pirates, this lesson plan takes the pupils through "The Ballad of John Silver" by John Masefield. Using images and drama to embed the idea of writing having a mood, the lesson culminates with the pupils selecting one of the verses from the poem and re-writing it in script form (model given on one of the slides), creating the same mood as the original poem.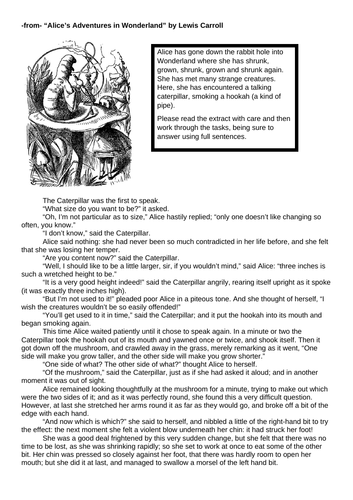 This is an activity that I created for a year 7 class as part of their home learning. It uses an excerpt from Alice in Wonderland in which Alice meets the Caterpillar and a worried pigeon. There are five tasks, four for reading and one for writing. The reading tasks increase in difficulty and focus on (in turn) information retrieval, inference, analysis and evaluation. The writing task asks the children (hopefully inspired by the extract) to write a short descriptive piece, describing the landscape of a dream. Could be used for cover or set as homework.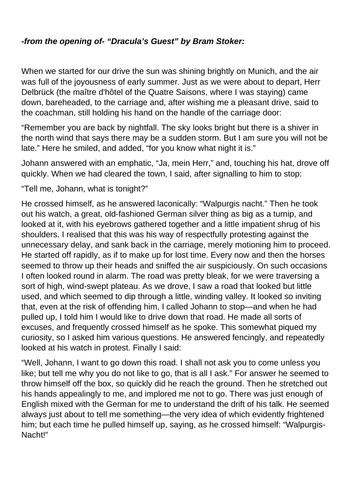 This is a simple and straightforward activity using the opening of Bram Stoker's "Dracula's Guest". There are four, short tasks dealing with vocabulary, information retrieval, inference and analysis. Useful for homework or as home learning. Could be used to structure a guided reading activity. Could be used for flipped learning prior to analysing the next (more gothic) segment of the story in class. Useful for students at KS3 or to embed key sklls and build confidence at KS4.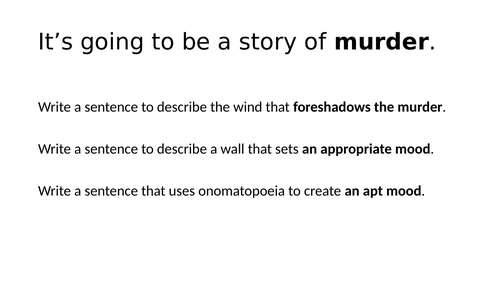 Planned for a year 8 class but useful at any point in KS3, I think. This lesson focuses on the part of the story where Helen Stoner is relating the events of the night of her sister's death. Pupils are asked to identify the mood of the segment. There is then a quick look at how foreshadowing might be used to contribute to mood (with a hinge question to ensure that all pupils know what's meant by foreshadowing) after which pupils are asked to do some text marking to identify the language that contributes to the mood. There's then the opportunity for some modelling to improve a response, ensuring that it explains how and why the language has the effect that it does. After which, and using the whole-class model as a guide, pupils are asked to work more independently on a different explanation.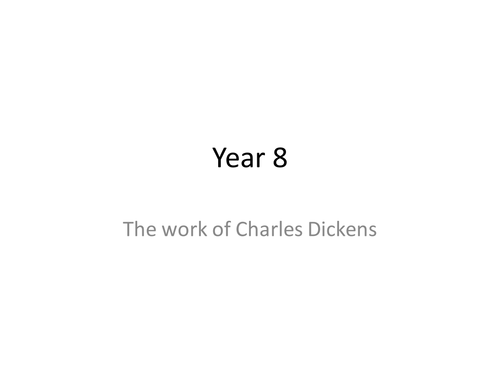 Created for a more able year 8 class, this is a lesson on the description of Gradgrind from the start of "Hard Times". The aim is to link Dickens's use of language and structural features to his viewpoint. The lesson is scaffolded so that there is a grid for the pupils to complete explaining what they can infer about Gradgrind from the language used to describe him (there's also a little bit on the Victorians' belief that character could be gauged from facial features). After having completed the grid, the pupils then look at the longer excerpt and work more independently on an extended answer - though they can use the structure of their response in the grid to plan and guide that answer.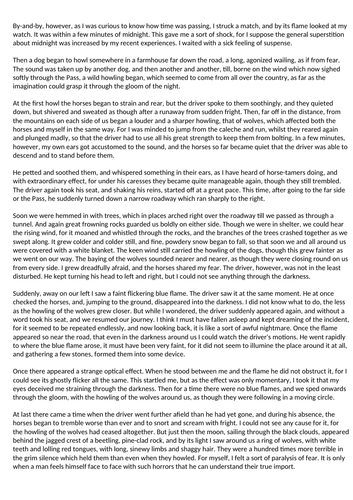 This is a comprehension activity - structured for increasing difficulty - with the tasks and questions divided into four sections: vocabulary, information retrieval, inference and explanation of methods. Useful for cover or for homework. Useful for a focused study of this particular section of Stoker's novel.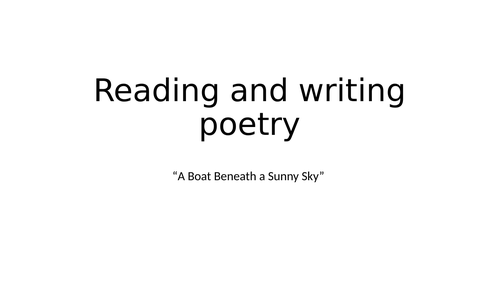 I created this powerpoint as part of a home learning pack for a year 7 class but it could be adapted for classroom use. It uses Lewis Carroll's acrostic poem spelling out the name of Alice Liddell, his muse. The powerpoint has 9 teaching slides (the tenth is merely a title slide). The start of the learning asks the pupils to do some research and find answers to these questions: Who wrote "Alice's Adventures in Wonderland"? What is an acrostic poem? Write down an example of an acrostic poem. What is a muse? Slide 3 has some context about Carroll and the afternoon that gave rise to the story of Wonderland. Slides 4, 5, 6 and 7 use questioning to look at extracts from "Alice's Adventures in Wonderland" with a focus on dreaming and the attitude of Alice's older sister towards Alice, reality and growing up. Slides 8 and 9 explore the poem. Slide 10 asks the pupils to write their own acrostic poem about someone (real or fictional) who's important in their life.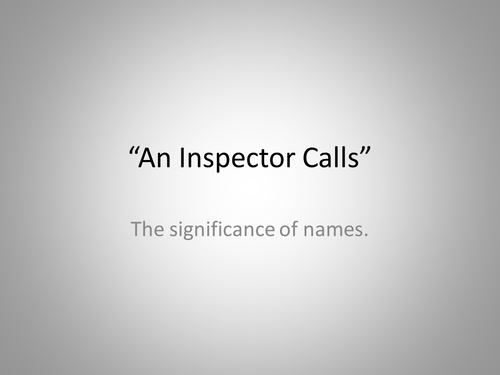 Aim - link characters' names to the play's themes. Powerpoint encouraging the students to explore the significance of the names Eva Smith and Daisy Renton and including a focus on the name of Inspector Goole.