L Burns
Head of Psychology and teacher of English
120Uploads
7k+Views
2k+Downloads
Head of Psychology and teacher of English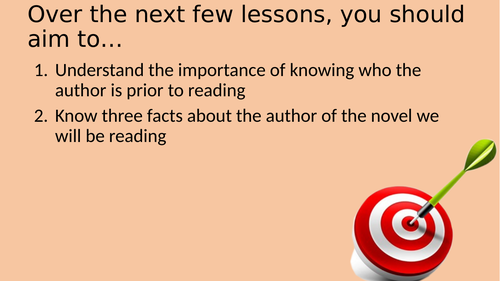 Complete scheme of work for 'The Secret Garden' by Frances Hodgson Burnett. Activities per chapter.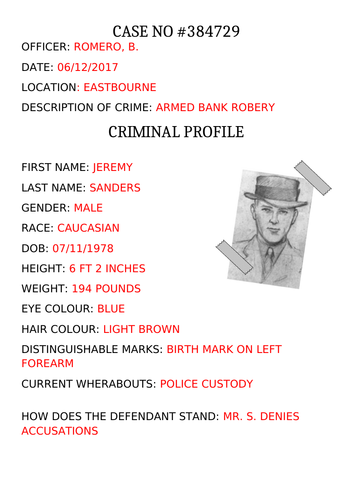 This includes a PowerPoint and worksheet I use at open evenings or introductory lessons to Psychology. It can be used at GCSE or A-Level. It introduces an individual accused of a crime. It goes through life experiences this person has went through, and uses key terms in psychology to explain how and why this led the individual to a life of crime. This is excellent for those without previous knowledge of psychology. It also allows those with an extensive knowledge to develop their answers.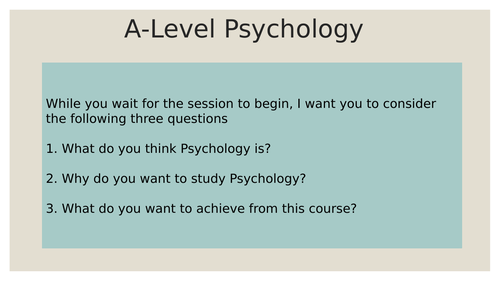 Introduction to Psychology taster session. Suitable for GCSE or A-Level. Includes content from AQA and OCR. Complete with activities and information. Can be interactive lesson if printed.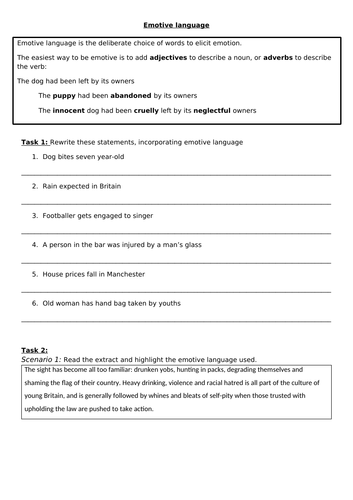 This lesson engages students understanding of emotions and emotive language. The worksheet includes a series of activities where students develop their emotive language skills.

This 115 page workbook follows the OCR specification. The workbook includes all content for the whole of research methods, including a step by step for each inferential statistical test. The workbook also includes a plethora of practice exam questions for each topic. Excellent resource that requires no planning and can be done at home/via Teams!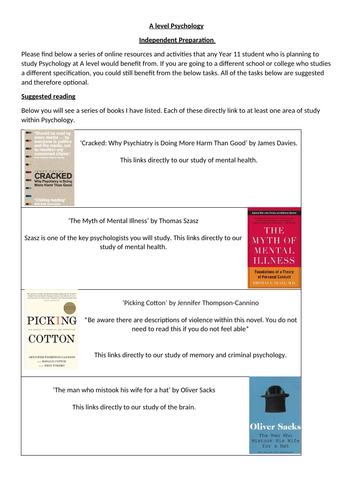 This resources outlines a range of activities for individuals wishing to study Psychology. It includes: Suggested reading Suggested watching Suggested listening With a range of questions to prompt students psychological thinking. Excellent for an introduction to the course, taster sessions or summer homeworks.

The following file includes all content required for the 8 psychological debates: Nature/Nurture Freewill/Determinism Reductionism/Holism Individual/Situational Psychology as a science Usefulness of research Socially sensitive research Ethical considerations It includes detailed explanations of each debate, in addition to real life examples, practice exam questions and activities for students to work through. This PowerPoint can be printed as a 50 page workbooklet.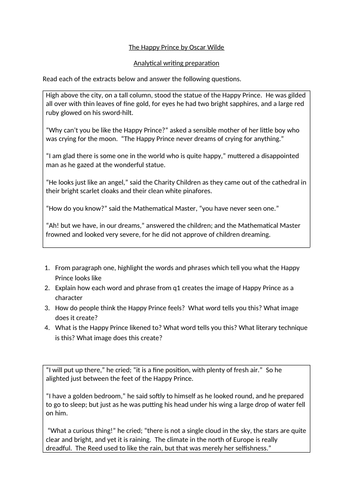 This document includes three extracts from Oscar Wilde's 'The Happy Prince'. It includes a series of questions per extract which encourage students to analyse the short story in detail. The questions are scaffolded to help support weak students and stretchhigher ability students. Excellent for class activity or assessment. This resource also includes a PowerPoint with analytical answers.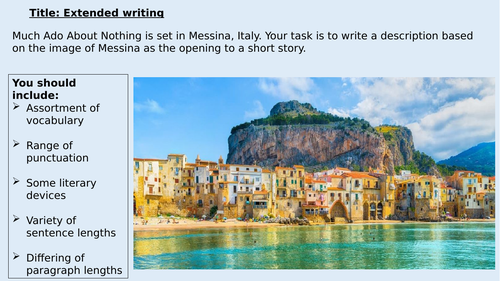 Creative writing activity. Perfect to start your study of Much Ado About Nothing, exploring the setting in which the play occurs. SPAG Prompts on screen too. No preparation required.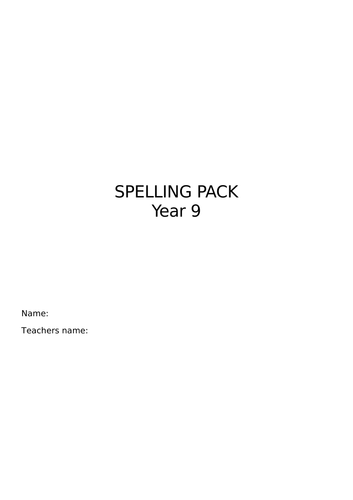 Year 9 Spelling pack. Enclosed are 33 lists of 15 commonly mispelled words. It follows the 'Look, Cover, Write, Check' structure.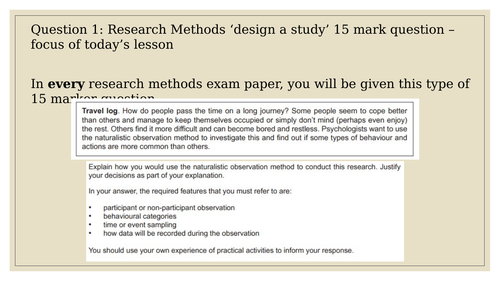 Details on how to structure the 'Design a study' 15 marker in AS and A-Level Psychology Research Methods Section B exam. Includes step-by-step on how to answer, in addition to example paragraphs and multiple example questions (Not copied from exams).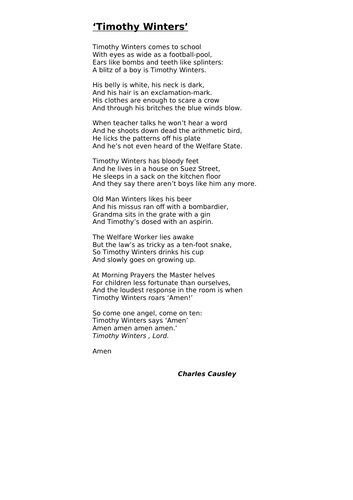 This resource includes a copy of poem 'Timothy Winters' by Charles Causley. It also includes step-by-step analysis of the poem and includes creative writing opportunities.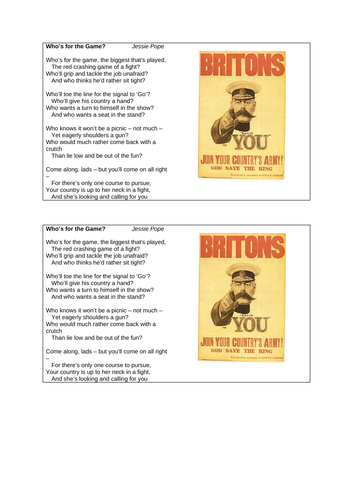 This resources includes the poem "Who's for the game" by Jesse Pope. It includes an introduction to war poetry, real life examples to stimulate discussion, step-by-step animated analysis, a creative writing opportunity and questions throughout.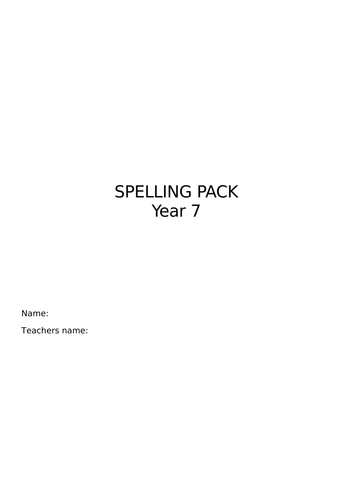 Year 7 Spelling pack. Enclosed are 33 lists of 15 commonly mispelled words. It follows the 'Look, Cover, Write, Check' structure.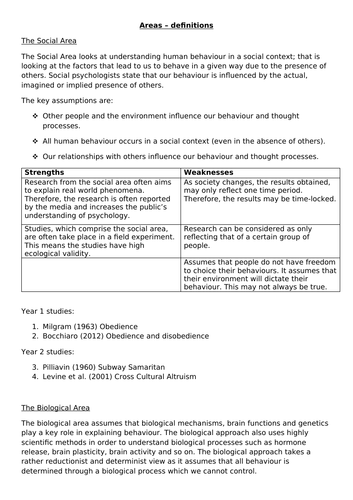 This document includes: Detailed explanations of each area in Psychology Strengths of each area Weaknesses of each area An outline of all studies associated with each area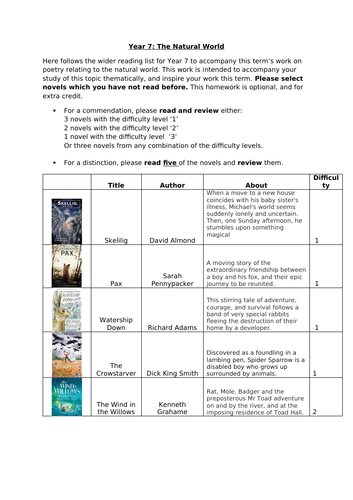 This resources includes a range of novels which would be suitable for students in Year 7.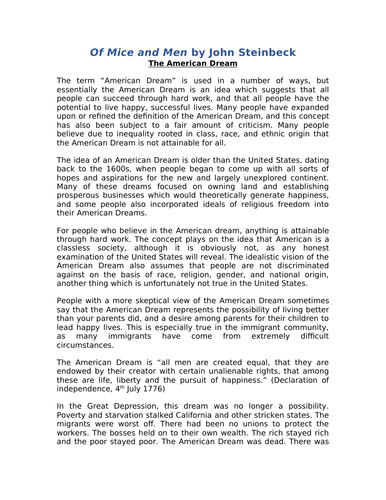 This resource includes the context for Steinbeck's 'Of Mice and Men'. This includes: The American Dream The Dust Bowl The Great Depression Racial inequality Gender inequality

A-Level Psychology exam 3: Applied Psychology - all 3 topics issues with mental health child psychology criminal psychology