Lcp_teaching_resource's Shop
LCP specialises in teaching resources and providing digital pupil tracking systems for schools, including your SEND community.
300Uploads
550k+Views
501k+Downloads
LCP specialises in teaching resources and providing digital pupil tracking systems for schools, including your SEND community.

8 Activities for Years 1 or 2 linked to the study of 1950's Britain. Activity 1: My Kitchen Today Activity 2: Understanding a 1950's Kitchen Activity 3: Let's Go Food Shopping in the 1950's Activity 4: Favourite Food now and then Activity 5: New Toy, Old Toy (Sort the cards into the box 2 sheet activity). Activity 6: Draw your home Activity 7: Understanding the Names of Different Homes All worksheets can be done as homework or for home learning. Taken from the KS1 History Resources File (available to purchase on our website). Leave a review

3 worksheets focuses on the teaching of adverbs Sheet 1: to revise adverbs of manner Sheet 2: to revise adverbs of time, frequency and place. Sheet 3: to investigate how adverbs can affect adjectives Taken from Grammar and Creativity Year 6 (by LCP) Clear sheets that have instructions so easily to follow. Leave a review

Includes: Sheet 1: Tense – to change the tense of verbs. Sheet 2: Tense Challenge – to change the tense of verbs. Sheet 3: Tense Challenge – to keep the same tense throughout a piece of writing. Sheet 4:Tense Challenge – to change irregular verbs to the past tense. Taken from our Grammar and Creativity Year 3 book. Easy to follow and use. Leave a review

The main purpose of this Mathematics Homework is to make your life, as a teacher of Year 6 pupils, as easy as possible. All of the homework activities are based on the renewed Primary Framework for mathematics; however, as they assess specific learning objectives they can be used in conjunction with other planned teaching schemes. Each homework activity sheet addresses a whole, or part of, a learning objective. The questions are written to test the understanding of your pupils once they have worked on a topic in the lesson. This in turn, will provide you with the information required to assess the pupils' learning, and will enable you to plan your lessons effectively. With a full set of answers included you can be confident that your students are getting regular, relevant homework that tests their understanding across the Year 6 objectives and all seven core strands. This easy-to-use CD will reduce the time spent preparing and marking homework enabling you use your time as efficiently as possible. The Year 6 curriculum is structured into five blocks, reflecting the same structure as the other primary year groups. Each block is made up of three units, and each unit represents two or three weeks of teaching. The blocks are: • Block A: Counting, partitioning and calculating • Block B: Securing number facts, understanding shape • Block C: Handling data and measures • Block D: Calculating, measuring and understanding shape • Block E: Securing number facts, relationships and calculating

1 lesson Plan: The geography of the United Kingdom and its surrounding sea All worksheets included. Learning objectives Children should learn: • the names of the countries of the UK; • the names of the four capital cities of the UK; • to identify characteristics of the four countries and capital cities. Success criteria Children should be able to: • name the countries of the UK; • name the four capital cities of the UK; • identify characteristics of the four countries and capital cities Lesson taken from LCP's KS1 Geography Resource File

7 activities to support the understanding of the Naples and Campania Region as part of a location study aimed at Keystage 2 children. Activity 1: Where is Italy? Activity 2: The Regions of Italy Activity 3: Base Map of Naples and the Campania Region Activity 4: Reading Train Timetables: Circumvesuviana line table (The train around the Bay of Naples). Activity 5: Holiday Brochure Activity 6: Understanding Volcanoes- The Vesuvius Crater Activity 7: A Section Through a Volcano. Leave a review

Isambard Kingdom Brunel was a famous engineer who lived in Victorian times. He was a very good engineer and he won a competition to build a bridge over the River Avon. This bridge became the Clifton Suspension bridge. This unit links to the lives of significant individuals in the past who have contributed to national and international achievements in the Programme of Study and considers the key historical enquiry question, How do we find out about Isambard Kingdom Brunel? It introduces the children to the idea of historical sources, introduces the concepts of old and new, and encourages them to think about the life and times of a famous person. The approach used could be applied to the study of other famous people. It provides a wide range of opportunities for children to develop their spoken language. It is helpful if the children have: ordered events in time and used everyday terms about the passing of time; answered questions about people/ events in the past using pictures and written sources; recounted episodes from stories about the past; looked for similarities and differences between today and the past. Lesson 1: How do we find out about a famous person? Lesson 2: The story of Isambard Kingdom Brunel. Lesson 3: Recording the life of a famous person.

Includes Poster: Understanding Clauses – explanation. Sheet 1: Clauses – to identify the main clause and subordinate clause. Sheet 2: Clauses Challenge – to add a main clause to complete a sentence. Sheet 3: Clauses Challenge – to create complex sentences by adding subordinate clauses. Sheet 4: Relative Pronouns – to recognise and use relative pronouns. Sheet 5: Relative Pronoun Challenge – to drop in clauses beginning with who, when, where, which, that. Taken from LCP's Grammar and Creativity Year 4 book Easy to follow Leave a review

Science is a very practical subject, and real understanding is enhanced when children engage in scientific investigation. The LCP Science Homework Activities contain 22 colourful, printable homework sheets which give your children the opportunity to practise scientific skills, encourage their curiosity and improve their understanding of science. This download is packed with homework sheets featuring written activities and practical challenges – all supported by a teacher's answer section that suggests the sort of responses you should expect. All of the homework sheets are in Microsoft® Word.

The activity sheets are structured around the narrative, non-fiction and poetry blocks of the new literacy Framework. The content comes from common Year 6 fiction and non-fiction themes. The activities are designed to support work done across the curriculum as well as in literacy teaching. The activities follow the main literacy priorities in Year 6 and are designed to be used flexibly. They are intended to be used with an adult: it would be pointless for the child to do them alone. Much of the learning is in the interaction. Each activity sheet has a clear focus and advice to the adult as well as the child. There are four main types: • Understanding and engaging with texts; • Shaping texts; • Sentence structure and punctuation; • Spelling. Each unit contains a mixture of the activity types. We'd love to hear how you're getting on with these resources. Please leave us a review.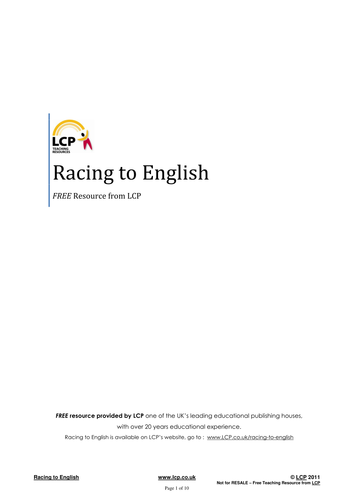 Racing to English Great resources for teaching English as an additional language. Free resource includes :- Set of photo cards and matching words. Picture Dictionary Sheet. Worksheets for oral and written work. If you are looking for a comprehensive English as an Additional language resource then see the full Racing to English resource on LCP's website. For now, this is a great freebie that we wanted to share. Let us know what you think …

This unit links to the lives of significant individuals in the past who have contributed to national and international achievements in the Programme of Study and considers the key historical enquiry question, How do we find out about Florence Nightingale? It introduces the children to the idea of historical sources, introduces the concepts of old and new, and encourages them to think about the life and times of a famous person. The approach used could be applied to the study of other famous people. It provides a wide range of opportunities for children to develop their spoken language. It is helpful if the children have: ordered events in time and used everyday terms about the passing of time; answered questions about people/ events in the past using pictures and written sources; recounted episodes from stories about the past; looked for similarities and differences between today and the past. Lesson 1: How do we find out about a famous person? Lesson 2: The story of Queen Elizabeth I. Lesson 3: Recording the life of a famous person: Why do we remember Queen Elizabeth I? Leave a review

Jack's Big Suprise Under the sea theme, This book is designed for use with children who are being taught Phase 3 or 4 Letters and Sounds. Children working at this level should be able to write simple words such as 'cat' and 'mat' confidently and will be using digraphs and trigraphs, such as 'ch' and 'igh' with some accuracy in their independent writing. Includes story with highlighted words to identify the key words of the story. Comprehension questions included on each page. Leave a review

Our Mathematics Homework Activities provide you with a set of challenging and engaging Maths homework activities for every week of the school year. Each Maths activity addresses a whole or part of a learning objective and all the Homework Sheets are in Microsoft® Word format. Includes: – Introduction – Objectives – Homework Answer Sheets Block A Counting, partitioning and calculating Adding Up / How! / In My Head 1 / Roughly / Sorting Numbers / Up to 100 Bigger and Bigger / How Many Ways? 1 / It's a Fact! 1 / Sequences / Sums and Differences Block B Securing number facts, understanding shape What's the Link? / Fractions 1 / Just About! / Problem Solving 1 / Shapes 1 That's Right! / It's a Puzzle / Reflections 1 / Shapes 2 Block C Handling data and measures Far Away / Measures / Scaly 1 / What Does It Say? / It's Time! / Sorting Things Block D Calculating, measuring and understanding shape One Bit 1 / Weights / Capacities / Reflections 2 / Reverses / Where Does It Go? Number Work / In My Head 2 / Scaly 2 Block E Securing number facts, relationships and calculating Patterns / One Bit 2 / Do You Remember? / It's a Fact! 2 / Taking Away / Fractions 2 There It Is! / How Many Ways? 2 / Problem Solving 2 / Grids Leave a review

This non-fiction unit looks at persuasion and argument. Children will read and evaluate texts intended to inform, protest, complain or persuade. In doing so, they will consider how the texts are set out and what language devices are used. They will notice the deliberate use of ambiguity, half-truth, bias; how opinion can be disguised to seem like fact; infer writers' perspectives from what is written and from what is implied. Children will investigate the use of persuasive definitions, rhetorical questions, pandering and condescension. During the unit, children will write persuasive letters for real purposes, for example to put a point of view or comment on an emotive issue. The first two lessons focus on writing persuasively about environmental issues. The next two lessons look at formal and informal writing and at how to produce a balanced argument. In Lesson 5 the children will take part in a formal debate. The final lesson looks at a famous wartime speech by Winston Churchill. (This could be used separately during a history lesson.) Lesson 1: How big is your carbon footprint? • Evaluate texts intended to persuade. • Identify persuasive devices • Infer what is implied 2 Green letters• Know the features of a persuasive letter. 3 Exploring a controversial issue • To identify textual viewpoints – for, against and balanced. To explore the language and organisational features of texts presenting a specific argument/ point of view. 4 Comparing formal and informal texts • To identify and explore the features of formal and informal texts. • To listen for language variation in formal and informal contexts. • To employ the features and narrative techniques of formal and/or informal texts in their own writing 5 Establishing a viewpoint on a controversial issue • To participate in wholeclass debate using the conventions and language of debate, including Standard English. • To identify the ways spoken language varies according to differences in the context and purpose of its use. Analysing a famous speech • Listen to and understand a speech. • Recognise the use of repetition and emotive language. Leave a review

Taken from our Geography Flipbook Activities Keystage 2 Years5&6 This unit contains 2 full lessons with lesson plan and resources. Investigating rivers Flipbook The water cycle Flipbook :The Amazon The resource includes one page of teacher's notes for every page in the flipbook,and each one includes learning objectives and outcomes,key questions and activity ideas.There are many suggestions on how to use the relevant flipbook page and associated activity sheet. Learning Objective: Learning outcomes: Children will be able to: • appreciate some of the problems associated with water supply • understand that important decisions about water use have to be made • about the River Amazon and its characteristics Learning outcomes Children will be able to: • identify and explain each stage in the water cycle Locate the Amazon on a map and identify some of its features (size,meanders,sediment,tributaries, environment through which it flows)

An introductory programme for children not yet ready to embark on the Renewed Literacy Framework Week 1- To recognise and write letters 's a t p i n e' • To read first 23 High Frequency Words • To sound out and write VC and CVC words • To read and write a simple sentence SENsational Literacy is an introductory programme designed to help those children who are not yet ready for the Renewed Literacy Framework or who have been struggling to keep up with their peers in class. It is an excellent way to help them to them to gain confidence in literacy and build up the skills they need. Most importantly they will have fun with words and letters. SENsational Literacy can be used by a teaching assistant to teach a small group of children who need extra support in literacy. After completing the scheme they will have gained the necessary skills to be able to join in with the main literacy class. It can also be used by the teacher to teach the whole class if extra literacy support is needed across the board. It is suitable for children in Foundation Stage and Key Stage 1, and it is also suitable for other children coming into the school who may not yet be able be working within the Year 1 curriculum. How long does the programme last? The children are taught one lesson every day for six weeks. What do the children learn? The children learn the basics of literacy through simple tasks, covering introductory letter recognition and the application of High Frequency (HF) words, underpinned by game-based activities and guided reading. A full overview of the course can be found on page 6. What does the material consist of? Each lesson is divided into a warm-up and main activity. Once a week the children are required to participate in an activity to help to consolidate their understanding. Additional Resources Sheets offer photocopiable material which can be used in a variety of games during the class. Home Learning Sheets are provided to support each lesson. The children are required to do the worksheets every weekday evening to consolidate what they have studied that day as well as guided reading at weekends. You may wish to write to the parent/guardian to let them know that their child is studying the scheme and may need help with their daily worksheet. Leave a review

2 full lessons with resources, flipbook and worksheets 1st lesson: Learning objectives Children should learn: • that rocks and natural materials are chosen for particular purposes because of their characteristics Learning outcomes Children will be able to: • relate the use of some rocks and natural materials to their characteristics and say why they are used Lesson focuses on describing the use of material in buildings. Do you recognise this building? Try to describe it. • Describe the main building material(s) that was (were) used to make this building. • Are the materials natural or man-made? If the materials are man-made, what do you think the original material was? (e.g. glass is made from sandstone/silica) • Why do you think these materials have been chosen? 2nd lesson: Learning objectives Children should learn: • about planning a fair test and using results to draw conclusions Learning outcomes Children will be able to: • explain whether a simple test is fair and what the results indicate Lesson focuses which rock is the most permeable? Leave a review

2 full lessons with worksheets, visual flipbook and lesson plans 1st Lesson: Air in Soil Learning objective- Children should learn: • that soils have air within them • to recognise whether measurements need to be repeated • to use results to compare the amount of air trapped in different soils Learning outcomes Children will be able to: • state that soils have air within them • state why measurements need to be repeated • make comparisons between samples from a set of data Task: Ask the children to investigate which soil they think will contain the most air and why? 2nd Lesson- Gases in our Environment Learning objectives Children should learn: • that there are a number of common gases that are useful to us in our everyday lives Learning outcomes Children will be able to: • name a number of common gases • state how a number of common gases are used Task:The sheet provides a framework for children to research and collect information about carbon dioxide from secondary sources. Once the information has been recorded in note form, it could be displayed in a leaflet or poster. Leave a review

It can often be very difficult to teach inference to less able readers because they cannot access challenging texts. Texts that support the teaching of 'reading between the lines', or inference and deduction. The use of photographs as a first approach in this resource means all children can develop these important comprehension skills. This resource contains 3 units of work. Each unit contains: Text 1 provides a story or explanation about the photograph that uses inference to give information (there are hints, but the author doesn't explicitly say what is happening);Text 2 is an alternative text which makes the story really obvious. There is little or no inference and the simplicity of the text provides a good comparison with Text 1. The texts are written to support the teaching of inference and deduction and will probably need to be read to the children. The point of the exercise is not for the children to decode the texts but to understand and answer questions about it. Leave a review