Leeleemacjames's Shop
Not exactly plug and play material. Mostly useful for generating discussion and stretching the curious.
34Uploads
5k+Views
2k+Downloads
Not exactly plug and play material. Mostly useful for generating discussion and stretching the curious.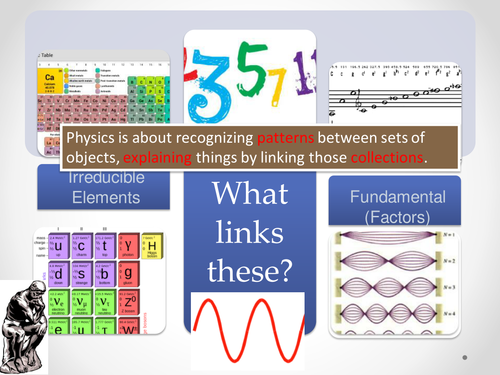 Collates all heat radiation types as forms of electromagnetic radiation. Identifies waves as a fundamental object that we use to describe the Universe .Uses light reflection off surface of water to introduce plane polarisation. Wave superposition presented through phasors. Phasors used to describe phase differences so connection with U(1) rotation symmetry of Quantum Electrodynamics (as pupils go on to university) can be made! Again at a higher level, to challenge, there is Raleigh scattering of water molecules and Thomson scattering of ions illustrated by Bee, CMBR and the left-handed Amino acids in living tissue through optical rotation.
A Theory of Knowledge resource for IB. Also useful for those brave enough to try bigger picture with higher end Maths students
A bundle of concept maps that link various aspects of the mechanics and measurement components of A level and IB syllabuses. The student is required to fill in gaps in the maps as we explore both the subtle and deep connections that are explored. Filled in maps are also supplied that could be used as posters. The maps for example make clear the complimentary roles between the force as opposed to the energy-momentum approach to problem solving. For those wanting to go deeper links of the latter as conservation laws and our view on homogeneity of time and space are also made. The whole mechanics is presented in a detailed map then various aspects are singled out and explored in other maps. Continuum mechanics of bulk materials is also look at, as is Wave particle duality and all the relevant phenomena of wave theory are collated. Interesting as a first pass on introducing the subject and then for later reflection when some of the connections have been explored fully.
Various ways of presenting the evolution of the development of the theory of the the atom and its nucleus are explored. Some slides go beyond syllabus and may be more of TOK interest.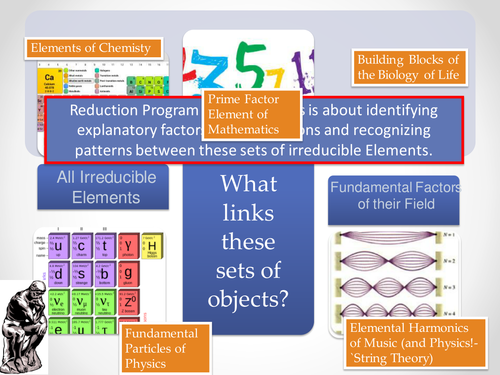 Handedness of DNA is modelled by Castle Spiral Staircase. Enantiomers are related to circular polarised light - which possess Chirality. Life in the form of cell building is a sink for Entropy. Thermal Equilibrium is Death. Hibernation cycle of Cicada colonies are in Prime Number periods of years: Evolution's survivorship bias gives the false appearance that the cicada 'knows' of Prime Numbers. The Predators are the (Kalman) filters that kill off all other periodicities. Just as 'good' fund - money managers have no 'knowledge' they too are just the lucky survivors. Energy has both a Quantity (we equate it to mass, conserved according to 1st Law of Thermodynamics) and a Quality (called 'Entropy' –lower the information content the more useful the energy and its ability to do work- Second Law of Thermodynamics). Could be split up and serve as various Starters. Plans in Notes of Slides.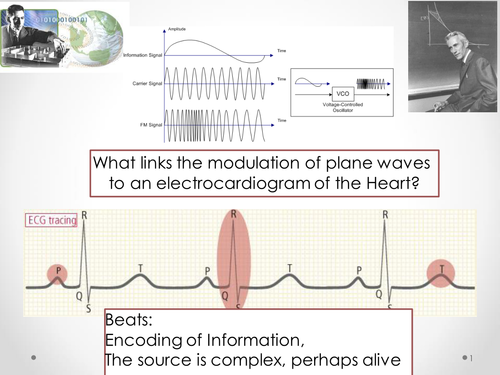 Wave Syllabus Material sprinkled within big picture themes. From the incoherent (low Entropy, information-less) Blackbody radiation of the sun from which (in defying locally 2nd Law of Thermodynamics) we, as living tissue, convert into a (stably) chaotic heart beats to then communicate in our networked society- everything is a wave. We are wired to network and perhaps that is all we may have over Artificial Intelligence. Life is the process of generating information and the delivery of surprises (low probability events) - think of what make good music (contains little sense of what its future will be like). 1st law describes nature tallying this quality of energy (Entropy) that Shannon links to loss of Information. Quality of transmission (Pictures of Claude Shannon) through medium like telephone line is like miles/gallon that gives the efficiency of a car- measured in bits per second. Square waves used to test amplifier responses to higher frequency waves
Walk through of decimal placement and use of short-hand symbols for standard form. Presentation of number line using these symbols. Applying ideas to areas and volumes to apply methods to convert between units. Presentation and work sheet variations supplied.
Some diagnostic testing of particle theory of matter. General review of matter and a set of more thought provoking questions on energy. Powerpoint presentation with mind maps on the nature of stuff
Multiple choice and short answer questionnaire to AS level density concepts. pdf version of a Google form with associated explanatory video links.
A presentation that walks through Newton's equations and conservation laws as a means to understanding energy and Heat in Thermodynamics.
An historical perspective of physical theory development. Some mind maps are provided and reflections on the fundamental concepts that are being studied: the vector and the field.
A presentation exploring ambiguity in the operations and objects of Maths and a set of concept maps that connect various topics of GCSE and IB/A level syllabuses. Quadratic, Log, Trigonometric and Functions are mapped in detail. Useful crossover introductory material that can provide some meaning and context in helping to make some connections between otherwise disparate fields. The presentation develops five areas in which the terms and processes of mathematics are inherently ambiguous: from the irrationals and infinity, the variable as a receptacle, the filling of the number line, forming operations with numbers to the notion of equality and sameness. That is, from a number being both a noun (a fractional object) and a verb (process of adding a convergent series of rationals). That algebraic formulations using a variable x, allow for x in one sense to have any value ( before the equation is solved) to a specific value when it has been solved. As five separate chapters each one can serve as nonstandard provocative discussion/starter/plenary material .
A Theory of Knowledge presentation. How do we filter out the signal from the noise? How do we decide that an explanation is satisfactory? What makes a good presentation of physics? What are the basic assumptions that you are making- reasonable? What is reductionism and is it a valid exercise? Compare the simple reduction program to our interpretations of complexity. Using the gravitational field as an example look at the blurring between what is a noun and what is a verb. What is the influence of history and accident on the sciences? What are the historical differences between discovery and laws in maths and the sciences?
The presentation walks through the subtle transition fromNewton's force vectors to Faraday's field lines. It poses many questions: Are the objects of field theory nouns or verbs? Are all arrowed (directed vectors) lines nouns or are some verbs? How are Electric field lines different to acceleration (field) vectors? How do we represent Newton's third law of a ball falling near the earth? How are lines of equipotential linked to the length of the acceleration vector? Just as we ask of the sound of a sound in an empty forest, does the Earth's gravitational field exist if there is no test mass that accelerates due to it? How do the electric and gravitational fields differ as processes or objects? What assumption of the gravitational field means that we can separately treat as independent the components of motion vectors of a projectile near the earth's surface. Additionally their are some concept maps that explore the development of the field concept in relativity in particular. The maps are duplicated with a student activity being to fill in the gaps.
A bundle of concept maps that tie together ideas from particle physics, thermodynamics and Cosmology. Nice way to introduce basic concepts and provide a signal and connection to the more intrinsically fascinating 'Big Picture' stuff in the course. Students have to fill in gaps in maps while complete maps are provided that could be used as posters. Some deep connections are made: the freezing out of the fundamental forces as the universe cools (also linked in another map to the freezing of water) and the unity of Mass, Length and Time measured through the speed of light. More simply the Kinetic Theory of Gases and the Gas Laws are put in context as are the phases of the five states of matter. Work done, the force and energy conservation of the First Law are brought together. The Temperature concept is compared to the Heat concept in order to overcome common misconceptions. The various modes of decay of matter are also brought together.
A presentation on the resolution to Olber's paradox. A variation on the use of dimensional analysis to determine the mass of the universe.
A presentation with some thought provoking questions based on the scientific method. Addresses scaling and forces. Symmetry principles in physics. The cooling universe Fields and waves.
A broad look at Energy. How its usefulness decays in quality as a nuclear energy store in the sun. Useful for Energy transformation discussion. Lots of thoughtful ideas for the curious.
Presentation walks through the six agents of capitalism: Governments, Central Banks, Corporates, Capital Markets, Asset owners (pension and insurance funds) and Asset managers discussing in turn their roles in the network of interrelationships that facilitates the expansion of operations of a widget factory. Accompanying this are various concepts maps, some with gaps for students to fill, that make clear the interrelationships and variously highlight some of the market vernacular used to describe various actors. High level way to introduce students to the dependancy of the business cycle on the political cycle. Also tries to illustrate how growth and globalisation is managed drawing upon the resources of the land, the credit of foreign owners and ultimately the worker, who after all through their pension fund holdings, are the ultimate owners of corporate assets and as such the true agents of change.