9Uploads
680Views
130Downloads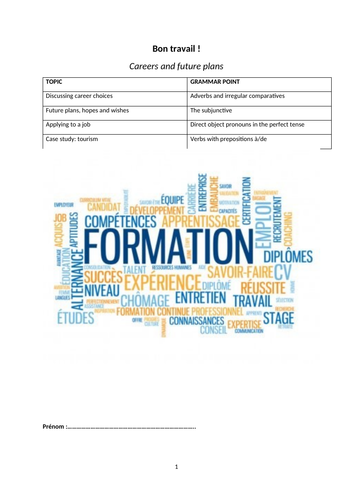 Full booklet of sentence builders, reading comprehensions, vocabulary, grammar explanations and drilling tasks from module 7, translations, conti-style tasks, writing tasks, etc. based on Bon travail! Module 7 of AQA GCSE Studio Higher, for high-achieving pupils. Resource can be printed out and given to students to work through. It can also be used as a base for teaching the entire module content and grammar points of the module. Only need to download once and have forever! Un voyage a Paris ! A 29 page booklet based on the Studio rouge Module 2 textbook. The booklet includes sentence builders, vocab drilling tasks, readings, translations and explicit grammar. It is aimed at higher achieving pupils. The booklet can be printed and used as a basis to teach and review the following content and grammar: On peut + infinitive Regular and irregular perfect tense (avoir verbs) Time phrases Opinions in the past Understanding tourist information Recap : indicating a time Saying how and when you travelled Perfect tense with être Negatives in the perfect tense Understanding and asking questions The booklet ends with the pupils creating a storyboard of their own imaginary holidays in France. 5 page document on infinitive constructions with exercises. Page 1: verbs that use à/de and what to do with nouns/adjectives that require a preposition page 2 translating some uncommon verbs and looking at verbs that can use both prepositions page 3: Circle the correct preposition and write the correct preposition page 4: translate into French page 5: using negatives in infinitive constructions Qu'est-ce que tu lis en ce moment? Sentence builder and 3 activities ready to print and handout. Based on the Studio 2 module 1 unit 3. Made for high acheiving pupils. Could also work for Year 9 or introduction to reading vocab at GCSE. Quels films aimes-tu? Sentence builder and 3 activities. Ready to print and handout. Used for high acheiving Year 8 students using Studio 2 module 1 Unit 2 j'ai une passion pour le cinéma Qui suis-je? AQA FRENCH HIGHER WORK STUDENT BOOKLET 27 pages. Includes a sentence builder for every unit, the corresponding grammar with practise tasks, vocabulary-drilling tasks, translations, writing questions and higher-level reading tasks. This booklet be downloaded once, printed for students, and used for ever more as a basis to teach the entire first module qui suis-je of the AQA GCSE HIGHER spec. Le temps des loisirs GCSE AQA MODULE 2 booklet of sentence builders, conti style tasks, readings, gap-fills, translations and writing tasks. Grammar from the module 2 of the AQA GCSE course is also incorporated with explanations and tasks. THIS BOOKLET CAN BE USED AS A BASIS TO TEACH THE ENTIRE CONTENT ON LEISURE AT GCSE HIGHER LEVEL. You only need to download once and have forever! Full booklet of sentence builders, drilling tasks, translations, reading tasks, grammar and writing tasks to go with the Module 8 AQA French HIGHER GCSE course. Booklet can be used to teach full module, and can be given to students to help with individual revision or homework setting. Aimed at high achieving pupils, although the resource is a word document so can be easily edited. 42 page booklet that can be used as base to teach entire topic of holidays (Le grande large - Module 5 - AQA GCSE) at higher level. Booklet includes sentence builders, vocabulary drilling tasks, readings, translations and suggested oral tasks. Booklet also includes grammar work on the conditional tense, reflexives in the perfect tense, the present participle, avant de + infinitive, demonstrative adjectives and pronouns and the pluperfect tense. Booklet can be printed off and given to students. Sections can be printed if that is appropriate for your own groups. Booklet is not to be shared with other teachers.