32Uploads
25k+Views
4k+Downloads
Pedagogy and professional development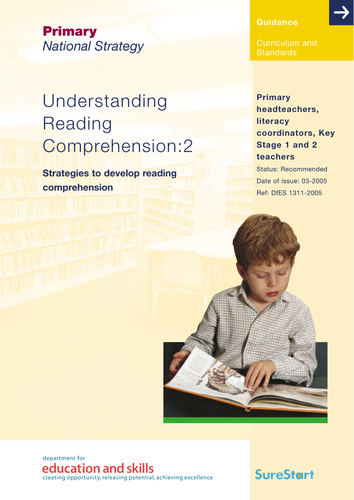 This is the second of the reading comprehension documents published to support the national strategy. With the increased focus on inference and vocabulary skills it is important that we revisit these documents. This one identifies the strategies that effective readers use to comprehend a text:the skills we need to teach children if they are to develop their comprehension. It also makes some suggestions about how to teach each of the strategies.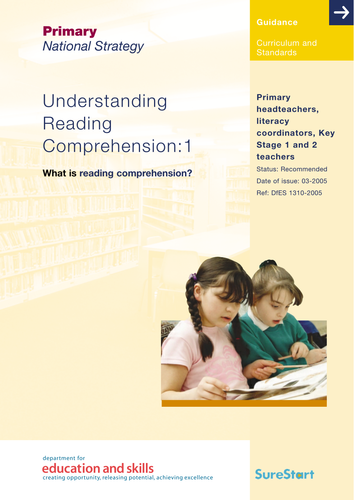 This is the first of the Reading Comprehension documents that was published to support the primary strategy. With an increased focus on inference and vocabulary in the 2014 curriculum, it is important that we revisit these documents to understand what comprehension is and how we can 'teach' it. As children learn to read they are able to decode the text by orchestrating a range of cues. To become fluent readers they must also understand or comprehend what they read. To help them do this they need to be taught a range of reading comprehension strategies and be encouraged to reflect on their own understanding and learning. Such an approach helps children go beyond literal interpretation and recall to explore the complex meanings of a text using inference and deduction. They can begin to learn these strategies from the earliest stages of learning to read. This leaflet will help you to understand how readers make sense of what they read, review the research evidence and suggest ways to teach reading comprehension strategies.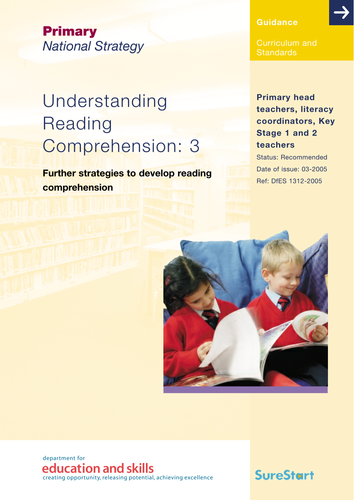 The third comprehension document to support the national strategy. This particular one has some very useful information about how to develop children's vocabulary and their skills of understanding texts at 'word' level. The 2014 curriculum has an increased focus on this particular aspect of comprehension and the 2016 SATs also has an increased focus on word meaning. It also suggests ways in which teachers can develop pupils understanding of character and theme as well as helping them make connections within and across texts.
The National Curriculum for English 2014 mentions only a few fictional genres specifically. However, the newly revised teacher assessment framework for writing clearly states that children at both Key Stage 1 & 2 should be drawing on their reading. With an in-depth knowledge of the structures and features that are associated with the different narrative fiction genres we can make much more informed decisions about the aspects we want to focus on for comprehension and for writing. This document sets out the different features of the most common fiction genres that are written for children, identifying common plot structures, character types, key language features and themes. This will enable teachers to plan more focused reading and composition lessons for their pupils.